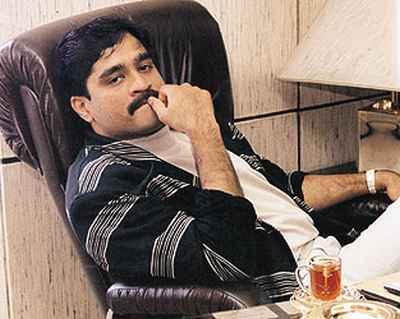 'I would like to say that there is a fear of Dawood. We thought we are a nation of 120 crore people and if we do not bid for this property it will be a matter of disgrace.'
'Here is this man sitting in Pakistan and is being able to lord over our country especially Mumbai through remote control. I think somewhere we must draw the line.'
'There is no Hindu-Muslim issue at all. The underworld is the most secular entity in the country. Whether you are a Muslim or a Hindu it does not matter. Whether you are able to deliver or rake in the moolah is all that matters.'
Former journalist S Balakrishnan on why he is bidding for Dawood Ibrahim's property.
Not many would dare to buy fugitive gangster Dawood Ibrahim's property in Mumbai but ex-municipal corporator and former journalist Subramani Balakrishnan wants to prove a point.
On December 9, an eatery on Pakmodia street in South Mumbai will be auctioned under the Smuggers and Foreign Exchange Manipulators (forfeiture of properties) Act 1976, with a reserve price of Rs 1.18 crores. So far there has been only one bid for it, made by Balakrishnan. Originally known as Hotel Rounaq Afroz, it subsequently came to house a popular eatery, Delhi Zaika.
This is not the first time that the fugitive don's properties have been sought to be auctioned off. Since the 1993 Mumbai serial blasts, in which Dawood remains the prime accused, 11 of his properties were put on auction but with little success -- no one has come forward to bid for them.
S Balakrishnan tells Syed Firdaus Ashraf/Rediff.com his plans for Dawood's property.
Why do you want to buy Dawood Ibrahim's property?
I am not interested in his individual property. I have been running an NGO called 'Desh Seva Samiti' for slum children for the past 10 years. We wanted to have a centre in central Mumbai, and Bhendi Bazaar (where Dawood's property is located) has many young children suffering from drug addiction. Maulana Moin Miyan is also working in that area on this issue. So we thought that if we start a centre there, we can teach English and computers to boys and girls from that area.
We plan to name it 'Ashfaqullah Khan Centre', after the great freedom-fighter. Having said that, I would like to say that there is a fear of Dawood. We thought we are a nation of 120 crore people and if we do not bid for this property it will be a matter of disgrace. Here is a man sitting in Pakistan and creating terror in the minds of our people. I think terror is more in the mind of people. I want to convey a message that we are self-respecting people and there are people who will not stand injustice.
So you want to send out a message and prove to Dawood that India does not fear him and you are doing this for a good cause?
Dawood or anyone for that matter -- it is not Dawood alone. Basically, the rule of law must prevail in this country. We should not allow Indian society to become lawless, and rule of law needs to be established.
How did the idea to buy this property come to you?
Dawood's property has been auctioned two times and on both occasions nobody turned up because of fear. I used to feel very bad (as a journalist) and it was a matter of shame. Here is this man, sitting in Pakistan, and is being able to lord over our country, especially Mumbai, through remote control. I think somewhere we must draw the line.
Other people who have bought Dawood's property earlier have not got the possession yet because of litigation. Aren't you worried about that?
There is one gentleman in Delhi. He is a lawyer and he is from the Shiv Sena. He bought the place (Dawood's property) in Tardeo (Central Mumbai). I don't know where exactly this property is. But till date, he has not got possession because the matter is under litigation. At that time, he told me he was being prevented from entering that premise. He feared for his life.
I am not buying this as an individual. I am buying this through my NGO. As far as litigation is concerned, I am also a practicing lawyer.
Whatever it is, I want to convey this message that nobody can sit anywhere in the world and call the shots.
Don't you think the government must help people to get the possession of Dawood's property once you pay the rightful amount in the auction? Why go for litigation again?
The problem is that civil litigation in our country takes a very long time. Once the matter goes to courts it becomes sub judice and then we cannot suggest what the government must do or not do. Ideally, these kind of properties must be in fast track cases. Whatever it is, a message has to be conveyed that a gangster and global terrorist cannot call the shots.
Can you tell us something about this property?
I went to inspect this property on December 3. To my shock, when I went there, two competent officers refused to let me enter. They just said it is a ground plus one structure. It is located in the prime location of Bhendi Bazaar. It is on Pakmodia Street, which once upon a time was the bastion of Dawood's gang. The officers refused to show me the property stating, 'upar se order hai' (orders from the top). Who is sitting up there? They were not telling me. I could see fear in their eyes.
I went to Nariman Point, to their office. There are seven properties up for sale. I wanted to know whose properties you have seized. That also they did not tell me. There was one office superintendent, Raja Mani, who refused to speak.
How many Dawood's properties are up for auction?
There are seven properties.
There are agricultural plots in Nani Daman in Gujarat. There is a Hyundai Accent car which is junk. Then there is a tenancy right to a room. When I went to see the building, it was being demolished, they were only auctioning the tenancy right. So only this property remained.
Officially the name is Hotel Afroz but the name board that has been put up says Hotel Delhi Zaika.
As a journalist you have reported on the Mumbai underworld. Do you feel Dawood led Muslim youngsters into the underworld and misled them?
There is no Hindu-Muslim issue at all. The underworld is the most secular entity in the country. Whether you are a Muslim or a Hindu it does not matter. Whether you are able to deliver or rake in the moolah is all that matters. So the underworld in our country, especially in Mumbai, is far more secular than all the political parties put together. This is not a Hindu-Muslim issue at all.
But don't you think the 1993 Mumbai riots and the subsequent bomb blasts divided Hindu-Muslim gangsters -- Dawood became a Muslim don while his former lieutenant Chotta Rajan became a Hindu don?
No. Even now many Hindus work for Dawood and there are so many Muslims working for Rajan.
What kind of programme you will run if you get get possession of Dawood's property?
I want to run a computer centre for boys and girls of Bhendi Bazar area. I want to provide them with computer literacy. I also want them to be conversant in English. If you are computer literate and can speak English, you have value addition in the job market. You can get a good job.
Most youth in that area don't have any scope of growth; I want them to be a part of the India story. We are deliberately naming this property after Ashfaqullah Khan who was hanged by the British. He and Pandit Ramprasad Bismil are famous for writing 'Sarfaroshi ki Tamanna'. It is classic example of communal unity.