'No lives should be taken during Paryushan.'
'When fish is taken out from the sea it is dead, hence no ban on it.'
'They hang the meat in shops and those who are fasting are pained by this sight.'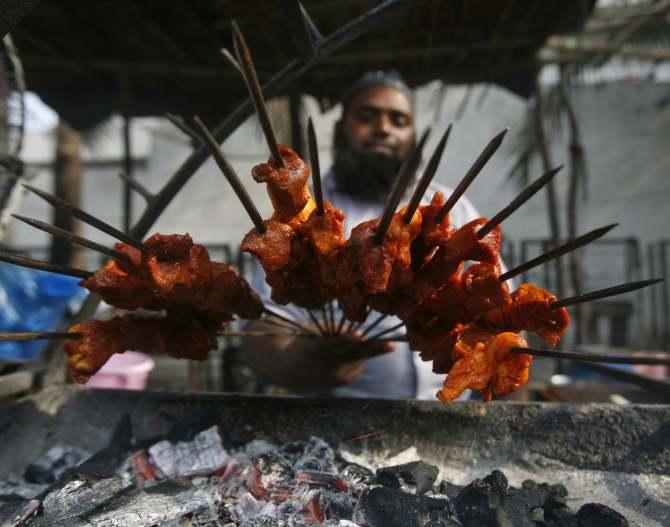 First came the beef ban in Maharashtra, and then the ban on meat for eight days during the Jain festival of Paryushan in the Mira-Bhayander townships on the outskirts of Mumbai.
The ban has now been extended to Mumbai for four days: September 10, 13, 17, 18.
The original proposal to ban the sale of meat and shut abattoirs during Paryushan was moved by Dinesh Jain, a Bharatiya Janata Party corporator from Mira-Bhayander.
Jain, image, below, spoke to Syed Firdaus Ashraf/Rediff.com over the telephone justifying the ban.
How did the idea of proposing a ban on meat come to you?
This is not an idea, but it is to do with our aastha (faith). This was implemented in Surat as well.
A Supreme Court judgment in 2008 grants municipal corporations the power to impose a ban on meat slaughter during Paryushan. The order is applicable to localities with a large Jain population. In the Mira-Bhayander area, 25 to 30 per cent of the population is Jain.
What is the religious significance of this order?
Our religion does not permit us to eat onions and potatoes. But this ban is not imposed on fish. That is because we have the Koli samaj (fishermen's community) living here.
Mutton and chicken are sold in the open. They hang the meat in shops and those who are fasting for a month during Paryushan are pained by this sight.
Our religion does not allow this and moreover, we meditate during the month. There is no message to be given here. All we want to say is that no lives should be taken during this period.
Earlier, the ban was for two days and now it has been extended to eight... (In Mumbai, there is a four-day ban on the slaughter and sale of meat).
The Government Resolution says the ban should be for two days. However, if the Jain population is dominant in a nagarpalika (corporation), then a decision to extend the ban can be taken.

Approximately 70 per cent of the population of Mira-Bhayander is vegetarian. Only 30 per cent are non-vegetarians and we thought this 30 per cent will support us.
Somewhere this issue is associated with dharma aastha (religion and faith). There is no politics involved here. Being religious, I felt the Jain samaj should get some justice because we are a minority group. We also have a right to shut down these killings for eight days.
Critics say it is wrong to impose your ban on other communities...
This ban is not about eating non-vegetarian food. If you don't get meat in Mira-Bhayander, it doesn't mean you will not step out of the area to eat.
Here there are over 200 Jain mandirs and you have chicken and mutton hanging in shops. Sadhus and sants cross these shops. Paryushan is our biggest fasting period. They do tapasaya (live in austerity) and therefore feel no life should taken.
We don't want to hurt sentiments. With folded hands, I request everyone to support our sentiments.
After the Supreme Court order, the selling of meat was banned in how many districts?
There is a ban in one of the districts of Surat and I have a copy of that.
Why was an exception made for fish?
People are spreading lies to indulge in politics. They want to instigate other communities and therefore are raking up this issue. We have banned chicken, buffalo and goat. (Beef is permanently banned in Maharashtra).
Did you exclude fish from this ban because you were scared of the powerful Koli community, the original inhabitants of Mumbai and surrounding areas like Mira-Bhayender?
No way. Some want to instigate a fight between the two communities (the Jains and Kolis). You read our proposal for the ban. It clearly states nothing about fish.
Raj Thackeray's MNS (Maharashtra Navnirman Sena) spoke about this (no ban on fish)...
(Interrupts) We conveyed to them (the MNS) that we never wanted a ban on fish.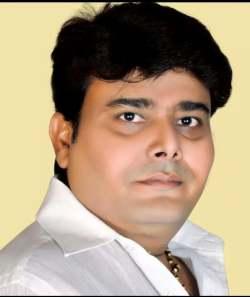 Isn't the ban unjust to those who eat meat?
This is not the case, Sir. We request that there should be no killing in front of us. You know that when fish is taken out from the sea it is dead. But keeping meat in shops and cutting it is like taking a life.
The Swaminarayan samaj lives in huge numbers in Mira-Bhayander and so does the Brahmin samaj. Maharashtrian Brahmins also are vegetarians. There are some Muslims who told me, 'Dineshbhai, we don't eat during Ramzan. So, how will it make a difference if we don't eat for eight days?'
I have two to three Muslim acquaintances who told me this.
Muslims in Mumbai keep their restaurants shut during Ramzan, but they don't expect non-Muslims to do the same.
They (Muslims) didn't say so at the meeting yesterday (Monday, September 7). They said that during Ramzan there should be a ban on liquor. We will support a liquor ban during Ramzan.
What more do you want to ban?
Aisa nahi hai (It's not like that). If this is their bhavna (sentiment), I have no objection supporting Muslims.
Is the BJP appeasing Jains, who are a minority?
Don't twist and say things. We don't want to politicise the issue. If we had to indulge in politics, we would have included a ban on fish.
We have put a lot of thought to this proposal. This ban is only for eight days. We are not demanding that shut the business for 12 months. These eight days are very precious to us.
Bakri Eid is around the corner. Won't this ban on meat be a problem then?
Our fast ends on September 18 and Bakri Eid is after that (September 25).
If Bakri Eid coincides with Paryushan in the future, what will you do?
We will see then.
In Mira-Bhayander itself, while Muslims live in one area Jains live in another. Why would you seek a ban on meat in areas where no Jains live?
In Hindu areas like Shanti Nagar there are Muslims, and in Muslim areas like Naya Nagar there are many Hindus. We don't have any rule that where Hindus live Muslims must not live or vice versa. It is not written anywhere.
I am repeating myself once again: This is not being done for political reason.
We confront important issues like water shortage due to scarcity of rainfall. But all you are interested in is bans.
No, we are working on that too. We want to supply continuous water supply to our citizens.
The ban is only about the sentiments of our community. I request you to tell everyone to respect religious sentiments and offer support.
Who will compensate the losses suffered by sellers of meat?
They keep their shops shut during Ganeshotsav. Moreover, in the month of Shravan ( the month when devout Hindus only eat vegetarian food) their business tends to suffer.
Don't you think the ban will add to the losses?
This is not a loss. Everyone has to shut down their shops for one day in a week, according to rules. But who keeps their shops shut? Twelve days in a year they have to shut down their shops, but they never do that, so they are making profit on those days.
I have no ill feelings against them. All of them are Indians and I love everyone.
IMAGE: Main Photograph: Parivartan Sharma/Reuters