'I came to know that there was a big racket going on in the selling of onions. Private players were hoarding onions and these things cannot happen unless they have political patronage.'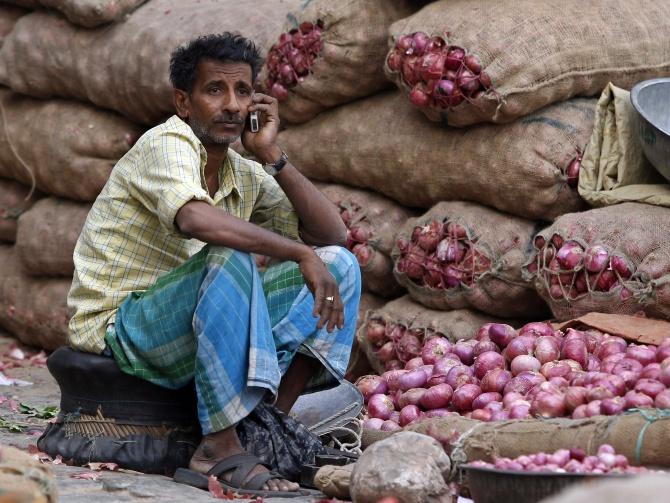 IMAGE: An onion vendor waits for customers at a vegetable market in Old Delhi. Photograph: Adnan Abidi/Reuters
Vivek Kumar Garg, a Right To Information activist and a Bharatiya Janata Party leader, tells Syed Firdaus Ashraf/Rediff.com Arvind Kejriwal's Aam Aaadmi Party government is hoodwinking Delhi residents on onion prices.
How did you find out that onions were bought at Rs 18/kg from Nashik and sold at Rs 30/kg in Delhi?
I came to know through some sources that there was a big racket going on in the selling of onions. Private players were hoarding onions and these things cannot happen unless they have political patronage.
I filed an RTI in July on this issue, and got the reply last week.
So middlemen made a profit of Rs 12/kg...
The Delhi government had ordered 5,000 metric tonnes from the SFAC (Small Farmers Agri-Business Consortium, a central government agency). But then they reduced the order to 2,500 metric tonnes.
It was done intentionally -- so that the shortage of onions could continue -- and they could be hoarded and sold at a higher price.
They only sold 575 metric tonnes of onions and left the rest the stock to rot -- as a result, the hoarders made a profit.
They (the Aam Aadmi Party government) advertised in newspapers that they had procured 1,850 metric tonnes of onions.
Delhi's daily requirement of onions is 1,000 to 1,500 metric tonnes.
Did they want to fulfil the demand of onions in Delhi for just two days?
It only shows that they could not have solved the onion price rise in Delhi; so the malafide intention on their part is proved.
They started this process in May and got the delivery in July end, because they knew that there would be a shortage of onions in that month, and they could sell the onions to the public at a higher price.
How big is the alleged scam?
They have still not replied on that (the amount paid). The real game is the satta bazaar (speculative market) where the price of onions is decided. That needs to be investigated.
I have filed a complaint with the Anti-Corruption Bureau. I am not saying that only the Kejriwal government is involved -- if the SAFC is mixed up in this, it too should be investigated.
The question that the AAP government needs to answer is when NAFED (the National Agricultural Cooperative Marketing Federation, an organisation of marketing cooperatives for agricultural produce) was selling onions to Delhi at Rs 23-Rs 24/kg, why did the government not buy from NAFED?
The AAP government says transportation costs and labour expenses are the reason for the increase in the cost of onions.
They (the AAP) have charged Delhi-ites nearly double in the name of 'administrative' costs.
In his election campaign, Kejriwal used to say 'investigate me.' We are saying the same thing now. Why is he running away from the investigation?
He can choose any agency he wants: The Delhi police, the CBI (Central Bureau of Investigation, an SIT (Special Investigation Team) under a retired high court judge, or even the Anti-Corruption Bureau.
Kahin se toh karao! (Choose anything, but at least get the investigation done!).
Is the AAP government not ready for an investigation into this alleged scam?
No. There is no statement from them.
The AAP government claims it never bought onions from Nashik at Rs 18/kg, but from the SFAC at a combined price of Rs 40/kg (Onions at Rs 32.86/kg; add Rs 7 for local transportation) and sold it at Rs 30/kg.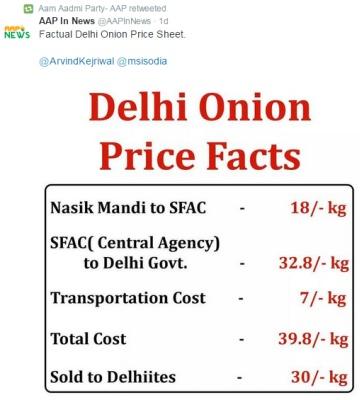 IMAGE: The AAP tweeted this 'fact-sheet' after the story broke.
Why do they not accept the fact that they have wasted 25 per cent of onions? There has to be an investigation in this case.
So you are stating that the AAP government bought the onions for Rs 18/kg from Nashik and not from SFAC?
They bought a quantity which would last only two days in Delhi. The Kejriwal government is lying and misleading the people of Delhi. Why don't they tell us why did they cancel the order of 5,000 metric tonnes of onions?
The AAP claims a media group is using your information and spreading lies against its government.
I am an ordinary man. How can any media group join me in this issue?
This is a standard reply from any government whenever it is caught in a corruption issue -- they always blame the Opposition.
You contested elections from Model Town (a constituency in north Delhi) on a BJP ticket. Who will believe you if you accuse the AAP of corruption?
Corruption is not something associated with a particular party or jaat-biradri (caste or creed).
Did the BJP ask Kejriwal to get involved in an onion scam?
Did the BJP ask them (the AAP government) to cancel a 5,000 metric tonne order and slash it to 2,500 metric tonnes?
Did the BJP ask them (the AAP government) to let the onions rot?
Did the BJP tell Kejriwal government not to buy onions from NAFED?
Kejriwal and his party have a clean image. Do you think your allegations will convince the public?
No, it is not that way. Kejriwal is saying the same thing what the Congress used to say about their various scams like 2G.
The AAP says the Kejriwal government will take action against false reports which appear to have been deliberately published to confuse the public.
Let them do what they want. I am doing my duty as a citizen of India. The RTI reply was given to me by the Delhi government. I got all the information from them.
What is the current price of onions in Delhi?
It is anywhere between Rs 60 and Rs 100/kg, depending on the area and the quality of onions. The Kejriwal government initially sold it for Rs 40, and later subsidised it at Rs 30/kg. They sold rotten onions.
They have issued advertisements worth crores of rupees as their clarification. Had they given that many rupees worth of onions to the common man, people would have respected their government more.