'It used to sound very strange.'
'That the same child who used to sing Jana Gana Mana the loudest in class, who celebrated August 15 and 26th January with such fervour and who has always nurtured the desire to make India a better nation being called desh drohi.'
'It was very painful.'
'I was thinking if someone inside the court can be attacked in front of the police, the public, then what will become of the Constitution, the concept of justice, will people decide justice on the streets?'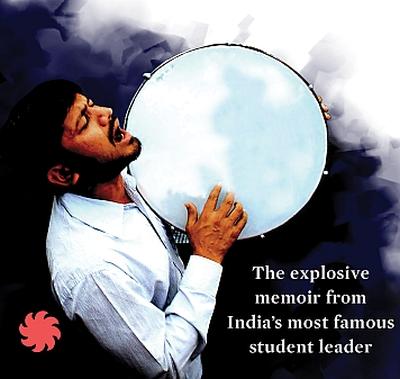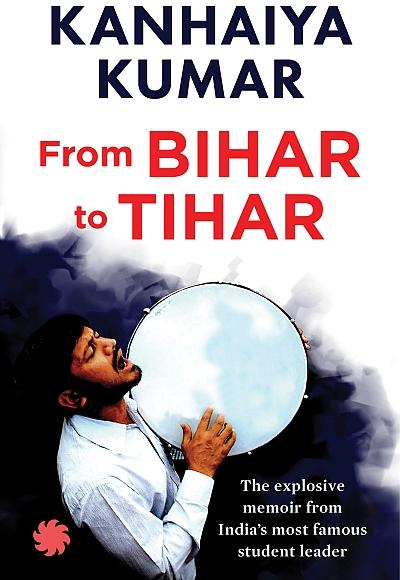 There are no in-betweens for Kanhaiya Kumar.
You either hate him or love him.
At the beginning of the year, charged and arrested for sedition for allegedly raising anti-India slogans at Jawaharlal Nehru University, where he was president of the students union, Kanhaiya Kumar stood at the heart of the debate on nationalism that has now come to dominate the national discourse.
And just as the year comes to an end, the most talked about student leader this year is out with a book, From Bihar to Tihar, published by Juggernaut Books.
In an interview with Rediff.com's Archana Masih conducted over Skype, Kanhaiya Kumar speaks about his days in Tihar jail, why he is anti-Modi and how he will overtake everyone in his class to submit his PhD thesis.
After your release from Tihar, when the jailor asked where you want to go, you said home -- which meant JNU. Why is JNU home?
When you enter your home, you feel apnapan. There is no sense of denial.
Similarly, there is no denial in JNU, there is only acceptance. It is inclusive. You are never demoralised or humiliated because of your background or anything else.
JNU is an extension of my Bihat home.
You say you are anti-Modi, not anti-India -- don't you find anything positive about Narendra Modi?
I have said repeatedly that I am not against Modiji as a person. I oppose the ideology that he represents.
I oppose him as the symbol of that ideology, and honestly, I don't see anything positive in that ideology.
This ideology is anti-women, anti-minority, anti-Dalit, anti-poor, anti-farmer and anti- democracy.
The way he (Modi) has worked and spread himself in this country is the only thing one can learn from him, and other political organisations should also learn from that.
How has life changed after Tihar? You say you have no private life and are surrounded by security guards, people, the media.
I have always lived a life surrounded by people. It is said when you don't have something you miss it more.
I used to live in a single-seater room. I still do, but earlier I wasn't ever alone in my room -- people used to come and go because of my social engagements, political activity -- but I had a space.
I could take a bus and go anywhere when I wanted to, watch a match, or cinema -- that has completely stopped now.
I have to inform the police, they come, then there are 2, 3 other people.
So life has to be planned -- I am pareshan (fed up) with that.
Why can't you refuse security and go out on your own?
If I go on my own, there are two problems:
those closest to me get worried about my security;
if some mishap happens the State will wash its hands off and say that it had provided security, but I didn't avail it.
Now security inside JNU has been withdrawn. There is a boy from my village who lives with me 24x7. My village people have sent him, but when I go out I have security.
How have your studies been disturbed in these past 6, 7 months?
Nuksan toh hua hi hai (It has been affected). But all this has to be done simultaneously.
These are the challenges of life. I have to sleep less and work more.
In your book you do not describe much of your experience inside the classroom compared to the activity outside, while the criticism against you is that you do less of studying and more of activism.
This criticism is made by those who have not done much in life themselves.
I give you the example of Bhagat Singh. He was the college topper and was actively involved in political activity. He also had a personal life. He loved eating rasgulla and watching films.
I was the topper in the JNU entrance exam. Now I am writing my PhD thesis while most classmates have written most of it -- but I can say with confidence that my PhD will be the first to be submitted.
Those who fight for societal change are always good in studies too. If they aren't -- they won't be able to fight because they will not understand society to begin with. They will not have the capacity to question.
Posing a question is more difficult than the answer.
When you learn to ask questions, you will be able to find the answers too.
You have to fit your schedule according to your ideas -- for me watching cricket or a film is less important than participating in a protest or burning an effigy.
People study after watching a film. I do that after participating in a protest.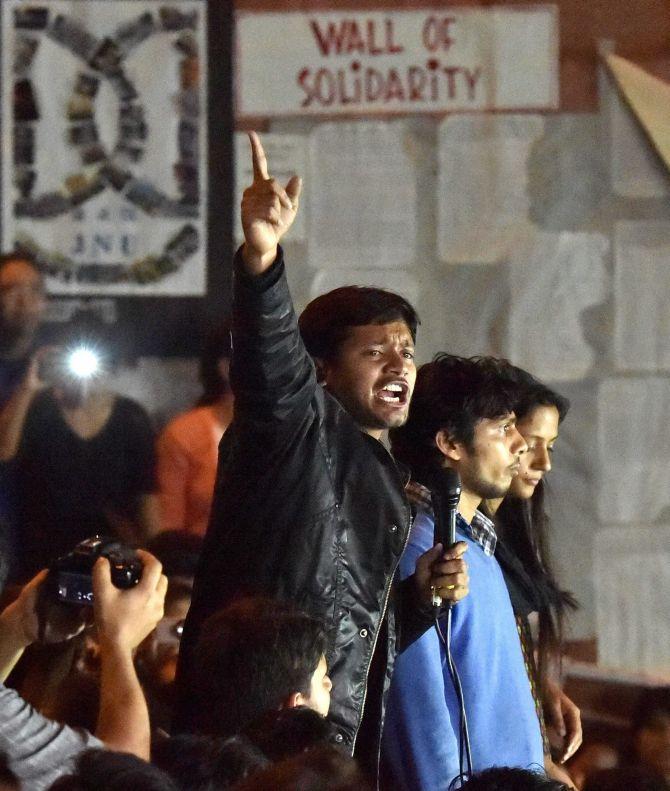 IMAGE: Kanhaiya Kumar arrives on the JNU campus upon his release on bail. Photograph: Vijay Verma/PTI
Have you felt dejected or defeated by the powers of the government? What are the low moments?
The day I realise that, this battle will be over.
People say I have a lot of money, but I don't even have a cycle. My father's treatment is being done in the district hospital in Begusarai.
People say I have contacts with netas (leaders), but I don't know if I will get a job once I come out of JNU.
I feel low when I think of this contradictory situation, but then I feel what is there for me to lose that I am getting so upset about.
And what are the highs?
The way people supported JNU -- how they came out on the streets, suffered humiliation.
But there are as many against JNU?
It's not important for me what Venkaiah Naidu says. For me, what is more important is what Noam Chomsky or Arundhati Roy say.
I am talking about the perception of the aam janta.
We study about normal distribution in social science -- to think that Modi's perception is also the aam janta's perception is very wrong.
It is wrong to think that the entire country is following the Hindutva agenda.
There is no opposition to Kanhaiya Kumar from the common people. Those who oppose are all paid RSS people or the chamchas of BJP MLAs or MPs. It is an organised movement of a particular ideology.
Your arrest started a debate on nationalism, you became a metaphor for sedition -- how did you handle this allegation?
First it used to sound very strange. That the same child who used to sing Jana Gana Mana the loudest in class, who celebrated August 15 and 26th January with such fervour and who has always nurtured the desire to make India a better nation being called desh drohi. It was very painful.
I then gradually realised that my perspective of nation is very different from those who called themselves the champions of nationalism.
My perspective is drawn from the country's Constitution, but theirs is drawn from Manusmriti.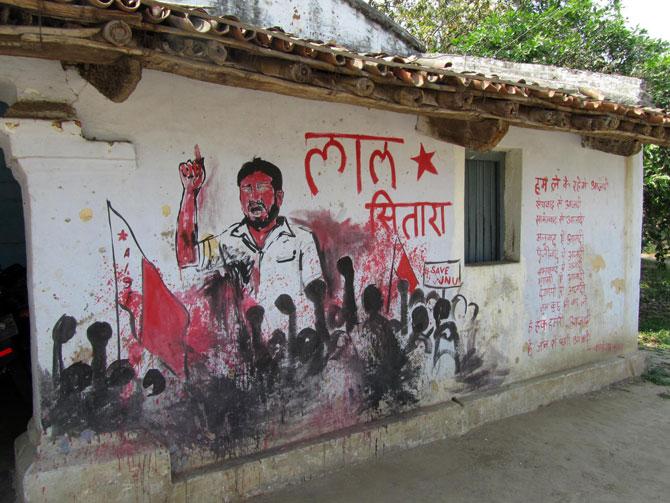 IMAGE: Kanhaiya Kumar's home in Bihat near Begusarai in Bihar. Photograph: Archana Masih/Rediff.com
You mentioned you get anonymous threats against your family, do you still get them?
Yes. The frequency of letters has reduced, but I get 1, 2 in a month.
The book mentions incidents of praise, but you don't mention any hostility that you have faced.
What is the worst thing someone has said to you while accusing you of being anti-national?
Ironically in this country -- all the abuses are in the name of the mother and sister.
They are against women, hence I did not want to use them. I didn't use it in the book because it contradicts what I stand for.
Most of the letters had abuses for my mother and sister.
When I went to Faizabad, two boys approached with a garland of flowers, but instead threw an egg and went away.
If you have to throw an egg, why bring a garland along?
There are allegations against me, but I too am a citizen of this country. It is my Constitutional right that my security is ensured when I am presented in court.
Those who call themselves the guardians of the law were breaking the law and that moment was painful.
You write that you had not felt fear the way you felt in the court that day.
We do not have the option to feel afraid since we have nothing to lose.
Even that day in court, I was not fearful about my life. I was thinking where is this country headed?
People like us live our lives in difficult circumstances. We live so that we can defeat fear.
If we remain fearful, we will not be able to live at all.
I was thinking if someone inside the court can be attacked in front of the police, the public, then what will become of the Constitution, the concept of justice, will people decide justice on the streets?
Are we going from a democratic to a theocratic state?
Are you saying that when your nose was bleeding, when you had been attacked, you were not afraid about your well being?
You can attack me, but what you are doing is having a very bad effect on society. Do you want people to stop talking?
This is a very bad precedent and is very dangerous. People will stop speaking, stop raising their voice. This is a painful situation.
A wound of the nose can healed, but a wound of the brain stops people from speaking and that is more dangerous.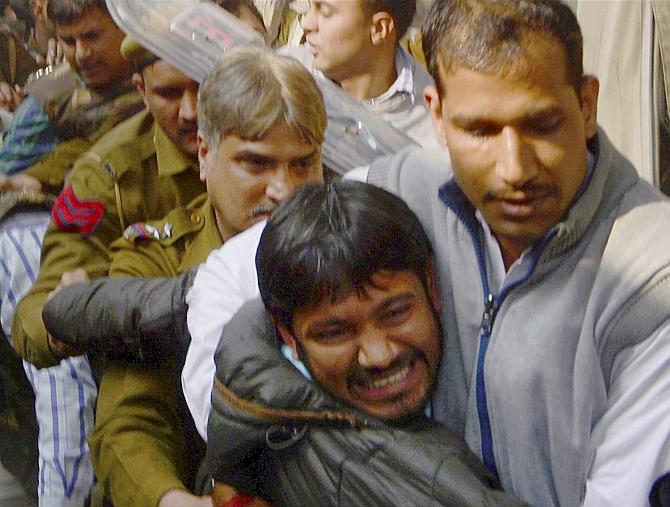 IMAGE: Kanhaiya Kumar, arrested on charges of sedition, being produced at the Patiala House court. Photograph: PTI Photo
You seemed to have left Tihar without any bad memories and found the prison guards were sympathetic.
Prison is not as fearsome as it seems.
My days in Tihar were not daravana (scary). It's the little things that you miss most, like when I wanted a nail cutter and had to wait a day for it because it is seen as a weapon.
I missed looking at the birds and stars.
Just as you came out with happy memories, you could have come out with bad memories too -- so the State did not always collude against you, isn't it?
I have said this before -- that the State actively worked against me. The retaliation it faced made the State realise its mistake and it quickly went into damage control.
The charge against me is that there was (anti national) sloganeering in my university, not that I was shouting those slogans -- and that I was part of that procession.
I wasn't among the 10 organisers. I am not there in video evidence either.
The police used to ask me -- 'Fine, you did not raise the slogans, but why did you not stop those who were.'
Based on this logic, I can say that the slogans were said in this country, so the PM should go to jail.
The police could not logically establish their point to society.
You were kept away from other prisoners because there was a threat to your life.
And that I would influence them.
I was kept isolated. The next two cells were empty.
When other prisoners were locked inside, I was taken out.
The people I got to interact with were essential staff.
I only had two requests from the jailor -- for paper and pen and to increase the number of rotis because I remained hungry after eating what was given.
Your book ends at the point where you come to give the speech after your release from Tihar that was shown on television channels.
Did you compose the phrase 'Desh se azadi nahi, desh mein azadi (We want freedom in India, not freedom from India)' on the spur of the moment or had you used it before?
I did not imagine that so many television channels would be there and it would be aired live.
It was the first time I used the phrase 'Desh se azadi nahi, desh mein azadi' because I was asked this question over and over again while in custody -- from the judge to the police -- I was asked, 'What do you want freedom from?'
So I wanted to tell people what azadi means and what we want azadi from in this environment of desh bhakti.
You write your speech was a continuation of a conversation about rights that you had started earlier and had been arrested for.
Where has that conversation reached 7 months later?
We are weak in the war of perception. They have the power of the State and a strong propaganda machinery to take their perception to the people effectively.
Our pace is slow, but we are not hopeless. They have had to go on the backfoot many times which gives us energy.
They had to replace the human resources minister. We don't have the facilities or propaganda machinery, but people are willing to connect to our discourses.
Students have stood up collectively and emerged as an opposition to the government in different universities.
They have compelled the government to alter its narrative.
IMAGE: Kanhaiya Kumar with Umar Khalid and other students stage a torch march on the JNU campus. Photograph: Kamal Singh/PTI
What have been your achievements and failures since then?
The failure has been that those who are ruining this nation have projected themselves as desh bhakts. We have not been able to effectively counter this.
The achievement has been that a process has started that connects JNU with the common people of this country.
A discourse is happening and people are questioning the government.
If we are able to spread our message speedily and based on a structure, we can convert our failure into success.
You were invited to the Kasauli Literary Festival last month, then you were in Punjab for another function -- how many invitations do you get a month?
If I accept the invitations, I will get a programme every day, but this is the last year of my PhD. I have to submit my thesis by July. I am invited for many programmes, but I myself turn them down.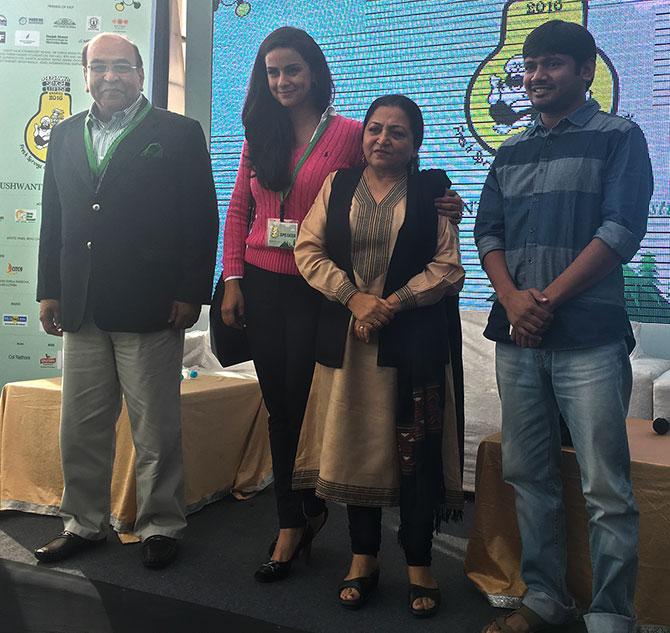 IMAGE: Lieutenant General Syed Ata Hasnain (retd), Gul Panag, Madhu Kishwar and Kanhaiya Kumar at the Kasauli Literary Festival.
You have not ruled out joining politics.
I am not ruling it out and I am not denying it because I don't have concrete answers. I have not joined any political party.
I am in politics, so I can't deny that I am not involved in politics.
My nature is that I don't plan too much.
What do you see as the future of Marxism in the march of the BJP?
We don't think it is our responsibility to promote or defend any ideology. We don't have the task of defending the burden of history.
Whatever ideology can help us resolve the problems of today -- Marxism, Ambedkarism, Gandhism -- we should take the help of all.
Are you pessimistic or optimistic about the country's future?
I see a lot of optimism.
Regardless of my criticism when I speak to European friends, I defend the democracy and diversity of this country.
I tell them that India cannot be compared with Europe. India should be compared to its own history -- to the different stages of its history.
We have undertaken a long journey and have a long way to go.
We have solved many problems and have many more to solve.
What attracted you to Left thinking?
The youth of this nation is basically anti-establishment. But the circumstances of her/his life result in the suppression of this thought.
The circumstances of my life did not suppress it, but helped it grow.
Left means taking a position against the problems that exist in society. I am part of that group and proud of it.
JNU student Najeeb Ahmad has been missing, why has there been no street agitation by JNU students for Najeeb Ahmad?
Every issue has its own dynamics. JNU students are agitating on campus like they always do.
But the way people are reacting is different and there are many reasons for it -- at that time the media hyped it, this time there is media blackout.
Nothing is known concretely in this case, it's a mysterious situation.
Why did you write this book?
This is no biography, but a political memoir which reveals what happened to me -- how ordinary people become victims of State repression.
It is a challenge to take your message to people in the face of the RSS propaganda machine.
I thought a book would be a good means.
From Bihar to Tihar is available in book stores and on the Juggernaut app. It is also available in Hindi as Bihar se Tihar.