'It's odd, I made Jo Jeeta Wohi Sikandar which is about winning, but today I feel we live too much in a winning world.'
'Everybody wants to win.'
Mansoor Khan, the director who left Bollywood at his peak for a quieter life, speaks to Rediff.com's Archana Masih at his farm in the Nilgiris.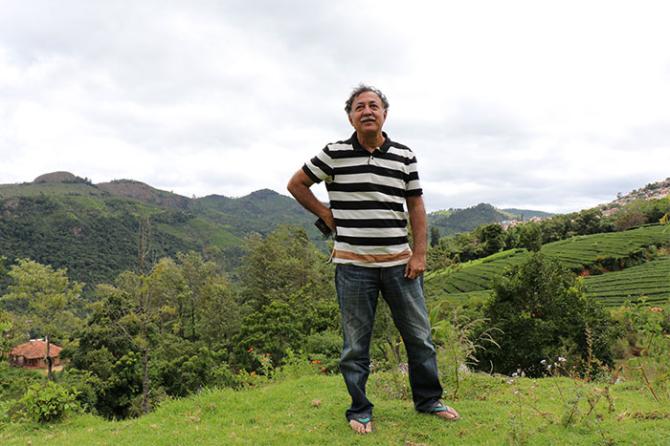 IMAGE: Mansoor Khan at home in Coonoor.
Khan launched cousin Aamir Khan in Qayamat Se Qayamat Tak, and made Jo Jeeta Wohi Sikandar, Akele Hum Akele Tum and Josh.
He left Mumbai in 2005. Photographs: Rajesh Karkera/Rediff.com
Mansoor Khan is an articulate and persuasive contrarian who can turn your worldview upside down.
"We are blazing down a tunnel. Our understanding of reality is inverted. We have destroyed half the planet," he says, pointing to elephant dung as he walks on the lush green land, where he runs a home stay in the Nilgiri hills.
"We have to respect the land. There was a time the earth could give us more -- not any more."
The filmmaker who directed the memorable Qayamat Se Qayamat Tak and Jo Jeeta Wohi Sikandar turned his back on the movies nearly 15 years ago.
He moved to Coonoor, bought land and cows to set up home and barn, followed by Acres Wild, a farm stay.
The spot where he stands overlooks a valley; behind is a forest. Elephants come by at times and walk through.
In the distance cows graze leisurely; guavas nestle on branches and a local fruit is scattered in little red balls on the ground.
Showing us around, he points to a bulbul bird, then the fennel plant with bright yellow flowers that will be used for making cheese.
His wife Tina gives lessons to guests in cheese-making and has trained two local women to make cheese from the milk of their home-bred cows.
There is a brick making machine where the bricks for construction have come from. A slushy liquid trickles out of the gobar gas plant to irrigate trees and plants.
Birds chirp, cows moo.
The sun sparkles in the waters of a natural pond.
Life here seems simple, local, fresh and drawn from the land.
When Khan moved here in 2005, the land wasn't as green, but years of nurturing it based on what suits the local conditions has transformed the 22 acres into a green paradise.
He has learnt how to bake bread and make soap.
He has also written The Third Curve, a book which argues that it is not money but energy that runs the world.
Perpetual growth, says Khan, is impossible because the earth does not have limitless resources to sustain that growth.
The maverick shares his worldview with Rediff.com's Archana Masih.
You left IIT, Cornell, MIT halfway, weren't your parents upset?
My father (successful filmmaker Nasir Hussain) was very happy.
He never wanted me to go abroad. He wanted me to make films, but at that time I didn't want to do that.
I wasted a lot of their money, I feel bad about it. I had the most marvelous parents. They did not put parental pressure on me.
I always felt I would be uncomfortable in an industrial society that's why I left my studies abroad.
I was anti 9-5. It might sound childish and puerile, but this is not what I wanted to do.
I returned and didn't know what to do.
My dream was to live off the land. My thoughts were prodded out of me when my land was going to be taken away. I was angry.
Our land in Alibag was going to be acquired for an airport. 45 sq km, 14 villages, 30,000 people. It got me thinking.
Then I realised that there were others who were opposing it and one man Ralli Jacob became my guru. He had already fought similar battles. He was a complete contrarian and fighter.
I learned a lot. It completely inverted my world view. This was 2, 3 years just before I made Josh. (Mansoor Khan also made Akele Hum Akele Tum and produced Jaane Tu Ya Jaane Na.)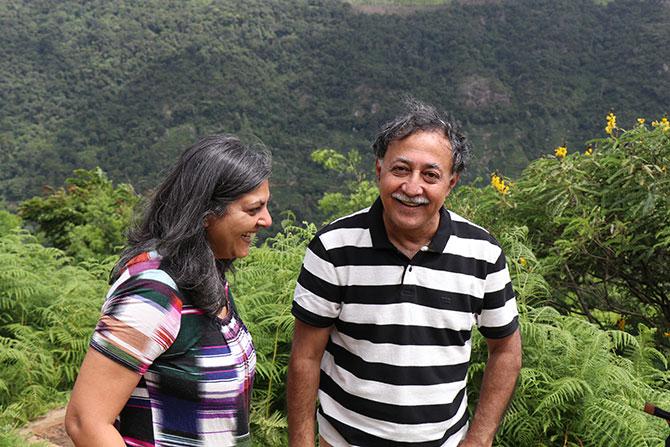 IMAGE: Mansoor with his wife, Tina. The couple run a homestay. Tina has taught over 200 guests how to make cheese.
It needs courage to leave all the success behind and start afresh.
It didn't take me courage to come here. It would have taken immense courage to remain in Mumbai (laughs).
Moving here came more naturally to me and fortunately my wife Tina agreed.
If I had a wife who was a city person and wanted to eat at a new restaurant every evening, it wouldn't work.
Living in a non urban society is therapeutic.
Cities have buzz, but they are not human friendly. Cities take most resources and deplete the whole hinterland.
Have you watched Dangal?
I liked it.
It's odd, I made Jo Jeeta Wohi Sikandar, which is about winning, but today I feel we are living too much in a winning world.
Everybody wants to win these days.
Jo Jeeta Wohi Sikandar is really not about winning, it is actually about character building. It sprang out of my own experience.
I was a drop out, a waster, I didn't want to be responsible.
Sanjay Lal's character stemmed out of me. It shows how he becomes responsible.
The medium was cycling, but it was really not about winning the cycle race.
In my mind when Qayamat Se Qayamat Tak became a hit I didn't see myself as being a winner, I was just happy.
I didn't want to give my name to Qayamat Se Qayamat Tak. I did not want to make films forever.
I am very wary of the trap of success because then it becomes a drug.
WATCH: Mansoor Khan about the movies he made and why he left it all behind. Video: Rajesh Karkera/Rediff.com
Qayamat Se Qayamat Tak was a phenomenal hit and is a landmark in Hindi cinema. When you are young and see such success, is it not difficult to get swayed by it?
I was very careful that it doesn't go to my head and doesn't become a requirement.
I thought if I make another new film, it should be better.
I never went and enjoyed that success.
I am also not much of a movie person. The recent films I watched were Pink and Dear Zindagi. And I watched Memento again.
I liked the second half of Dear Zindagi and how Shah Rukh (Khan, who he directed in Josh) handled his part.
What do you think of Aamir's work and the arc of his career?
Aamir is very successful, but he is extremely balanced. He is easily the most successful person in the history of Indian cinema, Rajesh Khanna and Amitabhji apart.
But I say most successful because he has done a diversity of things and a diversity of never done things before.
Aamir is an exception.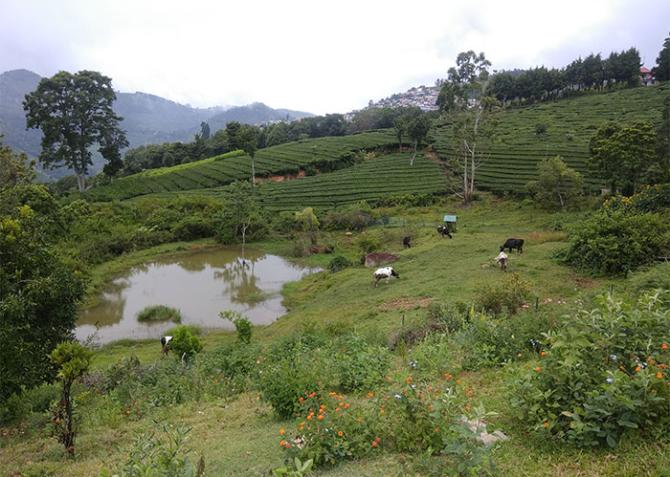 IMAGE: Mansoor Khan has nurtured his 22 acre land into a green paradise. The 45 litres of milk obtained from the cows make around 4 kilos of cheese every day. The cows graze by the natural pond.
What changed your world view?
My awakening came when my land was going to go away.
When your own land is being taken it makes you think, we are the beneficiaries, the tribals are the invisibles.
We pretend that they are backward and need to be developed.
People will say Mansoor is a Luddite. Anti-progress. But this is commonsense.
You don't need to be a genius to understand that the earth is finite, but it requires honesty.
It is really an honesty factor and our scientists are dishonest to their own science.
Modern science is a faulty mode, non-holistic mode of thought.
People talk about subsidy, equity, liquidity, debt, interest. Arre, talk about energy, resource, finiteness.
So your view is contrary to what the world thinks?
Totally. My worldview is very different from the conventional worldview. I disagree with most things.
The beauty of mainstream media is that it subtly makes you form an opinion without having given you any basis for it.
There will be an article on Elon Musk's Mars colony and you start saying, 'Well, we'll settle on Mars yaar' -- when not a blade of grass can grow there because of its toxic atmosphere.
We have got a beautiful planet where 9 trillion things are correct for life, where life evolved, but people are talking about Mars! That's what mainstream media does. It is very insidious.
My critique is of civilisation. The fundamental basis, paradigm, belief of civilisation is itself faulty.
Which is why we are in the mess we are and have destroyed half the planet. Our understanding of reality is inverted.