Image: The new ordinance on land acquisition is a return to 1894. It will reopen the doors for forcible acquisition, says Jairam Ramesh. Photograph: PTI
'Today, environment has become a public issue. It has become an issue of political debate. It is no more taken for granted.'
'During my tenure neither Sonia Gandhi nor Rahul Gandhi ever spoke to me one word directly or indirectly about any project.'
Concluding former environment minister Jairam Ramesh's fascinating interview with Sheela Bhatt/Rediff.com
Do you think Narendra Modi's economic ideas will find resistance from environmentalists in the coming days? Will it become a diplomatic issue too?
It is still too early to say. But the trends are worrying and disturbing. On one side, Modi is talking about solar and wind energy, which is very good. He is talking of ease of doing business, very good.
But on the other side we see a weakening of laws, we see a Greenpeace activist (Priya Pillai) being offloaded from a plane for having a different point of view.
Then the government goes to court and says that she is a security hazard.
And then you have a government filing an affidavit in the Supreme Court, saying there is no pollution in Delhi. What is all this?
How do you weigh the ordinance on land acquisition?
The ordinance is a return to 1894. It will reopen the doors for forcible acquisition. It restored the powers to the collector, which had been taken away and given to the gram sabha. It will deny compensation to livelihood losers as opposed to landowners.
So in many ways it restores the eminent domain principles of 1894 which the 2013 Act had removed.
Environmentalists say Rajiv Gandhi gifted the Panchayati Raj Act which gave Constitutional status to the panchayat, but no Constitutional power over their own land.
You see the state governments want more and more power from New Delhi. The state governments are not ready to decentralise power to the panchayats and nagar palikas. Constitutional provisions have been made and they have been violated in all states.
Barring Madhya Pradesh, West Bengal, Kerala, Karnataka and 3, 4 other states decentralisation of power to the local bodies in villages has not happened.
Political decentralisation has taken place. There are today 30 lakh (3 million) elected representatives. But administrative decentralisation and financial decentralisation has not taken place.
Elections are held, panchayats are there and acting. There are 240,000 gram panchayats in this country. Women are also well represented.
As the minister of environment and forests, what are the profound changes that you brought in?
I think the most important change was the transparency change -- the manner of decision making. The idea of a speaking order to accompany every major decision. In 25 months there were 13 speaking orders on various issues.
I think transparency in decision making was not just at the ministry level, but also at the minister's level was very important.
Second, as I have explained in the book, today environment has become a public issue. It has become an issue of political debate. It has become a media issue as people are talking about it. It is no more taken for granted. I think that is a good development.
Jayanthi Natrajan has written a very revealing letter to Sonia Gandhi in which she noted how the environment ministry stopped projects of people like Gautam Adani.
This book is about my tenure and during my tenure neither Mrs Gandhi nor Mr Rahul Gandhi ever spoke to me one word directly or indirectly about any project.
What did you do to precisely to improve the entire process of Environmental Impact Assessment?
EIA is still a joke. I could not do much. The way Environmental Impact Assessment is done -- public hearings, you have without any public. And when you have the public, you have no hearings!
They are all managed, environmental impact assessment reports were managed.
I started that process and I very much wanted and I made a commitment to the Supreme Court, which unfortunately has still not been kept, that we will set up an independent regulatory authority which would take over the function of enforcement.
You know compliance is very important, you can give the conditions for clearance, but to ensure compliance is very important. The Supreme Court was very happy, but unfortunately we could not do it.
When we look back at 10 years of the United Progressive Alliance government, we see it was lacking in development also in the domain of environment. Both sides suffered. People lost both ways, eventually.
India's GDP grew by 7.5 per cent per year between 2004 and 2014. At no other period in India's history has GDP grown at such a rate.
Many people thought that India's development remained slow because of environmental issues.
Not people, but certain commentators, pink papers, corporate lobbies...
I don't think development was slow. In 2004, 34 million Indians had mobile phones. In 2014, 900 million people have mobile phones. You don't call that development? For me that is development.
The National Rural Employment Guarantee Scheme touches one out of every four India households. The Pradhanmantri Gram Sadak Yojna built 4 lakh (400,000) kilometres of rural roads. That is development.
We had 20 lakh (2 million) self help groups, that is development.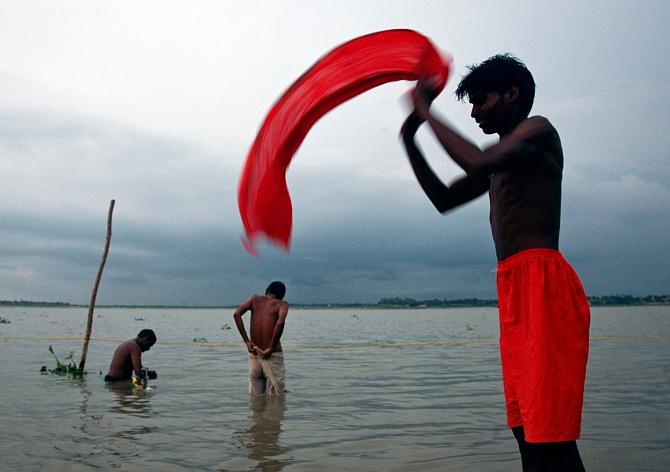 Image: The stretch of the Ganga from Kannauj to Varanasi is the most polluted, according to Jairam Ramesh. Photograph: Reuters
You gave the Ganga management plant to the IITs who have absolute zero knowledge about ground realities and river governance. Do IITs govern rivers?
You are completely wrong. Let me tell you something. 75 per cent of the pollution in the Ganga is from domestic and municipal sewage. Only 25 per cent is because of industrial pollution.
Of the 2,500 kms river in Uttarakhand, Uttar Pradesh, Bihar, Jharkhand and West Bengal, the most polluted stretch is from Kannauj to Varanasi -- about 700 km.
So you have to control the municipal sewage, number one. You have to control industrial sewage; you know tanneries, sugar, chemical, paper plants, so on.
Thirdly, it is not just nirmal dhara (clean water), but also aviral dhara (continuous flow) that requires attention.
So how many dams to build needs to be known. That is why all the seven IITs got together.
In fact, the contract was about to be given to an American consulting company. I said why are we giving it to the American company, why can't we give it to our IITs? They will get together and decide the approach.
For the first time they produced a comprehensive river basin management plant -- 60 volumes!
Minister for Ganga Rejuvenation Uma Bharti has to implement it now.
By the way Uma Bharti used to come to me very frequently when I was the minister. She was an activist. Now she is no longer an activist, she is an active minister. She should implement these IIT plans.
Why did your government not do anything on the issue of air and water polluters? They are only penalised. There is no criminal imprisonment.
For the first time we invoked Section 5 of the Environment Protection Act, we closed down tanneries and paper plants on the Kanpur, Kannauj to Varanasi stretch.
Every time I would invoke it, some politician would call me and say 'Sir, logon ke rozgar ka sawal hai, kyu bandh kara rahein hain?? (It is a question of people's livelihoods, why are you shutting them down?). This is the type of thing we face.
What was your answer?
I remember Rajnath Singh sending me a delegation of paper mills from Ghaziabad. I had to listen to them. I couldn't say that we are not going to listen to you. We had sent them a notice and a deadline to stop pollution.
But why didn't you bring any change in the law?
The law is there. You do not need to change the law. You have to enforce the law.
The polluter must pay. I do not mean only in the financial sense, but that the polluter must bear the consequences.
What about coastal and fishermen's issues. How do you look at it?
It is a very big issue. We changed the 1991 coastal zone regulation in 2011. Then we had a special dispensation for Goa, Kerala, and my god, we had special dispensation for Mumbai. Because you see Mumbai was called the Shanghai of India, so they required special attention.
You can't expect overnight mainstream solutions. These are complex issues, human issues, they need to be resettled, they are living on the coast, which is very vulnerable to increasing sea levels.
Their livelihoods are under threat, new ports are coming up, and no cumulative impact assessment is done.
You know the controversy that surrounded the Mundra port in Gujarat on the whole mangrove issue. So they are important issues, but they need time to be resolved.
What about the common properties issue in villages?
The ownership of the grazing land is a big issue.
There is a chapter on common grazing land in my book.
I handled it when I was the rural development minister. See you must understand the basic Constitutional realities. This is a subject of the state government. We came out with a National Land Reforms Policy to tackle it.
Please give our readers a top view of India's actual environmental issues?
I think people are ahead of the government. I think people are more concerned about land, water, about the health of their children, about their livelihoods, about forests, about protection of grazing lands, common lands.
But governments have to respond to the people's concerns. Governments still think that environment is a luxury for India. Environment is not a luxury, it is a necessity because it affect the day to day lives of people.
Fishermen -- you talked of fishermen -- 7, 8 million families are affected when climate change occurs.
I think we have to be sensitive to the larger issue. In India, environment issue is a public health issue. It is a livelihood issue. Look at it that way. Then you will get a different answer.
Out of air, water and land which is more polluted?
All three. Our land is degraded. You have those 50 million out of 320 million hectares of land, you have almost 40, 50 million hectares of wasteland in India. Not waste land, but wasted land whose productivity has gone down.
Water pollution, you have cholera, dysentery, you have Japanese encephalitis, you have spread of disease because of water pollution.
And, of course, air pollution is atrocious. Delhi, Bangalore, big metropolises all are getting polluted.
Put your hand on your heart and tell us you performed well to help the environment in India.
I performed as well as I could. I am not in a business of giving myself marks. I had satisfaction in many things I did, I had frustration in many things I couldn't do.
I think 25 months was a tumultuous period in the ministry. And I think it was an important period.