'The corporate sector says by 2022 they will create 300 million jobs.'
'In the last 70 years we didn't do it, how will we do it in 5 years?'
'Only agriculture can bail out the economy. Unfortunately, it is not being looked into.'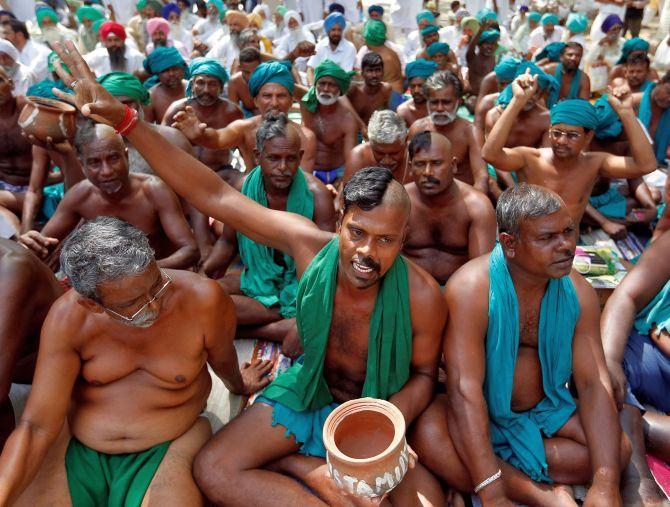 On Tuesday, April 4, the Uttar Pradesh government decided to waive off crop loans of up to Rs 1 lakh of small and marginal farmers. About 21 million farmers will benefit from this decision.
Again on Tuesday, the Madras high court directed the Tamil Nadu government to expand its farm loan waiver scheme to include farmers who own more than five acres.
Devinder Sharma, below, left, agricultural scientist, food policy analyst, activist and commentator on agricultural issues and food policy tells Rediff.com's Syed Firdaus Ashraf that only agriculture can bail out the Indian economy, yet it is being ignored.
Why do farmers in every state want loan waivers?
In Tamil Nadu, farmers want a Rs 40,000 crore loan waiver; in Uttar Pradesh it's Rs 36,000 crore.
Does it make good economic sense?
SBI Chairperson Arundhati Bhattacharya says it does not make good credit sense.
This is going on for the last two to three decades and now it has culminated into a massive economic crisis.
This is because of faulty economics. The crisis is not because of the conditions that prevail on the farm, but outside the farm. That has to be understood first.
The 2016 Economic Survey says the average income of a farming family in 17 states is Rs 20,000 a year.
Arundhati Bhattacharya should have had the courtesy to accept that the crisis is because farmers have not been paid.
They have been deliberately kept impoverished all these years.
What the farmer is therefore saying is, 'Write off our loans and let us start our lives afresh.'
It's justified because when Bhattacharya writes off corporate loans she never talks about credit indiscipline.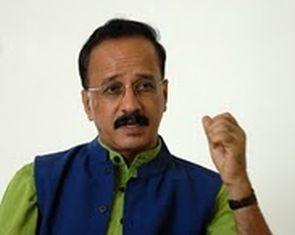 But if farmers earn just Rs 20,000 a year, how can they get loans? How will they repay their loans?
That's what we are asking too.
This year credit available to farmers was Rs 10 lakh crore, last year it was Rs 9 lakh crore.
Newspapers rejoice after the Union Budget saying it's an agrarian budget, a green budget or even a rural budget. But the reality is different.
Out of the Rs 10 lakh crore credit for farmers, 75 per cent goes to industry and only 8 per cent goes to small farmers.
The government wants to ensure inflation is low.
To keep inflation low, someone has to pay a price and the farmer is doing just that.
The farmer is dying and the country is rejoicing because inflation is under control. The entire effort is to bail out the corporate sector.
You have rightly asked that if farmers earn Rs 20,000 a year, how can they repay loans. But that's also true for corporates who earn in crores; they also fall in the loan trap.
Jindal Steel & Power, for example, has outstanding loans to the tune of Rs 44,000 crore, which is more than the loan of all Uttar Pradesh farmers.
In Punjab, Bhushan Industries has outstanding loans of about Rs 44,000 crore which they want written off. And on the other hand Punjab farmers want loan waiver of Rs 36,000 crore, which is less than Bhushan Industries.
A Business Standard report says the steel industry has outstanding loans of Rs 150,000 crore and everyone wants to write it off.
But when it comes to farmers, everyone says it is credit indiscipline.
Will waiving off loans be a permanent solution for farmers?
Certainly not. It is a temporary reprieve after two years of drought.
We have done nothing for farmers.
If something similar had happened to industry, the country would have funded a bailout package of several crores.
During the 2008-2009 global economic meltdown, industries were given Rs 3 lakh crore as a bailout package. This bailout package still continues.
Tell me, did anyone say at the time, bailouts need to be stopped?
Why are farmers' issues not taken seriously?
For the media, agrarian or farmers' issues are downmarket.
Policy makers are all in the clutches of industry, irrespective of whether their leanings are right, left or centre.
They believe they have to push farmers out of villages into urban areas. They believe this policy leads to economic growth.
That's the thinking that the World Bank has instilled into us.
If farmers stop farming, where will we get food grain?
In 1996, the World Bank in its World Bank Development Report said by 2015 the number of people that will move out of villages to cities in India will be equal to twice the combined population of the United Kingdom, Germany and France.
The figure was 400 million.
2015 has gone by. Now the World Bank says we have to hasten the process.
The World Bank says that with land reforms, land acquisition and then train farmers for skill development.
These farmers have to become industrial workers, but where are the jobs in this country?
Nitin Gadkari (the Union minister for road transport, highways and shipping) says he is laying 100 kilometres of roads every day and is therefore creating many jobs.
But are these jobs? They are dehati mazdoors (rural labourers).
The corporate sector says by 2022 they will create 300 million jobs.
In the last 70 years we didn't do it, how will we do it in 5 years?
Nobody questions the logic.
Agriculture is the only sector that can bail out the economy and unfortunately it is not being looked into.
When city dwellers lose their jobs, they don't expect the government to repay their home loans.
Why should farmers expect their loans to be repaid?
I completely agree with you. My only submission is this: Why is the government or the RBI writing off corporate loans to the tune of Rs 6.8 lakh crore?
These are non-performing assets. Why should the government bail out corporates?
In Madhya Pradesh, farmers are throwing their orange crops on the road, in West Bengal, farmers are throwing their potato harvest on the roads. Why are there no buyers for the produce?
Food mismanagement. It's not the farmers' fault.
The government has urged farmers to produce more and they did.
Look at pulses. Is it not the government's job to ensure that the farmers get the right price?
You cannot leave it to market forces which are exploitative all over the world.
The government has to step in, but they do not want to step in.
It would rather prefer to import food than grow food. This is the kind of economics that is proliferating.
Why are we importing food when we are self sufficient?
In India, we need production by the masses, not production for the masses.
If farmers produce food, only then will they get returns and create demand.
That is how growth will take place.
Instead, we forget about agriculture and the 7th Pay Commission gives handouts to the salaried class, which is 1.3 per cent of the population.
Industry calls it a booster dose. Why? Because demand is generated.
Instead, if you give that money to farmers, it will generate more demand and therefore a higher growth.
There is something terrible going on. I have been saying it is not farmers who have failed, but economists who have failed the farmers.
What happened to the Public Distribution System? Why can't farmers sell their produce through the PDS instead of dumping it on the roads?
The government announces a minimum support price for 23 crops, but in reality they buy only two crops -- wheat and rice.
The rest of the crops are left to market forces.
In India, only 6 per cent farmers get the benefit of Minimum Support Price.
94 per cent farmers are dependent on the market.
If the markets were so efficient, there would not be an agrarian crisis.
We need to build agriculture infrastructure.
We need to frame policy that includes agriculture and makes farmers prosper.
Agriculture employs 52 per cent of the population and only foolish policy planning can afford to ignore it.
Prime Minister Modi has spoken of blending fruit juice with aerated drinks and giving an impetus to canned juice and the food processing industry. But it hasn't reached farmers.
In the 11th Five Year Plan the total outlay for agriculture was Rs 1 lakh crore.
In the 12th Plan it increased to Rs 1.5 lakh crore.
For an agrarian population of 52 per cent, you invested just this much over 10 years!
The budget for MNREGA (the Mahatma Gandhi National Rural Employment Guarantee Act) is higher than the budget for agriculture.
Today there are only 7000 regulated mandis (markets) in India, but what we need is around 42,000 mandis, or one mandi for every five kilometres radius.
Once you have these mandis the farmers will have a place to sell their surplus produce.
Farmers have been dumping tomatoes on the roads for the last 20 years. Yet, the ketchup industry imports the bulk of tomato paste because it works out cheaper.
This means the farmers' produce goes to waste.
When we say infrastructure, we cannot think beyond highways and flyovers.
So why are farmers producing tomatoes?
It is not that there is no demand. It is only suddenly when there is a glut that prices crash.
The country has not learnt how to manage surplus.
This year, India is likely to harvest 98 million tonnes of wheat. Yet we imported five million tonnes of wheat.
Why? Whose interest are you serving?
We do not see any farmers' revolt in spite of so many suicides?
That's precisely what policymakers take advantage of.
Farmers are divided on ideology, political leanings. They will never be united.
Farmers serve only two purposes -- a vote bank and a land bank.
The Marathas and Jats have taken their protests to the roads, but farmers have not been able to organise themselves.
Agriculture in India depends on a good monsoon. In case of deficit rainfall, isn't drought inevitable? What's the solution?
Farmers in Maharashtra say they need better irrigation.
Unless we expand the irrigation network, the impression is farmers will be dependent on the monsoon.
Punjab, on the other hand, has 98 per cent assured irrigation.
In the USA, it is just 11.4 per cent!
Punjab is the highest wheat and rice producing state in the world, yet every day 2-3 farmers commit suicide.
We are made to believe that unless productivity is raised or fields better irrigated, farmers will not get out of the crisis.
The problem actually is not of productivity, but income.
We have kept farmers impoverished all these years.
I did an analysis and found that in 1970 the wheat procurement price was Rs 76 per quintal.
In 2015 it was Rs 1,450 per quintal.
That's an increase of 19 times over a period of 45 years.
I compared this income with other sections of society.
The salary of government employees jumped between 120 and 150 times in the same period.
I looked at the basic salary and dearness allowance of university professors and the hike was between 150 and 175 times.
For school teachers, salaries rose by around 280-300 times.
For corporate employees it was 300 times (middle management) and for the top rung it was 1,000 times for the same period.
For farmers it was just 19 times.
So other sections of Indian society got a phenomenal rise in income levels compared to farmers.
Yes. At the very minimum, farmer incomes should have gone up 100 times in the same period 1970 to 2015, but that did not happen. If it had, wheat prices would have been Rs 7,600 per quintal. We are paying them just Rs 1,450 per quintal.
In Hindi we call it 'humne farmers ko chunna lagaya hai (We have been taking farmers for a ride).'
If you give higher price to farmers, more income, then there will be reverse migration of people (from cities to villages).
I have been saying that you can only solve farmers' problems with a 'farmer income commission.'
This will provide a minimum take home package for every farmer.
Today, we are depriving farmers of Rs 12 lakh crore every year. I am going to give a full plan of why and how farmers must get a minimum of Rs 18,000 per month.
IMAGE: Tamil Nadu farmers pose half shaved during a protest demanding a drought-relief package from the Narendra Modi government in New Delhi. Photograph: Cathal McNaughton/Reuters