'What India needs to do is to re-build those cultural links in a way it didn't.'
'Clearly, India needs to wake up and spend more time on ASEAN.'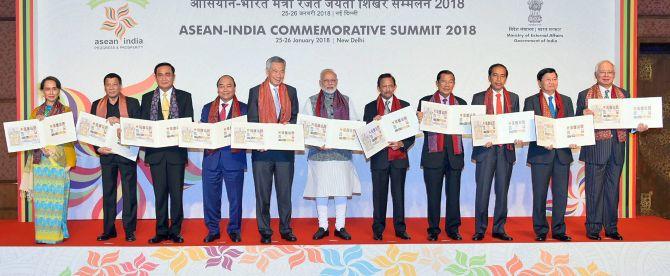 IMAGE: Prime Minister Narendra D Modi with ASEAN heads of State/governments and the ASEAN secretary-general release postal stamps to commemorate the silver jubilee of the India-ASEAN partnership at the ASEAN India Commemorative Summit. Photograph: PTI Photo
Kishore Mahbubani is senior advisor (university & global relations) at the National University of Singapore.
His latest book, The ASEAN Miracle: A Catalyst for Peace, with Jeffery Sng, looks at the historical necessities behind the founding of the Association of Southeast Asian Nations, the challenges ASEAN faces, and the impact of geopolitical competition on Southeast Asia.
Dr Mahbubani, a former Singapore ambassador to the United Nations, tells Advait Rao Palepu.
How has US President Donald J Trump's foreign policy fared so far?
The kindest thing you can say about Trump is that he has been much better than expected.
I think people were expecting a lot more dramatic changes. For example, in his campaign he had said he would declare China a currency manipulator or that he would officially recognise Taiwan, but since he came to office he has been more predictable.
Despite a few hiccups here and there, the world hasn't changed so dramatically.
You have stated that regional diversity is the foundational principle and strength of ASEAN.
How have political cooperation and mutual understanding prevailed over the inherent political and institutional differences between the 10 nations forming ASEAN?
One of the first things we did in our book is to explain why ASEAN has succeeded. This is due to specific four-letter words, the first one being 'Fear'.
In the 1960s, when ASEAN was founded, five non-Communist countries (Singapore, Malaysia, Thailand, Indonesia, and the Philippines) were thought to be dominoes, waiting to fall as Communist expansion took place.
It was the fear of Communism that brought them together, and if it wasn't for this threat, I think these five countries were so suspicious of each other they would have never have formed this regional association.
The second word is 'Luck', which came in two forms.
One, they had strong leaders like President Suharto (Indonesia), Prime Minister Lee Kuan Yew (Singapore), or President Mahathir bin Mohamad (Malaysia), and so they were able to rise above short-term interests and focus on the long-term value of regional cooperation.
And the other piece of luck is that ASEAN was on the right side of the Cold War.
The third four-letter word, which is a surprise to everyone, is G-O-L-F. And I emphasise that golf was a critical factor in the success of ASEAN.
What is China's position on ASEAN?
China sees ASEAN as a major geo-political asset because the grouping has facilitated the country's peaceful rise.
As China was rising, there were a lot of concerns and fears about it. Therefore, by creating various associations like ASEAN, ASEAN+3, ASEAN+6, East Asian Summit, ASEAN Regional Forum, and various other multilateral fora, China was allowed to engage with its neighbours.
How does one look at India-ASEAN relations?
There is tremendous potential for India-ASEAN relations, which is why we begin our book by talking about the 'four waves'.
One little-known fact about ASEAN is that of the 10 countries in the bloc, the cultural base of nine is Indian, not Chinese.
A thousand years ago, India's influence was much greater than China's in Southeast Asia.
What India needs to do is to re-build those cultural links in a way it didn't.
Clearly, India needs to wake up and spend more time on ASEAN, and I am glad that the 10 ASEAN leaders are coming (for India's Republic Day celebrations).
What about India-ASEAN trade?
I would say trade has been under-performing.
Look at the trade between ASEAN and China, which is around $400 billion, whereas the trade between ASEAN and India is about $75 billion.
A key point is that sometimes when you want to secure long-term geo-political gains, which is what India should be trying to do, you've got to face some short-term economic costs.
For example, if India joins the RCEP (Regional Comprehensive Economic Partnership) that will be a big deal.
That is one way for India to integrate not only with Southeast Asia, but also East Asia.
Geo-political competition and games could end up hurting ASEAN. What are some of the frailties of the regional economic organisation?
In our book we have said US-China competition is the biggest threat.
I think ASEAN will become very uncomfortable if they are forced to choose between the US and China.
They (ASEAN) have very strong economic links with China, and very strong defence links with the United States. So they don't want to be put in a position in which they have to choose, and so far they have tried to maintain good relations with both.
But if and when relations between the US and China go down, that will be a big problem for ASEAN.