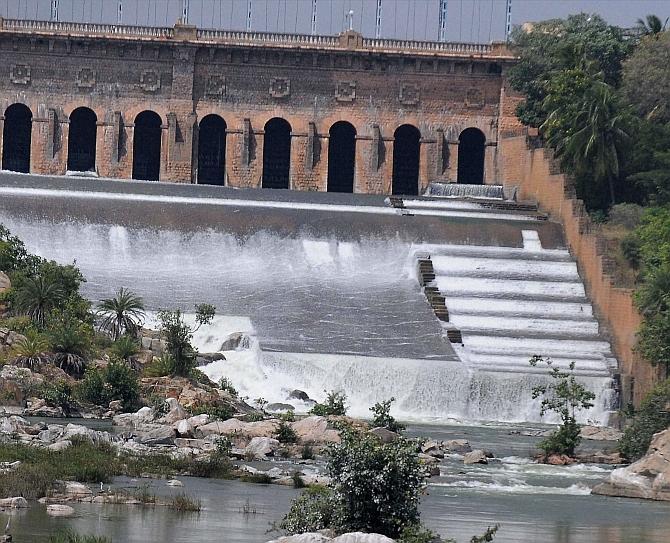 IMAGE: A view of the Krishnarajasagar Dam in Mysuru. Photograph: PTI
'The Cauvery river has become excessively politicised by all political parties.'
'They see a vote bank in an emotive issue of this kind.'
S Janakarajan, professorial consultant at the Madras Institute of Development Studies, is president of the South Asia Consortium for Interdisciplinary Water Resources Studies at Hyderabad.
Behind the formation of the Cauvery Family in 2003, where farmer leaders from both Karnataka and Tamil Nadu came together to find a solution to the dispute, he spoke to Rediff.com's Shobha Warrier.
When we met earlier, you had described the Cauvery water crisis as the most difficult and the bitterest water dispute in independent India.
Do you think the problem will continue for a long, long time?
This will continue for a very long time.
The dispute between Karnataka and Tamil Nadu is going to be bitterer and even worse.
It is because this dispute is different from the other water disputes in India. There are about 24 or so resolved and unresolved water disputes in India.
But the Cauvery water dispute is distinctly different from other disputes.
Is it because the Cauvery basin is not a surplus basin, but a deficit one?
Yes, in the case of most inter-state disputes in India, the primary issue is over sharing of surplus water but in the case of the Cauvery, since it is a deficit basin, the dispute is over re-sharing of available water or already utilised water.
At 50 per cent dependability, the available water in the basin is only 740 TMC feet, but in order to irrigate the available developed command area, we need around 1,250 TMC feet of water.
This is why this basin is called a deficit basin and this is the crux of the issue.
The dispute arises precisely for this reason and that too only in deficit years.
Karnataka upstream and Tamil Nadu downstream have over utilised water and both have large extent of the command area.
If you look back, you will see that the command area in Karnataka was around 300,000 to 400,000 acres initially while in Tamil Nadu, it was around 1.7 million to 1.8 million acres.
Today, the command area in Karnataka is over 2 million acres whereas in Tamil Nadu the irrigation command area has come down to 1.3 million acres.
The Kuruvai crop is virtually wiped out now. Even the samba crop, which coincides with the northeast monsoon, is becoming doubtful in the delta.
Can anyone blame the farmers of Karnataka for farming in more areas? Their argument is when they do not have enough water for their crops, how can they give to others.
I will not blame the farmers of both states. I will blame only the politicians.
The Cauvery river has become excessively politicised for many decades by all political parties and also the state and central governments.
They see a vote bank in an emotive issue of this kind.
The Cauvery water has become a matter of more intense political dialogue and an election issue ever since the non-renewal of the 50-year-old agreement in 1974.
Political parties in both states have championed the cause of the Cauvery farmers. People have shown emotional responses and cultural attachments to Cauvery water.
Unfortunately, political dialogues that have taken place so far in both states have only hardened the issue further.
The dispute between Tamil Nadu and Karnataka at times seems to shake the very foundation of India's federalism despite the interventions of the central government and India's highest judicial authority.
The dispute has become deep-rooted, more delicate and bitterer.
Remember, the farmers of both states depend solely on Cauvery water for their livelihood.
Though Bangalore is not part of the Cauvery basin, this IT hub is dependant on Cauvery water for drinking.
Do you think the farmers will listen to the politicians?
Do you think farmers from all the villages in Karnataka come to agitate? No. Only some leaders who have political clout and who promote linguistic chauvinism demonstrate in a big way.
Further, political parties should not back such agitations and violence either directly or indirectly.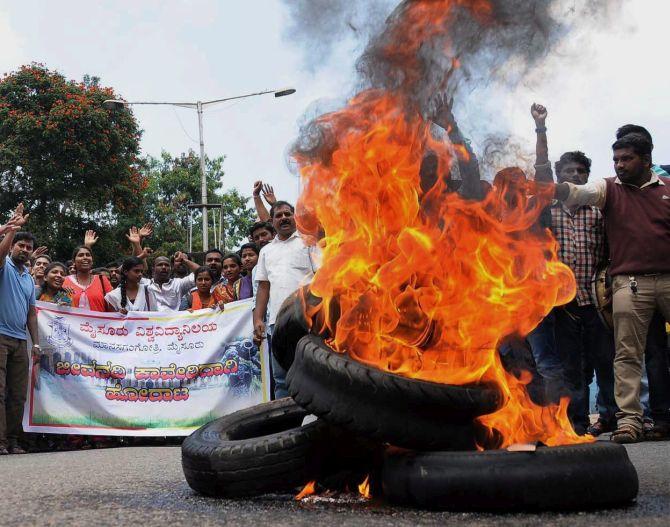 IMAGE: Protests in Karnataka over the Cauvery dispute.
You had started the Cauvery Family initiative with leaders from both states.
When I initiated the Cauvery Family dialogue in 2003, the situation was very tense and almost like what you see today or even worse.
The Cauvery Family dispersed the hostility that farmers of both states had.
When it was active, we never had this kind of violence.
I can tell you between 2003 and 2012 there was no violence in Karnataka as you witness today. That was because most of the farmers' leaders were part of the Cauvery Family -- K S Puttanniah, K Chandrasekar, Shanthakumar, Professor K C Basavaraj, Sunanda Jayaram etc.
There were lots of mutual respect and admiration for each other and farmers of one state visited the other state several times.
How did such a good initiative fizzle out?
It was a good initiative and all of us wanted the governments, the political parties of both states and also the tribunal to recognise it. But we did not get any recognition.
We identified five water sharing formulae and finally zeroed in on one which was acceptable to both Tamil Nadu and Karnataka.
We could find a solution, but without recognition, what could we do?
Even now, as the convenor of the Cauvery Family, I can convene a meeting, re-look, rethink, re-orient and arrive at a solution.
We started it in 2003 and it went on till 2012. We had invested a lot of time then without any support from any external agency but then without recognition, what could we do?
International organisations such as UNESCO applauded the initiative, but we failed to get support locally.
Do you think political parties felt you were taking the credit away from them?
I really don't know. Nobody is trying to take any credit away from anyone.
We as civil society also want a solution to a problem that started in 1974.
The original agreement that was signed in 1854 ended in 1974. Karnataka did not want to uphold a colonial agreement that was signed between the government of Mysore and Madras Presidency.
But we have many such agreements which we still respect as the Constitution says so, like the Mullaperiyar agreement. That's why Karnataka is not legally right.
They should realise that Tamil Nadu is a downstream state and people have been using water from the Cauvery for thousands of years. That's why both sides should talk.
Do you feel that is the only solution?
Coming face-to-face and talking is the only solution.
When people meet and talk, they become more humane.
I guarantee that when farmers of both states meet face-to-face and talk, there will not be any violence. They understand each other.
It was Tamil Nadu farmers (at the Cauvery Family meetings) who spoke of giving drinking water to Bangalore when the Mandya farmers in Karnataka opposed the idea.
I have seen this camaraderie with my own eyes.
I strongly feel that whether it's a good year or a bad year, both sides should share water.
Karnataka cannot use the Cauvery river as a drainage river, that is, releasing water only when the reservoir is full. This attitude should change.
Similarly, Tamil Nadu also cannot say we have used so much water for thousands of years and so we want that much now.
Whether surplus or deficit, it should be shared by both states.
A river becomes meaningful only when there is water flow.
The Cauvery delta in Tamil Nadu had access to water for thousands of years. The delta is formed only because of the river flow.
The delta is nothing but a plain sheet of land which is spread over close to the sea. This is an extremely important ecosystem which is an asset to the nation and needs to be protected.
The Cauvery delta was once the granary of south India, but miserably not any more.
Tamil Nadu has problems with all neighbouring states regarding sharing water.
Yes, Tamil Nadu is a downstream state, but a state shouldn't have such problems because of its position.
When nations themselves cannot survive independently, states within a country have to learn to share and live.
The degree of interdependence among states is increasing day by day. Farm produce from one state goes to other states where they are not produced.
People from all states migrate and live wherever they like. Therefore, state boundaries are becoming more and more meaningless.
Let me talk about the Cauvery. Yes, it is true that as per the tribunal, Tamil Nadu should get its legitimate share of water.
But Tamil Nadu is facing a number of problems in its backyard. The Cauvery has got four tributaries and an age-old canal.
The Kalingarayan canal, Amaravathi, Noyyal, Bhavani and Kodaganaru are heavily polluted, heavily exploited and heavily abused.
The Kalingarayan canal, which was so pure even in the 1980s, now carries nothing but sewage and industrial effluents. I will say it is almost dead now.
Bhavani carries huge quantity of industrial effluent from textile mills, dyeing industries, paper industry, sugar mills and urban sewage.
Amaravathi is also quite heavily polluted carrying along effluent load from dyeing and bleaching units.
Noyyal is the worst of the lot, which is practically dead due to over 900 dyeing and bleaching units.
A dam constructed across this river (the Orathapalayam dam) has never been opened for irrigation even once ever since it was commissioned in 1991.
The Kodaganaru carries effluent from 100 plus tanneries built on its banks.
All these rivers carry huge quantity of urban sewage too.
Industrialisation and rapid urbanisation have destroyed these rivers completely.
Finally the entire pollution reaches the Cauvery delta.
The second threat is sea water invasion in the delta. Only when the sediments from upstream reach the delta, the delta's elevation level could be maintained above sea level.
But due to construction of dams, sediment flow is reduced to insignificant level.
As a result, the Cauvery delta is sinking and may collapse as a result of sea water invasion and increasing salinity.
The threat may become much more glaring due to climate change threat and the consequent sea-level rise.
All these problems are man-made and this can affect the livelihood security, food security, ecological and environmental security.
Eventually, already impoverished farmers are burdened and pushed to commit suicide.
Therefore, while it is important to talk about sharing of water between Tamil Nadu and Karnataka, it is equally important to discuss and clean up these tributaries of the Cauvery river.