'If Article 35A is scrapped, then Jammu's identity will be over.'
'I am the son of an army official. So, I dare to speak the truth.'
'Be it the BJP or Congress in power, Jammu is always discriminated (against).'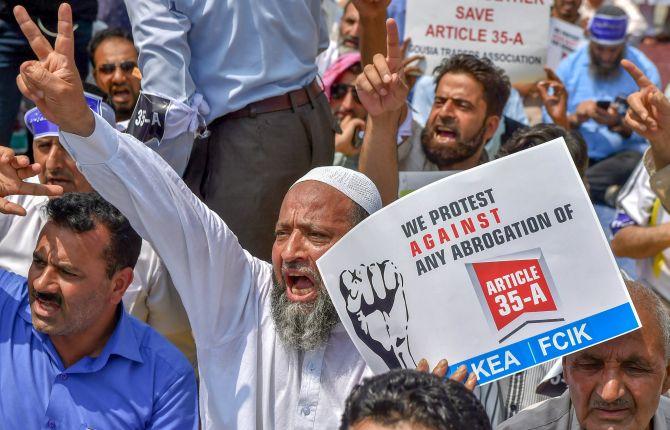 Gagan Bhagat, the Bharatiya Janata Party legislator from RS Pura in Jammu, has defied the party line and opposed the scrapping of Article 35A of the Constitution.
The Supreme Court, which has been hearing pleas seeking the scrapping of Article 35A, has postponed the matter to the week beginning August 27, when it will be listed before a three judge bench which will also adjudicate if the Article violates the basic structure of the Constitution and if the case needs to be heard by a bigger, five judge bench.
Article 35A was introduced in the Constitution as part of the special status given to Jammu and Kashmir, and under it no Indian resident can buy land in the state.
Also, if a woman from the state marries an outsider, then their children will not have the right to inherit or buy any property in J&K.
The BJP has historically been in favour of scrapping both Article 35A and Article 370, granting special status to Jammu and Kashmir. However, while it shared power in the state with the Peoples Democratic Party, the BJP had shelved its demand.
"We cannot behave like that pigeon which shuts its eyes when it sees a cat" Bhagat tells Rediff.com's Syed Firdaus Ashraf.
Why are you defying your party line on Article 35A?
You know about Maratha reservations and must have understood that local issues are very important for residents of a particular area.
Today if you see Mumbai's population, you will find out that outsiders from states like Gujarat, Uttar Pradesh, Bihar etc migrated to Mumbai and today, local Marathas feel that their jobs are being snatched (by migrants).
They are not getting jobs and therefore they are demanding reservation.
I am demanding the same thing in Jammu.
People who were ruling Jammu and Kashmir had a long vision and they knew about it, therefore they got this Article 35A.
They knew Jammu people are very innocent by nature and their jobs and property must be protected.
Therefore, they got this Article 35A in the state.
Maratha reservations are a completely different subject.
It is similar. You have to have a policy where local Jammu people must get benefits if you want to scrap Article 35A.
But your party speaks of one country, one law. So how can you say that other Indians should not be allowed to settle in Jammu?
Our party's ideology says country first. Jammu and Kashmir too is part of our country. I am fighting for my people of Jammu.
You take the example of Himachal Pradesh, you cannot buy property there, too. And now you see the logic.
On one hand we say that we want to throw the Rohingya and Bangladeshi Muslims out of Jammu and on the other if you scrap 35A, how will we throw them out?
Why can't you throw them out without 35A?
Once Article 35A is gone, they will all come to Jammu and build homes.
How will you identify these infiltrators? They have got Aadhaar cards and ration cards already.
The ground reality is that there are at least 25,000 illegal Bangladeshi and Rohingya Muslims staying in Jammu.
You see Telangana. They are fighting for local issues and asking for special status.
Today, in Jammu, outsiders don't have rights to buy land and when they get it, the price of land in Jammu will increase manifold. And jobs which are available for locals will go to outsiders.
Mumbai developed because of immigrants. How can you say that immigrants will be a burden on Jammu?
Nobody from Mumbai will go and settle in Kashmir as they do not want to be in front of guns all the time.
Nobody will go to Kashmir to stay or to do business, they will only come to Jammu.
The burden will fall on Jammu only. In Kashmir, there are hartals almost every day. We could not conduct elections peacefully in Kashmir.
So, in such a scenario, who will go to Kashmir?
If Article 35A is scrapped, then Jammu's identity will be over.
We are trying very hard to preserve the Dogra culture in Jammu. If Article 35A is scrapped, Dogra culture will be extinct.
If every state says this, what happens to the Union of India?
If you are thrown out of your home, then that is not right, and that too in the name of development. That is not development, as locals need some safeguards.
Development cannot happen by killing the local ethos and culture.
If you want development, do public-private partnership. Nobody is stopping you.
At least give 50 percent partnership to some Dogra before you start a business in Jammu.
We are ready to say Atithi Devo Bhava (guests are like God), but the atithi must not throw out the owners of homes.
The BJP has more than 20 MLAs in Jammu and Kashmir. Why are you alone highlighting this issue?
People do not have guts to tell the truth.
In politics, bootlicking is a reality. The more you bootlick, the farther you go in politics.
But I am the son of an army official. So, I dare to speak the truth.
I am only telling the truth, democratically.
We want to speak to the central government about reservations for the Dogra community in Jammu.
Today the Marathas are asking for reservations. Therefore, we want a policy immediately mandating 50 per cent reservations in employment in every sector for the Dogra community.
I am not saying that the BJP's ideology is wrong nor am going against the party. I am just raising my voice to say what is true.
It is also said that Jammu has historically felt neglected vis a vis Kashmir.
We have been fighting (against) this for the last 70 years. We feel that Jammu was always ignored because of Kashmir.
And if Article 35A is scrapped, then the people of Jammu will be competing against the rest of India.
I am just saying that whatever policy you make, if you want to scrap Article 35A, take the people of Jammu into confidence.
You are talking more like the separatist leaders of Kashmir who do not want Article 35A to be scrapped.
Separatists do not want Article 35A to be scrapped. While I am saying you can do that, but take the Dogras of Jammu into confidence.
We are willing, but let the Government of India give some assurance to us.
If you are going to start factories in Jammu and not give employment to local Jammu people, then what is the point of that development?
If every state starts adopting a similar line, won't it lead to a huge problem?
When the Government of India gives special package to any state like Bihar, they do it to meet the regional aspirations of the people.
Every MLA wants his area to be developed. Regionalism will always be a part of national politics.
Why does the Congress or the BJP not succeed in the South? Because regional issues become more important.
Today, the people of Jammu are silent on Article 35A as they are not aware of the dangers (of it getting scrapped).
Jammu is treated like a stepson by the central government compared to Kashmir.
Recently, 12,000 vacant posts of police officers were filled by the central government, out of which 10,000 were from Kashmir and only 2,000 were from Jammu. So there is a huge difference.
Be it the BJP or Congress in power, Jammu is always discriminated (against).
Today, the BJP has 25 MLAs from Jammu. If Jammu does not develop now, when will it develop?
If Article 35A is scrapped, what will the Dogras of Jammu get? We want some kind of assurance for the people of Jammu before scrapping 35A.
Did you not speak to your party before bringing your dissent into the public domain?
I never did any press conference. I said all these things in the assembly.
You are talking like a rebel MLA, though.
We have to go to the people and ask for votes. How long can we fool the people?
We will face these questions and therefore I am putting all these questions to the BJP leadership.
In the age of social media, people are expressing their views openly and the youth of India knows what is right and what is wrong.
They ask us questions. We cannot behave like that pigeon which shuts its eyes when it sees a cat.
Whenever the national leadership comes to Jammu, the state BJP leaders say all is well, but on the ground all is not well.
What is the point of Jammu becoming a concrete jungle when the people of Jammu will not get a place to stay?