'Its efficacy is 97.6 per cent.'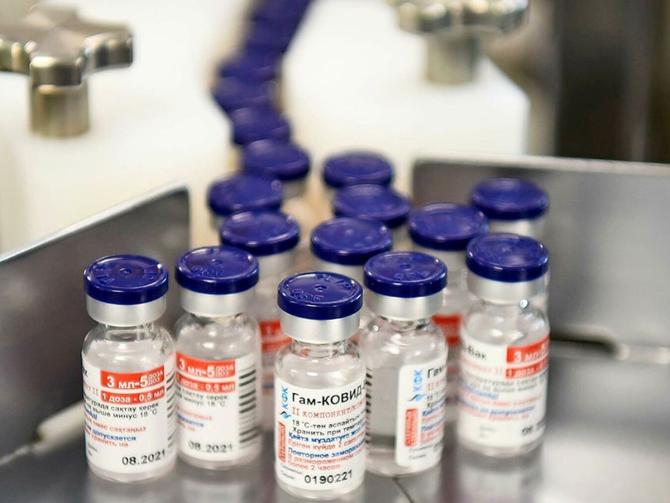 Morepen India Chairman and Managing Director Sushil Suri in an interview with Uddalok Bhattacharya says the Sputnik V vaccine it is manufacturing in India will be available in the market in two months.
Can you throw light on the recent development about your tie-up for manufacturing the Sputnik vaccine in India?
The Russian Direct Investment Fund (RDIF) has an agreement with Morepen to manufacture Sputnik V in India and has started the technology transfer process.
We have taken test three batches of Component-I (first dose) and Component-II (second dose) at a dedicated site in Himachal Pradesh.
The first batch of each component will be shipped to the Gamaleya Centre, Moscow, for quality control.
Sputnik V was granted emergency use authorisation in India on April 12, 2021.
India is the leading production hub for Sputnik V.
RDIF had reached agreements earlier with other leading pharmaceutical companies in India -- Gland Pharma, Hetero Biopharma, Panacea Biotec, Stelis Biopharma, and Virchow Biotech.
In total, agreements with partners in India provide for producing more than 850 million doses of Sputnik V a year.
To date, Sputnik V has been registered in 67 countries with a combined population of over 3.5 billion people.
The data obtained by the regulators of a number of countries during the vaccination of the population, including Bahrain, Argentina, Serbia, Hungary, and Mexico, demonstrates that Sputnik V is one of the safest and most effective vaccines against coronavirus.
How do you compare Sputnik V with other vaccines available in India and abroad?
Sputnik V has a number of key advantages: Its efficacy is 97.6 per cent, based on the analysis of the data on the coronavirus infection rates among those in Russia vaccinated with both Components of Sputnik V from December 5, 2020, to March 31, 2021.
The Sputnik V vaccine is based on a proven and well-studied platform of human adenoviral vectors, which cause the common cold and have been around for thousands of years.
Sputnik V uses two different vectors for the two shots, providing immunity with a longer duration than vaccines using the same delivery mechanism for both shots.
The safety, efficacy, and lack of negative long-term effects of adenoviral vaccines have been proven by more than 250 clinical studies over two decades.
There are no strong allergies caused by Sputnik V.
It can be stored in a conventional refrigerator without any need to invest in additional cold-chain infrastructure.
The price of Sputnik V is less than $10 per shot, making it affordable around the world.
When will the product come to the market in India? How much capacity do you have and how many doses of Sputnik V will Morepen be manufacturing a year?
The approval of samples, licensing, and final production will take around two months and the vaccine would be available in India for sale also in two months.
We have the capacity to produce 250 million doses a year, and can reach 500 million doses.
Is this new venture a one-time opportunity or part of some long-term plan?
The entry into this vital vaccine business is a step forward in our commitment to get into biosimilars and biologicals as a long-term strategy.