'We always had a doubt that Sidhu would not campaign against the Badals.'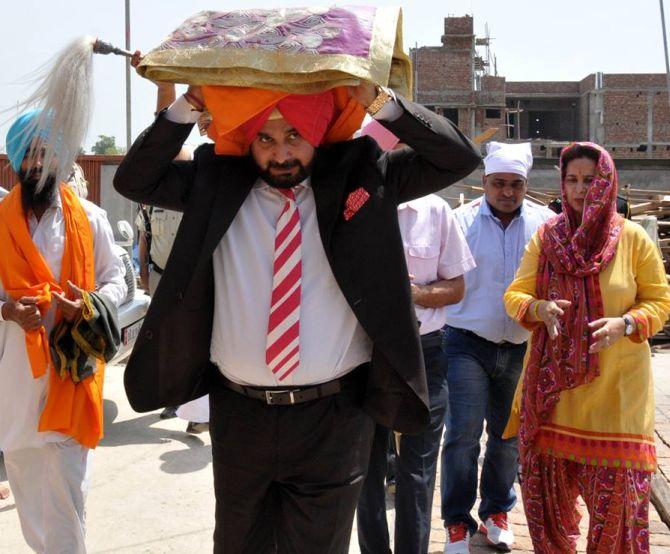 IMAGE: Navjot Singh Sidhu tendered his resignation to the Bharatiya Janata Party September 14, days after he announced the launch of his party, the Awaaz-e-Punjab. Photograph: Kind courtesy Navjot Kaur Sidhu/Facebook
'Navjot Singh Sidhu has made it clear that he is the B Team of the BJP-RSS (Bharatiya Janata Party-Rashtriya Swayamsevak Sangh). We were suspicious of him from the very beginning.'
Jarnail Singh, the Aam Aadmi Party's Punjab co-incharge, tells Rediff.com's Syed Firdaus Ashraf why he is suspicious about Sidhu's intentions.
You alleged that Navjot Sidhu is the BJP's 'B' team. What made you say so?
When Sidhu held the press conference he did not say a word against the BJP or RSS. I say, 'Shashan virodh toh bahana hai, Kejriwal nishana hai (attacking the Punjab government is just an excuse, his real target is Arvind Kejriwal).'
Secondly, he says he has been a disciple of the RSS for a long time.
Earlier, the BJP thought that following its electoral successes in Rajasthan, Jharkhand, Haryana and Maharashtra, it would be able to win Punjab on its own strength (by dumping its alliance with the Shiromani Akali Dal).
However, it lost Delhi and soon realised it won't be able to go solo in Punjab.
Currently, there is an anti-incumbency wave in Punjab against the Akali Dal as well as the BJP.
Both parties have been ruling the state for 10 years and are sure they won't get votes.
Therefore, the RSS put forward Sidhu against Arvind Kejriwal.
Because if Sidhu cuts into votes with his new party then those votes would benefit the BJP and the Akali Dal.
Therefore, I am saying, Sidhu's party is the BJP's 'B' team in Punjab.
Sidhu was a BJP member of the Rajya Sabha and had a six year tenure ahead of him. Why would he form his own party just to cut into AAP votes?
A Rajya Sabha seat comes and goes. In Punjab, he has formed his own party to stop the growth of the AAP.
By doing so, he is helping the Akali Dali and the BJP. Maybe there is an understanding between them.
'He should have known how successive BJP-Akali governments have destroyed Punjab. Why did he keep quiet for so long?'
Don't you think Sidhu will be mocked if he loses the elections badly?
Sidhu's press conference was itself a mockery. There was no seriousness in his press conference. He said he left everything for Punjab (to serve the people) and on other hand, he accused us that he was not given a ticket by the AAP.
He knows the AAP has a policy that only one family member can get a ticket to contest elections. Either Sidhu's wife can get a ticket or he can.
So when he did not get a ticket from our party he felt our party was bad.
Sidhu has stated that the BJP wants him as a poster boy and that's the reason for his quitting the party.
If he has been used as a showpiece for so long, then why was he MP thrice?
He should have known how successive BJP-Akali governments have destroyed Punjab. Why did he keep quiet for so long?
At his press conference, Sidhu said Kejriwal only wants 'yes' men in his party and that was why he didn't join AAP.
He knows AAP cannot give tickets to two people from the same family.
We also told him he has to campaign against the Badals in Punjab for AAP, but he did not do it.
We always had this doubt that Sidhu will not campaign against Badals and now this fact has been proved.
Your party did not declare Sidhu as its chief ministerial candidate and therefore he refused to join AAP. How far is this true?
For two years, we have been fighting against the Badals in Punjab.
We are being attacked almost every day. We are fighting against the drug menace in the state.
Now, suddenly someone from outside the party, comes and says he wants to be AAP's chief ministerial candidate. How can that be possible?
Political parties don't work in this manner. They don't work on terms and conditions.
Let Sidhu come to AAP as a common man and only then will he be welcomed.
Do you feel Sidhu is overestimating his political clout by launching the Awaaz-e-Punjab?
That the people of Punjab will decide. In Punjab, there is a third political force -- AAP. The people of Punjab are ready to support AAP. There is no scope for a fourth front (like the Awaaz-e-Punjab party).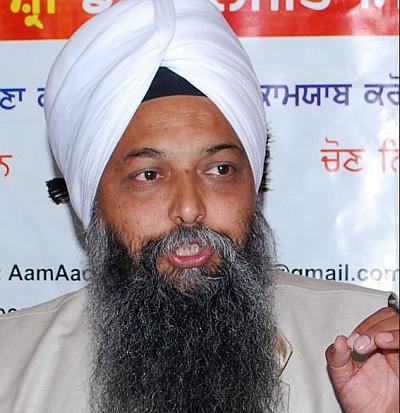 IMAGE: AAP leader Jarnail Singh.
What about the allegations against AAP leaders -- that they seek sexual favours in return for tickets in Punjab?
These kinds of allegations were made even during the Delhi assembly elections. We investigated the matter. Even if we have a minister like Sandeep Kumar we sacked him from his post. He is dismissed from the party too.
Don't you think all these allegations are a big embarrassment for the AAP?
Yesterday (September 13), I was with party workers. I told them we took action against men like Sandeep Kumar, but the Congress didn't take action against Sajjan Kumar and Jagdish Tytler, the accused in the 1984 Sikh riots.
They never took action against Narain Dutt Tiwari or Abhishek Singhvi against whom sexual charges were levelled.
The BJP did not sack Nihal Chand, the minister accused of sexual assault, from the party. Even Sushma Swaraj, the external affairs minister, was not sacked for her links with absconder Lalit Modi.
The BJP didn't even take action against Madhya Pradesh Chief Minister Shivraj Singh Chouhan over the Vyapam scam.
The Akali Dal hasn't taken action against Tota Singh who was sentenced to one year in prison.
We, on the other hand, have taken strict action against the corrupt and wrongdoers. Therefore, I don't think such allegations are an embarrassment to us.
But why does your party play the victim card all the time?
Other political parties are embarrassed to see AAP's clean politics. And since they can't follow such practices, they want to finish AAP.
Do you feel the people of India understand the gameplan of other political parties against AAP?
People do sympathise with us. People understand these things. One of our rallies saw an attendance of around 3.5 lakh (350,000) people.
How many seats you are expecting to win in Punjab?
AAP will break its Delhi record in the Punjab elections. The backbone of the BJP-Akali Dal will be broken.
OTHER INTERVIEWS YOU MUST READ!