'There are many people like me who were kept away from Jayalalithaa.'
'There is a coterie who did not allow her to meet people.'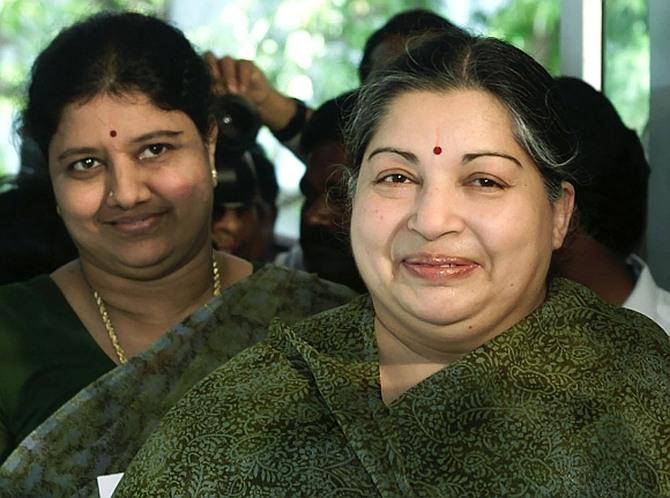 Bader Sayeed, a lawyer and activist in Chennai, was a schoolmate of the late Tamil Nadu chief minister J Jayalalithaa.
A one-time MLA, she was also an All India Anna Dravida Munnetra Kazhagam candidate in the 2004 parliamentary election. She was also the first woman chairperson of the Tamil Nadu Wakf Board.
Sayeed supported the Supreme Court's Shah Bano verdict of 1985 and moved the apex court seeking a ban on triple talaq.
Though she resigned from the AIADMK in 2011, she recently decided to endorse O Panneerselvam and visited his home to demonstrate her support for his candidature.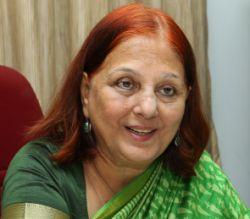 In an interview to Rediff.com's Shobha Warrier, Sayeed, left, remembers Jayalalithaa and reveals why she decided to support OPS.
You knew Jayalalithaa from your school days. Was that why you joined the AIADMK?
I knew her in school. In 1991, after she became chief minister, she suddenly sent word to me that she wanted me to head the minorities commission. At first, I declined, but later I accepted.

I am supporting a good man.
OPS is a good man.
Finally, somebody stood up against them.

It was a tough task, with all the men with the attitude of 'What does a woman know?' all around you, but I worked hard.
We met only a few times during the five years I worked as head of the minorities commission.
Did you talk about your school days when you met?
Not much. We mainly spoke about work. She used to say she was very happy with what I was doing.
After my term at the minorities commission ended, she asked, 'Why don't you head the social welfare board?' Again, she insisted that I did.
She gave me various posts like in the state commission for women, the wakf board, etc.
In 2002, I got a note saying that I had to be the chairman of the wakf board.
Though I knew men would not like a woman as its chairman, I accepted it.
During that period, she used to tell me that I was doing a 'fantastic job' and that the government was with me.
It was said she wanted to be a lawyer...
She used to tell me that too. She also used to say that she wanted women to head many posts in her government.
In 2004, she wanted me to stand for the Lok Sabha elections.
I told her my Tamil is not good enough, but she insisted I did.
With great trepidation, I stood in the election. Many senior party people did not want me at all, but she was very nice.
Many people told me I would not even get my deposit back, but to the surprise of everyone, of all the AIADMK candidates, I won the maximum votes though the party lost.
It was a blow to all, including T T V Dinakaran (V K Sasikala's nephew, now the AIADMK deputy general secretary). I got more votes than him.
Jayalalithaa complimented me for my unblemished image.
In 2006, she asked me to stand for the assembly elections from Triplicane (in Chennai).
I won the election, but she lost and we were in the Opposition then.
Those days, did you meet Sasikala?
I have seen her many times, but I have never spoken to her, not even once. I had only said vanakkam (namaste) to her.
Why did you resign from the party in 2011?

I strongly believe there should be fresh elections.
You go to the people.
Let them choose who they want to rule the state.

In 2008-2009, I felt I was being alienated.
Though I was the only Muslim MLA, when they had iftar parties, they didn't call me.
I got an invitation in the first two years, after that, I was avoided. They saw to it that I didn't meet her (Jayalalithaa).
Even for the party's general body meeting, I was not invited though I was an MLA.
Sasikala's secretary told me then, 'Amma did not mark your name to be invited.'
I am sure she didn't want me to meet Jayalalithaa. They didn't like educated people with a clean image.
Did you sense the influence Sasikala had over party matters?
Of course, she always had a huge influence. Everyone knew about it.
The other day one of Jayalalithaa's schoolmates appeared on television and said her classmates were prevented from meeting Jayalalithaa after Sasikala came into the picture. Is it true?
It is true. Everybody was pushed out.
I felt insulted at being pushed me out. I sent letters asking for appointments with Jayalalithaa, but the letters never reached her.
I sent a letter informing her of my brother passing away, which also did not reach her.
I came to know this when I finally got to meet her. She started asking me about my family and when I said my brother had passed away, she was surprised and said, 'When did it happen? I didn't know.'
When I asked for an appointment, you know what they said, 'You please stand on the road. She will recognise you and call you in.'
That was the last straw. I said, 'I don't belong to that kind of people. No thanks.' Why would I stoop to that level?
In 2011, before she won the election, I quit the party.
I know one thing, there are many people like me who were kept away from her.
There is a coterie who did not allow her to meet people.
The Supreme Court verdict in the disproportionate assets case convicts Jayalalithaa as the first accused. Will it change her image, from that of a benevolent Amma to a corrupt leader?
Of course, the verdict indicts her. But on one side, she was a benevolent leader who came out with so many goodies for the poor.
Of course, it was the tax-payer's money, but she knew how to make the needy happy.
After six years, you recently supported OPS.
I am supporting a good man. OPS is a good man.
Finally, there is somebody who stood up against them.
When he spoke the truth, I felt one had to be on the side of the truth. That's why I am supporting him.
I feel he needs the support of a lot of educated people.
I can't forget they asked me to stand on the road to meet Jayalalithaa.

I don't want anyone running the state with many power centres, especially with one power centre in jail.

Anyway, she (Sasikala) is still ruling the state, now from the prison.
Are you surprised by the public anger against Sasikala?
I am not surprised at all. I have always been with the masses and the cadres, and I knew what they felt. I didn't expect it to be so strong.
I am sure the cadres are not with them, they are not dumb to be with these people. They are watching everything.
Were you shocked at what happened in the assembly during E K Palaniswami's trust vote?
I think it was on expected lines, having been a member of that assembly for five years.
Of course, this should not have happened, but I have also witnessed a couple of incidents like this.
I expected some drama, but what happened was a little more.
Many people describe it as a black mark in the history of our democracy. Do you feel so too?
I do feel so because for whatever reasons, the speaker sent the entire Opposition out and held the vote of confidence.
Without any Opposition, they had the trust vote.
What trust are you talking about?
Does your support for OPS still stand?
My support for OPS still stands. I am not a party member. Now, as a right-thinking citizen, I stand by him.
I don't want anyone running the state with many power centres, especially with one power centre in jail. It has to be set right.
I strongly believe there should be fresh elections.
You go to the people. Let them choose who they want to rule the state.
Do you think people will accept things submissively when they dole out goodies?
When there is a re-election, they will say what they want to. Otherwise, public memory is also short.
Right now, when everything is so fresh, when the MLAs go to meet the electorate, they are going to hear from them.
Will you get back into active politics?
I would love to be in active politics. I am not with any party right now.
I support OPS because I want the state to do well and it can't do well with these people at the top.
IMAGE: J Jayalalithaa, right, with V K Sasikala in Chennai, May 10, 2001.
MUST READ features on the CRISIS IN TAMIL NADU in the RELATED LINKS below...