'My religion is great and it has given a lot of rights to women, but these intermediaries are interpreting it wrongly and ruining it.'
'I have great faith in our judiciary. I am sure they will see through the drama of men.'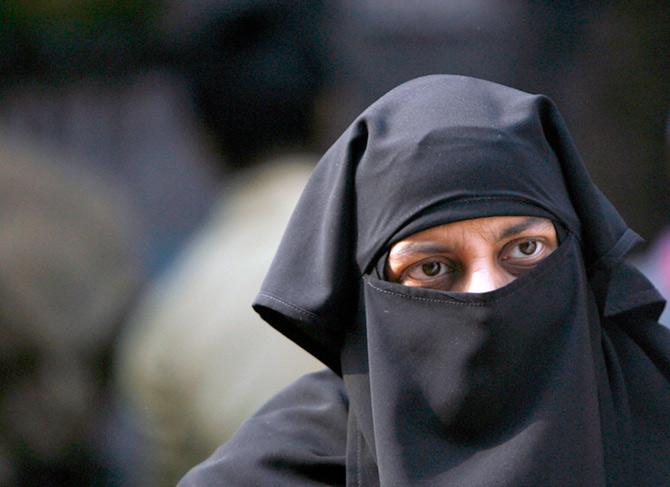 Bader Sayeed is one of the top lawyer-activists in Chennai, the first woman chairperson of the Tamil Nadu Wakf Board.
A schoolmate of Tamil Nadu Chief Minister Jayalalithaa, she was the All India Anna Dravida Munnetra Kazhagam candidate in the 2004 parliamentary elections from the Chennai South constituency, and was defeated by the DMK's T R Baalu.
Bader Sayeed was in the forefront supporting the Shah Bano case judgment in the 1980s that granted maintenance to divorced Muslim women. Now, she has gone to the Supreme Court seeking a ban on triple talaq, resorted to by Muslim men to divorce their wives without recourse to law.
Bader Sayeed, image, left, tells Shobha Warrier/Rediff.com why she has moved the Supreme Court.
After so many years of working as a lawyer and activist, why did you decide to go to the Supreme Court now for a ban on triple talaq?
My prayer is not only on triple talaq. Two years ago, I filed a writ petition in the Madras high court seeking to stop the qazis who exercise their rights, which they do not have, to validate divorces by men.
They have no judicial power to do so under the Kazis Act of 1880.
But that's how it is practised in India, where after pronouncing talaq three times men go to the clergy to validate the divorce.
That is wrong, and it is high time it is stopped. That is why I filed a petition in the high court to stop it. It has been pending in the high court.
Now that Saira Bano has moved the Supreme Court against triple talaq, I thought it was a good time to move a writ petition on triple talaq.
My view is that every divorce should go through the court of law. You can follow the Quranic practice of three months (wait), but the final arbitrator should be the court.
Who gives the clergy the authority to issue the validation?
He says he is the chief qazi and he has the authority to validate. But according to the Kazis Act, he has no such authority.
Their argument is that they have been doing it for years. They do not even call the women and hear their side of the story; the wives suddenly get the (divorce) notice by post.
Many women complain that they get talaq by email, even via WhatsApp. Is it acceptable?
Whether it is acceptable or not, they send talaq and get it validated by the qazis. This is wrong. That's why I am fighting it.
I am also of the opinion that every talaq must go through the court. These men say that it would be interpreted as interference. How can you call it interference?
The court has to protect every citizen. If something violates what the Constitution says -- the Right to Live with Dignity -- how can you call it interference?
In the case of child's rights, the court decides with whom the child should live. When it comes to domestic violence, the court comes to a decision. Similarly, in this case also, I don't see any interference.
How did triple talaq come into being?
It has been there from the British days and they validated it. In 2004, the Supreme Court said you have to follow the Quranic law, which is three months' wait period, but nobody is following it.
Can a Muslim woman go to court and get a divorce? Or, does she also have to go to the qazi?
She can go to the court under the Dissolution of Muslim Marriages Act, but then the man, the defendant, has to come to court. A divorced woman cannot even file for maintenance. He can immediately come and say that he has divorced her and need not pay maintenance.
Last year, Justice Kamal Basha of the Kerala high court gave a landmark judgment, asking a Muslim man who has divorced his wife to give her medical and maintenance expenses for 10 years.
Yes, he has to give maintenance to his wife. That is the right judgment.
Are not the qazi, by validating a man's talaq, reinforcing patriarchy?
Of course. They are showing the control a man has over a woman's life.
My first statement would be, religion should be kept outside of this. What we are talking about is gender justice. We are not mixing religion in this.
My religion is great and it has given a lot of rights to women, but these intermediaries are interpreting it wrongly and ruining it.
What gives them the right to say this is right and that is wrong? We want the court to decide.
Some say that tinkering with the Sharia is anti-Islamic.
Where is the tinkering? We are not tinkering with anything. We are not talking about interpreting the Quran. They are the ones talking about tinkering.
All Muslims go to court for child rights and domestic violence. Is that also tinkering?
Do you feel the resistance is because you are trying to take away the power some men have?
Absolutely. They think they can say talaq and marry a second, third and fourth time. They feel we are taking away that right also.
According to these men, Islam gives them the right to have four wives.
See, those were the days of war and there were more women than men. And women needed security. That was how they were allowed to marry four times at the most, but they were to treat all wives equally.
Can anybody treat four women equally? This is also the patriarchal power in their hands.
Can a woman say talaq and remarry again? Why is it that only men have that power?
There is no Quaranic injunction that says so. These are all man-made.
Will it be possible for Muslim women to have the legal power to face this kind of patriarchy?
Why not? If the court decides, yes. If the court bans triple talaq, if the court says every divorce must go through the court of law, then all women will get the legal power. It is for the Supreme Court to decide.
So many women have tried it, even you have tried before. Why is it that nobody has succeeded so far?
Because of vote-bank politics. Politicians feel that Muslims will be upset and won't vote for them. It is not interference. It is not tinkering. It is gender justice. It is high time the court steps in and decides for women.
You feel it is mainly because of politics that this case is not moving forward?
Yes, politics is there. Why can't they say, this is hurting Muslim women and it's not interfering in any Muslim law.
According to Article 46 of the Constitution, the State should protect the underprivileged. But in this case, the State does not protect women.
So many women must have approached you for justice.
You cannot imagine how many Muslim women come to meet me every day and for half of them I work free as they are so poor. All the time I am innovating to get justice.
Did you ever feel helpless?
Many times, yes. These men marry again. They don't come to court. They change their address. He is free to give a divorce any time. He is free to remarry any time. What do you do then?
It happens not only to uneducated women, it happens to educated women too. We have to fight every case, as there is no law.
Because there is a law against bigamy, you can go to court and get justice, but in the case of Muslim women there is no law. Muslim men say we can get married four times. There is nothing to debar them from doing this.
Don't you feel all women, irrespective of the religion they belong to, should have the same law to get gender justice?
That will be the Uniform Civil Code. That is not going to happen overnight. Until that time, we need gender justice. Women need to survive.
How do men react to you fighting for Muslim women?
They tell me to follow the Quran. They say I am not religious and I do not know what Islam is.
I even fought during the Shah Bano case. I collected thousands of signatures in 1986 and gave them to the prime minister (Rajiv Gandhi), but what did he do?
Now they have collected 50,000 signatures. I hope this will have an impact.
Who has to take the lead, the legislature or the judiciary?
Both have to act together. The judiciary can pass the orders and frame the guidelines and then the Muslim Personal Law Board can come and create obstacles. Then the government has to file a counter. But the judiciary can ignore anyone and pass orders.
In the Shah Bano case, there was a good judgment, but then Parliament brought in a law defying it.
Are you hopeful of justice?
I am very hopeful of our judicial system. I have great faith in our judiciary. I am sure they will see through the drama of men.
It is not 1986. It is 2016. I would say, chhodo kal ki batein, kal ki baat purani. Naye dor mein likhenge hum milkar nayi kahani (leave the past behind, it is outdated. In this new age, let's together pen a new script). Women have come forward now and we will write a new kahani.
When faith becomes hope, hope becomes miracle, and I believe miracles do happen.
IMAGE, top, published only for representational purposes. Photograph: Ahmad Masood/Reuters. Bader Sayeed's photograph: Sreeram Selvaraj