'Given the current dispensation, I have no hope for the legislature passing a law in favour of the LGBTQ community.'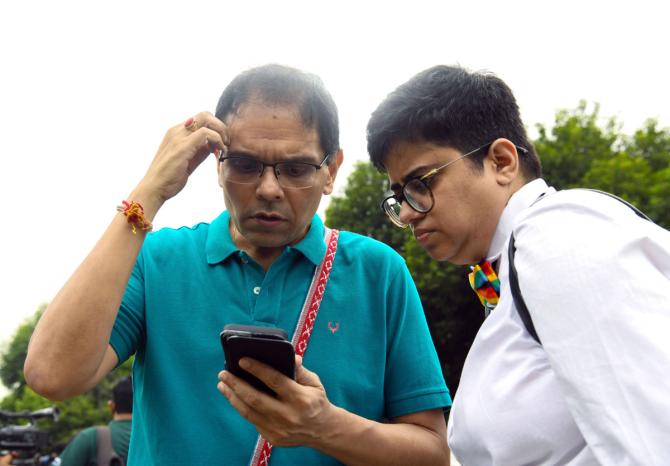 Nguvu Change Leader Sandhya Honawar, who has been advocating the causes of gender rights, LGBTQ rights, and adoption rights for same-sex couples, tells Prasanna D Zore/Rediff.com that the LGBTQ community is heartbroken by the Supreme Court judgments on same-sex marriages.
How do you read the Supreme Court judgment that has now lobbed the ball into Parliament's court so far as deciding same sex marriages are concerned?
There are two reactions. One, I am completely heartbroken for the LGBTQ community.
Second, not surprised because many of us who are allies of the LGBTQ community, when we discuss it, we were saying, Chandrachud (Chief Justice of India Dr Dhananjay Yeshwant Chandrachud) will make sure that it will go ahead (same-sex marriages will be made legal).
And I said, 'You are living in a fool's paradise'. I had anticipated that this was going to happen. Our judges and judiciary don't have the guts, except for Chandrachud and maybe the other gentleman, (Justice Sanjiv Kishan Kaul).
While I had anticipated it (that the judgment will not legalise same-sex marriage), I had already said to some of my friends that 'Nahi hoga (The Supreme Court will not legalise same-sex marriage). And they said, 'Hoga', because everybody's hopes had gone up.
Initially, just because Chandrachud was in, everybody was already celebrating. And then towards the end, we realised that three to two, it's gone the other way.
It took a fight of more than two decades to decriminalise homosexuality. So, fighting to get legal status for same-sex marriage could take another 40-50 years. That's what I feel.
Why are you so pessimistic? Don't you see any positive outcome of this judgment?
Well, there are positives in this judgment for individuals. At least the transgenders now have got some recognition. They will be allowed to enter into legal marriages now. That's a positive sign.
But the crux of the matter is that they have passed the buck to the legislature. Given the current dispensation, I have no hope for the legislature passing a law in favour of the LGBTQ community. They may not even bother to take it up for a debate or discussion.
Forget passing (a law to legalise same-sex marriage)... that is, like, long way away. Will they (Parliament) even raise the issue? Does it (the discrimination against the LGBTQ community in exercise of their fundamental rights) even bother them? Does it even matter to them?
The Supreme Court has stated that this is not an elite phenomena...
What is the use of only two judges making such sensible statements? What stopped the other three? Don't they know the history of India? Don't they know that this (same-sex relationships) is so common in Indian culture?
The attitude is almost at least we gave them decriminalisation of homosexuality. I was hearing the judgment and I felt that the judgment was saying, 'Be happy with what we have already given to you. We recognise the LGBT community now. Why are you asking for more?'
How will the lives of the LGBT community change after this judgment?
This has thrown them back to where they were. But I'm sure that quite a few of the groups -- and there are many groups within the (LGBTQ) community -- will probably continue to fight the good fight and create awareness.
As a group, as a collective, the LGBT community are exactly where they were in the beginning. In fact, it is worse after the hopes having been raised; now (after the judgment) we are literally thrown into the bottom of the abyss again.
So what will change? I don't see anything changing. In fact, for some time, there'll be a lot of gloom. From morning, I've been receiving calls from my LGBTQ community friends saying, 'What the hell?'
I am saying this because the CJI was seen as a very communicative judge. Over the months, he's been quoted in the media and he has been making positive statements. But we forget that he is not the only one. There were others.
We tend to get carried away; we thought that something positive will come out of it. Maybe not marriage, but at least (the Supreme Court will accept) recognition of a civil union. This is what the LGBTQ community thought.
Either a civil union or (the hope was that the Supreme Court will) put something under the Special Marriages Act. Give us a way out somewhere.
Maybe you don't have the guts to go all the way and say it's a marriage like any other union of two people, but at least under civil union, at least under the Special Marriages Act, but even that hasn't happened.