'It is an ambush, no IEDs were used, which means it is more tactical, more technical and more intelligent.'
'CRPF has got tremendous resilience. It will come back, it will not be sitting forever.'
'Since CRPF is the major security force in this area, they are the major targets.'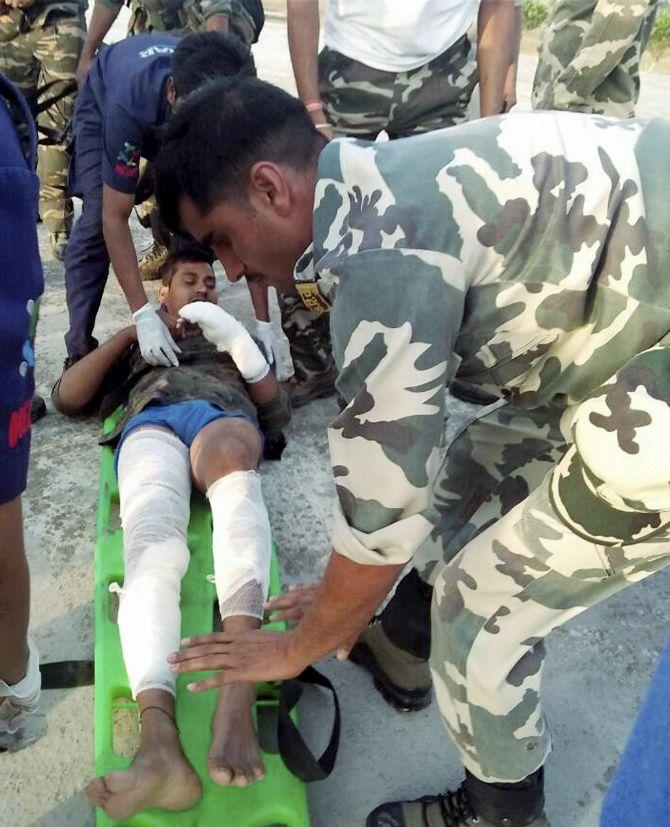 Image: An injured CRPF jawan is being taken to hospital at Sukma, Chhattisgarh, on April 24, 2017. Photograph: PTI Photo.
Former Central Reserve Police Force director deneral and senior security advisor in the home ministry K Vijay Kumar, who has rushed to Chhattisgarh following the killing of 25 CRPF men in Sukma on Monday, speaks with Rediff.com's Prasanna D Zore about the morale of the jawans after the Maoist attack and explains with statistics why the Naxals are fighting a losing battle.
He, however, refused to comment on why the CRPF is without a DG for the last two months, a period in which Naxals ambushed CRPF jawans twice in Sukma, on March 11 and April 24, killing 37 jawans.
Do you see any lapses on the part of the CRPF while entering an area dominated by Naxals? Isn't it becoming routinly easy for the Naxals to ruthlessly massacre CRPF jawans in an ambush and escape without suffering much damage themselves?
When you say 'lapses', you are prejudging the issue.
CRPF is bound to be the major target because, willy-nilly, 90 per cent of the force that acts against the Naxals in the Naxal-affected area is the CRPF.
In terms of numbers they are proportionately likely to be hit.
The CRPF is the one in charge of road construction, and road construction is the major threat to Maoism now more than anything else because roads will connect these areas to hospitals, schools, BDs (block development offices), which are about 20 km away, and this will reduce the travelling time by whatever it is now to one-fourth or even one-tenth.
So now if people (from the inaccessible areas in the region) are struggling to go to these facilities, these roads will help them reach faster.
These roads will also help the security forces reach faster inside the deep, remote areas much more easily and that is the reason they (the Maoists) are focusing on stopping road construction (in these areas).
For your information, apart from these two incidents (March 11, when Naxals killed 12 CRPF jawans, and the April 24 ambush where Naxals killed 25 CRPF jawans), there were several incidents which were not noticed because (the CRPF) lost lives in ones or two in a period of one and a half years.
If you go to the Jagargunda-Dornapal road you will find the number of amputations (of CRPF jawans) that have happened because of IED explosions and sniper firing, the security personnel in 95 per cent of these cases belong to the CRPF.
Since the CRPF is the major security force in this area, that explains they are the major targets.
In terms of calling it a 'massacre', one really doesn't know if there is a failure, that is matter of further probe. My job, now that I am in Raipur, will be honouring the deceased.
I will be going to that area and try to figure out and then spend some time (there). Though I am not part of the investigating agency, I will try to figure out what could have gone wrong and what can be done (to prevent such killings).
Do you think the Naxals in India are fighting a losing battle and that explains their desperate, cowardly acts?
Absolutely, they are, there is no doubt about it.
You look at the curve (of CRPF victories against Naxals)...
Our curve has bee very gentle and it is going on, and the curve which is not steep but is gentle and plateauing down is a better curve in counter-insurgency, according to international experts, and we are typically doing a classical pattern and declining steadily.
Last year to this year there has been a decline of 42 per cent (in the number of CRPF casualties) from 2015 to 2016, and this decline is very healthy and favourable for the CRPF.
The attrition ratio has improved from 1:1 (read as 'one is to one') to 1:3.5 (read as 'one is to three point five'), which means we are losing one (jawan) and we are taking 3.5 (naxals) from their ranks, which is the most favourable (ratio) in the last 15-20 years.
The only thing is when they hit you, and its is quite typical when the insurgency is finally fading away, there will always be sparks like that (like the two ambushes on March 11 and April 24), like a flicker of the lamp before it goes off. There will always be a lot of such incidents.
Do you expect more Naxal attacks on the security forces in the region?
It is reasonable to anticipate more of such attacks because in their desperation the easiest thing to do is use more IEDs... But this (the April 24 Sukma attack) should not be dismissed as a desperate attack because (in) this (attack) IEDs were not used.
It is an ambush, which means, it is more tactical, more technical and more intelligent, and we have to be more careful while handling it (dealing with such attacks).
Will you be visiting the spot where the ambush took place?
I may. I am already in Raipur so after honouring the deceased and speaking with those injured I may go there.
What is the morale of the CRPF jawans like right now? Have you met any of the injured jawans?
Whenever such major attacks happen there will be immediate, instantaneous shattering of the thing (morale) but CRPF is a force that has got tremendous resilience; it will come back; it will not be sitting forever.
This has happened before, this may happen again, but CRPF is a force with tremendous resilience; we have excellent commanders and officers in the force and I am sure they will take it (the battle against the Naxals) forward.
The CRPF is without a DG for almost two months and in these two months the paramilitary force has lost 37 jawans.
I am not in charge of nominating DGs; that is not my area. So, you will have to take this up with the people concerned.
What gives the Naxals strength in this region, especially Sukma where they have undertaken major ambushes and killed a lot of CRPF jawans?
When you say that, remember that the jan-militia is not a thousand-strong standing army.
It is all scattered across many villages, where they can assemble in hundreds at a short notice.
So, it is not a standing army; it is broken into bits and pieces like People's Guerrilla Army and will always have platoons and companies; they will never have a battalion, though they call themselves a battalion it is not a battalion.
What they do is they mobilise their men from neighbouring two-three villages and in such kind of attacks (as the one at Sukma on April 24), they will have 100-200 men or a maximum of 300.
Out of these, maybe one-third will be armed with lethal weapons and the rest will possess non-lethal weapons.