'The mandate in UP will not be a fractured mandate because people are fed up.'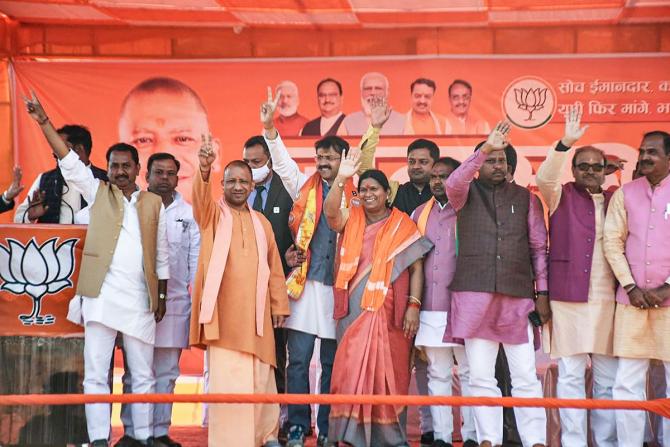 "Covid has not spared anyone. It has not discriminated on the basis of caste and religion. Prices and unemployment are going up for everybody and not for a particular community. People are together to defeat the BJP," Senior Congress leader Rashid Alvi tells Rediff.com Senior Contributors Sunil Gatade and Venkatesh Kesari.
How do you see UP assembly elections currently underway? How are they different from earlier polls?
You know this is the first time the BJP is ruling when a different kind of character is the chief minister of UP.
He is basically a communal person and everyone knows that.
And that is the reason why the BJP has chosen him to be the CM. To just communalise the political situation of UP.
Before becoming the CM, he has made so many statements creating hatred...
He has filed an affidavit in the Election Commission listing some 11 or 12 criminal cases pending against him.
He is the first and last chief minister of the country who has withdrawn cases against him on his own and the decision is passed by the cabinet.
He did not go to court. So How can a person like him control the law and order? It is not possible. The situation in UP is very bad.
The Congress party is not very strong in UP. Basically, this election is between the SP and BJP.
We are doing our best under the leadership of Priyanka Gandhi. Our organisation is very weak, but we will have to analyse the reasons why the Congress is so weak.
The reason is the caste and communal politics in UP.
There are certain parties that represent a certain community or religion.
The Congress is for a united society all over the country. We don't talk about any particular caste or religion.
We want everybody belonging to any religion or caste, creed should come together and should vote on the basis of issues. There are so many issues in UP.
The BJP is trying its best to misguide the people of the state.
Sometimes they talk of 'ghar vapsi', sometimes they talk 'Abbaji kya kahenge'. Sometimes they talk of conversion.
They never talk about the prices of petrol and essential commodities, never talk about unemployment and the development of UP.
They are only spreading the politics of hate.
People are fed up with this. During the Covid wave, there were neither medicines nor oxygen. Hospital beds were not available. Dead bodies were floating in the Ganga and the Yamuna.
Covid has not left any family, any village, any town untouched.
When people were dying, the CM was looking after cows.
Cows were more important than human beings. The so-called sant is doing communal politics.
How do you see the pattern of voting among minorities? Do you see a clear or fractured mandate? Will any caste, religion, or personality influence the polls?
Minorities are very scared of this government and want to defeat it.
According to me, they are going to vote for a candidate who will defeat the BJP.
Not only minorities, but all secular people belonging to any caste or religion will come together to defeat BJP.
The mandate in UP will be very clear and it will not be a fractured mandate because people are fed up.
Because not only minorities, but people in general have been fed up and not only those belonging to any particular community.
This is because Covid has not spared anyone.
It has not discriminated on the basis of caste and religion.
Prices and unemployment are going up for everybody and not for a particular community. People are together to defeat the BJP.
I admit that BJP will try everything to communalise the situation.
When a maulana of Bareilly came out in favour of the Congress, the BJP started shouting how Congress is communalising.
VHP and most of the sadhus associated with it always support the BJP which it does not mind.
In Haridwar, one so-called sant gave call for genocide of Muslims.
But the prime minister and the chief minister of Uttarakhand have remained silent. They did not comment at all.
Now in Punjab, the PM was travelling in a car which is the safest car in the country.
Agitating farmers were one km away, they were from Punjab and did not come from Pakistan or China.
It was a burning issue for one year in the country (Now they are claiming) that the PM was saved as there was threat to his life.
He was surrounded by the SPG, but still they are shouting about the threat.
Now there are calls for genocide of Muslims. China has made incursions in Indian territory. But the PM is silent.
When the entire country is under threat, there is no problem.
When there are calls for genocide, there is no problem.
But when some farmers protested against the PM, all hell broke loose.
Take the case of the maulana supporting the Congress or the sadhus supporting the BJP.
I never support such people. It is my considered opinion that religious leaders -- whether they are Hindus, Muslims, Sikhs or Christians -- should be kept away from politics.
It is the responsibility of every political party. I will tell BJP this much: Those who live in glass houses do not throw stones at others.
What impact will the UP elections have on the future scenario when the Lok Sabha polls are just two years away?
Whoever wants to become the prime minister is bound to be from Uttar Pradesh. I would say that the road to New Delhi goes via UP.
The elections ahead is a semi-final (ahead of the 2024 Lok Sabha polls). In Bengal, the BJP was defeated.
Out of the five poll bound states, in Punjab, there is no question of the BJP (winning) so is the case in Goa.
In Uttarakhand and Manipur, there is a fight. In Uttar Pradesh, there is no fight. The BJP is bound to go. It is bound to lose.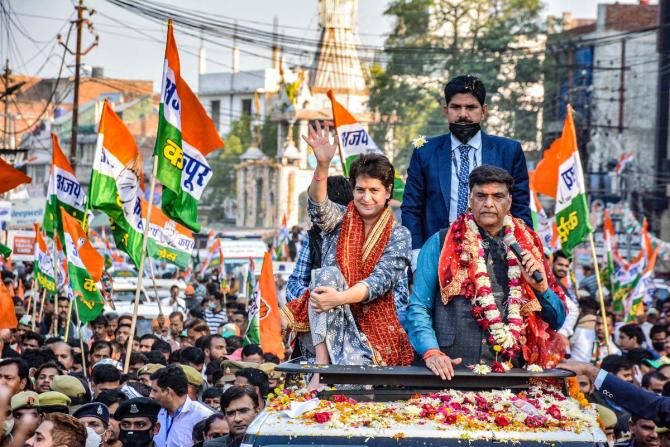 Is it time for Rahul Gandhi to take over as Congress president after the party polls scheduled this year.
You know I have been continuously making statements in this regard.
If Rahul Gandhi does not agree to become president of the Congress, then we don't have any choice besides Priyanka Gandhi.
Priyanka should come forward to take the responsibility of presidentship of the party.
She is the leader of the nation. I am sure that under her leadership, the Congress will grow and will regain its shine again.
What role do you see for Priyanaka who has played on the front foot in UP?
In Uttar Pradesh, we have a very weak organisation. Priyanka Gandhi has made all the efforts in Uttar Pradesh where the party is out of power for the last 30 years.
It has a lack of organisation and paucity of funds. But she is doing her best. Let us see what happens.
I see Priyanka as Congress president, not general secretary in charge of Uttar Pradesh.
Priyanka should be in charge of the AICC and not Uttar Pradesh.
Her stature is too bigger than that of a general secretary. By making her general secretary, her stature should not be diminished.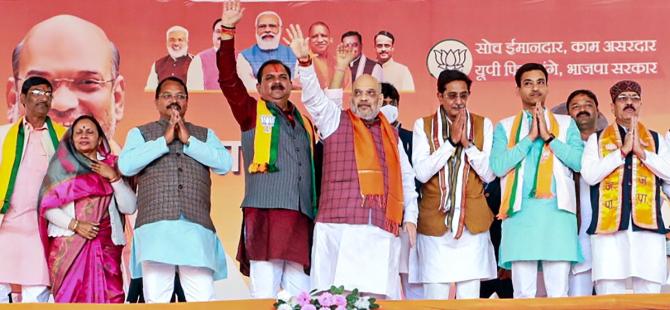 When it comes to Modi, the BJP talks of the TINA factor means There Is No Alternative to Modi. So how can the Congress take him on when ambitious leaders like Mamata Banerjee and Arvind Kejriwal are rising in the Opposition space?
When one becomes prime minister, he definately becomes an important person. Politically, his stature grows.
But, it is wrong to say that there is no alternative.
You tell me when Atal Bihari Vajpayee was the prime minister in 2004, whether there was any alternative to him.
Nobody ever thought that Manmohan Singh would replace him.
That time, no one could think of becoming an alternative to Vajpayee.
In Indira Gandhi's time, there was no one who could match her stature....
Basically, the BJP is misguiding the nation to say that there is no alternative to Narendra Modi.
I am sorry to say, but Modi's outlook is not proper. He has made a mess of foreign policy.
It is the first time an Indian prime minister has gone to America and shouted 'Ab ki baar, Trump sarkar'.
It means he does not know foreign policy at all. Now Joe Biden has come as president. He can never forget it.
None of the neighbouring countries are happy with us. Nepal is against us. Pakistan is our enemy. China is our enemy. Bangladesh is not happy with us nor is Myanmar. The Maldives is not happy with us nor Iran.
So what kind of foreign policy does Modisaab has.
Modisaab could not solve our domestic problems, he could not understand the foreign policy of the country.
A sizable part of the media and the BJP are promoting Modi.
So what you are saying is that after the UP polls, the slide will begin for the BJP.
Definitely, after the UP polls, the political scenario will be very different. It will be disastrous for the BJP. Definitely, they will play the communal card. It will not pay.
So what you are hinting is that again one has to talk of UPA II or UPA-III?
It is too early to say. Because Mamata Banerjee is making so many statements.
How the Opposition will take shape will be known only after the UP elections.
It is my personal opinion that if the Opposition does not come together, it will be difficult to defeat the BJP.
Feature Presentation: Aslam Hunani/Rediff.com