'Babur has been facing gross historical injustice for the last two centuries, when he had no role either in the demolition of any temple or in the construction of the so-called Babri mosque at Ayodhya.'
Kishore Kunal, a former Indian Police Service officer, was involved in discussions on the Ayodhya dispute in the early 1990s.
In his book, Ayodhya Revisited, Kunal states that the temple at Lord Ram's birthplace in Ayodhya was not demolished by Babur, the founder of the Mughal empire in 1528, but by Fidai Khan, the governor of Ayodhya in 1660 during Aurangzeb's reign.
Ayodhya Revisited appears at a time when some Sangh Parivar and Bharatiya Janata Party leaders are again raising the controversial dispute ahead of next year's Uttar Pradesh assembly election.

After voluntary retirement from the IPS in early 2000, Kunal took up social work full time. He heads the Patna-based Mahavir Mandir Trust that runs the largest cancer hospital in Bihar.
The trust plans to construct the world's largest Hindu temple near Kesaria in Bihar's East Champaran district.

At his Patna home, which has about 8,000 books, Kunal spoke to M I Khan about the Ayodhya dispute, history and much more.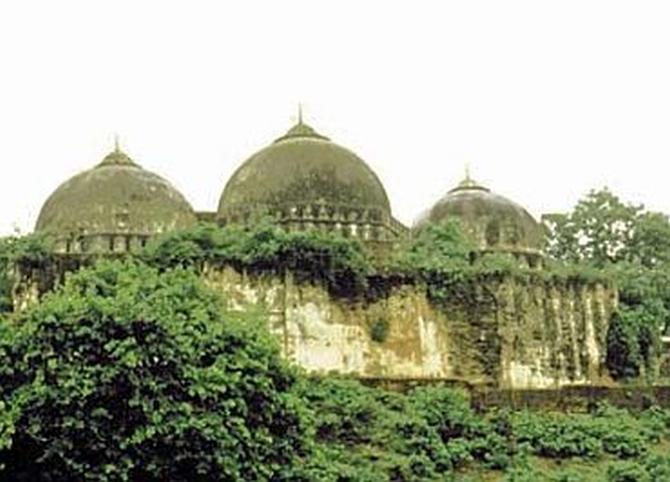 IMAGE: The Babri Masjid before it was demolished on December 6, 1992.
Why have you named the book Ayodhya Revisited?

My association with the Ayodhya dispute started officially in 1990 when I was made officer on special duty to then minister of state for home affairs Subodh Kant Sahay in the government led by Prime Minister V P Singh. I was retained in the same post by Prime Minister Chandrasekhar.
During the tenure of the two prime ministers, several rounds of negotiations were held between representative organisations of the two communities.
Naturally, I had hesitation as a person who was officially instrumental for negotiations on Ayodhya between Hindu and Muslim religious leaders in the early 1990s, so I stayed away from the historical debate.

Senior advocate and convener of the Babri Masjid Action Committee Zafaryab Jilani presented his case in the right direction. On the other hand, Nirmohi Akhara lawyer Ranjit Lal Verma failed to present his case in the proper way. In fact, most of the lawyers of their side have not appeared before the court.

So I thought I should present the facts that I had gathered after doing years of research.
This book is the result of 25 years of my deep research on Ayodhya and took seven years for me write.
I am trying to resuscitate the real history of Ayodhya which is almost dead to the poisonous misinterpretation of facts.

I am sorry to say that the reliance of VHP (Vishwa Hindu Parishad) historians on a fictitious book -- Sahifar-i-Chihal-Nasaih Bahadur Shahi -- is misplaced.
The VHP has cited this book as strong positive evidence in favour of the demolition of the original temple and construction of a mosque.

You are not a historian, so how can you justify a new thesis on the dispute?

I was a student of history and Sanskrit. Even during my hectic days as an IPS officer, I was in constant touch with Indian history, philosophy and Sanskrit.
I used to devote three, four hours daily to read books; it became my habit and continues to be so.

Historians of all hues have been harping upon the theme that Ayodhya was an abandoned city for long, whereas the historical fact remains that Ayodhya has always been an eternal and blissful city.

I strongly feel that since historians of both shades -- 'established' historians including secular, Marxist, progressive and liberal and 'enthusiastic' historians including right-wing and Sangh Parivar leaning -- have done injustice to the writing on the dispute, I had to expose them.

After my book, the Sangh Parivar -- including the RSS (Rashtriya Swayamsevak Sangh), the VHP, the Bajrang Dal and even the BJP would be able to shout loud on this issue.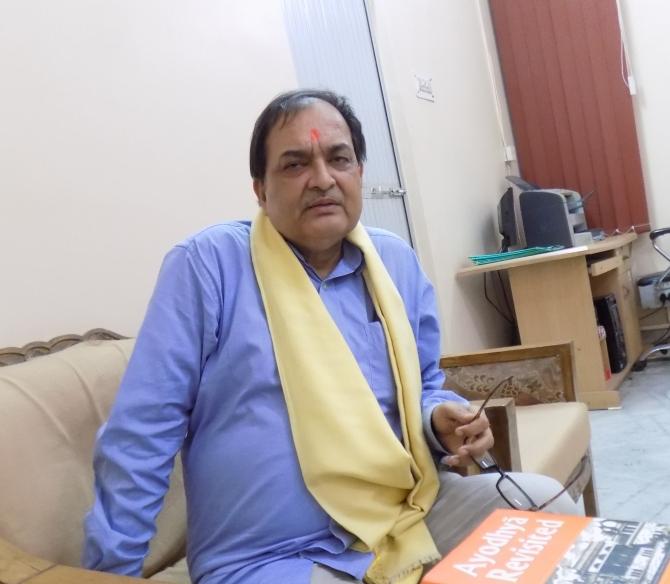 IMAGE: Kunal Kishore, the former IPS officer with his book. Photograph: M I Khan
You have challenged an established notion and popular historical story.

Look, I have collected solid evidence to say this on the basis of several original sources, including writings in Sanskrit, Arabic and Persian, and by European travellers during, before and after Babur's reign.

It is ironic that Babur has been facing gross historical injustice for the last two centuries, when in fact he had no role either in the demolition of any temple, or in the construction of the so-called Babri mosque at Ayodhya.
He has been facing fire and ire for the last 200 years for the commission of an act with which he was not associated at all!
Babur was not a religious fanatic. Two Maithili scholars-cum-priests have actually praised Babur. That he visited temples in Gwalior is a testimony to his liberal look. I have concluded it on the basis of undeniable historical facts.

Babur was a liberal, with cordial relations with yogis.
I have made a serious effort on the basis of historical documents to clear him from the crime of converting a temple into a mosque.

Many will be amused to learn that the so-called Babri mosque does not figure in any text for more than 240 years after its supposed construction in 1528, until the travel account of Jesuit priest Tiefenthaler in 1768.
Neither in Babur's memoir Baburnama or in Humayun's memoir Humayunama or in Abul Fazal's Ain-i-Akbari and Tuzuk-e-Jahangiri is anything mentioned that Babur constructed a mosque in Ayodhya after a temple's demolition.

The inscriptions inside the mosque, often quoted in books on Ayodhya or Babur, were fake in nature. They were fixed in the mosque 280 years after its supposed construction in 1528.

Contrary to the common belief, Babur never visited Ayodhya. In fact, he had no occasion to visit it. Similarly, Mir Baqi was never the governor of Ayodhya.

Mir Baqi is mentioned many times in the Baburnama. After June 20, 1529, he was never heard of after being dismissed by Babur.

How can you attribute the construction of a mosque to Fedai Khan during Aurangzeb's rule?

It may be amazing for many to learn that all three major temples in Ayodhya remained by and large intact during the Sultanate period and a major part of Mughal rule.

But things changed after Aurangzeb came to power. There is evidence to prove that the Sarvagadhavara temple in Ayodhya was demolished in 1760 by Aurangzeb when Fedai Khan was posted as governor there.

The demolition of the temple and the construction of the mosque on the janamasthan (birthplace) site during the reign of Aurangzeb was known to the public until 1813-1814 when Francis Buchanan conducted a survey of Ayodhya during that period, and was misled by a claimed inscription which was not properly examined by him.

Even during his (Buchanan's) visit to Ayodhya the people's perception was that Aurangzeb destroyed the Ram Mandir. But he was beguiled by a fictitious inscription to believe and decree that it was built by Babur.

After his report on Ayodhya was published in Robert Montgomery Martin's book -- History, Antiquities, Topography and Statistics of Eastern India in 1838, scholars started attributing the construction of the mosque to Babur.
Buchanan is the real defaulter responsible for this confusion.

It is a fact that Tiefenthaler based his book on geography on his visit to Ayodhya in 1770. He has given the strongest evidence that the mosque was built by Aurangzeb after demolishing a temple.

Fedai Khan also demolished temples in other places. He was interested in the demolition of temples in the country.

Contrary to the views of some eminent historians, you have repeatedly mentioned in the book that there was proof of the existence of the Ram temple at the disputed site where the mosque was built and demolished in 1992.

I have established in this book that there existed a temple at the disputed site.
I have based this on original evidence, including shlokas of the Ayodhya Mahatmya of the Rudrayamala Yamala Uttara Tantra.

I agree that the VHP failed to produce any document beyond the Ayodhya Mahatmya of the Skanda Purana. But I have given four texts of the standing of several centuries which contain the Rama Janamsthan Mahatmya -- the religious merit of the birthplace of Lord Rama.

I have produced clinching evidence which conclusively proves that there was a temple at the birth place of Lord Rama and there was an idol inside it as it is described in the Ayodhya Mahatmya.

I have also presented accounts of travelogues of foreign visitors such as Thomas Herbert (1634) and Joannes De Leat (1631) on Ayodhya for the first time. Both mentioned a temple of Rama there and people visiting the place.

Both Hindus and Muslims used to perform namaz and puja respectively inside the mosque until 1858 when the British arbitrarily annexed Awadh and ousted the Hindus from the inner circle of the mosque.

Will your book help resolve the decades-old dispute?

I have written this book with a communal harmony perspective with historical facts. I am a strong believer of sarwadharm swabhav (love for all religions), and hope it will help in a big way.

You talk of a second volume in the preface.

I will publish a second volume that will answer all questions raised over the new thesis. I will expose all if any one says anything wrong about the dispute this time.

There is a perception that you are close to the Sangh Parivar as you have been seen attending its functions?

I am not at all associated with them (the Sangh Parivar), but I am a religious person, no doubt.
I was a Marxist for a few years during my college days at Patna University. I also headed the society for the study of Marxism at Patna University for three years.

I am committed to communal harmony and social harmony.