Ending years of speculation and suspense, movie superstar Rajinikanth announced on Tuesday, December 29, that he will not enter politics.
"He should not have said that he will contest irrespective of his health four weeks ago," Dr Sumanth Raman, an observer of Tamil Nadu politics, tells A Ganesh Nadar/Rediff.com.
Which party or alliance will benefit most from RajInikantH's decision not to enter politics?
It will benefit both the DMK and AIADMK. Both major Dravidian parties will be happy.
Which party are his fans likely to support?
Most of his spiritual politics fans are inclined towards the AIADMK. He was expected to cut into the AIADMK votes, more than the DMK.
Is there a chance some of his fans will contest the assembly election as Independents?
No! I don't think so. Even in the unlikely event of one or two attempting to do so, they will have no impact.
There will be a queue of politicians seeking his endorsement.
His endorsement will not make any difference any more.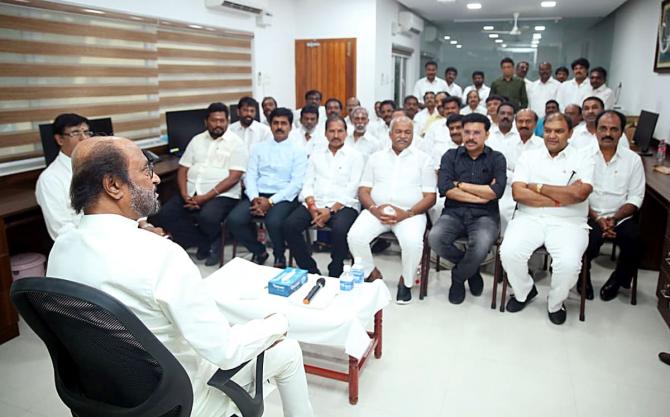 Which party do you think he favours?
Everybody says that his sympathies are with the BJP, but after today's announcement I don't think people will pay much attention as his credibility has been lost.
Do you think his movies will suffer because of this decision?
For movie stars their 'Hero' image in the public perception is very important. That image has been eroded significantly. To what extent it will impact his movies, we will have to wait and see.
Do you think it was a good decision considering the amount of work he would have had to put in the next few months?
He should not have said that he will contest irrespective of his health four weeks ago.
Do you think spiritual politics is possible in Tamil Nadu?
Of course! It is possible. Tamil Nadu will eventually get there with/or without Rajinikanth.
A politics beyond caste, religion, language and ethnicity is what we will see.
Have we heard the last of this story or is there something that will emerge later?
No! I think this is the end of this story. Even if he says something in future, the public will not be ready to listen anymore.
Feature Presentation: Rajesh Alva/Rediff.com