'We are only amplifying the voice of scientists and experts. We are gathering information by talking to experts and are sharing it. If the government chooses to ignore that, what can we do?'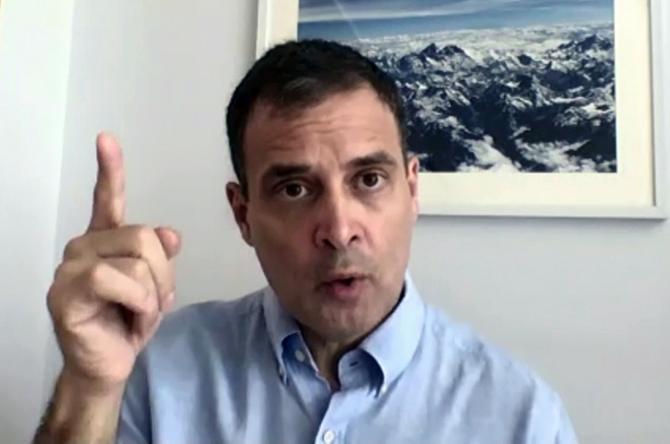 Congress leader Rahul Gandhi on Tuesday came out with a white paper on the Covid-19 situation in India.
The 150-page report narrates where the Narendra Modi government failed in handling the crisis and what it did not do to prevent the virus spread.
"The aim of this white paper is not finger-pointing at the government but to help the nation prepare for the third wave of infection. The whole country knows that a third wave will strike," Rahul Gandhi said while interacting with media-persons after releasing the document.
Rajeev Gowda, chairman of the All India Congress Committee's research department and the party's national spokesperson, was involved in preparing the white paper.
He tweeted, "Our nation must be better prepared to combat current & future waves of Covid-19. Indian National Congress Party, White Paper offers concrete suggestions to help government improve their responses. It also highlights past mistakes so appropriate lessons are learned and accountability is fixed."
Soon after, Gowda spoke to Syed Firdaus Ashraf/Rediff.com about the white paper and where the government went wrong. "They react to any suggestion or criticism in a very hostile manner," Gowda says.
The Congress's white paper on Covid paints a scary picture, where you are basically telling the Modi government to be prepared for a third wave or even a fourth wave.
The virus is a very formidable adversary and one way to counter that is not to give it space to mutate or transmit. For that we need vaccination of an extraordinary large number of our population, almost 70 to 80 percent of our population, and then the chances of transmission of virality goes down.
Only yesterday (Monday) we vaccinated 85.15 lakh people, the highest single day number so far, and in future more are likely to get vaccinated.
That is not enough per day to achieve the target of December 31, 2021 (to vaccinate everyone in India). The virus is not sitting there waiting for December 31. If people do not behave properly -- like no social distancing, not masking and not enough vaccination -- another wave will come. That is the problem.
Our government had one full year to prepare for Covid second wave but they did not do that. People are not dying because of Covid, they are dying because of lack of oxygen and no beds in hospitals. People have died in parking lots of hospitals as they could not get a bed, and all this could have been averted.
You think vaccinating 85 lakh people a day is not good enough?
Where is it happening every day? It only happened yesterday.
We have to do one crore vaccination per day to reach our target of December 31. Only then we will come to know whether there will be a resurgence of the virus or not.
Every country failed to tackle Covid, why then single out the Modi government? Countries like USA, Italy and even Great Britain faced horrible times due to Covid. When great nations have failed, how could India win over Covid virus?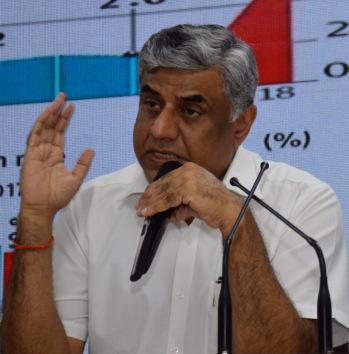 It is a challenge to tackle the pandemic. Of course, we know this is a once in a century phenomenon and we do not see it on a daily basis. But what did we do?
Why did we do election rallies? Why was the priority of winning Bengal elections more important than people's health? These are not questions that apply to USA or England but apply to our country.
All the deaths that took place in our country were avoidable. After the first wave is over you (PM Modi) declared to the world that we have conquered Covid and no more problems. And if you do that, then problems will come and bite you.
Even in other countries like USA, what (former president) Donald Trump did was stupidity. Trump behaved terribly and as a matter of principle many people in America do not wear masks. We have a very effective communicator in our PM who could have communicated well to the masses by his words and action.
But his action was dropping the mask and going to massive election rallies, so what signal does it give to the people? They feel it is okay, life will go on.
Looking back, Rahul Gandhi seems to be a visionary because on February 12, 2020, he warned about a tsunami of devastation coming and that the government was not prepared for it. And whatever steps he suggested, the Modi government followed up later on – but after criticising him first.
Absolutely. Rahul Gandhi had requested the Indian government to open up vaccines from different countries and you know what was Union Minister Ravi Shankar Prasad's reaction? He said, "Rahul Gandhi has become a full time lobbyist." And a few days later the Modi government gave provisional emergency approvals to other vaccine manufactures.
The problem is that these guys have a very thin skin. They react to any suggestion or criticism in a very hostile manner as if they are the only perfect people.
Secondly, the media will happily report what they say on the first page as headlines even if it is 100 percent wrong. Nobody will ask them, is it true? That much guts the media does not have.
What Rahul Gandhi says today, PM Modi does tomorrow.
We all are not experts, we too are picking up. We are only amplifying the voice of scientists and experts. We are gathering information by talking to experts and are sharing it. If the government chooses to ignore that, what can we do?
Your research paper is very critical of the unscientific methods you say are being adopted by the government in tackling the virus. Is science missing from the BJP's DNA?
That is a problem as they like to promote Coronil (Baba Ramdev's solution). What to do, it's madness.
Now it is important to control the third wave before it hits us. We have to increase the pace of vaccination. Vaccine supplies should not stop and there is a lot of work to do.
Looking back, what should the Modi government have done after the first Covid case was reported in Kerala on January 30, 2020?
At that time the spread was not terrible. We did try with a janata curfew. And then we did 21 days shutdown all of a sudden but they did not tell us what measures the government has taken.
They did not tell us about the food arrangements for those people who were stuck on roads, buses or trains.
The government did not do proper arrangements for them, for how these people would reach their destinations in a lockdown.
The government did not arrange to put some money in the poor people's bank accounts. They had no money and were stuck in the middle of nowhere whereas the ruling party members sat in the comforts of their homes and saw migrants walking thousands of kilometres. There was no support to these hapless migrants from the government.
Do you feel India needed a scientist-physician of the calibre of Dr Anthony Fauci?
Dr Fauci was a total contrast to Donald Trump who was behaving and speaking like totally nuts. But to Trump's credit he placed large orders for vaccines though he kept denying there was a problem of Covid. He refused to wear a mask and he organised events at the White House. He then turned this into an anti-China event.
But here, all you needed to do was pay attention to science and be a little more careful. You did not need a scientist to be a saviour.
India has got extraordinarily good people and you just had to get them together and listen to their opinions.
Your job was to gather them and take action on their opinions.
Your job was to implement their suggestions, which you did not do.
Sudden lockdown was not a scientific advice.