'We have to face the fact that Islamic terrorists are here on our soil and mean to do America harm.'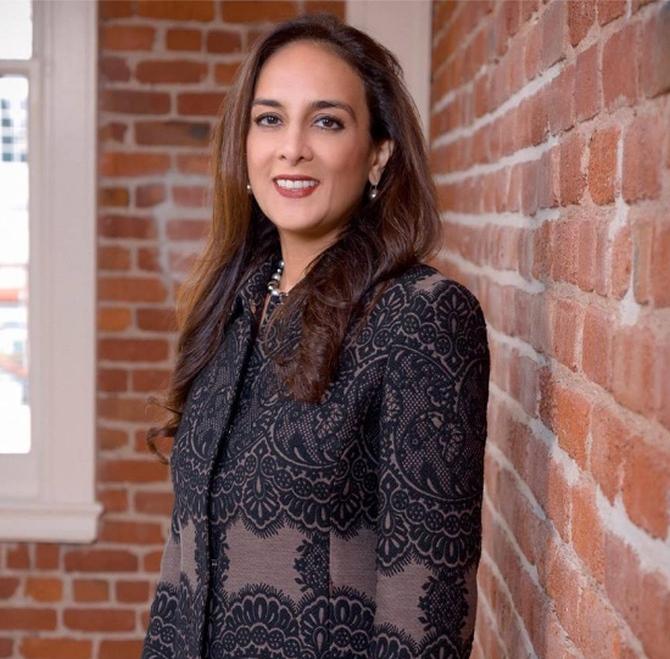 Harmeet Dhillon, an attorney and current vice chair of the California Republican Party, is running for committeewoman from California in the Republican National Committee, a position currently occupied by Linda Ackerman.

According to party rules, each state elects one national committeeman, one national committeewoman and one chairman to the RNC.
The election will take place during the state's GOP 2016 Convention April 29 to May 1 in Burlingame, California.

Dhillon, 47, who calls herself a conservative member of the Republican party, began her political involvement during the 1988 US Presidential election, when she was chair of Dartmouth Students for Jack Kemp.
She has since served as a member of the San Francisco Republican Central Committee as well as a delegate of the California Republican Party, appointed by then California Governor Arnold Schwarzenegger.
Professionally, Punjab-born Dhillon is the owner of the Dhillon Law Group Inc, which represents businesses, entrepreneurs and executives across many industries. After 9/11, she represented many Sikhs who were victims of hate crimes.
Dhillon spoke to Ritu Jha/Rediff.com in California.
Why did you decide to run for the RNC? What do you see as your role there?

Because it is an important national political position in the Republican Party, and I am passionate about representing California's interests at the RNC.
If elected, I will serve a four-year term, and have the chance to get involved in many aspects of party leadership and activity in that time.

Your views appear to be a little to the left of the party -- on immigration, gay rights, etc. Do you think you can make the party reflect more people's views if you use your influence?

This statement is not true. I consider myself a conservative member of the party.

How do you view the ongoing Presidential campaign and its impact on California, given that you are a vice-chair of the state Republican Party?

The fact that the Republican Presidential primary is hotly contested is very welcome here in California because it gives us a chance to have a say in our party's nomination. We expect higher voter turnout, and hope that will help our other candidates in the state.

This, especially because California has both a higher percentage of illegal immigrants than other states and a more diverse minority population?

Illegal immigrants don't vote, at least legally. Illegal immigration is a serious public safety, infrastructure, and public resources challenge for California.

Recently, GOP Presidential candidate Senator Ted Cruz made a proposal to start surveillance of Muslim neighborhoods. Given your history, do you think you can help make the RNC more inclusive?

One has nothing to do with the other. On one hand, we have to address and face the fact that Islamic terrorists are here on our soil and mean to do America harm. That is a fact, and I believe that law enforcement should step up its work where it has credible leads to pursue.
I do not believe that racial profiling is a valid proxy for good law enforcement.

On the RNC/California GOP becoming more inclusive, that is in fact happening. This year we had a woman, two Latinos, and an African American running in our party. On the Democratic side, all whites, and mainly older people.

What are your current views on H-1B visa being issued?

I believe in legal immigration and in allowing our country to benefit from highly skilled foreign workers. That said, there is some abuse in the system and we have seen instances, like in the Disney case, where H-1B workers are replacing American workers, just because their wages are lower.
This is not fair to US workers, and is not what this programme was meant for. But if we put more safeguards in place, I believe it is a good programme.
We should also look at granting work visas and immigration visas to foreign graduate students in the STEM fields so that we can benefit from their education in the US.

What do you think of Donald Trump, the frontrunner for the Republican nomination regarding his views on foreigners, minorities, women and abortion?

As a party official, I am not commenting publicly on specific candidates and these issues, at this time.
How many of California's Indian-American voters do you plan to bring over to your side?
I'm running to be the National Committeewoman for all Californians, not just the Indian-American ones.
I expect California voters from different parts of the state will pick different candidates, and likely each of the remaining candidates will come away with some delegates from California.