'Due to lack of understanding or patriarchal misinterpretation, a common notion was generated that if you are a Muslim man you can marry four times.'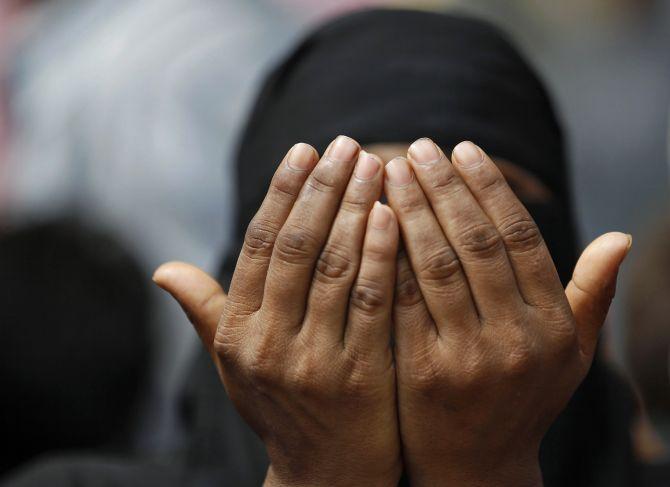 Nearly seven months after banning the practice of instant triple talaq, the Supreme Court on March 26 decided to examine the Constitutional validity of prevalent practices of polygamy and nikah halala among Muslims.
The apex court issued notices to the Union ministries of law and justice and minority affairs as well as the National Commission of Women after taking note of the plea filed by Nafisa Khan, a Delhi-based woman, challenging the practice of polygamy and nikah halala, and said the matter would be taken up by a five-judge Constitution bench.
While the Shariah, the Muslim civil law based on Quranic principles, allows a Muslim man to have four wives, nikah halala deals with the process in which a Muslim woman, who wants to remarry her husband after divorce, has to first marry another man, consummate the marriage and then divorce him.
The Supreme Court's notice come after four petitioners -- Sameena Begum, Nafisa Khan, Bharatiya Janata Party leader Ashwini Kumar Upadhyay and Moullim Mohsin Bin Hussain Bin Abdad Al Kathiri -- filed a PIL in the matter.
"The Muslim community is in denial about the condition of women," Zakia Soman, founder of the Bharatiya Muslim Mahila Andolan who has waged a lonely battle for gender equality in Muslim society and scored a victory in the Supreme Court over the instant talaq issue, tells Rediff.com's Syed Firdaus Ashraf.
Why has this new petition on polygamy and nikah halala come about now in the Supreme Court?
Before coming to this petition you must remember that our petition and all others too had prayed for three things -- outlawing instant triple talaq, nikah halala and polygamy.
This person who has filed (this plea) is a new petitioner, but even we had filed the same petition earlier.
The Chief Justice of India had then said that due to paucity of time he would only take up the issue of instant triple talaq.
Additionally, we have been demanding a comprehensive reform of Muslim personal law.
We need a Muslim family law based on the Holy Quran and in keeping within the Constitutional parameters that would regulate every aspect of marriage and family.
What this petition is saying is nothing new as it is already in front of the court.
Wasn't your fight only against instant talaq?
You look at the draft of Muslim family law which we have prepared.
It lists halala as a criminal offence.
It also lists polygamy as illegal because in our understanding it was allowed at that time (7th century Islam) in that context.
And today that context never prevails.
Polygamy was never encouraged (in Islam) and it was permitted only under strict conditions. And those conditions are normally not fulfilled.
When a man engages in a second or third marriage he does not fulfill those conditions.
Allah says you will not be able to do 'just' to all your wives even if you wish so. Therefore, marry only one (woman).
So it is not at all encouraged (in the Quran).
Due to lack of understanding or patriarchal misinterpretation, this common notion was generated that if you are a Muslim man you can marry four times.
Are you saying the Quran does not permit polygamy?
I will say it does not encourage polygamy.
However, it permits it under strict conditions, in certain contexts.
As far as I know, the second marriage can only take place with the permission of the first wife.
Yes. That is true.
Even today, in Pakistan, the law says that a man has to get written permission from his first wife, then he has to prove in front of a family council that he has a valid reason for marrying a second time.
Even if he proves that he needs to marry a second time, getting permission from the first wife is next to impossible.
Unlike instant triple talaq -- which had a number of cases among Muslims -- is polygamy a common practice in Indian Muslim society?
As I was saying, it is complex and linked to instant triple talaq.
When a man utters triple talaq, he feels he is free and can go and marry another woman as his status is now single.
But the first wife has not accepted triple talaq as it is unilateral.
The wife runs from pillar to post to save the marriage whereas the husband marries another woman and starts enjoying his second married life.
That is a big anomaly.
Your fight against instant triple talaq was on the basis that it was not written in the Holy Quran, but in the case of polygamy it is there in the holy book. So don't you think you are going against the Holy Quran?
Not at all.
First of all, every Quranic principle has a context in life.
In today's context where the sex ratio is so adverse, where we have fewer females than males and we are not living in a time of war.
We have fewer females today while in Prophet Mohammed's time, 1,400 years ago, there used to be wars and men would get killed.
There were fewer men then and in that condition polygamy was sort of regularised because of that.
Those conditions do not prevail today.
The Quran cannot be read like that. It has to be read in context and there are contextual principles and normative principles.
Normative principles are about justice and contextual principles will always be secondary to normative principles.
What about nikah halala?
After a woman gets a divorce from her first husband, she marries another man.
In the second marriage, if she realises that she was better off with her first husband, she can divorce her second husband and then remarry her first husband.
That is halala.
Here (in India) husbands divorce their wives and then let the women go through this horrendous process.
A woman is not cattle, goat or cow. What they are presently doing is very wrong.
When a Muslim man divorces his wife, she then has to go through halala if she wants to come back to her first husband. That is the twist Indian clerics have given.
This is just not called for and is inhuman.
Can Islam practise such an inhuman and dehumanising custom?
Many Muslim women say they do not want the triple talaq bill which was passed by the Lok Sabha.
These women are protesting at the behest of the All India Muslim Law Board.
At the time of Padmaavat's release a lot of Rajput women came out on the streets and said they would perform jauhar.
These protests by Muslim women are something like that, where they are using women to further their own injustice.
The All India Muslim Personal Law Board has never educated men or women about Quranic teachings.
They have never created an understanding about women's rights.
It was Muslim women who fought against triple talaq and to counter that, they started bringing out these women.
These women were silent in rallies. It was only the male clerics who spoke.
How come these women never spoke?
They don't know what they are coming out for as they have been told by their husbands or family members to come out for the rally.
In legal terms, there is something called informed consent and this is (an example of) not informed consent.
There has been considerable criticism of the instant triple talaq bill. Will making instant talaq a criminal offence lead to problems in Muslim marriages?
We have also suggested amendments to that bill.
(Muslim clerics) have never taken pains to educate women and now they want to use them.
We have to work hard to educate politicians and parliamentarians too. That is also our job.
The Muslim community is in denial about the condition of women.
When they see Muslim women fighting against triple talaq, they try to match that by bringing out (other) Muslim women in large numbers (to target them).
It is not going to help.
None of those women have been given an opportunity to empower themselves or educate themselves.
Bigamy is practised by Hindus too even though it is illegal for them to do so. Given that, how will a ban on polygamy help Muslim women?
There is a bigamy law in which a Hindu wife can always take her husband to court if he is in another relationship.
The punishment is up to seven years for Hindu men in this case.
But the law is just one part of reform and gender justice.
We need to enlighten, educate and empower women.
Does section 494 of the Indian Penal Code, outlawing a second marriage when the first spouse is alive, not apply to Muslim men in India?
No, it does not apply to Muslim men.
This current petition on polygamy by Sameena Begum is about Muslim women being denied the benefits of bigamy law under this section.
Do you think political parties will try to make an issue out of polygamy as this comes just months ahead of the 2019 general election?
It is bound to be interpreted like that.
But the fact is that there are inequalities and denials (to Muslim women).
Any political party will try benefit from it, and it is not at all surprising.
We have been saying for the last 10 years to give Muslim women the rights that were given by Allah to them 1,400 years ago.
But Muslim clerics are not willing to listen, and therefore this kind of situation is bound to arise.
Kindly note: The lead image has only been published for representational purposes. Photograph: Amit Dave/Reuters