'The Pakistani army has sold a myth to its population that it is deployed eyeball to eyeball with the Indian Army on the Siachen glacier, which it is not.'
'The Indian military has rightly advised the government not to fall for the rather spurious Pakistani demand to demilitarise Siachen.'
Nitin A Gokhale's new book, Beyond NJ9842: The Siachen Saga, focuses on the little-known aspects of Operation Meghdoot -- launched exactly 30 years ago on April 13, 1984 to secure the Siachen glacier, the world's coldest and highest battlefield, from Pakistani occupation.
Gokhale, NDTV's Security and Strategic Affairs Editor, spoke to Rediff.com's Vicky Nanjappa: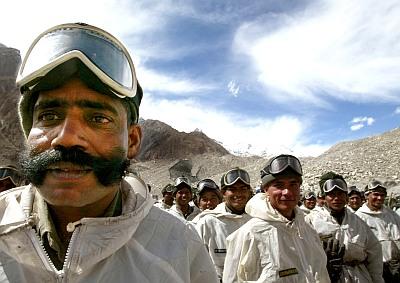 How has your book been received?
So far, the reaction to the book has been very positive.

Even before it has reached the bookstores, there is a buzz, both in the military and among military enthusiasts because Siachen has largely been an unseen and under-reported conflict.

Once people came to know that the book's focus is on the human element -- the untold stories of valour, sacrifice, innovation and incredible camaraderie among soldiers serving there -- I have been flooded with queries about the book's actual availability.

Selected excerpts on Rediff.com and other Web sites have spurred further interest.
How important was Operation Meghdoot for India?
Operation Meghdoot pre-empted Pakistan's plan to occupy the heights leading to the Siachen glacier and link the uninhabited areas between the KarakoramPass and the Saltoro ridge.

Although many pundits have now said, in retrospect, that Siachen does not have any strategic significance, in 1984, both the military and political leadership in India was alarmed enough not to take any chances of a military link up between China and Pakistan.

Thirty years later that decision has proved to be correct, given the increasing Chinese footprints in Gilgit-Baltistan and Pakistan's northern areas.
What similarities do you find between Operation Meghdoot and the Kargil war?
There are no similarities, but there is a link.

Pervez Musharraf, who was at once in charge of operations against India in the Saltoro-Siachen area, wanted to cut off Ladakh and Siachen by intruding deep across the Line of Control in Kargil.

By doing so he had hoped that India would be forced to withdraw from Siachen. But the Indian military not only pushed back Pakistani intruders from Kargil but also thwarted Musharraf's designs on Siachen in 1999.
Do you agree with the view that Operation Meghdoot antagonised the relations between India and Pakistan?
Of course, it did. But at one time in the 1990s and in mid-2000s, diplomats and 'peaceniks' on both sides saw Siachen as a 'low-hanging' fruit ripe for plucking. Thankfully, better sense has prevailed so far.
What kind of strain does India take for holding on to Siachen? What is the region's real significance?
For a country like India, the financial drain is tolerable.

According to my information and research, India has in 30 years spent about Rs 8,000 crore (Rs 80 billion) for deployment on Siachen.

The current recurring expenditure per annum is estimated to be about Rs 365 crore (Rs 3.65 billion) -- that is about Rs 1 crore (Rs 10 million) a day. This is a fraction of the current defence budget.

According to official figures given out in Parliament in 2007, between 1984 and 2007, 884 soldiers had sacrificed their lives on the glacier.


The real significance of holding on to the glacier lies in India preventing any physical link up between China and Pakistan on the northern borders in the future, however inconceivable it may seem at the moment
There was talk that an attempt was being made to demilitarise the Siachen glacier. What happens if this proposal goes through?
The Indian military has rightly advised the government not to fall for the rather spurious Pakistani demand to demilitarise Siachen.

Firstly, the Indian Army has pointed out that Pakistan, given its past record of reneging on promises, cannot be trusted.

Secondly, Pakistan is nowhere near the Siachen glacier. The Pakistani army has sold a myth to its population that it is deployed eyeball to eyeball with the Indian Army on the Siachen glacier, which it is not.

The Pakistani deployments are at much lower altitudes and west of the Saltoro ridge that towers over the Siachen glacier.

Pakistani troops cannot even sight the glacier from their own positions.
Is it possible to convert Siachen into a symbol of peace? Can the Pakistanis be trusted on this front?
Not in the conceivable future simply because, as I said, Pakistan cannot be trusted.
If at all there talks do move ahead to close down military deployment in Siachen, what do you think India should insist that Pakistan does?
The Indian military has simply insisted that both sides must authenticate the current deployments on the map, also called the Actual Ground Position Line and ratify it so that later Pakistan cannot go back on it.
If Pakistan agrees to do it, the Indian military leadership is willing to consider the proposal.
How do you rate the handling of the United Progressive Alliance government on this issue? What do you think the National Democratic Alliance government would do on the same issue if it came to power?
The UPA government sent some mixed signals on Siachen, but finally went along with the military's advice, prompting some analysts to described it as a case where the military vetoed the political leadership.

The NDA, it is expected, will stick to the well-known position of not demilitarising Siachen or withdrawing from Saltoro range.

Images: Top: Indian soldiers at their base camp after returning from training at the Siachen Glacier. Photograph: Pawel Kopczynski/Reuters; Below: the cover of Nitin A Gokhale's new book, Beyond NJ9842: The Siachen Saga