We need to give a booster shot to all our frontline workers first as if they fall victim to Omicron, the health system will collapse, points out Ramesh Menon.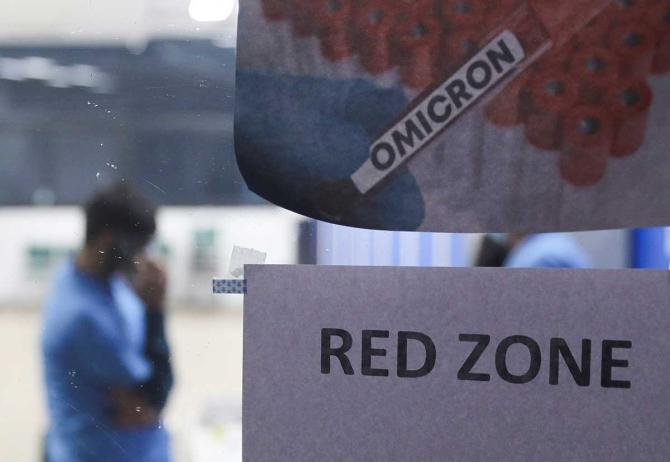 We all want our normal lives back. But do we need to exercise some caution as Omicron, a new variant of COVID-19, spreads like wildfire in many parts of the world?
There are a few cases in India. But, this does not mean that we go about our lives as if the country is insulated against the new virus that has a propensity to multiply rapidly?
Have we forgotten how lives were sniffed away by the Delta virus in the second wave?
We all know that it is much more than the official figures as cemeteries were overflowing with a long waiting list as bodies were even cremated in the open.
The hospitals had no beds to spare.
Oxygen cylinders were empty.
Patients were gasping for breath.
Medicines were in short supply.
We never felt so helpless.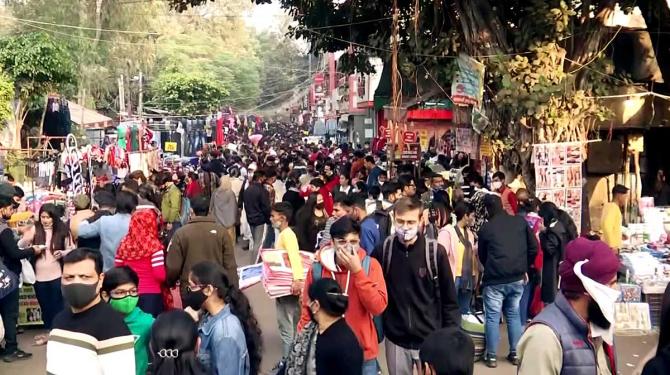 So, why are we not learning the obvious lessons of doing things to avoid any further spread of COVID-19 and its new variants?
Go to any marketplace, mall, college campus, bus stop, political rally, or public event and see how everyone is behaving that they do not remember the price that millions of families paid in terms of lives lost and costs of medical care?
When the government is adept at making laws in a jiffy without debate in Parliament and enforcing draconian laws and arresting people under stringent provisions, how come there has not been similar stringency in enforcing Covid-19 norms of social distancing, wearing of masks, and basic hygiene.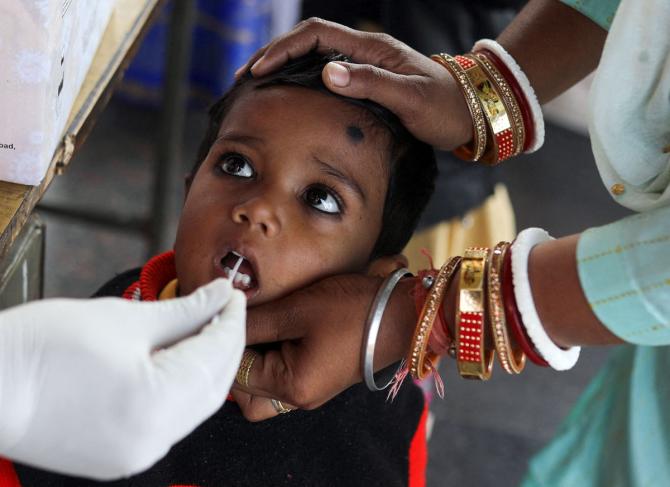 Newspapers are full of full-page ads praising governments that are soon going to face the polls, but why cannot it invest in a public communication campaign to educate citizens on the need to get vaccinated and follow norms to beat the virus?
There are reports that a large number of vaccines are going to be discarded as it is soon going to expire. If that is so, why not just give it free?
Why are we taking so much time to decide on when to start allowing our children to be vaccinated?
Imagine children on hospital beds in another wave as they have not had the protection.
Parents will have to be with them in the hospital as there would not be enough nurses to tend to them all through the day.
Are we ready to accommodate both child and caregiver in our hospitals during an infectious pandemic?
Dr Randeep Guleria, director, All India Institute of Medical Sciences, New Delhi, says India must be ready now for any eventuality.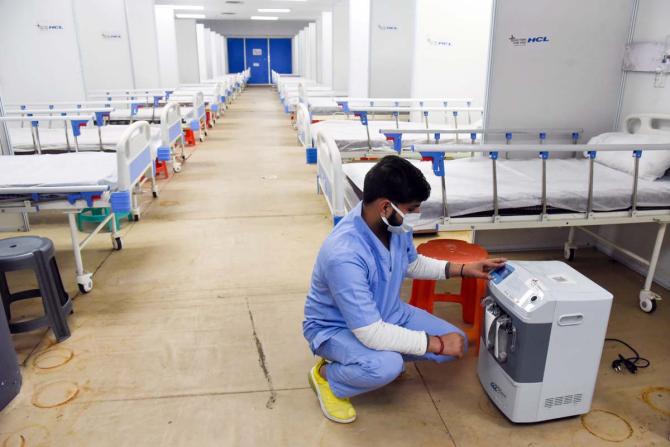 What should worry India is that Omicron is highly infectious and given how we love to defy social distancing and how in many cases it is virtually impossible, it might overwhelm the health system very fast.
It is already there in over 90 countries and is suspected to be there in many others where detection has not yet happened.
The new variant has a doubling time between 1.5 to 3 days, according to the World Health Organisation. If this is extrapolated to the Indian population, it signals an occurrence of 14 to 15 lakh cases, says Niti Aayog's V K Paul.
Research on Omicron is hazy, but the only definite thing that has emerged is that it spreads very fast.
Dr Samiran Panda, additional director-general, Indian Council of Medical Research, says that states need to be on guard.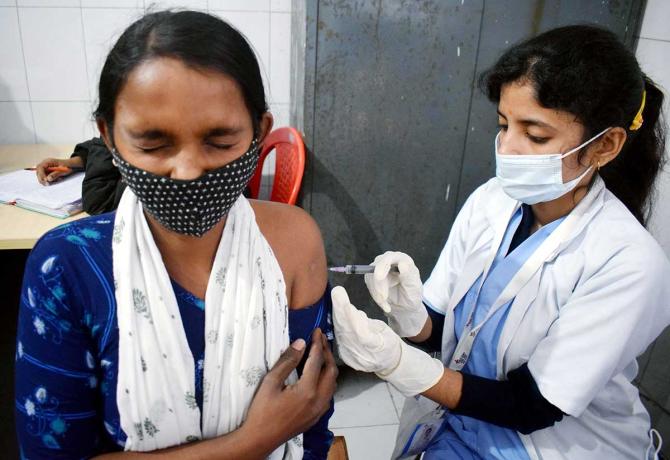 Though WHO and the G-7 have labelled Omicron as the 'biggest current threat' to world health, Indian politicians go about political rallies and meetings as if we have won the war against COVID-19.
By keeping on saying that India has done better than the developed world does not help. We saw it in March and April 2021.
There is a likelihood of a third Covid wave in India in early 2022 according to the National COVID-19 Supermodel Committee.
However, it may not be very severe considering that many have got at least one shot of the vaccine.
Professor Vidyasagar, who heads the committee, says that the severity would depend on the ability of Omicron to affect those who have been vaccinated and those who have developed immunity as they were earlier infected.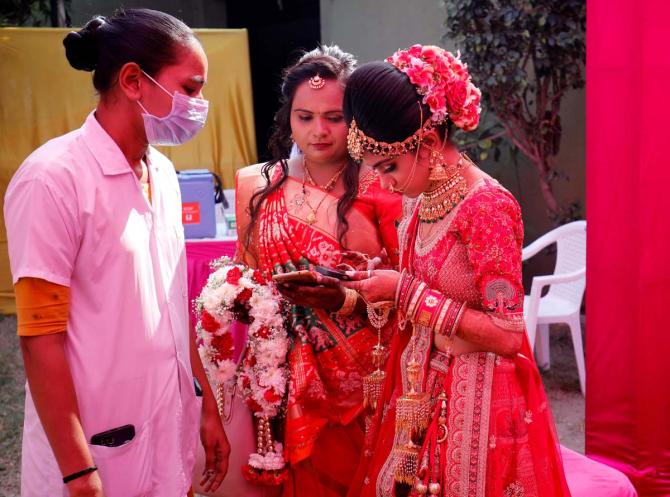 Let us not forget that over 200 million Indians have still to get the first shot.
Children have yet not got a single shot and it is time now to open it out for them.
It is also time to allow for a booster shot for those who want to take it.
Only 39 percent of the Indian population has been fully vaccinated.
We need to give a booster shot to all our frontline workers first as if they fall victim to Omicron, the health system will collapse.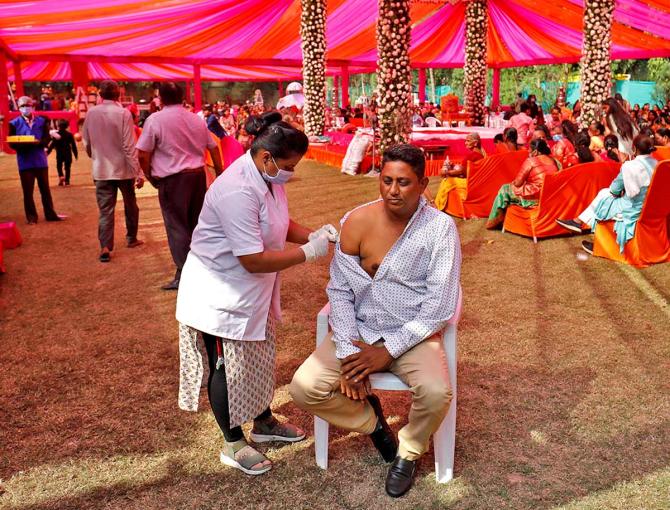 If Omicron is raging in the developed world, it is also because only a mere ten percent have been vaccinated in 41 countries!
Rich nations that have stockpiles of vaccines should open their hearts and help poor countries that do not have the capacity to quickly vaccinate its population.
Omicron is a grim reminder that Covid has no intention of going away in a hurry.
Mutations are bound to happen as that is the only way for the virus to survive in a world where its leading virologists and scientists are trying to banish it.
We have to learn to live with it.
The world is proactively moving ahead to stem the virus with booster shots and enforcing Covid protocol. Lockdowns are coming back.
Around the world, campaigns for booster shots are on, compulsory masking has returned, parties are being discouraged and caution is being exercised.
But, the government's current obsession is the Uttar Pradesh elections.
Instead of pouring money into creating the Kashi Vishwanath Dham at a stupendous cost, a different message could have been sent had it invested in building a good hospital.
India has to learn lessons from the last two waves. It has to accept that superspreader events like the Kumbh Mela and election rallies spread the virus.
It has to diligently follow the Test, Track and Treat method.
It has to test all those coming on international flights.
A sure shot way to beat the virus is to develop and strengthen your immune system.
Avoid junk food. Eat healthily.
Look at your kitchen which has so many traditional ingredients that will help like turmeric, ginger, coriander, cumin seeds, black pepper, licorice, fennel seeds, flaxseeds, and so on.
Say an absolute no to junk food.
Omicron cannot infiltrate masks. So, wear it. Avoid crowded places. Respect social distancing. All experts have said it and it is foolhardy to show our arrogance.
It is better to be cautious than foolish.
Ramesh Menon -- author, award-winning journalist, educator, corporate trainer, and documentary film-maker -- is the author of Modi Demystified: The Making of a Prime Minister.
Feature Presentation: Ashish Narsale/Rediff.com