'Main koi rootha nahin hoon with Pakistan for denying me a visa. I am baffled, and a bit hurt.'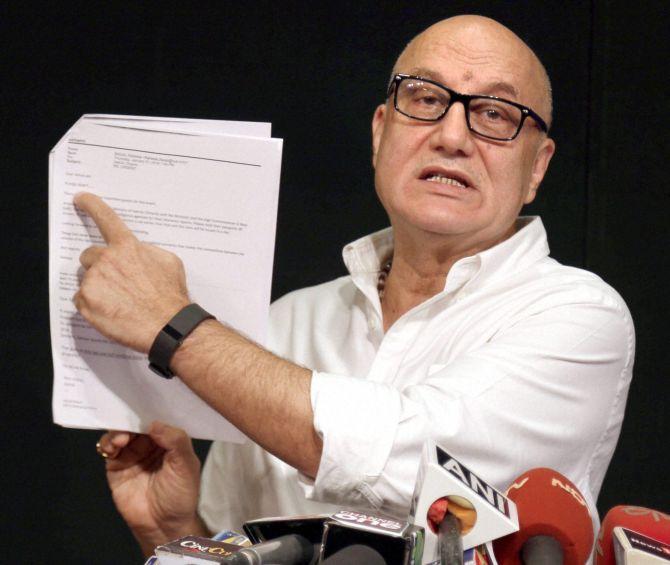 IMAGE" Actor Anupam Kher at a press conference on Tuesday, February 2, after he was 'denied' a visa to attend the Karachi Literary Festival. Photograph: PTI
Anupam Kher had taken to social media to complain that he was the only one of 18 Indians denied permission to attend the Karachi Literary Festival.
The actor -- who will turn 60 next month -- felt that the Pakistan government's decision may have been influenced by his stand on his community, the Kashmiri Pandits, and his support for Prime Minister Narendra Modi.
A day later, Pakistan's High Commissioner to India Abdul Basit called up Kher and offered him a visa. But the actor turned it down. Kher spoke to Subhash K Jha about the furore.
The latest development?
The Pakistani high commissioner has been kind enough to offer me a visa to visit Pakistan after a stink was raised, if I apply. But I was never supposed to apply for a visa to be part of the delegation.
To her credit, Ameena Saiyid, the organiser of the Karachi Literary Festival, has stood by me. That is very commendable. I salute her. It would have been easiest for her to lie her way out of this crisis.
So are you going?
No, I can't go as I've already given away that time for another event. See, if it was something happening in my own country, I would have fought and gone.
But to fight for the right to attend an event in another country and to finally have them grant me the right to enter their country is not right.
Other invitees are heading to Karachi without you.
That is their choice. All my life I've fought all my battles on my own. If I was in their place I wouldn't go. That doesn't mean Barkha Dutt or Nandita Das should feel the same way. But we can't hold grudges.
It is sad, however, that someone like Nandita Das says I didn't have the common sense to apply for a visa.
What sort of solidarity can I expect from someone who says something like this? Do I need to get lessons in common sense from her?
Apparently you didn't apply for a visa.
But I wasn't supposed to! Even Nandita Das and the other delegates didn't apply for it. But their No Objection Certificates came; mine didn't. They had problems with only my NOC.
Is it because you have been speaking up against those who are talking about intolerance and returning their national awards?
Ameena feels the reason for denying me a visa could be because I've spoken about Kashmiri Pandits and tolerance/intolerance issues.
I've also spoken up strongly whenever terror attacks have happened in our country, blaming Pakistan for the attacks. Yeh toh duniya jaanti hai (the world knows it).
Yet I wanted to go to Karachi for a direct interaction with Pakistan's people. At such events, one can address issues in a non-political atmosphere.
Should we continue with biryani politics with Pakistan?
Besides a large appetite, India has a very large heart.
We accept and welcome Pakistani singers and actors. People from Bollywood should go to Pakistan. Some of them have historical roots in that part of the world from undivided India. Some of them have ancestral homes and many of them have a fan following there.
The problem is not between the people of the two countries. The problem is political.
But politics affects relations between people.
It should not. I feel bad for those Pakistanis who were looking forward to meeting me. I am upset about that, not about the denial of the visa. I saw my visit as a part of the process of improving relations between the two countries.
If you are invited to Pakistan again, will you go?
Of course! By all means. Main koi rootha nahin hoon (I am not upset with Pakistan) for denying me a visa. I am baffled, and a bit hurt.