'India is going to maintain its ties to China, India is going to develop a strong relationship with the United States. It means that India is going to have the flexibility to pick and choose its friends.'
'That's traditional Indian foreign policy, and it's smart.'
Former US ambassador to India Frank Wisner, one of America's sharpest minds on South Asia, tells Aziz Haniffa/Rediff.com what Washington can expect from Narendra Modi's visit.
Over the past few weeks, former United States ambassador to India Frank Wisner has been the go to person on India for senior State Department and White House National Security Council officials -- agencies where in recent times they have been sorely lacking in South Asia expertise and experience.
Wisner, the 'godfather' of the US-India Business Council, and currently senior foreign affairs adviser to the top lobbying firm Patton Boggs, recently met with Prime Minister Modi in Delhi as part of a USIBC delegation that visited India.
In an exclusive interview with Aziz Haniffa/Rediff.com, Wisner, one of the most experienced and effective diplomats in the history of the US foreign service who is still intimately plugged into the corridors of power and intelligence, offers his perspectives on Indian Prime Minister Narendra Modi's visit.
There seems to be an infectious enthusiasm and excitement in the US business community, and of course, the Obama administration, which is pulling out all stops for the Modi visit. Is this hype warranted?
The US-India relationship deserves the hype and Modi has shown every instinct to be not only India's prime minister today but the prime minister over the next 10 years. And, so, if we are going to have a meaningful relationship, it is absolutely important that the US government and Modi get on track in terms of confidence and respect and chart a path forward.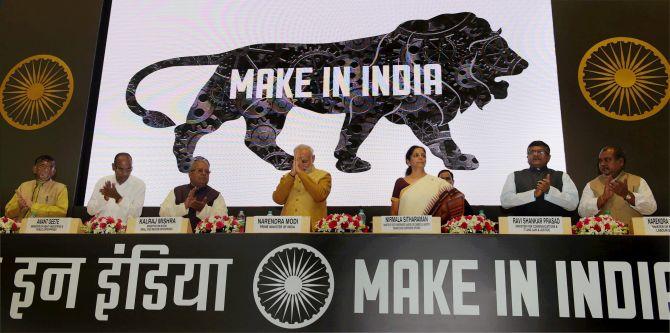 Image: Prime Minister Narendra Modi at the launch of the Make in India initiative, September 25, 2014.
---
You point to the hype, and the Modi electoral victory is very exciting and have whet the appetite of all Americans who like elections. But the reality is deeper than that -- we want a strong relationship with Indians in the United States and the opposite is also true.
That said, all of us have to temper our enthusiasm with a dash of reality. The prime minister has been in office for four months and he doesn't have -- as the recent by-elections show -- an invulnerable political position. He has got to be careful.
His aim is both to improve India's economy but also to build his political strength and he has to be careful. He's got to build constituencies.
Now, you and I might cheer and wish him to move fast and solve all kinds of problems. But we need to look at it from his perspective -- what does he need?
So, I believe he will get a very warm welcome in this country. He will get a very interested welcome, he will get a very realistic welcome from the President and those of us who follow India closely. But, you will see some excesses on the side -- excessive enthusiasm, excessive pessimism.
The President will host a dinner at the White House today, the summit the next day, and the Vice President's formal luncheon at the State Department etc. But both from your perspective as a former diplomat, a member of the US business community and now a senior policy adviser, what are your expectations?
My expectations are that they will concentrate on the quality of the relationship. That they will get their minds around the great problems of the day -- and there are many: How does one deal with China, how does one deal with Pakistan, how does one deal with Afghanistan, how does one deal with the Middle East. These very important geo-strategic challenges.
And they will concentrate undoubtedly on how to strengthen economic cooperation between the two sides and they will have some common areas where we can work together. For example, in the field of renewable energy.
They will identify future prospects of things we can do together that will increase exchanges between the two sides.
But it isn't going to be the President of the United States promising Modi $100 billion worth of investments in India. The President of the United States doesn't promise any number of investments -- it has to come from the private sector.
With the private sector though, I suspect Modi will meet leading members of the private sector and they will cheer him on, but they will also tell him that like Indians, they also need to have problems solved to make the economy have growth prospects.
India's growth and their being also to grow and hence to clean up some of the traditional problems that are around.
So, I believe, Modi is going to find himself having some very interesting and engaged discussions where the business community is going to hear a certain amount of optimism, that if he builds India, they build in India.
A nearly 200 ton nuclear reactor safety vessel is erected at the Indira Gandhi Centre for Atomic Research at Kalpakkam, near Chennai. Photograph: Babu/Reuters
---
Two of the most significant tangibles that are highly unlikely to be resolved are the nuclear deal implementation -- since India has said it will not compromise on the Nuclear Liability Law -- and the issue of brand retail.
Aren't these huge disappointments for the business community, which in turn could be a damper not just on trade and investment but also vis-a-vis India's own infrastructure development efforts, where such investments are imperative?
I really don't think so. What will unquestionably hold back and undermine growth prospects for business is power -- the price and shortage of power in India.
How you get to power -- nuclear, or coal or gas or some other way -- that's the delivery.
If India wants to grow, it has to have power, and it doesn't have enough right now.
And, I am sure whether a businessman articulates that to Modi or not, that's on everybody's mind.
Sure, we will all like to see what can be done with the liability law and we will have to see what Modi can do with his coalition.
On brand retail, I don't think that is going to stop people from coming in. It's in India's interest to open up retail in a much more vigorous manner. But then, none of us get our dreams; this will affect Walmart, but it doesn't affect General Motors.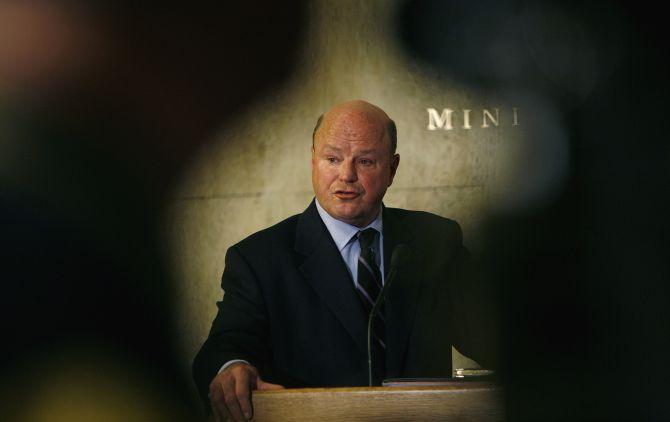 Former ambassador to India Frank Wisner. Photograph: Stoyan Nenov/Reuters
---
At the very least, are you hopeful that at this summit between the President and Prime Minister Modi some kind of Bilateral Investment Treaty will be signed?
I don't know that. The Bilateral Investment Treaty is on the table and India has got to join it if we are going to pass it, and I do hope in due course, whether it is on this trip or next spring, I hope they do it.
I hope the President and Mr Modi will talk about it, because I believe if you want to get American investment, you want India to be open with a world class environment, where a foreign investor knows his investment is in good hands in India. And the BIT is one way to make the point.
Prime Minister Modi comes to the US after successful meetings with the Japanese prime minister and then hosting the Chinese president. So, does this mean that he has already decided on his foreign policy priorities and the US is not on top of his pecking order and doesn't this put the US on the defensive?
No, it doesn't mean that at all. It means that India is going to reach out in all directions.
India is going to have a strong relationship with Japan, India is going to maintain its ties to China, India is going to develop a strong relationship with the United States.
It means that India is going to have the flexibility to pick and choose its friends and its engagements.
That's traditional Indian foreign policy, and it's smart. You don't just have one friend, and we understand that.
We have a very privileged friendship with India. Our values, our institutions, are quite similar and our national interests coincide and there's the entirety of our intense defense cooperation and we are the single largest investor with $28 billion in FDI, so we are in a very strong position. But we don't expect to be treated as the only friend.
Recently testifying before the Senate Foreign Relations Committee, you warned against 'exaggerated expectations' and explained that India is not your normal ally that we expect to have consultations and have American solutions and expect a degree of responsiveness to our ideas.
I did; I said that and I meant that. India is not what we call an ally, where we can call them up and say, 'Hey, we are going to war in Iraq and I expect you to have six planes lined up.' That's not India.
India is very prideful, very, very careful about her sovereignty and where she makes her commitments. And, India before she does anything, they have to reflect on it and in a sense be convinced.