'In the recent Rajsamand case (the Afrajul murder), we were able to arrest the accused within 18 hours and the police deserves credit.'
'To ensure the law and order was maintained, we monitored the situation closely and even used water cannons against those who came out in support of the accused.'
'The response time in the Pehlu Khan case was short and the accused were arrested.'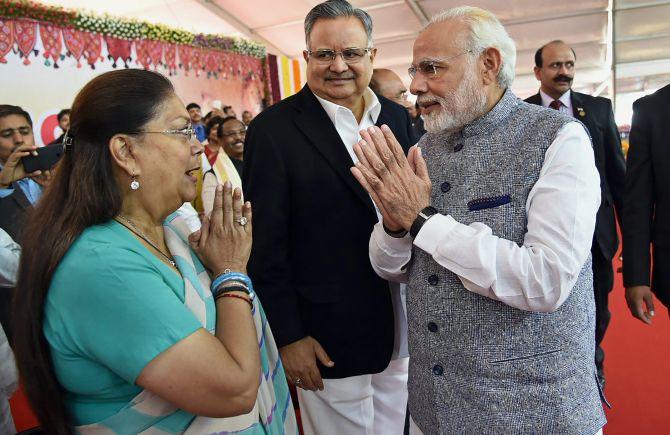 IMAGE: Rajasthan Chief Minister Vasundhara Raje being greeted by Prime Minister Narendra Modi at Gujarat Chief Minister Vijay Rupani's swearing-in ceremony in Gandhinagar on December 26, 2017. Photograph: PTI Photo

Rajasthan Chief Minister Vasundhara Raje, whose government started on a strong note four years ago by announcing a series of labour and industrial reforms, breaks her silence over alleged communal tensions in the state as she enters the final year of the government.
Raje says her government has taken swift action in all cases related to cow vigilantes and love jihad cases.
In an interview to Sahil Makkar, Raje claims her government managed to reform the power and education sectors, despite financial constraints.
The murder of Mohammad Afrajul in a 'love jihad' case and the alleged killings of Muslims by cow vigilantes have shocked everyone. Has intolerance and communalism increased in Rajasthan?
This is perhaps an outcome of the pressure of population and angst in society. No one is proud of it.
The state government has taken this very seriously. In the recent Rajsamand case (the Afrajul murder), we were able to arrest the accused within 18 hours and the police deserves credit.
To ensure the law and order was maintained, we monitored the situation closely and even used water cannons against those who came out in support of the accused.
The response time in the Pehlu Khan case was short and the accused were arrested.
Similar incidents are happening in other states also. But, unfortunately, some of the issues get twisted.
The Zafar Khan (who was allegedly lynched by municipality employees for stopping them from scaring women defecating in the open) case was completely blown out of proportion.
Medical report states he died in the hospital because of a heart attack but his death was also given a religious angle.
The fact is that our government is all for inclusive growth and protection of each section of society.
There is a perception that the state government is soft on those associated with certain Hindu groups and cow vigilantes?
This is absolutely incorrect. Had this been true, we would not have used water canon on people who had come out in support of Shambu Singh (arrested for the murder of Mohammad Afrajul) in Udaipur.
Over 200 people were arrested. We are taking swift action against all crimes.
We registered 543 cases of cattle smuggling in 2015, 474 in 2016 and 389 in 2017. Not just minorities, every community must believe that we are committed to peace, law and order, and safety of all our citizens.
There have been a lot of protests over the movie Padmavati. Will the state government now allow its screening?
Like I said, maintaining law and order in Rajasthan is the highest priority for my government.
In the case of Padmavati, the censor board needs to take into account that a section of society is unhappy about it and this can lead to a law and order situation. We will allow the screening if it doesn't not create any public disorder.
What is the current fiscal situation? Rajasthan continues to be among the states with a high fiscal deficit.
The fiscal deficit during 2015-16 and 2016-17 was beyond the ceiling of 3 per cent of state gross domestic product due to the takeover of debts of power distribution companies under UDAY (Ujwal DISCOM Assurance Yojana).
We are looking forward to the Government of India releasing states' share of central taxes on a regular basis, which will further enable us to manage finances smoothly.
What has been the progress under UDAY?
When we came to power in 2013, the energy sector was in disarray.
Discoms were bleeding -- the annual loss in FY14 alone was Rs 15,645 crore.
Debt on discoms was Rs 72,727 crore, or an average of Rs 70,000 a consumer.
For every unit sold, the discoms were making a loss of Rs 3.65. Such accumulated losses are an example of financial mismanagement, typical of the previous government.
Our government took the courageous decision to implement UDAY. More than Rs 62,000 crore of discoms loans were taken over.
It did put stress on government finances but helped discoms save about Rs 5000 crore annually on account of interest payment.
The state, however, has failed to increase tariff, as suggested under UDAY.
To improve financials, we are focusing on cost reduction rather than on tariff measures.
A campaign was launched to reduce AT&C losses and it reduced last year by about 5 per cent, resulting in savings of about Rs 1,800 crore.
It is expected to give a savings of Rs 2,800 crore this year.
Power purchase cost, which comprises about 70 per cent of the cost of supply, has been kept in check. It increased by only 16 paisa per unit in three years, or about 1.25 per cent per annum.
Discoms are poised to turn around in two years. Annual financial deficit is expected to come down from the historic high of Rs 15,645 crore in FY13-14 to about Rs 2,500 crore this year.
The per-unit gap is projected to decrease by 90 per cent from an all-time high of Rs 3.65 a unit in FY 13-14.
What is the outcome of the Rajasthan Resurgent Summit, which received overwhelming support from investors?
Out of total MoUs (memorandums of understanding) worth Rs 3.3 lakh crore, investments worth more than Rs 2 lakh crore have either been implemented or are being implemented.
We have always said the government alone cannot do what we dream for Rajasthan.
We are very happy to state that our conversion rate at 60 per cent is second only to Gujarat.
Over the past four years, we have been burning the midnight oil in implementing these investments and creating jobs for our people.
Rajasthan has been among the states with the lowest literacy rate. What has the government done to improve literacy rate and elementary education?
Low literacy rates and poor learning outcomes are components of a legacy we inherited.
You would be surprised to know that in 2012-13, there were 28,000 elementary schools with less than 30 students and there were 8,800 schools with less than 15 students each.
Students between Classes I and XII often had to change schools thrice.
More than 50 per cent of teachers' posts were vacant and 40 per cent of principals' posts were vacant.
We have invested around Rs 2,000 crore in school infrastructure in the past three years. We consolidated, integrated and upgraded schools.
Thanks to our efforts, the per-class teacher availability has significantly improved.
Over 110,000 teachers have been promoted, 68,000 teachers recruited and 49,500 recruitments are in the pipeline. Managerial positions have also been filled.
All this hard work has started to give dividends.
Enrolment ratio has gone up and more than 1 million students have increased in government schools.
Every index is showing improvement and the Class X board results (2016-17) showed a pass percentage of 76 per cent, up from 58 per cent (2013-14).
In fact, we are observing reverse migration from private schools to government schools in the state.