'This term -- "Nehru-Gandhi" family -- is a misnomer. Nehru was not a dynast; he did not even name his successor... The big mistake she made was to push forward Rahul Gandhi who is a dead loss as a leader,' says writer Nayantara Sahgal, whom Sonia Gandhi calls 'Tara Masi'.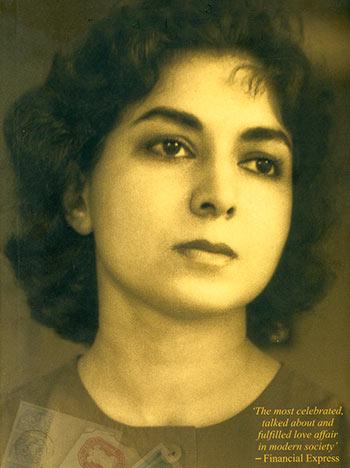 With a beautiful view of the foothills of the Himalayas and a not-so-beautiful one of a multi-storey building coming up next door, Nayantara Sahgal, sits on the verandah of the home her mother built in Dehradun.
"She lived here for 20 years. Then she left this house to me," she says talking about her mother Vijayalakshmi Pandit, Jawaharlal Nehru's politician-diplomat sister.
Sahgal, 87, herself has lived here for nearly three decades -- not far from Landour, where she studied at the Woodstock School.
A writer of several novels, autobiographies, historical and political works, she continues to write -- preferring to write in the mornings. The day we met in her garden with a riot of camellia flowers in bloom, two news photographers had dropped in to take photographs.
"The house is a place of many family memories," says Sahgal, who lives down the road from her sister. She religiously attends Iyengar yoga classes twice a week, which according to Ritu Menon's biography of Sahgal, has been crucial to the writer's recovery from cancer last year.
Left: A picture of Nayantara Sahgal taken from the cover of Relationship, a collection of letters between Mrs Sahgal and E N Mangat Rai, an Indian Civil Service officer she married in the 1970s.
Having borne the brunt of her cousin Indira Gandhi's anger for her criticism of the Emergency, Mrs Sahgal has had a rare vantage point of India's history and politics.
Nursing a bad throat with Hamdard's Sualin pills, she spoke to Rediff.com's Archana Masih about Sonia Gandhi, Rahul Gandhi and Narendra Modi.
Are you in touch with Mrs Sonia Gandhi?
I am not in regular touch. She is very hard to reach. She had told me years ago, please ring up Madhavan (Sonia Gandhi's trusted aide), he'll put me on. Either she is not there or travelling or meeting people, I've not always been able to reach her, but when I have, she has been very forthcoming.
After this terrible defeat (the Congress was routed in the 2014 general election), I tried to reach her -- for a long time I couldn't -- and I said to Madhavan no matter where she is, I want to speak to her and I had a long talk with her.
I told her quite frankly that look Rahul is no match for Modi. She was subdued. I said you must put somebody out there who can speak loud and clear about the Congress's achievements.
I said you should admit your mistakes, but don't apologise for anything. To everything I said, she agreed.
She calls me Tara Masi, but there you are -- what happens after that we have to wait and see.
Image: Rajiv and Sonia Gandhi Gandhi. 'I have the fondest memories of Rajiv,' says Mrs Sahgal about her nephew.
Have you met Rahul and Priyanka?
I have met them once or twice, but what happened was that Indira Gandhi had cut my mother off so she didn't see them growing up.
Sonia I knew and she has continued to be in touch, Rajiv was very dear to me.
I don't know Priyanka and Rahul. I have no contact with them.
What are your memories of Rajiv Gandhi?
My memories of Rajiv Gandhi are extremely loving. He was an extraordinary person in his personal aspect. Very warm, affectionate, family minded, devoted to my mother.
He always called her nani. It was he who restored the break after his mother's death.
Largely, it was an isolated life for my mother because she had strongly opposed the Emergency. That sort of put her out of the establishment.
He got my mother back into the family as it were. He came to see her 2, 3 times here (Dehradun) while he was prime minister.
'I don't see the idea on which modern India has been founded, lasting under Modi'
On her 90th birthday when she (Vijayalakshmi Pandit) had invited the whole family here, he and Sonia came.
It was strange, the whole family came at her own request. For her, family was family. She was of a generation that didn't care whether you were on one side or the other, you were her family.
At that time Arun Nehru and Maneka Gandhi were in power in government, Rajiv Gandhi was out of power, but they all came and it was a wonderful occasion.
Rajiv in every way was a loving son or a loving grandson to her. When she took very ill at one time, he took her to Delhi and she was treated at AIIMS and every other day he would turn up to see her, driving his own car and wearing jeans as he often did.
He was very natural and loving. I have the fondest memories of Rajiv... (tears flow down her face) assassination is not a good thing...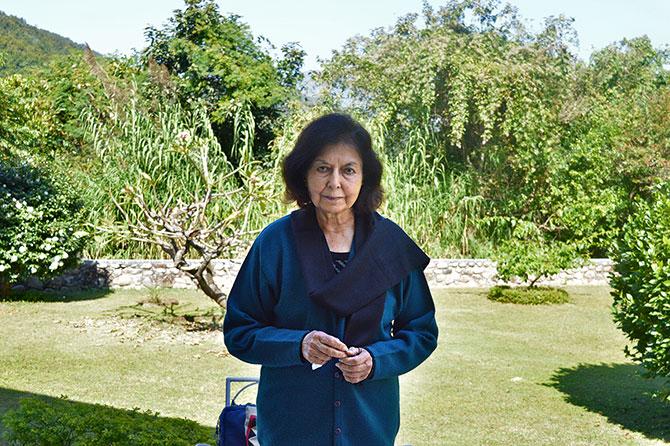 Image: Cut off from the establishment and the family by Indira Gandhi for criticising the Emergency, Nayantara Sahgal has opposed dynasty since Mrs Gandhi put Sanjay Gandhi forward. Photograph: Seema Pant/Rediff.com
Do you think the future of the Congress lies outside the Nehru-Gandhi family?
This term 'Nehru-Gandhi' family is a misnomer.
What we have had in power for the last many years is Feroze Gandhi's family. It has nothing to do with Nehru.
Nehru was not a dynast; he did not even name his successor. His party chose his successor and that was an event that was hailed by the world that India has passed seamlessly from Nehru's time forward.
Had Lal Bahadur Shastri lived, we would have had a different history.
I am sorry and I am sad that Feroze Gandhi is forgotten. When the Gandhi family is mentioned, what is meant is Feroze Gandhi.
Feroze Gandhi was a very significant member of Parliament, outspoken and made a great contribution to Parliament.
He was a critic of the Congress within the Congress which shows how democracy flourished in the party at that time under the strong leadership of Nehru.
I have been opposing dynasty since Indira Gandhi put Sanjay forward. It was a very mistaken, dangerous move, especially since Sanjay Gandhi -- let us face it -- was a very dangerous person in Indian politics.
With that began a proliferation of dynasty all over India and we now see it in every state.
Sonia Gandhi joined the party in the genuine belief that since the Congress kept making this demand, her conscience told her that she must accept and we have to recognise that she brought the Congress to power twice.
The big mistake she made was to push forward Rahul Gandhi who is a dead loss as a leader. Who himself says he doesn't want to be a leader.
I don't know in what manner they are going to meet this new challenge, but unless they have a democratic election for leadership within the party and put forward loud, clear voices who are good communicators to tell people their past achievements and admit their mistakes -- until that happens, they are faced with a very difficult situation.
After all, to be in the Opposition is no humiliation, but having been defeated to the extent they have will mean strong revolutionary steps to put it right. They will need new leadership for that, there is no doubt about that.
And for that they have to think beyond Rahul or Priyanka Gandhi?
I don't think one family should rule the country. If Priyanka Gandhi wishes to come into politics, why should she not in her own personal capacity, but that she should be recognised as the leader of the party is absurd.
If she comes and does well, good for her, but let her come as anyone will come into the party and make her mark as anyone else would.
Today's urgent need is that a strong leader be elected who is experienced and puts forward Congress policies.
Incidentally, I haven't seen Mr Modi move aside from Congress policies. He seems to be repeating the same policies because despite his very powerful orations during the elections, he has not been able to make a difference -- whether it is about black money or a number of other issues.
Congress policies have been sound. They have projected a vision of India that is an all India vision that no other party has been able to do. It is important for the Congress to remain in politics and to rise up and reinvent itself.
Rahul was no match to Modi during the 2014 campaign, where do you think he faltered?
He himself said and we all saw that he doesn't want leadership. Since he is so reluctant to be leader, he should say 'I'm out of it. Or let me be part of it and build up democracy within the party,' which he is doing beginning with the Youth Congress.
Let him do party work. The Congress must make its own decision about that, put Rahul aside and get on with electing a leader who is capable of leading.
The 2014 election was a landmark -- the end of one era and the beginning of another in Indian politics.
It is certainly a landmark election judging from the mandate Mr Modi got. It is interesting that it is the first election where a large percentage of people were young.
We are told this election was won because Modi stressed on development and jobs -- but I have never known a time in India when employment was not an issue.
I remember in the 1970s when I was in Bihar reporting on Jayprakash Narayan's movement, the chief demand of young people was rozgar. In a growing population that is an ongoing demand.
Modi stressing it, of course, had its impact on the youth, but today's youth is very different from the youth of the 1970s who were politically conscious and consciously educated in history and the humanities.
Today's youth are not. They are, I should imagine, fairly illiterate in the humanities. Their whole trend now seems to be on commerce.
Therefore, loud appeals that they will be given jobs will appeal to them and nothing else will matter. They are not concerned about the continuance of a multicultural society, they don't care.
Religion, caste hasn't entered their consciousness -- in some ways it is good but it can work the other way too. They don't know what is happening in your country.
'It is important for the Congress to rise up and reinvent itself'
It was a clever election because Modi never veered in his election speeches from the moderate path. On the margins, the RSS (Rashtriya Swayamsevak Sangh) platform or the lunatic fringe made their statements but he stayed on the moderate path because he realised that no government which doesn't consider itself politically centre can be elected in India.
He got through on that platform, now that he is in, he is proceeding on the RSS platform.
Apart from the youth, the middle class wanted change because the Congress had been in power too long. That's a good thing because democracy needs a change.
Many voted in the expectation that this would be a centre government because that's what Modi appeared to represent.
It has been a landmark for good and bad reasons. Landmark because Modi has brought the BJP (Bharatiya Janata Party) to power, without him I don't think the BJP would have been anywhere in the picture.
That is a frightening, Hitler-like situation where the party doesn't matter, it's the leader. He says 'Follow me and I'll put everything right.'
Yes, it's a landmark as was Advani's rath yatra, but which ended in the destruction of the Babri Masjid and thousands being killed in riots. That too was a landmark. It gave the BJP a victory in Parliament.
Yes, landmark of course -- it's a huge change in Indian politics, but if you analyse it what kind of change does it mean?
How do you see the next 5, 10 years unfolding because there is a good chance that Mr Modi will be PM for two terms?
I should imagine because judging by the fact that Congress is not set about its own revival, it would look like Modi being there for 10 years.
There is no Opposition worth the name unless the secular Opposition gets together. It seems to be making a small start with Lalu-Nitish in Bihar.
Uptill now the South seems to have held to its own parties and priorities and we'll have to see what comes up in Bihar and other places.
Mr Modi would have a very good chance of continuing for 10 years depending on whether in this 5-year period, he delivers the goods.
So far he hasn't been able to do with what the corporates call 'big bang reforms' -- nor on the black money issue because he is coming up against the same constraints as the UPA.
These are big promises that have proved to be unfulfilled. He has made no significant departure yet from the past.
With the new induction of ministers may bring that change. We will have to wait and see if in the next five years anything happens. The ordinary man doesn't seem to be thrilled because they have not delivered on the promises.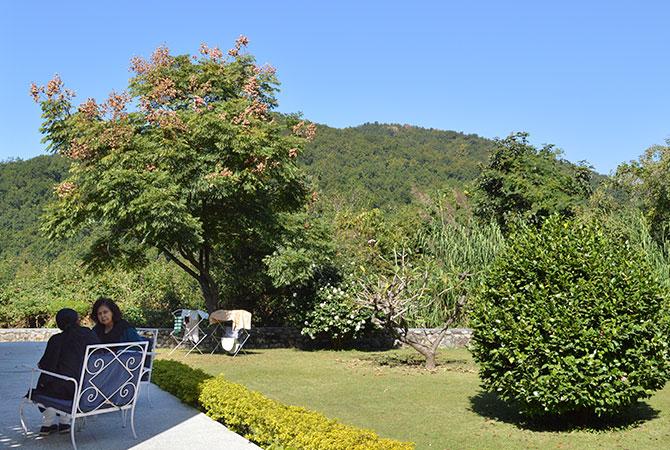 Image: Nayantara Sahgal has lived in Dehradun for nearly 30 years in the home her mother bequeathed her. Photograph: Seema Pant/Rediff.com
If Mr Modi is there for 10 years, what impact will it have on the Idea of India?
It will be utterly destroyed.
The idea on which modern India has been founded on, I can't see it lasting under Modi. Already, we see attacks upon it from every side. I hear commentators say 'Why can't there be a new idea of India?'
I hear people say India wants a Hindu identity. India wants to be a superpower in the world and in Asia and for that you need to have an identity and ours is a Hindu identity.
If that prevails, then how will the Idea of India which Mahatma Gandhi forged through his national movement, and which Nehru upheld and which the Congress subsequently upheld over these years -- how can that survive?
Are you hopeful about the revival of the Congress?
The Congress is, of course, facing a defeated situation, but one thing we can be absolutely sure of in life and politics is change in a democratic situation.
If we remain a democracy and there are no breaks put on democratic functioning, then there has to be change and the fate of the Congress will depend on two things.
1. Whether it will set about reinventing itself, and
2. Whether our democratic functioning and structure continue so that change can take place.
These two ifs -- one depends on the Congress alone the other depends on the turn that India takes under Modi -- so that we don't come under some kind of authoritarian regime.
How do you think Sonia Gandhi's contribution will be remembered in building and shaping the Congress?
I don't know her contribution to building or shaping the Congress. She found the party there, the party appealed to her to take leadership and she went. I don't think she in any way changed or shaped it.
She answered their demand to be at the head of it. How could she? She did not know anything about the Congress's past or its history, she came as a young foreign woman to marry a man who happened to be the son of the PM. She knew nothing about politics.
What she did was when she did become leader, she did travel the length and breadth of the country. She knew it better than Manmohan Singh did with his World Bank background.
She did make a huge effort to learn her job, the language, meet people of all classes and caste, she carried out the Congress tradition and became a loved and admired leader among ordinary people all over the country.
That was a personal achievement of hers for a personality that was extremely private. She will be remembered as that kind of person and as one who twice led the Congress to victory.
You have seen changes in India's politics -- at the present moment are you hopeful or despondent about our country?
In the short term, I am worried.
In the long term, I feel India's foundation -- what we've known as the Ideal of India -- of inclusiveness, plurality, democracy -- I think in the long term this foundation will prove secure.
We will come through any crisis of extremism that we face today.