'The entire idea behind the serial bomb blasts was to strike fear in the minds of Indians.'
'I don't think the blasts were targeted to derail the Indian economy; the idea behind the blasts was retribution.'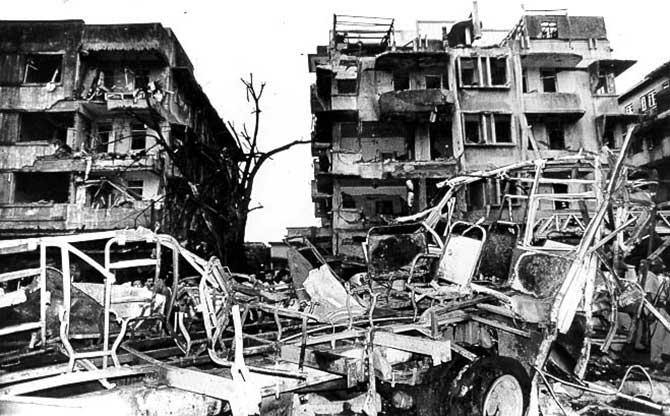 On March 12, 1993, Mumbai, India's financial capital, was rocked by seven deadly blasts between 1.28 pm and 3.30 pm killing 257 people, injuring more than 700 and destroying property worth several billion rupees.
The masterminds of these serial blasts -- Dawood Ibrahim and Ibrahim 'Tiger' Memon -- are still at large 30 years after the blasts.
"Anything can happen anywhere in India, not just in Mumbai. That doesn't mean you should be living under the shadow of fear. Complacency only means a disaster is waiting to happen anytime. We are just lucky that nothing major has happened in India since 26/11 terror attacks," warns retired Maharashtra director general of police and Mumbai police commissioner, Arup Patnaik, who was then posted as deputy commissioner of police, Zone VII in Mumbai, tells Prasanna D Zore/Rediff.com.
Patnaik is now a politician with Naveen Patnaik's Biju Janata Dal in his native Odisha.
30 years have passed since the serial blasts rocked Mumbai in 1993. How do you look back on it?
The scenario was very different at that time. I joined the Mumbai police force in February 1991. That was the time when street crimes, chain-snatchings and gang wars were at their peak.
That was the time when Mumbai was sliced into different areas of influence by gangsters like Arun Gawli, Chhota Rajan, Amar Naik, Dawood Ibrahim, etc. The jurisdictions of these ganglords were very well demarcated geographically; their operational activities too were well delineated like smuggling was mostly confined to gangsters owing their allegiance to Dawood.
Dawood had already fled the country and moved to Dubai before the serial bomb blasts in Mumbai. Nevertheless, he was remote controlling gold smuggling and extortion rackets from Dubai.
His lieutenants's writ ran large over the film industry and other money-spinning illegal activities and, dare I say, their writ ran large also over several police stations. Dawood Ibrahim then was a big deal.
When the riots took place in Mumbai following the demolition of the (Babri) mosque (on December 6, 1992), the Shiv Sena too had gained strength in Mumbai.
There is no denying the fact that when the first round of rioting started after December 6, 1992, local Hindus suffered a lot as Muslims felt wronged by the demolition of the mosque and they took it out on locals in Mumbai.
In fact, more than Hindus, their anger and frustration was taken out on the police force.
I remember going to my office and all of a sudden people with swords chased my vehicle (Arup Patnaik then was posted as the DCP, Zone VII).
Interestingly, many of the sharp shooters in the Dawood gang were Hindus like Dilip Buwa, Sunil Sawant. Chhota Rajan then was a close associate of Dawood (Rajan later fell out with Dawood due to his involvement in the serial bomb blasts in Mumbai).
Post the first phase of Mumbai riots in December 1992 the Shiv Sena jumped into the fray directly, and dominated the second round of rioting in Mumbai in January 1993 and Muslims were the major victims then.
Since the police, to be very frank, as they had taken beating from the Muslims during the December 1992 rioting indirectly sided with the Hindus and the Shiv Sena took the lead and inflicted huge losses on several Muslim establishments in the city.
Then there was a clear divide in the Dawood gang on the basis of religion.
A section of Muslims, belonging to the Dawood gang, then planned the dastardly serial bomb blasts to revenge the deaths of Muslims who were killed and on whom financial losses were inflicted.
Dawood played a huge role in financing these blasts and providing ground support to take care of the logistics like smuggling of RDX, arms and ammunitions that were required to carry out blasts of such magnitude.
What are your memories of March 12, 1993?
I was the DCP Zone VII. That morning I was sitting in my office seeing visitors when my (office landline) phones started ringing. There were continuous messages beeping through the wireless system that blasts have been occurring across the city.
At that time the Juhu Centaur, Airport Centaur and Sea Rock Hotel were under my jurisdiction.
I immediately rushed to these places one after the other and took all the necessary measures to save the lives of the injured and ensure that nothing untoward happened in the city in reaction to these serial blasts.
By the time I reached Sea Rock I learned that more blasts had rocked the city by then.
It was the first serial blasts in the country, was our police force then equipped to handle something of this magnitude?
I don't think so. Even if something like this were to happen even tomorrow it is all very well to say we are equipped to handle.
You believe that our police force is still ill-equipped and ill-trained?
This is not a question of being ill-equipped or being ill-trained. It is about state of mental preparedness, of being alert all the time.
The serial bomb blasts came all of a sudden. It was an intelligence failure.
How did the Mumbai police first get the impression that it was a conspiracy staged to derail the nation's economy?
The entire idea behind the serial bomb blasts was to strike fear in the minds of Indians. I don't think the blasts were targeted to derail the Indian economy; the idea behind the blasts was retribution.
No doubt they targeted the financial capital of India and it did have an economic impact, but the main aim of these serial blasts was to strike terror in the hearts and minds of the people of India.
They targeted the Bombay Stock Exchange, top five-star hotels, the international tourists and the Air India building among other important landmarks.
What were the challenges behind probing such a complex terror attack where the major players were all overseas, leaving only the bagmen behind in the country?
We were fortunate enough to get some early leads; we found the scooter that was left behind; a bomb placed inside the scooter did not detonate. We were quick enough to complete our investigations and filed the chargesheet.
Though it was a difficult task the entire Mumbai police worked together as one unit and cracked the case. The entire police force chipped in.
How do you feel when even today after 30 years the main players are still beyond India's reach?
It is quite frustrating, but then that's the reality. What to do?
Can you outline your role in the probe and how you approached it? Was there any political interference in the probe?
There was absolutely no political interference. Mr (Amarjeet Singh) Samra was then Mumbai's police commissioner then, to whom I was fairly close then personally as well as professionally, also gave the investigation team a free hand.
Professionally, my team and I were responsible for recovery of 1,500 kg of RDX (the plastic explosive that was used in the serial bomb blasts of March 1993).
I got the tip directly from Yeda Yaqoob (a Dawood associate and one of the prime accused in the serial blasts who died of a heart attack in Karachi in 2015). He called me up -- I don't know from Dubai or where else and he told me about a big haul of RDX still lying unused in Mumbai.
While Yeda Yaqoob was absconding his family was taken into custody in Mahim and he knew his family was under pressure from the investigators. He was an old informer of mine when I had used him to get information on Pilu Khan (a notorious gangster belonging to the Dawood gang) for drugs smuggling.
Pilu Khan and Yeda Yaqoob were at loggerheads with each other and the latter would come once in a while to my office to disclose information about Khan.
Yeda Yaqoob had some faith in me, perhaps. He called me up and said, 'Patnaik saab, main aap ko ek information dena chahta hu lekin meri family ko chhod do(I can share some important lead with you but you will have to spare my family)'.
I told him I needed something very big and concrete from him for me to be able to help his family. He gave me the address (from where 1,500 kg of RDX was hauled), I shared the same with M N Singh (then joint commissioner of police, Mumbai), took him into confidence, and we went to Mumbra on the outskirts of Mumbai.
Zanjeer, the police squad's ace sniffer dog, was smart enough to smell the RDX haul -- even though the godown reeked of fish smell -- neatly stacked as large soaps in sacks and we recovered the biggest haul of RDX.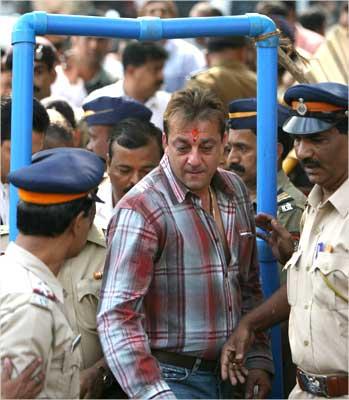 Everyone remembers how the police picked up actor Sanjay Dutt in the case, even though he really had no role as such in the conspiracy or execution.
In a way I was also instrumental in his arrest.
Hanif Kadawala and Sameer Hingora of Magnum Video had their office next to my office. During the making of the movie Yalgaar, this duo introduced Sanjay Dutt to Anees Ibrahim (Dawood's younger brother) in Dubai.
Sanjay Dutt had once come to my office complaining about some people threatening him with dire consequences because his father, Sunil Dutt, had helped in the rescue and rehabilitation of Muslims during the second phase of Mumbai 1993 riots. He had come to me and told me that he was planning to get some weapon for his self-protection.
I had warned him against doing this, but when he was in Dubai for the shoot he managed to get close to Anees and through him he managed to get some weapons.
Anees directed Abu Salem to deliver some things to him and this was revealed by Hanif Kadawala when he was picked up by the Mahim police. He (Dutt) was in Mauritius then. When he came back to Mumbai we were all ready for him.
Based on this information I carried out the search at Sunil Dutt's house (where Sanjay Dutt stayed) and found a 9 mm pistol, a few grenades and AK-56 assault rifle. These weapons were part of the package that was sent to Mumbai from Pakistan's ISI in January 1993 to create large scale disturbances in Mumbai.
What are the lessons learned from the blast?
You have to be on the guard 24x7. You need sharp and accurate human intelligence. We were faced with a similar failure of intelligence even during the 26/11 terror attacks in Mumbai.
Security and safety of the city is a 24 x 7 x 365 job and we cannot be complacent about this at all.
How secure are we today in your opinion? Can another terror attack or serial bomb blasts happen in Mumbai again?
Anything can happen anywhere in India, not just in Mumbai. That doesn't mean you should be living under the shadow of fear.
Complacency only means a disaster is waiting to happen anytime.
We might be better equipped security-wise, better equipped with the arms and ammunitions and modern technology needed to fight or thwart terror attacks, but all the modern technology that is available to law enforcement apparatus in India, the same technology is also readily available to terrorists.
The best of countries -- like even the US and Israel -- could not thwart terror attacks on their countries despite having the most sophisticated intelligence and anti-terror infrastructure.
We are just lucky that nothing major has happened in India since 26/11 terror attacks.
The probability of terror attacks being launched in India is always there. We can only be alert and build a strong intelligence network -- digital as well as hum-int (human intelligence).