'PM Modi is not taking Kashmir's stance as far as the Naga issue is concerned.'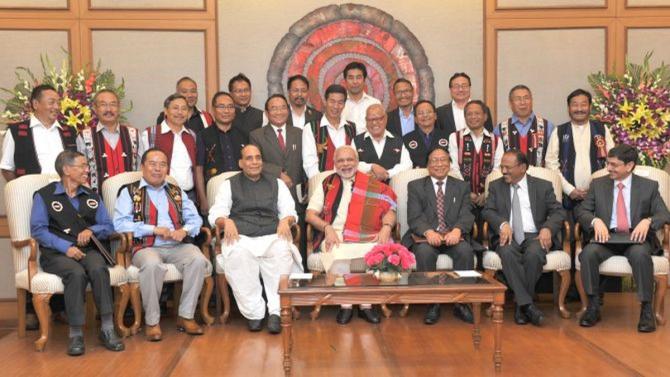 Six years after signing the historic framework agreement for peace in Nagaland was signed between the Modi government and the National Socialist Council of Nagaland-Isak Muivah, there has been little headway in the matter.
When the government's chief interlocutor with the Naga groups, R N Ravi, was subsequently made the governor of Nagaland in August 2019, it raised expectations that the final peace accord was only a matter of time.
Unfortunately, things have only gone downhill since then, with some Naga groups even refusing to meet Ravi, a former special director in the Intelligence Bureau.
The Opposition Naga People's Front even questioned if Ravi was on a different track, as his views on the Naga peace talks did not match the Government of India's utterances.
Three weeks after Ravi told the assembly that political negotiations have concluded, the NSCN-IM claimed on Thursday, March 4, that his assertion was 'reckless' and talks are back on the table.
NPF leader Imkong L Imchen tells Syed Firdaus Ashraf/Rediff.com what has gone wrong with the Modi government's peace efforts.
"Unfortunately, Ravi thought that NSCN-IM should be relegated thinking that they are mostly Manipur Nagas," Imchen says.
What exactly is the status of the Nagaland peace talks? Where do they stand?
According to the Government of India most of the issues have been addressed and settled.
Only one or two issues remain and that too will be settled.
One of the first major announcements made by the Modi government when it came to power seven years ago was the framework for peace in Nagaland.
What is holding up the final settlement?
How long then you think will it take to settle the issue?
It should not take much time.
It depends on the determination of the negotiating groups.
If they are really interested in solving it, then it can be solved.
R N Ravi was handpicked as interlocutor for his in depth knowledge of the issue. So, what went wrong?
Let me tell you frankly, in the initial stage R N Ravi was doing exceedingly good, but later on other (Naga) groups emerged.
He then took the easier route (by talking to them) and tried to isolate the NSCN-IM, which was technically wrong.
Moreover, this was not the idea of Prime Minister Narendra Modi, and so here things went wrong.
Is that the reason Naga groups have turned against Ravi?
Yes, you are not wrong in saying that.
Was there a difference between RN Ravi when he was interlocutor, and later when he became governor?
As far as I understand, R N Ravi was doing extremely good in the initial stage.
Because of him the framework agreement was also made.
On the basis of that framework agreement, the final agreement was also arrived at.
Unfortunately, he thought that the NSCN-IM should be relegated thinking that they are mostly Manipur Nagas.
He tried to focus on the Nagas of Nagaland and there he lost.
This was not the idea of PM Modi.
Let me tell you we (Nagas) have complete trust in the leadership of Prime Minister Modi.
He still stands very firm and wants to resolve this issue once for all.
That is why he encouraged to restart the talks and as of now it is going on the right path.
What is holding up the Naga peace settlement? Is it inclusion of territory? Or a separate flag and constitution?
Integration agenda has been drafted from both sides.
Flag and constitution issue has been there, but there are other related issues like constitutional matter (and) the definition of constitution confederacy which has to be clearly defined.
Ravi has many times in the past maintained that there will be no separate flag and constitution for the Naga people. He is clearly speaking for the Centre when he says that.
Flag and constitution is only one of the agenda.
It can be settled on the basis of mutual trust and confidence.
Even other states will not agree to transfer areas under them with a Naga population?
No, transferring of population or territory does not arise in the present context.
Why do you think Ravi as governor choose to describe the rebel groups as 'armed gangs', thus upsetting the delicate balance with the NSCN-IM?
That is why I told you in initial stage Ravi as interlocutor was doing extremely good but after assuming governor's post, he has constitutional obligations.
As a governor he is the guardian of the Constitution and he represents India and the Constitution of India.
He has to speak about the sovereignty of India.
In that context, Ravi is right.
But by (ignoring) NSCN-IM he made a tactical mistake.
He should not have done that.
When the Modi government scrapped special status for Jammu and Kashmir, it is hard to imagine they will grant special status to another state, isn't it?
PM Modi is not taking Kashmir's stance as far as the Naga issue is concerned.
It is he who scrapped Article 370.
It is he who started Naga talks knowing fully the implications of the Naga situation.
He has an idea about this issue and I am confident about the PM.
Would the talks would have succeeded but for Isak Chishi Swu's untimely death soon after the framework agreement was signed?
The demise of Isak Chishi Swu was a shock for all of us.
It was indeed an enormous setback.
I do agree.
What is the role of the Church in the stalled Naga talks? Where does it stand on the issue?
They are not involved yet.
Negotiations are happening with only the Government of India and Naga groups.
The Nagaland assembly concluded there should be one solution without any further delay.
What role does China have in the issue remaining unsolved?
Instability in the Indian subcontinent is in China's interest. Laughs.)
You know that very well.
What is the outlook for the region if the peace talks fail?
I am very much optimistic.
Though it is taking time, eventually it will succeed.
I have enormous confidence in PM Modi's wisdom.