'In the first meeting of this new year, we took a joint new year resolution that we will complete it this year. At the time things were not very clear, but the mood was clear that yes, we must resolve it.'
'Yes, details have to come out, but there are some sensitivities, there are some stake-holders not yet on board, especially other Naga undergrounds etc, we would like them to come on board... So at a proper time it has to be revealed to the country, and to the legislature. Perhaps, we may have to wait for some more time.'
'With better understanding of the Indian system, many of them have learnt, realised, appreciated that Naga nationalist aspirations are not incompatible with the Indian system. The Indian system is pretty comprehensive and flexible.'
'A Naga has as much stake, claim over India as any other Indian. There is no distinction. This, Nagas have realised, that yes, Naga nationalist aspirations and Indian nationalism are not mutually exclusive.'
Ravindra Narayan Ravi, the Government of India's Special Interlocutor for the Naga talks, explains how the Naga Peace Accord was reached in an exclusive interview to Saisuresh Sivaswamy/Rediff.com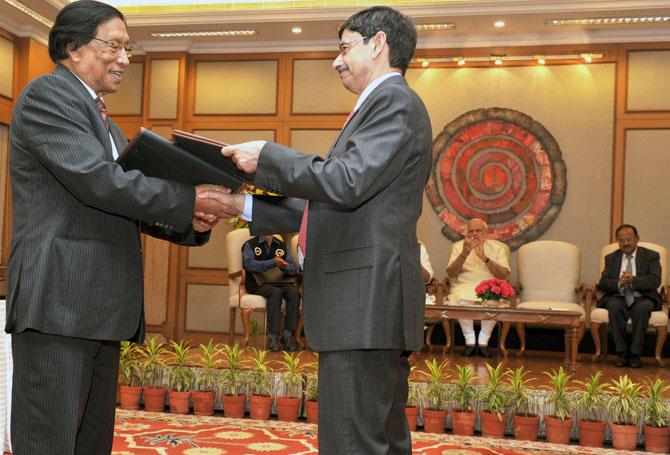 Last week, when the Narendra Modi government announced a framework agreement for resolving the Naga insurgency, considered the mother of all North-Eastern insurgency movements, it was a landmark development.
For the agreement, whose nuts and bolts are being tightened, has the potential to put an honourable end to the longest running separatist movement in India, one that predates Independence.
In the midst of it all was a former Indian Police Service officer who was pulled out of retirement by Prime Minister Modi and tasked with the responsibility to bring about peace with the Nagas, a process that has gone on for more than two decades.
With this Ravindra Narayan Ravi returned to the government as the chief of the Joint Intelligence Committee and as the interlocutor in the Naga peace process, reporting directly to the prime minister.
His two roles see him operating out of two offices in New Delhi, and it was at the interlocutor's office in Vigyan Bhavan that saw a steady stream of Naga leaders and civil society meeting him, sharing their views on how to end the violence in the Naga hills.
With the dominant faction of the National Socialist Council of Nagaland, represented by its leaders Isak Chisi Swu and Thuingalang Muivah, agreeing to smoke the peace pipe, there are concerns expressed at various quarters, especially at the lack of details surrounding the framework agreement.
States contiguous to Nagaland worry if Naga-populated regions will be handed over to Nagaland, the home ministry and armed forces have questioned the lack of details, and the Congress party too has made none-too-flattering noises about the agreement.
In an EXCLUSIVE interview to Saisuresh Sivaswamy/Rediff.com in New Delhi, Ravi spelled out his imperatives.
You were not keen on the interlocutor's job when the United Progressive Alliance government offered it to you, but took it up when the National Democratic Alliance government offered it to you. Why?
The interlocutor's success depends on the strength of the government, the political executive. After all, what is an interlocutor if he is not backed by the political executive? This has been hanging fire in the previous regime, but somehow the way things were moving, I was not very comfortable with the way, that is what post-retirement I had written.
But when Prime Minister Narendra Modi came and I got this opportunity, I thought it was time to do things and took it as an opportunity.
No reflection on the previous government, but?
They all did their bit and it has been a great learning experience because over the years, being an observer, a close observer, I could see the deficiencies in the process. Such as, when the issue is political, the Naga political issue, you cannot resolve it without taking at least the majority of the stakeholders on board.
As far as possible all the stakeholders, but certainly all the major stakeholders must be on board.
So what I did, I broadened the scope of talks, I made it inclusive and took Naga civil society on board. Naga Hoho (the apex body of Naga tribes), the Naga Mothers Association, the Naga Students Federation, the Eastern Nagaland People's Organisation, the Eastern Naga Students Federation, the Gaon Burah Federation, the Forum for Naga Reconciliation -- they were all in the process of consultation.
So that made the process inclusive. And that is how we are where we are.
One year ago when you took up the offer of interlocutor for Naga talks, did you have a timeline by when you will be able to show results?
Did you think then that you will show results in such a short span of time, since the talks have been going on for more than two decades?
Look, when the task was given to me the thing which was clear in my mind was, it cannot drag on, we can't keep going round and round the bush, it has to move in a straight way and we have to conclude. In this I must thank the NSCN leadership for being cooperative.
And if I may share an inside story with you, in the first meeting of this new year, we took a joint new year resolution that we will complete it this year. At the time things were not very clear, but the mood was clear that yes, we must resolve it.
Was there an added sense of urgency because of Mr Isak's critical physical condition?
No, the urgency was, to some extent, in signing the framework agreement which we did, the details are yet to be brought out, the framework agreement because Mr Isak expressed a desire.
In fact there was a sense of melancholy in his voice when he said that he has spent his whole lifetime and now that we are so close to the understanding and agreement his health was failing.
Perhaps it was God's will not to be here. One could feel that, a sense of losing something for which you have invested your entire life at the last minute, see the winning post and you are falling short of it, like when a marathon runner has done it.
We said no, we will respect your views, and while we can...
Otherwise the initial plan was to finalise the whole agreement and then announce it, but that is likely to take some time. So yes, reaching this framework agreement there was a sense of agreement also on account of Mr Isak's health.
You are a police officer by training, someone trained to suspect, question people. Here you were in a role that needed enormous amount of diplomacy and tact. An IFS officer was needed, not an IPS. How did you manage the transition?
I tell you, I have been associated with the North-East since 1991. So knowing the Nagas as a person, I have a lot of regard, a lot of respect for them. Nagas have been demonised outside, an assumption that is the British legacy. Wild people, savages, head-hunters, these are all colonial constructs which they did with certain ulterior motives.
I must tell you something, even when the militancy was at its peak in Nagaland, I stayed with my Naga friends and not at the circuit house. Because I know as people, and I have no hesitation in saying that they are one of the finest group of mankind. And what I found was that the resonance was missing in our dealing with them, we always looked upon them as very troublesome people, violent by nature, secessionists who were waging a war against India.
We ceased to look at the movement, actions as an extreme expression of Naga nationalism. Essentially, if you look at it, Naga nationalism is a very old phenomenon, it began in 1918, they submitted a memorandum to the Simon Commission saying not to include them in India when the British leave as they are not Indians, so you know, Naga nationalism manifested itself in extreme form, of violence, resistance to Indian government.
So if you look at it from that perspective, which has resonance among the Naga people, then you don't look at it merely as a secessionistic movement. I don't know whether as a policeman or as a diplomat, but I must also tell you there is no diplomacy in this.
I have been pretty honest with them. When things were not possible I told them right at the beginning that look, this is the red line, I can't cross. Because I always believed that honesty is the best policy.
If something is not possible I tell them upfront, right at the beginning that this is not possible.
But if you promise them something and then go and renege on the promise, it's a betrayal. And Nagas as a people are very sensitive about it. All of us are, but the kind of people they are, they are far more sensitive.
So when I told them this is not possible, forget it, I am not going to talk on this, they initially recoiled, but later they realised that yes, there was a certain amount of honesty in what I said. So it just happened.
This is a framework agreement. What about the final agreement itself, that will need to reconcile the demands from other militant groups as well, so how hopeful are you of reaching the final agreement, of implementing it, and do you have a timeframe in your mind?
It is not just an NSCN-I-M process, although the NSCN-IM is in the lead role. I have succeeded in bringing Naga civil society on board, Naga elected legislators on board. The nest challenge is to get the other Naga underground factions on board. I will earnestly try to bring them in for the talks.
Meanwhile, Naga civil society has also realised that the Naga political issue being one, there cannot be multiple negotiations with it. So they are also in favour of strengthening this process by including all. I am hopeful that other underground Naga groups will respond positively.
There is also concern from other contiguous states about the details that may emerge, how they will affect them. Is their concern justified?
Most of these concerns are essentially vestiges of the past misunderstandings. Because in the past we had a closed, hush-hush thing, and there was an apprehension that okay, all the states are being... you know, there is going to be massive disintegration of the states. Look concerns, every states, all the states that are contiguous to Nagaland have concerns, there is no doubt about it.
But we have made it very clear that we will not reach a final solution without taking on board all the states. So there is no question of adversely affecting any state's interests. There is no question of, you know, coming up or springing a surprise like a detailed agreement affecting the states without consulting them. That will not happen.
I am in consultation with the civil societies of all the states, I also keep the state governments informed of the broad contours. Because as and when the situation comes that will need their need active cooperation I will be able to push it then.
So whatever possible, we are maintaining that degree of transparency, I don't see it as any serious concern.
You are saying there won't be any redrawing of state maps?
Look, who am I to redraw the map?
The question is, if the map has to be redrawn, there has to be a proper democratic process. And the process is not something which I will dictate. This is something which is left to the future.
Not just the states, even the defence and home ministries have red-flagged their concerns over the lack of details, not knowing how the agreement will affect them.
The interlocutor is with the Prime Minister's Office, so the day-to-day developments are not shared with the different ministries because it is the PMO which is monitoring it. The national security advisor Shri Ajit Doval is closely monitoring it. And the minister (home) is very much on board.
In fact, the home minister is the one who at the political level has been guiding us. So I don't see any merit in such speculation or such news that the home ministry is not aware, I don't see it that way.
You have written articles in the past, before you became the interlocutor, that were critical of the peace process, the participants etc. Have you changed your views since then, or do you still hold on to them?
I still hold those views. Because when you have so many stake-holders, how can you resolve the issue by talking to just one, even if that one is the leading stake-holder?
The NSCN has taken the lead, and they are at the vanguard of the Naga nationalist movement for the maximum years, so they have the legitimate position to be the leader.
But there are other stakeholders. And you have to make it inclusive, or any agreement you arrive at will not be durable, you will not be able to sustain it. And consistent with that view, we reached out to them and they all came forward.
Considering how important this breakthrough this is for India, comparable to the Rajiv Gandhi-Sant Longowal accord that attempted to bring peace to troubled Punjab in 1985, shouldn't more details be forthcoming? Why the veil of secrecy?
I agree with you that yes, there is no denying the fact that this is a very important development, because after all it is the Naga insurgency which we all say is the mother of all insurgencies in the North-East.
If you come to think of it all these sub-nationalist or ethno-nationalist movements, in their extreme manifestation the NSCN had a role to play, in arming them, in giving them that orientation, to resort to violence as a resort to fulfil their ethno-nationalistic aspirations.
So all these, whether it is Assam, Meghalaya or Tripura, all over, it was the Naga nationalist movement, the insurgents, that was responsible for it. And then, this body, the NSCN, is coming on board. It is a great achievement. Because it will help in normalising the situation in the North-East.
It will have a very telling impact on the others, other militant groups, they will also see reason. Because ultimately, they will have to realise that violence does not pay.
And when the Government of India is willing to engage you with respect, and meet your aspirations, if necessary by going the extra mile, there is no reason why they should persist with violence. So I look upon this development with a lot of hope.
But about the details, yes, details have to come out, but there are some sensitivities, there are some stake-holders not yet on board, especially other Naga undergrounds etc, we would like them to come on board, because we also treat them as important stakeholders.
So at a proper time it has to be revealed to the country, and to the legislature. Perhaps, we may have to wait for some more time.
Do you have a timeline in mind for the final accord?
Yeah, we would like.. You know, this is not a mathematical process, where you say okay, this is QED. But as we made this stride, reached where we did, we had said by the end of the year but practically reached it in half the time, we believe that it should be sooner than later, it won't take long.
Disarming Naga militants, isn't that a sticky point?
No, no, it is not sticky. Because whatever be the system that comes out of the entire negotiation process, one thing is very clear, that you cannot have a non-State militia, that is not acceptable. No society can have it. So, a formula has to be worked out where we do not have a militia which is not part of the State. We cannot have that, no.
I have absolute clarity on that, you cannot have a system that says, okay, there will be a body of armed people who are not answerable to the system.
Over the long years of Naga militancy, Naga society has also changed, there is a new generation coming up, that perhaps better the benefits of assimilating with India, as they migrate for employment to the plains etc. As a long time observer of the North-East, how do you see these changes?
There have been enormous changes in Naga society. If you look at the time when the Naga nationalist movement manifested itself in an aggressive way, what was the literacy in Nagaland? In single digits. Today the average literacy rate is over 80 per cent.
You can imagine the awareness, the level of literacy, modern technology, access to the State, you have far more Naga intellectuals today who are excelling in various fields, going to different parts of the country, excelling in science and technology, administration, not only in India, they are also going outside, you have many Naga professors teaching in advanced Western universities.
But let us also not forget the fact it has not weakened the Naga nationalist aspirations. We think that if someone is educated, well-off, economically developed, has a stake in the country, and that has weakened the Naga aspirations, I do not subscribe to that view.
Yes, with better understanding of the Indian system, many of them have learnt, realised, appreciated that the Naga nationalist aspirations are not incompatible with the Indian system. The Indian system is pretty comprehensive and flexible.
After all, a Naga has as much stake, claim over India as any other Indian. There is no distinction. This, Nagas have realised, that yes, Naga nationalist aspirations and Indian nationalism are not mutually exclusive. So if you try to tell them that look, you Nagas, you are Indian and nothing else, I think that is not a very wise thing to do.
A proud Tamil is not a bad Indian, similarly a proud Naga is not a bad Indian. So this dehyphenating, that no, you cannot be, that's not right. So I think we have to accommodate the Naga nationalist aspirations.
To that extent will you say that the idea of India has greater traction today in Nagaland than before?
Yes, because of better understanding. There was a time when they did not know what was India. They simply did not know. All they knew about India essentially was what was fed to them, of the toxic beliefs, understanding, India is a land where someone doesn't eat beef, someone doesn't eat pork, so they won't let you eat both beef and pork. So that kind of very simplistic view of India was given to them.
Plainspeople are very cunning, very shrewd, you know, all these negative perceptions. Then they came out and realised.
But I can also tell you that there is a greater degree of ignorance about Nagas among the rest of India. We also have the same British legacy about Nagas that they are head-hunters, wild fellows, savages, look at the way our people describe Nagas.
I tell you, they are the finest people I have come to know. Absolute gentlemen, very very bold people. Yes, if you say that two, three generations back they were naked maybe some generations before that my ancestors were naked too. It is all a question of time.
Essentially they are very fine people and our country should be proud of them. That understanding we need to develop. What Nagas are most hurt about is, that lack of respect we have for them. They believe that Indians only respond with force, with the military.
Unfortunately this is how the whole thing began, the Naga nationalist movement began after the British left, their first encounter was not with our soft side, but with our military hard side. And that's the truth. It has caused a lot of wounds, a lot of resentment, scars are left.
Can you outline how you went about your task of narrowing down the misunderstandings between the two sides?
Initially, when the responsibility was given to me, the NSCN was not only sceptical but they were antagonistic towards me. They said this man is anti-Naga, anti-NSCN and he is not the right person.
Did that hurt you, such talk?
No, it doesn't, it didn't. Because I know it was coming out of ignorance, because if you recall in all the pieces I wrote castigating them, I also castigated the Government of India, I did not spare them either because I was not convinced by the way things were being done.
But when we started talking, gradually we realised that we understood each other better. I could realise that the Naga leadership, Mr Muivah, Mr Isak and other leaders, they are very fine people open to reasoning.
The best thing which I found about them is, you know, the NSCN is a structured organisation. It is a classical insurgent organisation. They have a hierarchy, and a structure that is induction, progression, and the retirement, a system that goes, they have all the trappings and they have a strategy. They have a political philosophy which they pursue.
Their political philosophy is, assertive articulation of Naga nationalism. That Nagas are Nagas, Nagas are distinct, and that distinctness has to be appreciated. Unlike other militant organisations that have an organisational structure but become essentially commander-in-chief centric, a boss, where it becomes like a gang.
Take this example. There is hardly a case where the Naga insurgents have resorted to indiscriminate killing of civilians. They have not. Go to Assam, thousands of Hindi-speaking people have been killed, just for being Hindi-speaking. There are other states. Meghalaya, we don't know how many Nepalis and Bengalis have been slaughtered just for being outsiders.
The Nagas do not target, they will put all their tradecraft, all their tactics, against the security forces, they take on the State, because they believe that the Indian State or Indian armed forces are their foes and they must resist. But they have not harmed Indian civilians there. Some odd, stray cases may have happened, but NSCN, as an organisation, they have not.
And this is not just the NSCN-I-M, even the NSCN-Khaplang or Khaplang-Kitovi, even they have not harmed any civilians. No Naga civilians. So there is a difference between Naga insurgents and other insurgents in the North-East.
This is a structured organisation with a political philosophy, and they pursue that philosophy.
Even in the talks, while we were talking with the top Naga leaderships, they would have very frequent deliberations with their people down the line. And there were many occasions when perhaps they found that they were not able to explain to their people with so much clarity, then they sought my intervention to talk to them.
I talked to a large number of them, and they used to ask questions, it used to be a very interactive process.
Any unusual anecdotes from your weeks of talks?
Oh, there were so many, we would come across so many different situations.
Anything that really tested you?
No, there were none.
In fact, the bottom line was that whenever Naga leaders had problems he would toss it to my side and say you put yourself in my situation, now go back and come with a solution. Whenever I had a problem I would throw it to them saying you get lost, put yourself in my position and come back. So it was not a... eventually it became a cooperative enterprise.
We stopped calling it negotiations, it was a dialogue, it was a conversation, it became a cooperative enterprise. Because my mandate was very clear, that it is not a zero sum game, that if the Nagas win I lose. In fact, if the Nagas win, I win. If they lose, I lose. That is my position. And with that, we started working. And it turned out to be a... My whole impression is that they love.
What role did the Church play in the talks? The Church, after all, holds a central position in Naga life.
The Church has no role in this dialogue, they don't. In fact the Forum for Naga Reconciliation did the reconciliation among the Naga underground factions that were fighting among themselves and they did a good job in bringing them together, the reconciliation. In fact they did a creditable job. But in this dialogue, no.
Yes, I did have a consultation with them like with others. But with the FNR, not the Church body. Because the Church also doesn't like to get into politics, whether it is a political issue, So they took a position that no, they welcome peace, but... And I also understood their position.
The Khaplang faction of NSCN will be a harder nut to crack, given their recent killing of Indian soldiers?
I don't know. Leaders of the Khaplang faction... As far as I am concerned, I am open to talks with them, to talk to them. In fact I'd appreciate if they review their position and come forward. Because I do believe that the Nagas, though they are politically divided between India and Burma, there is a very strong sociological bond. And for me it would be a mistake if I start segregating the Nagas of India and Burma.
Politically there is a limit, a line you cannot cross, but the fact is that there is also social resonance between the Nagas of the two sides. It will be difficult for me to be completely indifferent to what is happening to Nagas across the border. So I'd love if the leaders of the NSCN-K reconsider their position and come back.
Have you sent out any feelers to them?
It's a public address, I was in Nagaland, in Khonoma, the village of Phizo (A N Phizo, the legendary Naga nationalist leader), there I made it very public, from time to time I had been making it public, and it is loud and clear. My position comes in the Nagaland media, so I will be happy if they respond.
How did the prime minister pick you, seemingly the right man, for this difficult job?
You will have to ask the prime minister (laughs), I have no idea.
I was enjoying my retired life, but when this responsibility came to me I looked it as an opportunity to do something. That's all.
But Home Minister Rajnath Singh wanted someone else as interlocutor...
I don't think... the home minister... there's a system by which a file is processed, it goes from the minister.. The other person who the home minister recommended, is also a competent and a good person. But somehow, the prime minister decided to pick me.
The fact the prime minister trusts you is a great honour, and you try to live up to his expectations, that yes, I need to deliver.
IMAGES: TOP: Thuingaleng Muivah, left, and R N Ravi, the Government of India's Special Interlocutor for the Naga talks, exchange copies of the agreement the NSCN-IM reached with the government, August 3.
BOTTOM IMAGE: Ravindra Narayan Ravi, the Special Interlocutor for the Naga talks and Chairman, Joint Intelligence Committee. Mr Ravi was a Special Director, Intelligence Bureau when he retired from the Indian Police Service. Photograph: Saisuresh Sivaswamy/Rediff.com