'Cultural nationalism or the victim card that you play is okay when people are well fed.'
'But if you are not well fed, then it puts a question mark (on your leadership).'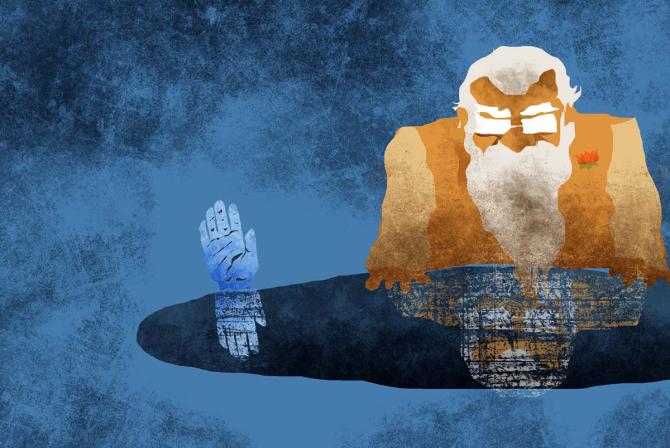 If not Narendra Modi, then who?
This question has been the Bharatiya Janata Party's biggest campaign weapon ever since Modi won the Lok Sabha elections in 2014 and came back to power with an even bigger majority in 2019.
The fact is, there is not a single political leader in the Opposition who can counter Modi's popularity at a pan-India level.
Interim Congress President Sonia Gandhi on Friday, August 20, held a virtual meeting of 19 Opposition parties to decide a strategy to take on Modi in the 2024 Lok Sabha elections.
Will she succeed, or will she fail once again?
Syed Firdaus Ashraf/Rediff.com spoke to Rasheed Kidwai, veteran Congress watcher and author of 24 Akbar Road and Sonia -- A Biography, to find out what is different about the strategy being framed by Sonia and her allies this time, and if it will work.
The concluding segment of a two-part interview:
Do you really believe that Narendra Modi will lose the 2024 elections?
There are two things that are going against Modi now.
The economic situation of the country, and the handling of the COVID-19 situation by the Modi government left a lot to be desired.
People expected better communication from Modi as he did during the first wave in March 2020.
After March 2020 to April 21, Modi was not seen much.
He was not his usual self.
He was not hands-on.
He was not looking very optimistic and the people suffered a lot during the second wave.
On economic indicators, too, there is a lot of hype while the reality is something different.
Now it is seen that the economy is not on the road to recovery.
The international situation is also not very favourable to the Modi government.
Like, the coming of the Taliban in Afghanistan showed that the Government of India was perhaps caught napping.
If you look back at the 2014 and 2019 elections you will find out that non-BJP parties and the Congress too were disheartened and in decline.
Suddenly, that has changed now.
If you see the chemistry between different Opposition party leaders, it is more amicable and friendly.
Leaders like Sharad Pawar, Uddhav Thackeray, Mamata Banerjee, M K Stalin and several others like the Aam Aadmi Party, the Biju Janata Dal and even the Akali Dal, the YSR Congress were in Kapil Sibal's residence for his birthday celebrations organised by the G-23 group of the Congress.
On Friday, there were 19 parties and many were out.
The Samajwadi Party was not there because of their own political compulsions in Uttar Pradesh.
The Aam Aadmi Party is contesting in Uttarakhand where they feel they have a chance to form the government.
Therefore, I will say Sonia Gandhi showed political acumen by stating that our target is the 2024 elections.
You cannot get the Opposition story right in state elections.
If you see, Mamata was there and so was the CPI-M who contested against each other in the West Bengal assembly polls.
Will not the Uttar Pradesh elections of 2022 decide the outcome in the 2024 general elections rather than this Opposition unity?
Uttar Pradesh is a very important state, but not the most important one.
The Opposition is banking on the hope that people will vote against the Yogi Adityanath government.
As long as the UP elections are concerned, it is not decisive and one-sided in favour of Yogi Adityanath.
The Opposition will live to fight another day.
If it is a repeat of 2017, then obviously you can argue that 80 Lok Sabha seats from Uttar Pradesh will go to the BJP in 2024.
I am saying so because for the Opposition to win 272 seats from the remaining 462 seats in Parliament will be a very tall order.
What about the Presidential election in July 2022? Will that not be the first test for Opposition unity against the Modi government?
As far as numbers are concerned, the NDA has an advantage but then again, the UP elections before that holds a lot of clout.
UP has strong electoral weightage for Presidential elections.
I think Modi has a lot of cards up his sleeve.
What if he brings in some public figure or non-polarising personality for the President's post?
If that happens, then there will not be much resistance from the Opposition parties to that candidate.
I don't see that as a test.
What about Modi's magic card? He always brings in some magic card before the elections and then sweeps it. Say, the completion of Ram Mandir in 2024.
That possibility always exists.
He will definitely pull a rabbit out of his hat.
One must, however, remember that every year Modi is adding to his age (Modi will be 74 in September 2024).
The most important issue for him is the economy.
People voted for him in 2014 because of hope.
Somebody earning Rs 500 a day in 2014 was hoping to earn Rs 700 a day after voting for Modi.
Now it is a very simple litmus test.
Has that person's earning risen to Rs 700 per day in the last seven years of Modi's rule?
You can blame it on COVID-19 or whatever, but the fact of the matter is that people are not economically better off.
This is something very important to the people's lives.
Cultural nationalism or the victim card that you play is okay when people are well fed.
But if you are not well fed, then it puts a question mark (on your leadership).
The importance of the Opposition meeting led by Sonia Gandhi was that now the Opposition will get into agitation mode. They will hit the streets.
So far because of COVID-19 they were just talking but from now onwards, I see that they will get into public rallies and street protests.
This makes a very different impact on the mind of the masses, unlike you giving sound bites to television or writing stuff on social media.
That is why this meeting by Sonia Gandhi was so important.
There will be some action plan (in future) like joint rallies, but the real problem for them will be, how they will sustain it.
There will be one-upmanship and ego issues. How to overcome that?
Once you get traction and you see masses reacting to the Opposition protests, then oxygen adds to the Opposition story.