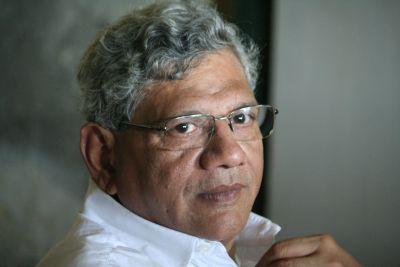 'In the first eight years of UPA did you see any corruption case surfacing? So it's a long rope, you just wait and see'
'There are a lot of policies they are implementing that are causing various hardships to people. That cannot make Modi popular'
Newly-elected CPI-M general secretary Sitaram Yechury speaks to Syed Firdaus Ashraf/Rediff.com.
Sitaram Yechury, the newly elected general secretary of the Communist Party of India-Marxist, was in Mumbai on Tuesday to address an Adivasi rally. Despite his busy schedule he took time off to speak to Syed Firdaus Ashraf/Rediff.com on one year of the Narendra Modi government and other political issues.
How do you look back at and assess the first year of the Narendra Modi government?
There is a dangerous trend happening in India for the last one year under the Modi government. Firstly, on economic policies the Modi government is just following what the Manmohan Singh government did. Today, there is no sector in which foreign investment is not allowed. Secondly, communal tension is on increase in the name of Love Jihad and Ghar Wapsi programmes. Attacks on churches are taking place. Religious minorities are feeling threatened and worse, the vote bank politics of Hindu communal consolidation is taking place. And thirdly, institutions are being ignored completely.
The government is ignoring the Rajya Sabha (in passing bills) by undermining Parliament.
Seeing all this, one feels there is an authoritarian tendency in this government.
How do you see the issue of beef ban in Maharashtra and other Bharatiya Janata Party-ruled states?
You see, all these issues of beef ban, Love Jihad, Ghar Wapsi can arouse communal passions in our country. The more the BJP finds that people's support on other basic policies is declining, more will be the recourse to this as the mainstay of their survival.
What is your opinion on the land acquisition bill?
You see, in the Joint Parliamentary Committee they have a majority so all us have to give our notes of dissent. We will force them to bring it to both the Houses. In the Lok Sabha they will win but in the Rajya Sabha they will be defeated and only then will they go for a joint session. So, it will be a very long drawn affair and it will not happen in one session.
And the more it is long drawn, the greater will be the feelings against it.
Do you think the land acquisition bill has become an ego issue for Modi?
Only he can answer that (smiles).
But in spite of all the opposition there is no dip in Prime Minister Modi's popularity, isn't it?
Popularity depends on how you measure it. He is the prime minister of India with 31 percent vote share and that itself tells you what is the fault in our system. So wait and see, there are a lot of policies they are implementing which are causing various hardships to different cross-sections of people. That cannot make him popular.
Modi has been able to connect so well with youngsters that no other leader in India is able to match him, what do you think is the reason for it?
Well, he has fed youngsters with a degree of a dream in a situation of disillusionment. That situation was of total disillusionment with the Congress at that point of time. There was no other viable alternative. He then sold dreams on that basis, but where are the dreams being fulfilled? That is the question.
You have criticised the prime minister's foreign visits but a lot of people believe that he is doing it for investments and creation of jobs. Do you agree with that?
Investments will not create jobs automatically. For investments to create jobs and contribute to growth, you require a very basic simple thing, which is, what is produced is actually consumed. That is the people are ready to buy.
The world is in an economic crisis and your exports have dropped by nearly 30 percent. People in the country are having less and less money to buy because of price rise and everything else. Their disposal income is falling. So what will investment produce? Unless they produce something, they cannot create jobs. If they produce something they have to sell it. Where do they sell it?
So investments by themselves will not create either jobs or growth. What will create jobs and growth is expanding purchasing power in the hands of the people.
But you cannot deny the fact that there has been no corruption in the Modi government, can you?
Do you remember any of the corruption cases from the first year of United Progressive Alliance government?
But still you've got to…
(Interrupts) In the first eight years of UPA did you see any corruption case surfacing? So it's a long rope, you just wait and see.
How much do you agree with BJP leader Arun Shourie's statement that only three people are ruling India -- Prime Minister Modi, BJP chief Amit Shah and Finance Minister Arunj Jaitley?
I don't know how many people are ruling India, that is not my concern either. My concern is, what are the policies? And there I am very clear that the policies that are being pursued are imposing greater burden on the people of India and are dividing the unity of our country.
Do you agree with Congress leader Rahul Gandhi's statement that the Modi government is a 'suit-boot ki sarkar'?
Their polemics, whatever it is, that is between the Congress and BJP. They may talk in terms of form but we talk in terms of content, so what are the policies? So whether they wear suit and boot, or they wear pyjama-kurta, that does not matter to me but if the policies are anti-people then I will oppose both.
What is the CPI-M's strategy to take on the Modi government?
Our strategy is basically mobilising the people in the Opposition against his anti-people policies. And the strength of the people's mobilisation will eventually force him to change, or definitely increase our intervention capability in the country's policy direction.
Your party's presence has been declining, even in West Bengal where you lost the local elections badly.
I have been saying this for quite some time, that in West Bengal we want to arrest the decline of our vote percentage and on that basis retrieve the party. If you see from the elections of 2009 to 2014 our vote percentage has been continuously declining. It is only in the 2015 municipal elections that our vote percentage increased by one percent. So, we have been able to arrest the decline.
Your late leader Harkishen Singh Surjeet played a crucial role in bringing all the regional parties together and forming the United Front government, do you think you can play that role in future?
Those times are gone, these are new times, new situations and new possibilities are there. When the situation arises then we will see. But the point is that our focus right now is to strengthen our independent intervening capacity.
But can you play such a role in the future?
The role-playing in the future depends on whether the future has such possibilities. Let us see how the future unfolds.
You just spoke about the Modi government's 31 percent vote share, so why don't you see a possibility of Opposition unity?
Again, it all depends on policies. Whether there is unity in terms of an alternative policy direction, we will have to wait and see.
Image: Sitaram Yechury in Mumbai on Tuesday. Photograph: Uttam Ghosh/Rediff.com.