'Modi has shown political courage by instituting several economic reforms which include demonetisation, ushering in GST, eradication of benami transactions...'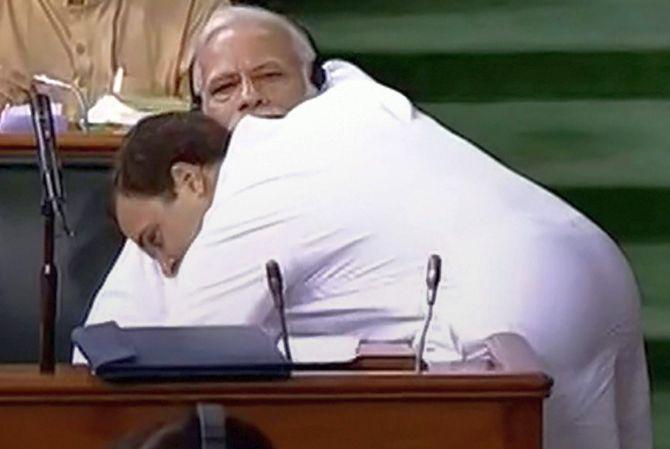 A Stormy Interlude could perhaps be among the most dramatic titles for a book written on Indira Gandhi so far.
Former Union home secretary Dr Madhav Godbole wrote a book in Marathi on Indira Gandhi to commemorate her birth centenary in 2017.
It was published under the title Indira Gandhi: Ek Wadali Parva (A Stormy Interlude) last year.
Its more comprehensive study in English, Indira Gandhi: An Era of Constitutional Dictatorship, was published last month to coincide with the declaration of the Emergency in June 1975.
Dr Godbole presented a copy of the book to Prime Minister Narendra Damodardas Modi on June 22.
The book brings out how Indira Gandhi -- who served as prime minister for 16 years -- would be judged by history in terms of her impact on the social, political and economic life of the country.
Dr Godbole served the country for 33 years as an IAS officer before resigning as home secretary after the demolition of the Babri Masjid in December 1992.
The author of several books and an important voice on the India of today, he discussed the decisions made by Mrs Gandhi that continue to affect the nation to this day, the stormy interlude of the Emergency imposed by her and the similarities and differences with Narendra D Modi in an e-mail interview with Rediff.com's Archana Masih.
Why did you want to write a book on Indira Gandhi?
Dilip Majgaonkar of Rajhans Prakashan, Pune, a well known Marathi publishing house, had requested me to write a book on Indira Gandhi to commemorate her birth centenary in 2017.
The book brings out the positives and negatives of her long years in office and what it has meant for the public life in the country.
In a sense, it is the first draft of history.
Do you remember your first meeting with her?
I did not work with her directly and had no occasion to interact with her, but I worked for three-and-a-half years on the personal staff of Y B Chavan who was home and finance minister in her government.
I also worked as secretary to the chief minister of Maharashtra during the Emergency when S B Chavan was chief minister.
I negotiated a loan from the World Bank for fertiliser projects, which were mired in controversy because of the (Ottavio) Quattrochi angle, when I was working in the department of economic affairs.
I had interacted closely with several officers and public figures who worked for Indira Gandhi. These impressions and recollections form critical inputs in the book.
What was it like for bureaucrats who worked under her?
Her close advisors, among officers, were all Kashmiri Pandits, often known as 'Panch Pandavas' -- P N Haksar, D P Dhar, P N Dhar, T N Kaul and R N Kao.
Others like I G Patel who saw her at close quarters have often written critically about her style of working.
So has P N Dhar who was secretary to prime minister.
She was a strong advocate of 'committed bureaucracy' and expected intense personal loyalty.
She frowned on the concept of an independent, apolitical, civil service.
The present woes of the civil service are largely her legacy.
What kind of a leader was she?
She was a ruthless, authoritarian and inscrutable leader who was suspicious of everyone around her.
She demolished the internal democracy within her own party. Even state chief ministers used to be chosen by her. She reshuffled her Cabinet any number of times.
It was one woman rule. She established family dynasty, without any scruples.
First, it was Sanjay who was declared as her heir. After his death, it was Rajiv.
The highlights of her prime ministership were bank nationalisation, the victory in 1971, the Emergency, Operation Blue Star -- which of these has affected India most?
The impact adversely or positively that is continued to be felt today?
Each one of these events have left their scars behind which have become more pronounced over the years.
As she herself told I G Patel, who was secretary, economic affairs, bank nationalisation was a purely political decision.
The politicisation of the banking structure and the crony capitalism it has generated has transformed India into a banana republic.
Successive bank scams and huge recurring burden of non-performing assets are bleeding the budgets year after year.
After defeating Pakistan in the Bangladesh war, an excellent opportunity was squandered away during the Simla talks with Pakistan by not settling the Kashmir dispute.
Operation Bluestar was totally avoidable and showed how several opportunities for settling the Punjab problem were lost.
The Emergency was the climax of her regime in which all democratic institutions were devalued and the rule of law was trampled.
The worst part was that Indira Gandhi refused to take any responsibility for all the misdeeds, injustices and excesses.
After she came back to power in 1980, she ordered the withdrawal of the Shah Commission report on Emergency excesses and had its copies destroyed.
Series of reports of other commissions of inquiry appointed by the Janata (Party) government which had indicted her regime were consigned to the archives.
The million dollar question of how to punish Indira Gandhi for her wrongdoings in the Emergency remained unanswered.
As I have argued in the book, the only way she could have been punished was to disfranchise her from contesting and voting in elections for a period of 12 years, by passing a special legislation for the purpose.
If she had not ridden rough shod over the higher judiciary, India's Constitution would have been quite different today.
For example, the powers of selection of high court and Supreme Court judges would not have been taken over by the Supreme Court to itself.
The court would not have laid down the Laxman Rekha of basic structure for delimiting the powers of Parliament to amend the Constitution.
Strength of democracy lies in its institutions. Indira Gandhi weakened and devalued all of them.
This is her devastating legacy.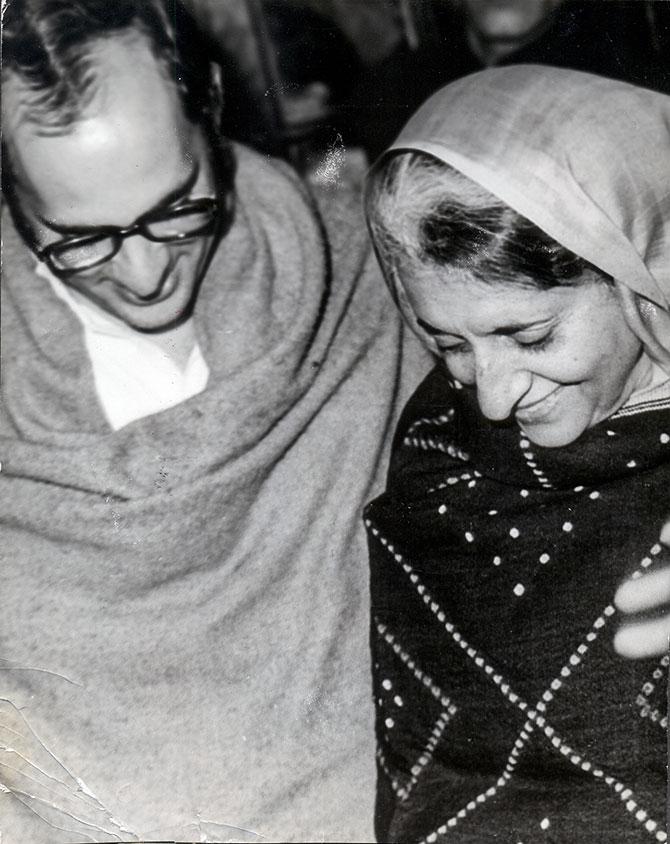 Many say there are similarities between Mrs Gandhi and Mr Modi, how are they similar?
They are unmistakably alike in their style of functioning. Both being leaders with mass appeal, charisma and all India following.
It needs to be noted that in most Western democracies, it is seen that there is effectively prime ministerial form of government in which the lead in all matters is given by the prime minister.
Cabinet form is only in name. And so has it been in India.
But the similarity between Indira Gandhi and Modi ends there.
Modi has been scrupulously honest. His personal integrity is beyond doubt, while Indira Gandhi institutionalised corruption.
She had laid the foundations of family dynasty. Modi has no family at all!
As I have brought out in my book, though Indira Gandhi had two-thirds majority not only in Parliament but most state legislatures which would have enabled her to get the Constitution amended as required, she deliberately did not take any action on five major issues confronting the country at the time, namely electoral reforms, giving a decisive blow to the politics of defections, appointment of Lokpal, dealing with black money, and separation of religion from politics.
The manner in which a series of ill thought out Constitutional amendments were carried out showed that it was purely majoritarianism at work.
Modi, on the other hand, has shown political courage by instituting several economic reforms which include demonetisation, ushering in of goods and services tax, increasing the pace of divestment from public sector enterprises, eradication of benami transactions, enacting a code of bankruptcy, making a beginning of privatisation of coal mines, and so on.