'He never believes in loose talk.'
'If he is done with you, then you go your way, he goes his way.'
Paresh Rawal, the Bollywood actor and debutant Member of Parliament from the Ahmedabad East Lok Sabha constituency, suddenly switches gears during a media interaction to promote his film Guest Iin London, and discusses Modi, lynchings and Arundhati Roy.
Rediff.com's Prasanna D Zore listens in.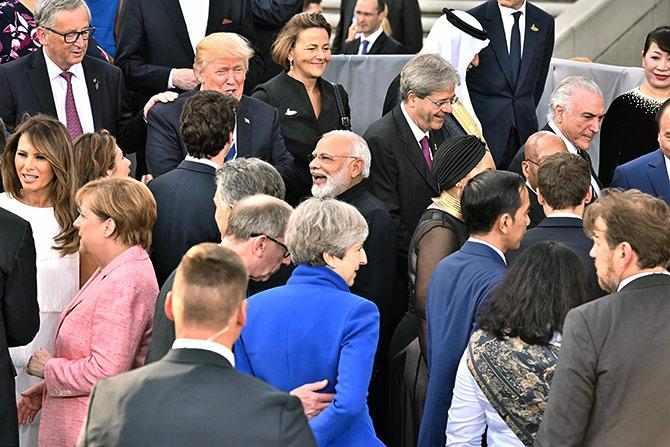 IMAGE: Prime Minister Narendra Modi with Canadian Prime Minister Justin Trudeau and US President Donald Trump at the G-20 summit in Hamburg, July 7, 2017. Photograph: Press Information Bureau
On playing the lead character in Narendra Modi's biopic...
I always look forward to roles that excite me more, is well written, that could challenge me as an actor; it should kind of scare me; make me feel if I will be able to pull it off or not.
That fright kind of motivates me.
There were rumours that Akshay Kumar was playing the lead in the Modi biopic...
Jisko karna hai kare, bhaiya, achcha hai, sab kare (Let, whoever want to do it, do it; good for everybody).
Hum kisi ko rok nahi sakte (We can't stop anybody from playing it).
How challenging was it for you to play Modi?
Very challenging!
Other than copying, aping a person, while playing such roles you have to go beyond that.
Agar mujhe sirf Modisaab ki mimicry hi karni hai toh bahut log pade hai (If I were to just imitate his mannerisms, then there are many people around who can do that).
One is not supposed to do mimicry in such roles and that is why such roles challenge you as an actor.
How are you preparing yourself for the role?
Nowadays I am meeting him (Narendra Modi) almost every second day.
One cannot just prepare by observing a person. It requires lot of concentration and focus.
Should you have attempted to do such a biopic in the current political climate?
Political climate around him was always volatile since he came into politics.
Yeh political climate toh bani-banayi hai (The political climate around him is cooked up by his political opponents).
There are some people, some elements, who are doing it.
Like the scaremongering during demonetisation... people were standing on the roads, in queues, but still there were no riots.
It was not the common man who was antsy; his (Modi's) political opponents were antsy because all their black money was turned into scrap paper because of demonetisation.
And that was the reason the political climate heated up as they egged on people to do something.
But people know what is in their best interests and so did not support his opponents.
So, it is better not to talk about the prevailing political climate.
If you are playing Modi, then who do you think is capable to play Amit Shah?
There are so many characters in the industry (who could do that).
Amit Shah and Narendra Modi share a special rapport, camaraderie that is so unique in the existing political climate...
Aap jitna samajhte hai utna nahi hai (It is not as much as you make out about their political camaraderie).
There are many gurus who shaped his formative years.
Modisaab hamesha akele rahe hai (Modi has always lived alone).
Always alone!
Kabhi baithe hai chamcho ke saath? Kabhi nahi (Has he ever entertained sycophants? Never!)
He never believes in loose talk.
If he is done with you, then you go your way, he goes his way.
He has always been a loner.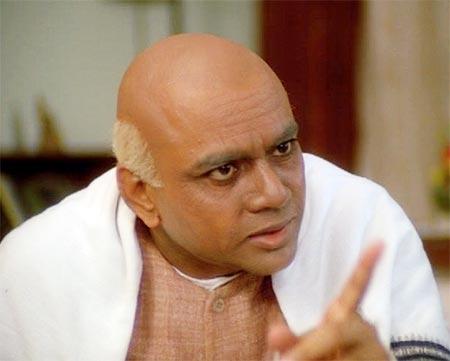 IMAGE: Paresh Rawal as Vallabhbhai Patel in Ketan Mehta's film Sardar.
Modi is a polarising figure.
Why should I bother about that?
We will try to present to people how he handled situations, what were the reasons behind it, and how did he interpret those situations.
I will only try to present that in my character in the biopic.
Will the 2002 riots be a part of the biopic?
Everything will be there (repeats for emphasis).
There are these people who roam around acting like they are above the judiciary; their notions will also be tackled.
Will there be an attempt not to glorify him considering he is India's PM?
Don't bother about that. It will all be there.
What about GST? How will it affect Bollywood?
I have myself not understood it totally.
It is being done for the good of Indians in mind and it is necessary to simplify so many complex tax structures.
There will be teething problems, like he (Modi) mentioned in the televised address that when you get a new spectacle you have to keep adjusting it for some time... so those adjustments will have to be done.
How much do we know about income tax?
We do whatever our CA (chartered accountant) asks us to pay.
We ask him to save as much tax as he can for us; whatever our due we pay it.
What was the mood inside Parliament when GST came into existence?
It was an electrifying experience. It was a festive mood.
IMAGE: The Not in My Name protest against the lynchings, Mumbai, July 3, 2017. Photograph: Uttam Ghosh/Rediff.com
Spreading hate in the name of religion is prevalent right now. How do you see these lynchings...
Pathetic! Painful!
This violence in the name of religion is painful.
This happens when we don't liken our society to temples and people to gods.
Ab society ko mandir mano, logon ko bhagwan mano, koi problem <em (There will be no problem if you look upon people as gods, and society as a temple).
Will these lynchings stop by espousing the name of Mahatma Gandhi?
Will those people who have been brought up on a daily dose of religious hatred pay heed to such espousal?
What can one do more than this?
What will you do? What will you do?
For thousands of years we have been taught the Gita, Ramayan, Mahabharat, Bible, Quran... all these sacred books teach us the message of love and peace.
Then why do we behave in such a manner?
Are we following the fundamental message these scriptures teach us?
We are going from bad to worse.
The teachings of Bhagwan, Allah, Jesus has no impact upon us (those who indulge in religious violence).
What I am saying is be it a person belonging to any religion, the person who dies is, after all, a human being.
Is it not time to enact a law that will deal with lynchings in a severe way?
Of course, we must.
We have to bring in a severe law, but that alone will not help.
The judiciary too must be made to decide such cases quickly.
As a Member of Parliament will you take the lead in enacting such a law?
We keep talking about this thing...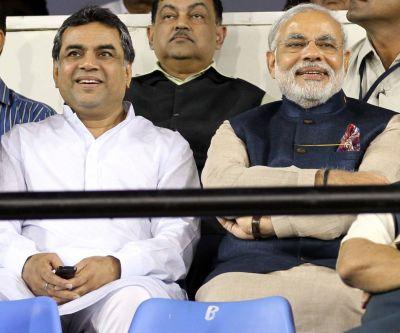 IMAGE: Paresh Rawal with Narendra Modi, then the Gujarat chief minister. Photograph: Kind courtesy Paresh Rawal/Facebook
Can we see you the chief minister of Gujarat?
(Laughs boisterously.) Main bahut limited inning ke liye utra hu iske andar (I have a limited role to play in politics).
Politics is not my career.
Every person, I think, is political, has a political perspective. Everybody has their personal view.
I am in active politics because I can speak aggressively.
How do you balance your political commitments and acting career?
Whatever time I have to give for my political activities, being present in Parliament, meeting my constituents, I take it out from my schedule.
One has to be in Parliament for 100 days and four days in a month in one's constituency.
I don't think it is difficult for anybody to find these 148 days in an year as a politician and the remaining 215 odd days to focus on his acting career.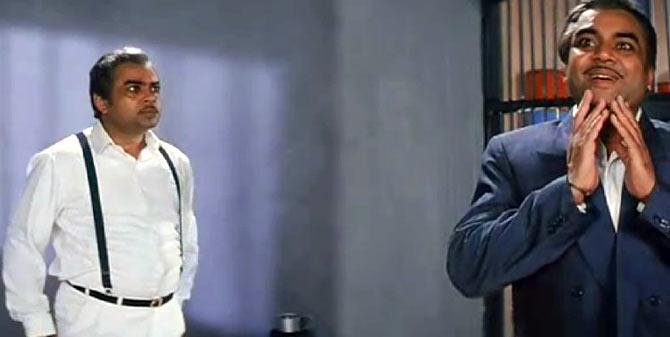 IMAGE: Paresh Rawal in Andaz Apna Apna.
If Aamir Khan or Shah Rukh Khan were to say that Pakistani television shows are better than Indian shows then they will be immediately trolled with 'go to Pakistan' slogans... but when you say it... that's the difference, isn't it?
Mere par bhi toot pade the na yaar (they trolled me too, my friend).
But the same thing I had said in 2014 as well. I like their shows yaar.
If I say that Imran Khan is a good cricketer, is it that I mean Sunil Gavaskar is a bad cricketer? I will not stop myself from praising them.
How do you handle trolls in such a situation?
Ignore them.
Do you feel pressure handling these trolls?
Pressure (sarcastically)? Of Twitter and tweets?
I have better things to do in life.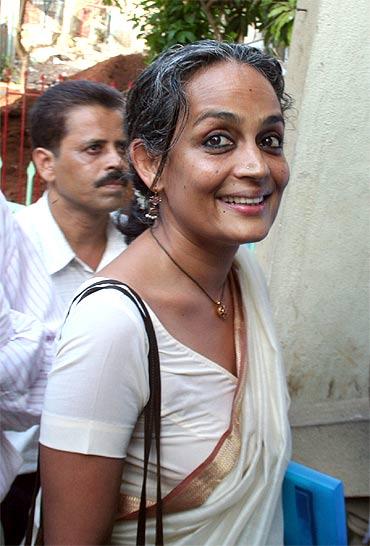 IMAGE: Arundhati Roy, the novelist and activist. Photograph: Uttam Ghosh/Rediff.com
Do you feel in hindsight that you should not have made that comment about Arundhati Roy over Kashmir?
I firmly believe what I said about Arundhati Roy and I will repeat it too.
You cannot run down my country. Or my army. Ever! As simple as that.
Isn't that akin to hate speech?
Agar unka freedom of expression hai toh mera bhi freedom of expression hai (If they have their freedom of expression, then I have mine too).
She did say that; there are so many videos floating around, do you know that?
There can be one fake news about it, but there are so many videos where she has denigrated the Indian Army.
I have tweeted with proof how she had fabricated fake news regarding the 2002 riots and all that.
I have posted that video on Twitter in its entirety.
I will not back out even if my Twitter account is deactivated. No way!
But do you have the video of Arundhati Roy talking about the Indian Army in the context of tying a civilian to an army jeep?
Arre, that is nothing. That is just pillow talk. She has been spewing venom and acids.
You tell me that when we speak out, it is polarisation. Then what is that she is doing?
Don't try to justify her.
We are not talking about Arundhati Roy here. We are talking about what you tweet...
What I said was in the context of what she said.
If she had not said what she said, then I too would have not said anything.
What do you think about the sanskari censors?
I have no comment to offer on that.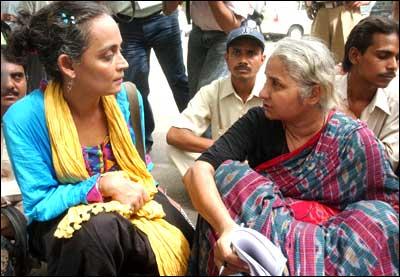 IMAGE: Arundhati Roy, left, with Medha Patkar. Photograph: Sondeep Shankar/Saab Press
Don't you think you are inciting violence when you ask for tying Arundhati Roy to a jeep?
From which angle do you think that this comment eggs on people to get violent?
Please explain how it will lead to violence if someone were to tie Arundhati Roy to a car?
If you are her goodwill ambassador, if you sympathise with her, if you want to be her flagbearer, then if I am tying you (Roy, to a jeep) then nobody (in Kashmir) will throw stones at you; there will be no violence; people will stop in their tracks.
Arre, yeh toh apni Arundhati hai (This lady is our flagbearer).
She is our goodwill ambassador; she talks about us in front of the world; then how on earth will talking about tying her (to a jeep to tackle stone pelters in Kashmir) incite violence?
Even the Indian Army will realise that Arundhatiji is also useful to the army.
Aur Arundhatiji ko bhi pata chalega ki army kis halaat main kaam kar rahi hai (Even Arundhatiji will understand the circumstances in which the army operates in Kashmir).
I think it is a win-win situation.
When Shehla Rashid talks about tying this and that person to a jeep, then nobody raises any issue about it.
When Digvijay Singhji says that, then it does not create any furore.
People may not respond to what these people say, but people can follow Paresh Rawal...
This is just an agenda by these people because they have failed in front of the people of India.
They want to defeat Modiji, but he is winning election after election.
Then what will these people do? It is just their frustration.
Inko jo bakna hai bake (Let them say whatever nonsense they want to say).
I am not that kind of person who will talk about tying somebody to a jeep, but when you say that Nagaland, Mizoram is under Indian occupation...
I have Arundhatiji's video about it... when my friends call me from America and ask me if this is true... see that video where Arundhati says this...
If whatever she said wherever in London or America is unconstitutional, unlawful, then why is the government not taking legal action against her?
Listen, listen, listen... that is a different thing.
When the Government of India initiates legal proceedings, people like you scream vendetta, witch-hunt!
What I want to say simply is if you have your freedom of expression, we have ours.
At this point, the PR who had organised the interview intervenes and requests the media to steer clear from political questions... Paresh Rawal too changes his gears and softens up...