'Aamir has bigger goodwill than even the Tatas and Birlas.'
'The Sanjay Dutt biopic is amazing because of Rajkumar Hirani, because of Abhijat Joshi's writing and because of Ranbir Kapoor's acting.'
Paresh Rawal discusses Guest Iin London, his first film in two years, the Sanjay Dutt biopic, the Khans and more...
Rediff.com's Prasanna D Zore listens in.
There is never a dull moment with Paresh Rawal.
He is honest, almost brutally!
"There are many, many, many, many, many, many... I can go on and on," he says about the films he did just to keep his home and kitchen running.
His comic sense, satire and wit always keeps you on your toes lest he pulls up a fast one on you.
Sample this from the conversation below: "When guests step into my house, my first question is: 'What's the date on your return ticket?'"
And, "Pressure? Of Twitter and tweets? I have better things to do in life," responding to how he handles those who troll him.
He is equally aggressive and doesn't hold his punches back when he discusses Arundhati Roy, politics and Narendra Modi.
"I firmly believe in what I said about Arundhati Roy and I will repeat it too."
You know this well about the man having enjoyed his films as much as the political fires he has lit through his tweets.
But the man pours cold water on your excitement when as soon as he steps in, he blurts, "No questions on politics, please."
But that's more in jest you soon realise.
Rawal, who was last seen in Welcome Back two years ago, will make a comeback of sorts -- he hates the word as he makes it evident while scolding a journalist for using the word in the context of discussing his wife Swaroop Sampat's next film -- with Guest Iin London, a sequel to Atithi Tum Kab Jaoge.
Dressed in an aqua coloured shirt and blue denims, with a cropped hair cut and matching stubble, here's Paresh Rawal, actor extraordinare and MP (well, three years into his first term as People's Representative, we don't have a verdict yet).
The first of a two-part conversation: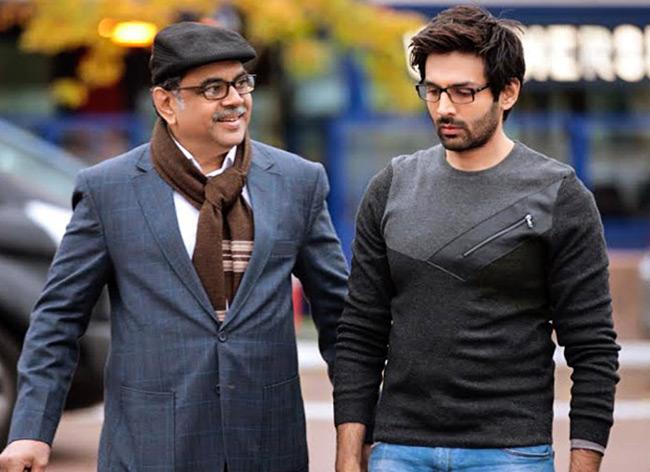 IMAGE: Paresh Rawal and Kartik Aarayan in Guest Iin London.
Why Guest Iin London?
There must have been some reason for this title. They were going to title it something like Aa Gaye Mehman.
How will you present yourself as a guest at somebody's house?
I will make sure that if a cushion is lying at a particular place, then I will not even let it move an inch from that place.
I will never disturb the order of things at my host's place. One should ideally not do that.
I am not among those guests who turn my host's house upside down.
The guests you like/dislike...
I like some guests/any guest only for a few days.
I'd love only a few of the people I know to be my guests, but only for just a few days.
I get hassled if they extend their stay for more than 3, 4 days.
Any real-life incident when you made efforts to expel your guests?
I will make sure that they know (I don't like them around).
I will approach them directly and tell them they have extended their stay far too long for my comfort.
I don't have that kind of energy to plan their ouster from home. I am not that kind of person...
First, we have to spend so much time in welcoming them, making them feel at home and then also have enough energy to plan their exit from my home!
When guests step into my house, my first question is: What's the date on your return ticket?
They know what I am like.
Fortunately, unwanted guests don't knock at my doors.
Any guests, howsoever friendly they are, make me edgy if they extend their stay for more than a few days.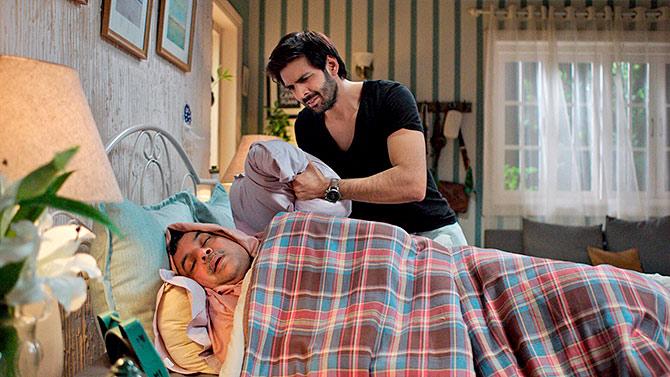 IMAGE: Paresh Rawal and Kartik Aarayan in Guest Iin London.
On Ashwini Dhir as director...
The fun part is being a writer-director himself he is very economical with his script and dialogues.
He never fumbles about what needs to be done; he is very clear about what he wants from his actors.
He has answers to all your questions because he is the one who has visualised everything.
Guest Iin London is his concept, his visualisation and so there is no confusion at all about what he wants from you.
I took him on a conducted tour of London, but he did not extract 'conducted' acting from us.
Did you miss accomplished actors like Ajay Devgn, Konkona Sen Sharma and other actors who were part of Atithi Tum Kab Jaoge?
I did not miss Ajay or Konkona in Guest Iin London.
This is an entirely different story, set in a different locale.
In terms of give and take, Karthick is equally competent. He is a very fine actor; very confident about himself.
Even Kriti (Kharbanda) is a very good actor. I am not saying this for formality's sake because they are my co-actors.
Since you don't like people too much and don't quite mingle with them, would you call yourself 'anti-social'?
Just because I don't mingle with people, how do I become an 'anti-social'?
I hate parties; I don't go to parties, because I find them very boring.
How difficult is it to maintain relationship with people in the industry?
As an actor, my job is to act well and only then will people repeat me.
My job is not to be somebody's chamcha so that I get work.
Since I come from a theatre background -- call it my confidence, over confidence or arrogance -- I never felt the need to 'maintain relationships' to get work in the industry.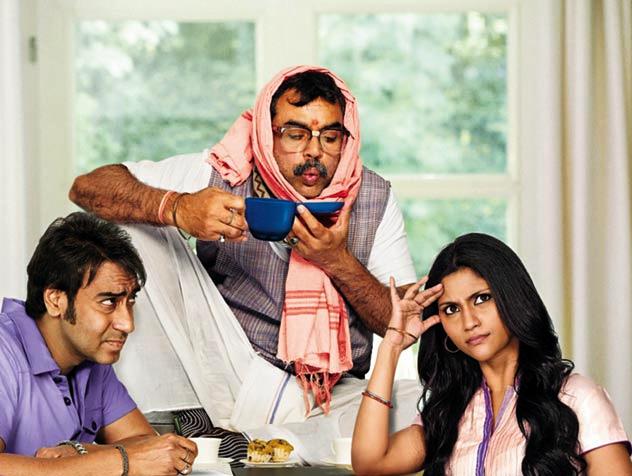 IMAGE: Ajay Devgn, Paresh Rawal and Konkona Sen Sharma in Atithi Tum Kab Jaoge.
After doing Atithi Tum Kab Jaoge, was doing a similar role much easier?
To tell you honestly, after being in this industry for so many years, not all roles challenge you (as an actor).
Only a few roles challenge you.
I am not among those who show offs saying this particular role was very difficult, very challenging, and I had to work so hard on it when there is nothing like it in this role (played by him in Guest Iin London).
In one's entire career, you come across eight to ten such roles where you really need preparation. Otherwise, most other things happen easily.
What characters did you find challenging enough to play?
Sir, Sardar, Tamanna, Road 2, Sangam, Mumbai Meri Jaan, Oye Lucky, Lucky Oye, and Baburao's role in Hera Pheri.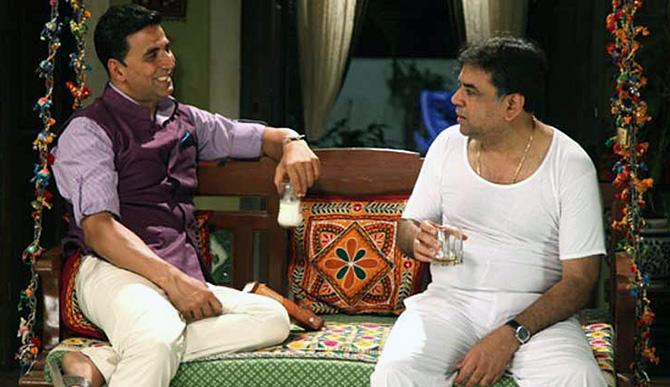 IMAGE: Akshay Kumar and Paresh Rawal in OMG: Oh My God!.
You played a rationalist in Oh My God! How much do you believe in that?
100 per cent!
How do you deal with contrary viewpoints within the industry? Like Aamir Khan and Naseeruddin Shah who have spoken against what is happening in the country.
I respect that!
Agar Aamir kuch kahta hai, agar Shah Rukh kuch kahta hai toh respect toh karta hu main (If Aamir or Shah Rukh have a viewpoint, then I respect that).
I may disagree (with their views), but how far can you stretch it because they are also well-meaning.
Woh bhi jo bolte hai woh desh ke bhale ke liye hi bolte hai (when they speak out they speak for the good of the nation).
Their style is different from mine, but we all speak for the good and betterment of the country.
What about the Sanjay Dutt biopic (where he plays Sunil Dutt)?
That is amazing because of Rajkumar Hirani, because of Abhijat Joshi's writing and because of Ranbir Kapoor's acting.
Fortunately, I am doing a character who doesn't have a particular kind of set mannerisms, idiosyncracies...
Duttsaab was very, very human.
There were no starry airs around him and chiefly this movie is about the story of a father and son: Of Sunil and Sanjay Dutt.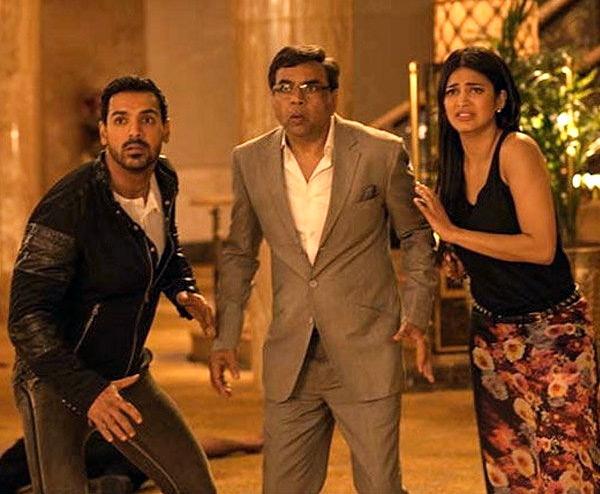 IMAGE: John Abraham, Paresh Rawal and Shruti Haasan in Welcome Back.
Your last film was Welcome Back in 2015. Has your political career affected the number of films you do?
We were working on two films in the interim, but then we had to shelve them for some reasons.
Can we have a sequel to OMG!
We have almost reached there.
Will not such a film that takes on people who use religion for business run into trouble given the climate we have in India now?
I don't think so. I have done the Kishan Vs Kanhaiya drama at many places even after the film's release.
I have done it in Parliament, Haridwar, everywhere. I did not see any antagonistic reaction to it.
How much does the box office matter to you?
If I am a producer, then it matters. If I am an actor, then only my role matters to me.
Did you interact with Ranbir Kapoor (who plays Sanjay Dutt's character)? What do you think of him as an actor?
Aha! Terrific talent! Unique talent! What an actor he is!
How do you look at your journey as an actor?
Meaningful!
I don't know how much I have achieved, but I can definitely say it has been a meaningful journey.
I have grown as an actor and I have embellished my craft as I went along.
Who among your contemporaries do you admire the most as an actor?
Naseerbhai (Naseeruddin Shah). Among the younger lot there are so many of them.
Do you think this younger lot can match up to the name and fame of the three Khans?
I have never ever thought about all these actors this way. Comparisons are so very unfair.
Everybody comes here with their own, unique, X-factor.
Salman has his own charm; his charisma is in a different league. Shah Rukh is also very different.
Aamir is totally a different package. He has bigger goodwill than even the Tatas and Birlas and he has worked hard for several years to be there.
Varun (Dhawan) and Ranbir are the new entrants, but even they are capable.
Not just that, but if they get good material, good characters, roles, they too can score big; 100 percent, because they have that talent and fire within them.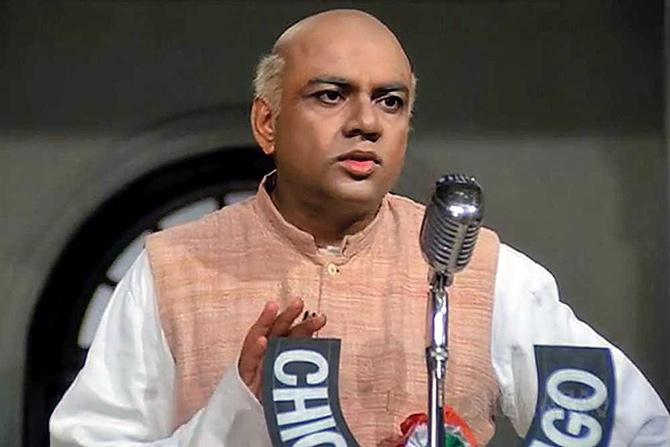 IMAGE: Paresh Rawal in Sardar.
Roles that you regretted playing....
There are many, many, many, many, many, many... I can go on and on.
But there is no regret because I sign them for money knowing fully well that the film is nonsensical.
It is because of them I am able to run my home and kitchen.
I have to do these films so that I am able to do great films too.
For example, if I have to do films like Sardar, Road 2, Tamanna, knowing fully well that there won't be any money in it, I don't look down upon the other films I do because there is money in it, because I know these films will run my home.
I got (financial) support from those films and so I was able to do films that I wanted to do.
So, there is no regret in that sense.
The only regret you know is when you feel that this film could have been better, but didn't shape up as expectation. That is the regret.
Friends in Bollywood you can bank upon...
I am not that friendly as a person. Most of my friendships are with theatre actors.
I would often meet up with people like Naseerbhai and Omji (the late actor Om Puri).
Manisha Koirala plays Nargis Dutt in the Sanjay Dutt biopic. How was it working with her?
She is absolutely stunning. I am so happy to see her back.
She has Nargisji's frailty, nobility, and majesty.
How was it working with Rajkumar Hirani?
It is my first film with him. It is like a dream come true.
I was supposed to do Munnabhai MBBS, but because of some reason I couldn't be a part of it and I have always been kicking and punching myself.
Now that I am working with him I feel my hunger is satiated.
I was supposed to play Dr Asthana's role which was essayed by Boman Irani.
The same role I played in a Telugu film Shankardada MBBS (the remake of Munnabhai MBBS).
Which character do you most relate with?
Me? I relate the most with Sardar Patel.