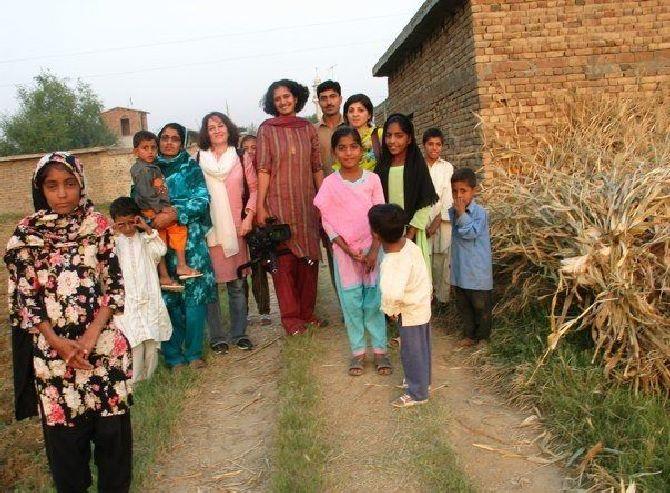 IMAGE: Hemal Trivedi during the making of the documentary. Photograph courtesy: Hemal Trivedi/Facebook
'People in Pakistan opened their homes and hearts to me because I was an Indian. I didn't feel alien at all. I felt as if I was in my own country.'
'There is a strong chance that the Taliban can win over Pakistan. In an era of ideological confusion these people thrive.'
'The Pakistani State is an enemy State not just for India, but for Pakistan itself. By funding non-State actors, the Pakistani government is destroying itself.'
Filmmaker Hemal Trivedi speaks about her experiences filming a documentary on Pakistani madrasas.
Mumbai resident Hemal Trivedi landed up in a Pakistani madrasa to film a documentary, and thereby hangs a tale.
Trivedi, who gave up her career as a fund manager at the Unit Trust of India, to study documentary filmmaking in Florida.
After making several documentaries, Trivedi decided to film a documentary on Pakistani madrasas, Among the Believers, in collaboration with a Pakistani friend. She spoke to Syed Firdaus Ashraf/Rediff.com about her journey.
How did someone from Mumbai land up in Pakistan to make this documentary on the Red Mosque madrasa?
I was born in Dahisar (northwest Mumbai). I grew up in a chawl in Mumbai in a Gujarati Brahmin family. While growing up, the only option was to do science and I did my bachelor's in microbiology. After that I did my MBA. Post that, I was selling mutual funds and was a manager at UTI.
When I was 25 I had a difficult time. I was in a relationship that did not work out. I was not happy with my job. I was looking for a deeper meaning to life. I think this happens to a lot of people in their 20s.
I found out that I was passionate about story-telling and that too non-fiction story-telling. So I decided to become a documentary filmmaker.
You decided to change your career at 25.
Yes, and I found out the best way to do that is become a documentary filmmaker. I completed my documentary filmmaking course from Florida. I also got married and moved to New York. I was an editor for a long time. I edited the documentary from Pakistan, Saving Face. I won an Emmy for outstanding editing for that film. I also edited Outlawed in Pakistan and When The Drum Is Beating.
Were you not frightened to go to Pakistan to film this documentary?
I did not tell my mother and my family about it. If I had told my mother she would have said, 'No.' I only told my husband and he supported me. And I like adventure. So I took a leap of faith. I have done this a lot of times in my life.
How did the idea of shooting a documentary on Pakistani madrasas come to you?
I lost a very dear friend in the 26/11 Mumbai terror attacks. I experienced a lot of anger and hate for Pakistan because the people who carried out the attacks were all Pakistanis. I started questioning why Pakistanis support terrorism. Why do they want to destroy my country?
After a couple of weeks I started questioning my own anger. I don't have Pakistani friends. I don't read Pakistani newspapers. I don't watch Pakistani television. And I have never hung out in a Pakistan neighbourhood. So how can I make a judgement about this country which I know very little about?
I wanted to understand Pakistan. And what I realised was that Pakistani society is deeply divided. There is a fringe minority of extremists who are trying to shape the Pakistani way of life.
When did you start making this documentary?
In 2009, I started work. It took me six years to make Among the Believers.
What is Among the Believers about?
Among the Believers profiles Maulana Abdul Aziz, one of the most radical clerics in Pakistan who wants to impose Shariah law in Pakistan. Alongside his quest to power, we also follow two of his students' journey through his madrasas.
Zarina, 12, who is a student at the Red Mosque, jumps the walls and joins a regular school in the hope of becoming a doctor. We follow Talha who is a student at the Red Mosque and stays there. And over four years we look at their education and how they look at the world.
Maulana Abdul Aziz and these two students are the main characters in the film.
Why did you choose the Red Mosque in particular?
It was by pure accident. I went with an idea that I would follow a madrasa in Pakistan. It was just an accident that we chose the students of the Red Mosque. After that, it became absolutely necessary that we follow the Red Mosque as well and get access to Maulana Abdul Aziz. I did not get access to the Maulana, but my co-director Mohammad got access to him.
Did you travel to Pakistan for the film?
I went to Pakistan. I filmed with Talha, Zarina and Dr Pervez Hoodbhoy (the Pakistani anti-nuclear campaigner and professor).
Did you visit a Pakistani madrasa?
I went there as a Muslim from Dubai. I said I am a Muslim, Hena Khan from Dubai, and they let me in.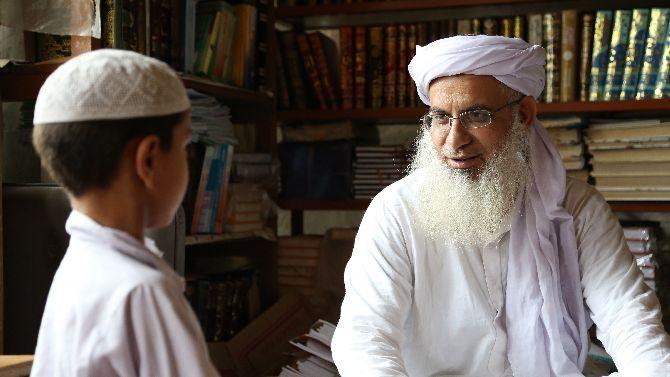 IMAGE: A scene from the documentary shows radical cleric Maulana Abdul Aziz with one of his students.
When did you land in Pakistan?
The day I landed in Pakistan in October 2009, their army headquarters was under attack. Gunmen killed nine Pakistani soldiers. Everybody in Pakistan was perplexed and confused and wondering what was going on in their country.
I saw the desperation on ordinary people's faces. They didn't know whom to blame. They didn't know whom to trust. They did not know whom to look for answers. They didn't know whom to look for protection.
When I saw that I realised (ordinary) Pakistanis were victims of terrorism and not the ones who perpetuate it. That was the moment that changed my mind.
You applied for a Pakistani visa with an Indian passport. Did you get a visa easily?
Yes.
Which cities did you visit in Pakistan? What was the experience like?
I stayed in Islamabad and Lahore. Ordinary Pakistanis were very nice to me. They treated me with lot of hospitality and graciousness.
In Lahore when I was having lassi with my co-producer Musharraf and talking about Bollywood films, the stall owner picked up on my accent and asked me if I was an Indian. I said, yes and after that he did not charge me. He said I was his guest.
People opened their homes and hearts to me because I was an Indian. I didn't feel alien at all. I felt as if I was in my own country.
Did you know that the Pakistani army stormed the Red Mosque in 2007 because it was the hub of terrorism?
No, I did not know that. I wanted to do a story on a Pakistani madrasa. Had I known about this scary fact, I would not have ventured into this film (laughs), to tell you the truth. It was pure accident.
Why do Pakistani children join these madrasas?
Pakistani children join these madrasas because they provide them with free board, lodging, food, education and promise them a ticket to heaven. So it is a very good deal. That is how they sell themselves. It is a free ride for these students.
Lots of parents send their children to the madrasas because they are day labourers and poor and they do not have enough means to take care of them.
Do you think these mullahs are so strong that they can take over Pakistan?
I believe there is a strong chance that the Taliban can win over Pakistan. There is a real risk that can happen. The Taliban has been trying to take over Pakistan as there have been so many terror attacks and the Taliban has already taken over certain areas of Pakistan. They have destroyed so many schools too.
Of course, the Pakistani army is very strong, but they themselves are conflicted about which way of life they want to believe in and which course to take.
In an era of ideological confusion these people (the Taliban) thrive.
What about the hatred towards India? Do they teach that in Pakistani madrasas?
They are taught that they must defend Kashmir from the infidels. They need to protect the Kashmiris as they are being killed by us (Indians). They see Kashmir as Palestine and they want to protect Kashmir.
What about Pakistani civil society? Are they not strong enough to resist the radical Islamist ideology of the madrasas?
Pakistani civil society, just like any other civil society, is partly corrupt and partly lethargic. People come on the streets for a couple of days and go back to their homes. They make sure their children go back to school and live normally. They don't fight as much as they should.
It is only after the Peshawar school attacks that Pakistanis have taken to the streets.
Do you think Pakistani civil society has woken up late to take on these extremists?
I don't think it is ever late. You know it is like 'Jab jagey, tabhi savera (whenever you wake up is morning).' I am glad they have woken up. I don't think they have fully woken up. I think they have gone back to sleep again. But I hope they have been waking up.
Did you visit any Indian madrasas after returning from Pakistan?
I have never been there.
How did you meet your Pakistani co-director, Mohammad Naqvi?
I met him through a common friend, Mehreen Jabbar. I was looking for someone who could enter the Red Mosque. I knew that as an 'Indian Hindu woman' I would not be able to get in. So I was looking for someone like him. And there are not many like him who can help and Mohammad was perfect.
Do you think India and Pakistani can be friends?
Yes, it is 100 percent possible. We are cut from the same cloth.
Don't you think Pakistan is an enemy country and therefore friendship is not possible with India as they support non-State actors to promote terrorism in India?
Look, the Pakistani State is an enemy State not just for India, but for Pakistan itself.
By funding non-State actors, the Pakistani government is destroying itself. They are the biggest victims.
In the last decade if you say India has lost 500 people to terrorism, then Pakistan has lost 50,000 people. In Pakistan there have been over 3,000 terror attacks, 1,200 schools destroyed and 50,000 people dead. Their economy is completely destroyed because of this.
So they are the biggest victim. In fact, we have to find a common ground with the vast majority of Pakistanis who are exactly like Indians. They behave like Indians. They watch Bollywood films and our cuisine is the same.
Did you read V S Naipaul's book, Among the Believers, before making your documentary?
I was inspired by Naipaul's book and the title is taken from that book. Naipaul in the late 1970s, after visiting Pakistan, predicted that if Pakistan continues on this path then it will eventually implode.
That was the beginning of General Zia-ul Haq rule and Naipaul predicted that if Pakistan continues on this path it will bleed in a civil war which came true. He saw the symptoms then of what I see today as the outcome of the final stage of cancer.