'Never ever have so many states across the country declared animals as vermin as they have in 6 to 8 months.'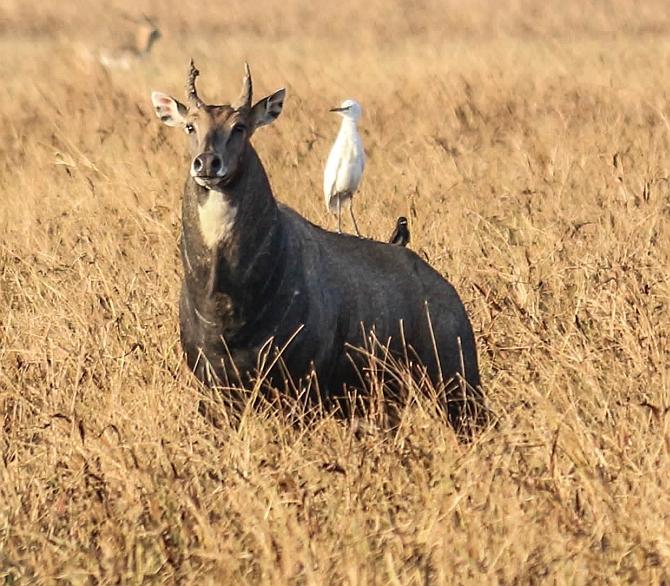 A spate of clearances from Prakash Javadekar's environment ministry -- allowing Himachal Pradesh to kill a species of monkey (Rhesus Macaque), Bihar to eliminate the nilgai or blue bull, and Utarakhand to shoot wild pigs where they were in conflict with humans -- triggered a war of words between Javadekar and his fellow Cabinet colleague, Women and Child Development Minister Maneka Gandhi.
While Maneka Gandhi, a well-known animal rights activist, accused Javadekar of showing a 'lust for killing animals', he asserted that such decisions were taken keeping scientific facts in mind to help those affected by such animals.
To get a sense of the issue, Syed Firdaus Ashraf/Rediff.com spoke to Vardha Mehrotra, director, Federation of Indian Animal Protection Organisation which consists of over 60 animal protection organisations and over 200 activists.
How serious is the situation for animals like the nilgai and wild boar after the government order?
The issue of animals being declared as vermin has been going on for a while now.
Since December 2015, the environment ministry has been writing to several states and clearly saying that they need to write to the Centre if there are animals that they want to declare as vermin. This is unprecedented for the ministry.
Earlier this year several states sent their proposals.
Himachal Pradesh sent a proposal that they wanted monkeys to be declared as vermin which eventually happened.
In Goa, the peacock was declared as vermin.
All sorts of animals were declared vermin.
There have been so many proposals.
Never ever have so many states across the country declared animals as vermin as they have in 6 to 8 months.
What does the law say?
The law states clearly that if you want to declare an entire species as vermin you have to conduct a lot of studies and that has to be based on some scientific data.
No state has conducted any study.
In Goa, they claimed to have done the research. But an RTI response revealed otherwise.
In Bihar, the nilgai has been declared as vermin. They are getting hunters from outside to shoot down the animals.
However, the farmers have not said that the nilgai is creating a problem for them.
In Telangana, they are giving a list of hunters who are supposed to go and cull the nilgai.
Clearly, this is not about the human-wildlife conflict. This is not about farmers and crops. This is about people who want to go and hunt animals.
Javadekar said that permissions are given only when state governments write to the government about farmers' complaints of crop damage caused by animals...
The state government can say for a specific area and for a specific group of animals, not the whole species.
For instance, just because some individuals in a location did something wrong I cannot say all Indians do it. You cannot say that.
The concept has to be for a specific location, not the entire state.
Javadekar says it is an old law...
In the Wildlife Protection Act, there is a section which states that the central government can declare a species as vermin. This section was always there in the Wildlife Protection Act.
This is the first time that the ministry has enforced that section.
In the past, whenever there has been a conflict at the state level the forest department might chose to do something to resolve the problem on a smaller scale.
But now, the ministry is using this section to declare a species as vermin.
This is a blanket order on a big scale.
Someone must have complained to the environment and forest ministry. There must be some reason...
I can go and complain about anything in this world, but the government must investigate before acting on my complaint and that is what the laws say. But they just don't do that.
Some farmers told me that the nilgai destroys crops and causes a lot of problems...
I do not deny the human-wildlife conflict, but culling animals will not solve the problem.
In Rajasthan, the nilgai has been posing a similar problem since a long time, but have not resorted to anything like this.
The Rajasthan government ensures that the nilgai must not be killed. Our people met the local forest department in that state and found a non-invasive, non-lethal method for controlling the population (of the nilgai).
We are increasingly saying that the state wildlife board and all stake holders be involved (in finding a solution) rather than going into a knee jerk reaction like culling the animals. That will not solve the problem.
The government must have a long-term plan to resolve the human-wildlife conflict. No state government has such a plan in place.
When we filed an RTI on this issue, none of the states, barring one or two, gave a reply. Nobody is thinking long term in this issue.
According to you, what is the solution?
Every solution has to be a location specific.
In Rajasthan, we are developing a pilot project with the forest department. But the government has to invest time in this to find a long-term solution. There is no dearth of ideas.
Is it true that in Himachal Pradesh anyone can kill monkeys?
Yes, the government has issued a notification to kill monkeys.
But how can the government give people permission to kill any monkey they see?
That is exactly the point. It is absurd, completely absurd.
Is it true that this license to kill has been given a deadline of November 30, 2016?
Every notification has a period. In Himachal Pradesh, it was issued last year and it will go on till November.
Would the monkey menace in Himachal Pradesh stop after November 30?
This is the first time that the ministry has gone ahead and declared animals as vermin.
There has been no previous instance where the ministry has chosen to interfere with the state and say, 'okay this animal is going to be declared as vermin.'
(The difference) here whole species of animals has been declared as vermin. Every member of the species has been identified as causing a problem. It is a blanket order.
Photograph: Kind Courtesy Bernard Gagnon/Wikimedia Creative Commons