'Modi's charisma has started fading.'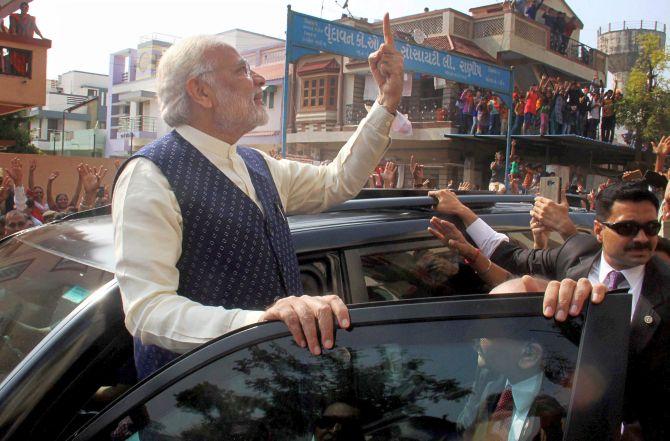 IMAGE: Prime Minister Narendra D Modi after casting his vote in the Gujarat assembly election. Photograph: PTI Photo
On Monday, December 18, the Bharatiya Janata Party made history by winning the Gujarat election for the sixth time in a row.
Exit polls had suggested that the Narendra D Modi-led BJP would win the state. However, it was Dr Vidyut Joshi, former vice-chancellor, Bhavnagar University and former director of the Centre for Social Studies, Surat, who accurately predicted that the BJP would win less than 100 seats whereas the Congress would win around 85 seats in an interview to Rediff.com a month ago (Please see: Gujarat: 'BJP 95-98 seats; Congress 85')
With the election result vindicating him, Dr Joshi deciphers the Gujarat results in an interview with Rediff.com's Syed Firdaus Ashraf and what comes next for the BJP and Congress in the future.
Your prediction of the BJP getting 95 to 98 seats and Congress winning 85 has come true.
It has come exactly as I predicted. I am happy. People from both parties told me that I was spot on.
I am happy that this result may bring sobriety to the BJP.
The hegemony of the BJP was too much in Gujarat.
Secondly, the Congress has emerged a powerful second party in Gujarat. They will now be a strong Opposition, which is a good sign for democracy.
Thirdly, there were 10 small parties in the fray who have not won. Only one candidate of the NCP (Nationalist Congress Party and one JD-U (Janata Dal-United) candidate won.
The BJP won 127 seats in 2002. In 2017, it won 99. Do you think these results indicate that people are disillusioned with the BJP?
If you see the trend, eight BJP ministers have lost the elections.
Two very good politicians of the BJP -- Jay Narayan Vyas and Mahendra Mashru -- lost. They should not have lost as both of them are very nice guys.
But this incident will be a reality check for the BJP. I always say jokingly that Jay Narayan Vyas is the best Gujarat chief minister the state never had.
This result has revived the Congress for further battle in other states. Even in their party, all big Congress leaders lost elections.
Arjun Modvadia, Tushar Chaudhary, who is Amarsinh Chaudhary's son, Chimanbhai Patel's son Siddharth Patel, Shaktisinh Gohil also lost.
Congress leaders who won are all below the age of 50 such as Alpesh Thakore. All Congress leaders over the age of 65 lost.

Traders will never take on the government. Thirty-five per cent of Gujaratis are merchants and even if they are against the government they do not go against the cardinal rule that they will not take on the establishment.

So what kind of voters chose the Congress party? Is it a youth vote for the Congress?
Among the Patidars and the urban businessman, the Patidars voted for the BJP.
For instance, in Surat -- a stronghold of the Patidars -- the Congress lost. However, in Amreli, the BJP lost because the Patidars in Amreli are farmers.
You will see the same thing in other rural areas of Gujarat. Those Patidars did not like speedy industrialisation and the BJP's land acquisition policy.
What about the Hardik Patel factor?
It worked for the Congress in places like Amreli and Somnath, but less in Surat.
His rallies were huge and people went to see him. However, one has to understand the fact that the merchant community does not go against establishments.
Traders will never take on the government. Thirty-five per cent of Gujaratis are merchants and even if they are against the government they do not go against the cardinal rule that they will not take on the establishment.
What about GST and demonetisation?
These issues are there, but they know the fact that it is only the ruling party and the government that can solve their problems.
One has to understand this fact that there can be a farmers' movement, but you will never find traders leading a movement.
Even in the Muslim communities of the Bohras, Memons and Khojas, they are traders and they support the BJP whereas other Muslims will vote for the Congress.
In rural Gujarat, the Congress did very well, but in urban areas, it ailed miserably. Why?
One thing is certain, the BJP stands for speedy industrialisation, urbanisation and investors.
Obviously, urban people will vote for them and rural areas will be losers.
There are 67 seats of corporations in Gujarat and the BJP has won almost 62 seats.
More the urbanisation, it is advantage BJP because of their policies.
Do you think Mani Shankar Aiyar's neech comment about Prime Minister Modi made any difference to the result?
Very little. When Modi makes such statements, people do not believe.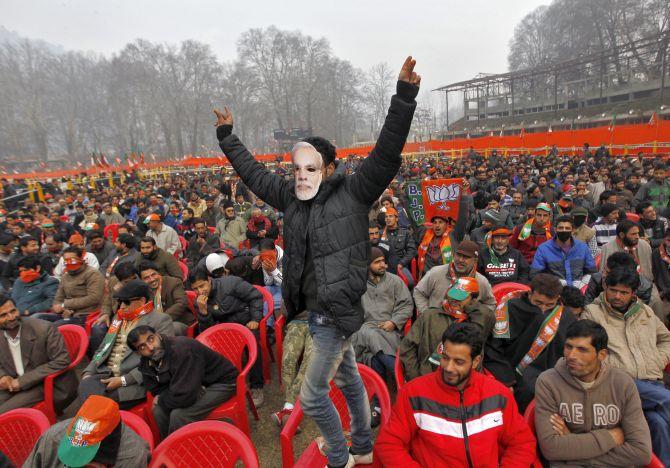 IMAGE: 'People in Gujarat have started realising the lies that Modi peddles. He had promised big things, but has been unable to deliver on them.' Photograph: Danish Ismail/Reuters
What are you saying!
Yes, they do not believe it. People booed Modi's speeches.
One woman threw bangles in front of Modi and she was dragged out and thrown out of the rally.
In North Gujarat, people booed Modi and they had to tell cameramen to not show those visuals.
Also, Modi's rallies were not as big as Hardik. Modi's charisma has started fading.
What is the reason?
Firstly, it is his policies.
Secondly, people have started realising the lies that Modi peddles.
People do not trust him.
Three years ago when I used to say things against Modi, I would be beaten up.
Today, even BJP people ask me my opinion and they note down my analysis.
Do people doubt Modi?
This change had to come. Modi gave big speeches and the things he promised didn't happen.
He said farmers will get insurance and they did not get it.
He said farmers will get crop price, but he did not give it.
He said the government will pay the procurement of cotton price at Rs 1,400, but did not pay and instead gave Rs 850.
So people understand that Modi doesn't speak the truth.
Will this have any repercussions for PM Modi in 2019?
I feel it is the bankruptcy of the Congress party, but if they design their plans well they can take on the BJP.
Unfortunately, there is intellectual bankruptcy in the Congress party and there are only sycophants left in the party.
All top Congress leaders lost the elections and the people who lose their own seats, how can you expect them to win elections?
The new people who have joined Congress, they are not that experienced to take on the BJP.
The BJP had set a target of winning 150 seats. However, it won only 99. Do you think it is a slap from voters to the BJP?
Yes, it is a slap in the BJP's face because they expected to win 150 seats.
Another point is that Shankarsinh Vaghela's political life is over and his son's political future too is over. None of his candidates could save their deposits.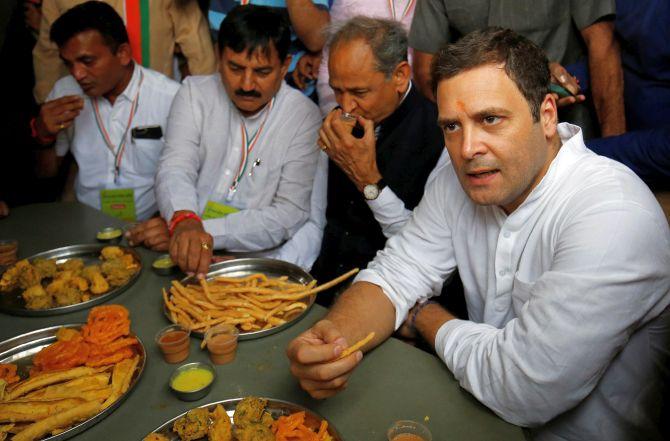 IMAGE: Dr Joshi believes that in 2019, only if Rahul Gandhi stitches an alliance with other Opposition parties can the Congress take on the BJP. Photograph: Amit Dave/Reuters
But the BJP is saying 'jo jeeta wohi sikandar.'
They won no doubt, but eight ministers lost. Now they will have a tough time to get those ministers.
Bhupendra Chudasama, Gujarat's education minister, someone who won seven times from his constituency, won by only 300 votes. Therefore, the BJP will have to sober down if it wants to rule.
Why didn't the Hindutva factor work in Gujarat?
The Hindutva factor started from the 1990s in Gujarat beginning from the Somnath Rath Yatra till Ayodhya. In 2002, it peaked post the Godhra riots.
In 2007, Modi realised that this Hindutva factor will not work for long. So he fought the 2007 elections on 'sadbhavna' and not Hinduism.
In 2012, he fought the elections on vikas and not even on sadbhavana.
I recall he used 'Ahmed Miya' for Ahmed Patel at a rally during the 2012 election.
Modi has a habit of throwing one-liners at public meetings. He then checks the public's mood if they like it. Then he will make it an issue.
If the people do not like it, he will drop it. This time, he again threw one-liners about Ahmed Patel, but realised immediately that the people were not interested, so he did not go on harping on that issue.
Hinduism did not work this time in elections.

People of Gujarat feel the BJP is good for nothing, but are voting for Modi

What does this mean for the 2019 Lok Sabha election? The BJP won all 26 Lok Sabha seats in Gujarat in 2014. Will it repeat that magic again?
If you compare this 2017 assembly election with the 2014 election you will find that the BJP won in 160 assembly seats by winning all the 26 Parliamentary seats.
However, this time, they won only 99 assembly seats and not 160 assembly seats.
They did not win that big means there is a churn happening in Gujarat politics.
Now it is up to the Congress party to understand this churn and make an analysis to win the 2019 elections.
Unfortunately, they do not have the brains in the party. The Congress will be able to take cudgels with the BJP, but I feel the BJP and the NDA (National Democratic Alliance) will get a majority in the 2019 election.
Only if Rahul is able to successfully form an alliance across different parties like the BSP (Bahujan Samaj Party), SP (Samajwadi Party), Trinamool Congress, DMK (Dravida Munnetra Kazagham), then something might happen.
However, I feel by 2024 the BJP will lose.
Do you feel that Modi's emotional hold on Gujarati voters is intact as they did not let him down and gave the BJP a victory?
Yes, it is very evident. The people of Gujarat feel the BJP is good for nothing but are voting for Modi.
My driver or even my maid only wants to know whether Modi will win or not.
When I tell them Modi is not contesting the Gujarat assembly election they say they are voting only for Modi.