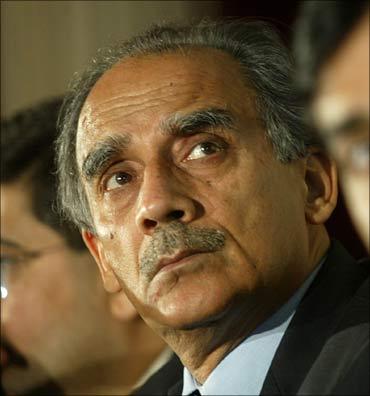 Prime Minister-designate Narendra Modi can and will downsize the government, and the Union Cabinet could be cut by half its present size, Bharatiya Janata Party leader and former Union minister Arun Shourie reveals as explains what could be the new PM's masterplan ahead of Cabinet formation in an exclusive interview to CNN IBN.
Transcripts of the interview:
On whether he is joining the Narendra Modi government
I frankly don't know...I can assure you that as of now nobody knows except Mr Modi.
Are you keen on becoming a minister?
What wanting and so on it's really like taking a job. If I say yes, I want to become a minister, then day after tomorrow you will say, oh he has been left out. If I say I don't want to be. Please, I would not answer that question.
On being wrong on saying battle for two Arun's (Arun Shourie and Arun Jaitley) for being the Union finance minister
Yes, absolutely. Maybe Arun is a very big person, he moves around in those circles… I am just reading euro science.
On Modi inviting the heads of states of SAARC
That's a very good move...everybody was saying he (Narendra Modi) will not reach out to anybody, people believed he will not reach out to civil servants or to the chief ministers. But he is inviting everybody including the leaders of the SAARC. It's a very good idea.
On it being a risky proposition specially with Pakistan, given the fact that post July next year when the Americans start moving out of Afghanistan, maybe terrorism will re-emerge on our border
I would think yes, engage them, but always be certain that they get a very clear message that if they do not restrain these groups they have set up and which they control, then India will have to draw the correct conclusion.
…because Pakistan seems to suggest that the dialogue must be uninterrupted and interruptible...
As far as I can see that India is always on the defensive that as if it is our responsibility to keep talking and engaging in a dialogue when the other fellow keeps pricking at us and slapping us and doing anything he wants and denying it. I don't think it's correct.
On what Modi has been pointing out...less government more governance...Do we need a downsized government?
Certainly, Modi is very keen on that (downsizing the government). But the most creative idea in downsizing has come from TV18's Raghav Bahl that take all PSU out to all ministries and put them under a holding committee.
So what will happen you would have a situation in which you will start with an asset base of $300-$400 billion in assets as currently valued, on the basis of that his estimate is that anything that you want to raise between $500 billion to $1 trillion in the next 5 years you can raise and use it for infrastructure. At the same time downsize the government as such and professionalise the management of each one of those enterprises.
On whether Modi will overrule the fact that the politicians want to control the PSUs
I think he is strong enough to do that. He should. Today nobody can stand in his way.
To have an "oval office" kind of system
I don't know the oval kind of office but India is targeting a presidential system...Parliament remains paralysed, in no state does the assembly matter, it's already presidential so the same thing is being brought here.
I will be astonished if Modi sets up Group of Ministers, he just gets his ministers that decide now...all the view points are represented. It's a single occasion decision. It was the announcement of helplessness of Dr Manmohan Singh that nobody was listening to him that he could not enforce a decision.
On Modi's challenges to handle pressure groups
I think his position is unquestionable. Even 40-50 Cabinet members are very high...I don't know how 82 departments are being clubbed, but from the figures I understand there can be a few.
On economic challenges for Modi
You can stimulate growth in India...Now you have a government in place and you can change the investment sentiment in three months…there is no doubt about that.
You can start the investment cycle and then consequences will follow, jobs will follow and it's not a three month government, it's a government for five years.