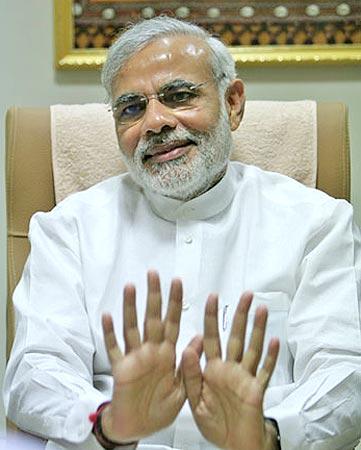 'Modi is a master of convergence. By his ability to converge and add new features to a non-star idea, he is able to sell it. Like how he has turned Kutch into a tourist destination by selling the salt desert of the Rann as a flat snow desert of the night and roping in Amitabh Bachchan to sell it.'
'In one stroke this has ensured economic returns to the people and on the other hand it has taken care of the national security angle in the sense that the border population in the Rann, which is almost entirely Muslim, is feeling better as now they are much more connected with the mainstream.'
Journalist Uday Mahurkar, author of a book on the much-debated Modi model of governance, speaks to Sheela Bhatt/Rediff.com
Centrestage: Inside the Narendra Modi Model of Governance, a book written by senior journalist Uday Mahurkar, released last month.
While not deviating from the book's main theme, which is Modi's administration, governance and development vision, Mahurkar -- who has been reporting on Gujarat for more than two decades -- has also included areas where Modi has missed and what he means for India.
"The anecdotes and interesting information about Modi are based on my experiences with him over a period of 27 years, but a majority I have listed are largely from the period after he became chief minister," says Mahurkar.
Explaining the Gujarat model of governance, which has come under scrutiny after Modi emerged as the BJP's candidate for prime minister, Mahurkar, image, right, tells Sheela Bhatt/Rediff.com in an e-mail interview that it is all about "tackling a problem in mission mode form. This means taking the bull by its horns with messianic zeal."
How will you describe the Gujarat model?
The Gujarat model is about growth through good governance that benefits all classes of people. And it is based on a sense of national pride based on the past achievements of society and the nation.
Most other models so far have been based on the injuries suffered by one group or the other in the past.
This can't create pride, and so these models are foundations of vote-bank politics. My book brings out this fact lucidly and with very strong evidence.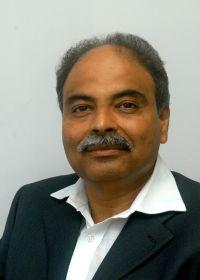 The Modi model aims at bringing out the latent energy present in every individual by creating a sense of pride and linking that energy to the development of society and the nation.
It is the only model in India that is free from vote-bank politics, which means spending more development money on those who have larger votes for the ruler rather than uniformly.
It is against blanket subsidies and aims at enabling the poor and the common man to stand on their feet rather than 'helping' them, by putting them through skill development and other measures.
But at the same time it doesn't reject subsidy altogether but uses it as a tool in areas like health and education, where the poor need it genuinely.
The biggest thing about the Modi model is the basic commitment to good governance which shows in every sector. Of course, there are grey areas in it like in any other model, but here too what separates this model from others is that there is no slackness on the part of the rulers in tackling the weak areas.
I think Modi has a lot of evidence to show when he says good governance is good politics for him.
Significantly, the Gujarat model is about tackling a problem in mission mode form. This means taking the bull by its horns with messianic zeal.
Take, for example, Khel Mahakumbh, the state Olympics he has been organising since 2010 to overcome Gujarat's weakness in sports with the participation of lakhs of people every year.
The competition has 16 Olympic games and prizes for winners worth about Rs 30 crores (Rs 300 million), which is mind-boggling and shows its scale and the seriousness behind it.
The slogan going along with it, Gujarat Khelega, Gujarat Jitega, is sure to produce results for Gujarat in sports in due course.
Why is Gujarat so pathetic in social indicators?
If one goes deep into this area, the term 'pathetic' doesn't stick even while appreciating there are some problems.
For example, Gujarat is blamed for being poor in infant mortality rate (IMR) and mother mortality rate (MMR). But these two indicators should always be seen in terms of the tribal population.
Where the tribal population is high, as in Gujarat, the IMR and MMR are always high.
This is because tribals don't live in a community but in far-flung areas even within a village and so making medical service available to them is that much more difficult.
Plus, Gujarat's IMR has come down to 38 from 60 in 2002. And it is far better than most other tribal states like Rajasthan, MP, Odisha and Chhattisgarh.
And this is in spite of the fact that Gujarat faces an acute shortage of doctors in rural areas due to social and economic conditions peculiar to Gujarat alone.
On the flipside, many other social indicators in the health sector are extremely good. For example, the state government's U N Mehta Institute of Cardiology, the place where poor people's heart treatment is done, has seen its budget soaring to over Rs 70 crores (Rs 700 million)from just Rs 2 crores (Rs 20 million) in 2001.
The institute has been doing over 1,200 heart surgeries of school and college students free of charge every year under a special scheme.
The figures show that Maharashtra, Tamil Nadu, Karnataka, New Delhi and Haryana have fared well in the last 10 years and in most ways better than Gujarat. Do you agree?
I don't agree. Haryana and Delhi are very small states, so the comparison is unjustifiable.
Let us take Maharashtra and Tamil Nadu here. Also note, an exact comparison between any two states is not always fair.
Take, for example, the collection of Value Added Tax. On paper, Gujarat is behind Maharashtra and Tamil Nadu, but if you compare the size of the three states and deduct the income from liquor earned by Maharashtra and Tamil Nadu (Gujarat has prohibition), then Gujarat is better than the two states.
So going into figures is often misleading. I would say Gujarat is quite ahead in the quality of governance than the two states in most areas.
One area I can recall in which Tamil Nadu is better than Gujarat is potable water supply. Gujarat has some problems in the area of rural sanitation, but there might be social reasons behind it.
Availability of government doctors is one more area where Gujarat has some problems but here again the reasons are peculiar to the state. But what is more, there is no slackness on the Modi's government's part in grappling with these problems.
Gujarat was always a dynamic state. So what's Modi's precise contribution?
This whole thing about Gujarat being a dynamic state is to an extent a misnomer. Gujarat was a well-governed state till the early 1980s and the quality of governance started deteriorating in the mid-1980s.
By 1991 Gujarat became a revenue deficit state for the first time since its inception in 1960.
Then, in 1991, started the phase of political instability in Gujarat which remained till 1998, when the Keshubhai Patel-led BJP government took over. During this phase, governance in Gujarat took a nosedive.
Keshubhai did try to set things in order, but then the earthquake struck Gujarat in 2001, dealing it a big economic blow. So, when Modi took over in October 2001, Gujarat was in a bad shape.
If you compare the situation as it existed in 2001, then Gujarat under Modi has done well or very well in almost all sectors and has in the process set some sterling examples.
For example, Gujarat became a revenue surplus state for the first time in 2006 since 1991, which is an indication of fiscal consolidation under Modi.
The latest GSDP growth figures show that Gujarat has recorded a growth of over 12 per cent between 2007 and 2012. This is a clear indication that the state is reaping the benefits of Modi's leadership and the strong foundation of governance he laid between 2003 and 2007, particularly in key areas in like power, agriculture, e-governance and finance management and also manufacturing.
What are the specific characteristics of the Modi model of governance? How does it differ from, say, the Tamil Nadu or Maharashtra model?
There are a series of characteristics that depict the wide difference in the quality of governance, vision and even implementation. Let's take one example.
In Maharashtra and Tamil Nadu, the power sector is an instrument of political trading in which it is used to appease powerful voting groups.
In Gujarat it is a symbol of good governance with the Gujarat electricity Board (GEB, which is now Gujarat Urja Vikas Nigam Ltd, GUVNL), wiping out an accumulated loss of Rs 2,500 crores (Rs 25 million, which it suffered in 2003) and is now making a profit of over Rs 550 crores (Rs 5.5 billion) every year.
In Gujarat Modi went after power theft for good governance, risking the antipathy of the farmers on the eve of the 2007 state polls and ultimately taught them not to steal and made them realise that they were beneficiaries of not stealing as it ensured them quality power.
In Maharashtra as well as Tamil Nadu, attempts are routinely made to woo farmers by promising them sops in the power sector.
In Maharashtra and Tamil Nadu, state PSUs are treated as political fiefdoms for making political obligations. In Gujarat these are largely treated as professional companies with practically no or little political interference.
Even in core governance the two states appear to be behind Gujarat in most areas. E-governance in Gujarat has reached the last village with schemes like e-gram Vishwagram and e-Jamin which is not the case in the two states.
Here we should compare Modi with other chief ministers in India so far. Most good chief ministers are known in history for one or two achievements. For example, M G Ramachandran is remembered for the midday meal scheme.
But Modi will be remembered for a series of sterling governance initiatives, many of which, like the Jyotirgram scheme, which gives 24 hour, three-phase domestic power supply to all the 18,000 state villages, will be remembered in history for long.
Isn't it true that Gautam Adani and Ratan Tata were favoured by Modi?
There is a lot of grey area in this. The rejoinders issued by the Modi government on these also help clear a lot of doubts. That's the reason why I have steered clear of these issues in my book.
I can only share what I felt while doing the chapter on Modi's finance management.
I felt that even the biggest donor to the BJP's political coffers under Modi's leadership can't extract marked favours from him. He can at the most hope for better treatment. I think Modi has largely stuck to policy-driven governance.
Should he come to Delhi, the capital's favour-driven power structure will get a big shock.
Delhi's culture, based on 'personal setting', could get a jolt.
Here I am not saying everything is hunky-dory in this area in Gujarat. There might be grey areas. I am only sharing the impression I carry.
Plus, you can't forget the coming of Tata's Nano to Sanand has made Gujarat one of the biggest auto hubs of India with Ford, Maruti and others following suit. Same with Adani's Mundra zone. These have created unimaginable job opportunities.
Why does the Modi model of governance seem to be more pro-middle class and rich but not at all identified with poor people?
After writing this book I can't share your view. Gujarat's per capita income has gone up by five times since 2002, and on the other hand the poverty levels have come down significantly along with unemployment levels.
Since Modi took over, the Below Poverty Line population has come down by half and unemployment in the state stands at one per cent, the lowest in India.
The ratio of development expenditure to non-development expenditure has improved considerably, thus showing much more is being spent on development than on non-development areas.
Schemes like Vanbandhu have sharply improved the economic conditions and the standard of living of tribals in tribal areas.
In fact, NGOs say Vanbandhu should be made the flagship scheme for tribal development in India because it is a game-changer scheme.
Give us some insights into and anecdotes from Modi's style of governance.
The biggest facet about Modi is that he is a master of convergence. By his ability to converge and add new features to a non-star idea, he is able to sell it.
Like how he has turned Kutch into a great tourist destination by selling the salt desert of the Rann as a flat snow desert of the night and roping in Amitabh Bachchan to sell it.
In one stroke this has ensured economic returns to the people and on the other hand it has taken care of the national security angle in the sense that the border population in the Rann, which is almost entirely Muslim, is feeling better as now they are much more connected with the mainstream against the designs of our neighbouring country.
Then let us look at his unique experiment of celebrating every Independence Day and Republic Day in a state headquarters every year.
Each such celebration is accompanied by three things -- a cultural programme based on the history of the district, thus creating a sense of pride in them, linking this pride to the development process, and an effort to implement already sanctioned development schemes in the district in a focused manner, using the occasion to get the best results.
Such an experiment at the national level has the power to unite the nation by bringing down separatist feelings by creating a feeling of oneness.
Just imagine the National Day being celebrated in Guwahati or Imphal.
If this happens, it is bound to create a sense of true oneness and bring separatist groups into the mainstream.
Do you mean to say that Modi's governance is unblemished?
For that you have to read the book. I have pointed out specific areas in the book in which Modi could have done better or has failed to do. But these are based on realities and not wild allegations.
I have said he could have done better in pushing the Narmada project. I have also pointed out what he could have done in areas like agriculture and power, but couldn't do it.
Image: Narendra Modi in his office in Gandhinagar, April 2, 2009. Photograph: Rajesh Karkera/Rediff.com