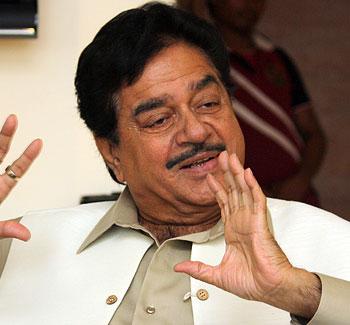 'Minorities should not fear a Modi sarkar...'
'Who has given the right to kill in the name of religion? No one! You are not James Bond 007, that you will just take a shotgun and kill anybody at your whims and fancies. We are not living in a banana republic.'
'I have been to Pakistan so many times to see my sister -- General Zia-ul Haq's daughter Zain Zia. Even they would ask me why I am in a communal party and I told them ki jis party mein hum jaise log hai woh party communal kaise ho sakti hai?'
The inimitable Shatrughan Sinha on Narendra Modi as a dabbang action hero, what a Modi Sarkar would be like and how someone like him fits in the new BJP establishment.
He rattles off the adjectives.
"Narendra Modi is a dashing, dynamic, futuristic, able, respectable, acceptable, dabbang, visionary, action hero," says Shatrughan Sinha, the former actor and sitting MP from Patna Saheb.
Sitting in a suite in Patna's Maurya Hotel, opposite the Gandhi Maidan which has India's tallest statue of Mahatma Gandhi at 70 feet, Sinha describes himself as a gentleman-politician.
"I've sailed with the BJP without any demand, command, complaints or expectations from the time it had just two MPs and that's the definition of a gentleman-politician," he says as his son Kush Sinha works on a laptop nearby.
The family -- with the exception of his Bollywood star daughter Sonakshi Sinha -- has helped with his campaign in the constituency, which he reportedly refused to vacate in favour of the other Patna-ite Ravishankar Prasad. Sinha was asked to contest from Delhi, but he stuck to his guns.
"My dad is the parent company," quips Kush, dressed in a kurta-churidar-waist coat, when asked who is the bigger star in the family -- his father or his sister.
A former minister in the Atal Bihari Vajpayee government, Sinha has seen the party's transition from its Vajpayee-Advani past to its Modi present. An L K Advani loyalist, he says, the party is focused on making Narendra Modi the next prime minister in the name of change for the better.
In an interview to Rediff.com's Archana Masih, Sinha reveals the politicians he admires and how he liked Kangna Ranaut's performance in Queen.
Photographs: Rajesh Karkera/Rediff.com
What is the biggest change you see in the BJP that goes to the polls in 2014?
The biggest change I see in the 2014 election is that the entire party, entire cadre, is united and focused.
The name of the game is change for the better.
In the name of change everyone is concentrating towards make a dashing, dynamic, futuristic, able, respectable, acceptable, dabbang, visionary, action hero Narendra Modi the prime minister of the country.
I have never seen this kind of energy, craze and unity in the party before.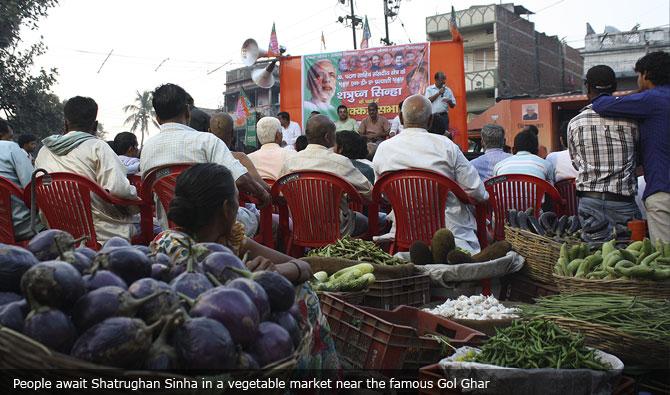 What you are saying is in consonance with what the critics of the BJP say -- that it is Mr Modi's election rather than the BJP's election?
Yes, some people will say this not about a Bhaajpa sarkar, but a Modi Sarkar. I can rephrase it and say that we have the understanding that the party is bigger than the personality and the nation is bigger than the party.
Nobody is bigger than the nation or can be allowed to be larger than life.
In this particular situation and in today's scenario, our people have not gone for a vyakti vishesh (one personality), but for a vishesh vyakti (best person).
That means for a man who is tried and tested; has been successful, has given desirable results in Gujarat, has commitment, determination, wisdom -- that man was required to unite the party, cadre, workers and leaders.
This is the verdict of the majority in the party that this person should be brought forward in the party and in the larger interest of the nation.
You have worked alongside the builders of the party like Atal Bihari Vajpayee, L K Advani, Jaswant Singh. Do you feel uncomfortable in the manner they have been treated in the present BJP?
We are focused and united now. Why? Mainly because whatever decision has been taken has been taken by the supreme body of the party, the Parliamentary Board -- and it has been announced by our leader Rajnath Singh.
There is no scope or question of any if and but now. But having said that, whatever shortcomings or disrespect for seats that have taken place, we could all discuss it within the party forum after the election.
We do not want to derail and deviate from the main goal.
What can India expect if there is a Modi Sarkar?
Tremendous goodwill and credibility.
The past track record will help in terms of India's economic progress, development and India's glory.
In 1947, one dollar was equivalent to one rupee. Of course, during Madam Gandhi's time, for sometime it came to Rs 7 to a dollar. Now it is almost Rs 62, Rs 63 to a dollar.
India must progress in terms of policies for youth, which covers unemployment. We have to cover our farmers who are committing suicide. The task is not easy.
Nobody has a magic wand, but due to the tremendous respectability and acceptability of the personality, in hard times we can prove the maxim that when the going gets tough, the tough get going.
The man from whom expectations are that he will be the right action hero...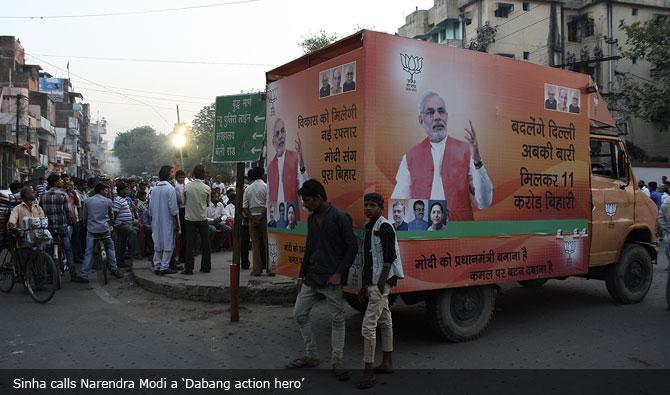 You think of Mr Modi as an action hero?
Yes, because now it is time for change and time for action. Look at what the government has done in the last ten years.
They promised 20, 25 kilometres of roads a day in the Pradhan Mantri Gram Sadak Yojana, but in the fag end of the tenure, it has come down to 1.5 kilometres a day.
There is lack of credibility and loss of face. The nation put its trust in them and as a result they came with Coalgate, Khelgate, 2G, CWG, 3G, Jijaji (referring to Robert Vadra, Rahul Gandhi's brother-in-law)...
Yes, we are gaining through Narendra Modi's personality and projection and also by the Congress' and UPA's default.
Do the minorities have anything to fear if a Modi government comes to power?
I can put it like this -- at least they should not.
When people who are like raja (king), runk (pauper), fakir (poor), kalakar (artist), sadhu (holy men) -- they belong to all.
I have been to Pakistan so many times to see my sister -- General Zia-ul Haq's daughter Zain Zia. Even they would ask me why I am in a communal party -- I told them ki jis party mein hum jaise log hain woh party communal kaise ho sakti hain? (How can a party that has people like us be communal?)
Hum log toh trained hain ki justice sab ko karo, appeasement mat karo par justice sab ke saath karo. (We are trained that justice should be done to all instead of appeasement.)
It may sound as a cliche, but all the children of our country are children of our Bharat Mata. Since the entire Opposition have nothing to say against us -- they say this is a communal party.
Sabne mila ke darane ki koshish ki hain (The Opposition and others have tried to create a fear psychosis).
Arun Shourie, M J Akbar, myself -- are we communal? What have we done that is communal?
I always appeal to my minority friends, especially Muslim friends, that if you don't like us don't vote for us, but see our work, the results of our work and then you may join us in times to come but till then hum se tooto mat, rutho zaroor, dushmani jam ke karo par itni gunjaish rahe ki jab kabhi hum dost ban jaye toh sharminda na ho... (You can be upset with us, but don't break away from us. You can be a rival, but don't go to the point of no return).
Don't shoot the runway, in time to come, we might meet on an equal platform.
This is the mainstream, this is the call of the nation, the call of the people, the call of the younger generation.
If you talk about minority -- Gujarat mein minority ka per capita income kum hai ki zyada hain? Unke development mein kya kabhi humne rok lagayi hain? (What is the per capita income of the minority in Gujarat? Is it more or less? Have we put any hindrance in their development?) Never.
Other political people are treating minorities, especially Muslims, as vote banks. We are not saying majority or minority, we treat them as Indians. We believe in sarva dharm sambhav -- respect for all religions.
There are concerns that voices like yours may get drowned in a BJP lead by Mr Modi in the background of the Gujarat riots?
Let me start from the Gujarat riots: As of today, he has a clean chit from the courts and the matter is sub-judice so we can't talk much about that.
Though I know fully well that two wrongs doesn't make a right, but nobody is talking about how many people have been killed -- Hindus and Muslims -- and how many people have been punished.
What about the Bhiwandi riots, whose leadership it was -- Congress? Bhagalpur riots -- Congress. Nellie massacre, 1984 Sikh riots...
I am not trying to justify, I condemn any riot. It should not, would not and will not happen if all of us had the same mindset, but it has happened and we should also go for why it happened and its result.
No one talks about that. Perhaps it has become a status symbol for people to talk, condemn, criticise, abuse our people in the name of the Godhra riots. I feel sorry and ashamed not only for Godhra, but any riot.
Who has given the right to kill in the name of religion? No one!
You are not James Bond 007, that you will just take a shotgun and kill anybody at your whims and fancies. We are not living in a banana republic, we have a judicial system, you go through that and so today I would say let's absolutely not talk about that because he has got a clean chit and the rest of the matter is sub-judice.
Now to the first point about politicians like me -- I want to tell you I'm not a politician, I am a gentleman. Or I'm a gentleman-politician.
So if some day something doesn't happen according to my desire I would accept it as the verdict of the majority.
Only the majority of the decision-making body can overrule and the rule of discipline must prevail in the party.
If I am outsmarted by the rule of the law or verdict of majority then I have nothing to say but given a chance, choice and priority, I would never want anyone to cross the Lakhsman rekha and hurt anybody or anybody's sentiment in the name of religion, caste or creed.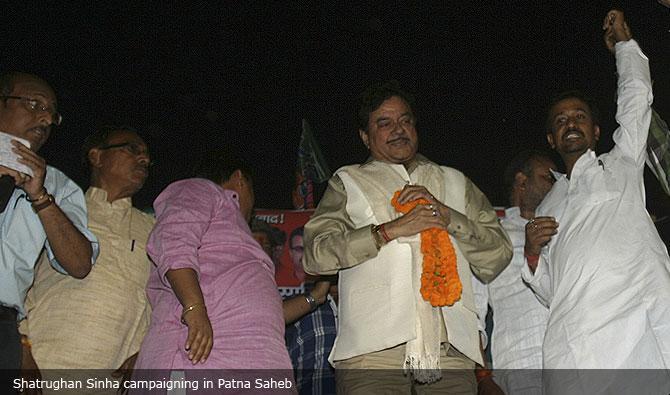 Do you see any change in the secularism that has been adopted in the country so far?
It must. I am not saying that it will change, but it must.
By secularism what I understand is -- and I'd like people also to understand -- is one nation, one people.
If I'm a Hindu, Muslim, Sikh -- I can be secular even if I go to a mandir, masjid or gurdwara.
Who are the politicians you admire?
Late Jyoti Basu, Mr Kanshi Ram -- I had tremendous love and respect for them.
Sharad Pawar is a very mature politician.
L K Advani has been like a friend, philosopher, guide, guru and ultimate leader, not only to me, but the whole party.
I also had tremendous love and affection for Nanaji Deshmukh.
I'm very fond of Sitaram Yechuri -- a very sharp and decent gentleman.
It is always been a treat to watch and learn from Gurudas Dasgupta. In Parliament he is like a teacher.
Fortunately, I have friends in most parties. Rajniti ke tarazoo par main dosti ko nahi taulta hoon, dono ko alag rakhta hoon (I keep politics and friendship separate from each other).
What are some of the recent films you've liked?
I saw Queen in Patna chupchap. This girl has done so well. The first half is superb. I wanted to see Youngistan. I like the boy -- Jackky Bhagnani -- very good boy. The girl is from Bhagalpur. I liked the theme of the film.
I saw Sonakshi's Rowdy Rathore... I haven't seen Son of Sardar.