'I was wondering whether I would ever come out alive.'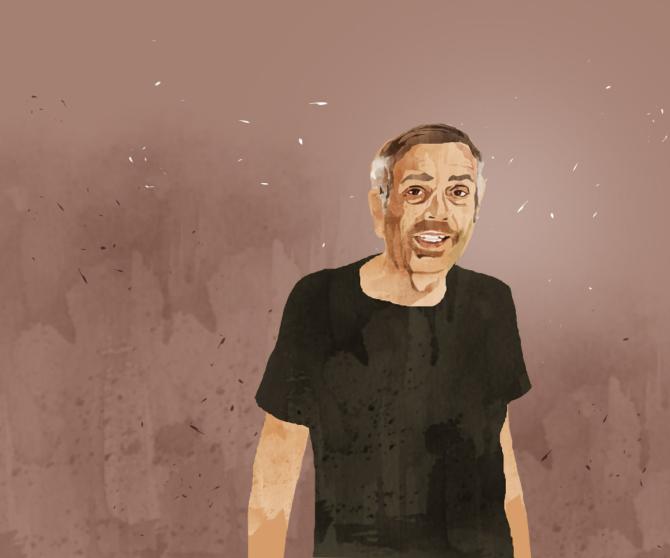 "Being a Naxalite prisoner the jail officials didn't allow me to read books. Dreaded dons were allowed to read books, but they didn't allow me... When Arvind Kejriwal came to power, I wrote two, three letters regarding jail reforms. He didn't bother to respond." Kobad Ghandy, a sympathiser of the Communist movement for half a century including its radical wing, the Communist Party of India (Maoist), tells Rediff.com Senior Contributor Neeta Kolhatkar.
The second of a multi-part interview:
After you returned to India from London, did you imagine you would be in prison for so long?
Yes, I was expecting to be arrested for the kind of work I was involved in. It was a possibility -- it was collateral damage that one expects in this kind of work.
We (his late wife Anuradha Shanbhag) were in Nagpur for many years and we didn't face much trouble then. But after that, things began to get tense.
Anu went to stay in the forest for three to four years. It affected her health a lot.
She came back and when she went back to Jharkhand for a class, that is where she got dangerous malaria.
That apart, the pressure was getting to be a lot for all of us.
We could see people getting arrested.
The Andhra IB (Intelligence Bureau) people were overtly active.
People all over the country were getting arrested.
Andhra IB officials, who detained me illegally for three days, said they were waiting to arrest me and thought they could do so when Anu died.
How were you treated in prison?
No one dealt with me badly actually. They all had some sort of underlying respect.
I was kept in a special cell, but otherwise, it wasn't that bad.
When I was taken for interrogation, the senior officer said he was looking up what 'Urban Naxals' was on the Internet (laughs).
I had been sharing a room in Delhi before my arrest with a Hindi speaking man who was an avid reader. Books by Prem Chand and other authors were lying around. So that was the stuff they got from my room.
There were many literary people in the interrogation team and they told me they were reading those books (smiles). They were mostly Hindi books.
I got decent treatment in most jails, except the jail authorities in Tihar were rough. I even got good judges.
My lawyer, Rebecca John, is an excellent lawyer. She is a tough person who did everything for my cause, extremely warm and nice. And still, it took 10 years.
Exactly! It took 10 years for you to be free again. Did you ever believe you would be released?
The way things were dragging on I was wondering whether I would ever come out alive. Only when I reached Surat did I have an inkling that there could be a chance of me getting released. But then I was re-arrested at the gate.
I first came out in 2017 and was re-arrested after three days and put in Jharkhand jail. Here too the superintendent was decent.
I got a lot of time to write articles in that jail and I had the opportunity to write in alternate media, like Nikhil Chakravarty's Mainstream. They printed everything I wrote.
I tried to keep myself mentally fit and not get depressed.
Speaking of Indian jails, you have seen quite a few of them, especially Tihar. Do you have any memories of jail in London, in 1971? How was that experience vis a vis Indian jails?
At one time, Tihar was terrible; it has come a long way.
Yet, it is no patch on the jails in Hyderabad, Vishakapatnam, Kerala or, I believe, even the Bengal jails. The rest are still run mafia style, especially in Delhi.
Everything in Delhi is like that, I suppose, even the politics.
When Arvind Kejriwal came to power I wrote two, three letters regarding jail reforms. He didn't bother to respond.
Everyone thought he (Kejriwal) would do something different because prior to him (Delhi chief minister) Sheila Dixit was a terror. I believe she never released anyone.
I have few memories of jail in London. They gave me a two month term. All I remember was that I was given a room in a dark kind of chamber.
I was given hard labour and had to carry potato sacks. You can't compare Indian jails.
In fact, you can't compare the jails in the South and for that matter in Jharkhand to Delhi. Tihar is the worst.
In fact, when I moved to Hyderabad and Vishakapatnam, it almost felt like a hostel.
The food was good of course because Andhra is respectful of Naxalites. Even in other places, they were nice, except Delhi.
How did you keep yourself sane and not break down?
I've seen almost everyone breaks down.
From the beginning, I made it a point to have a regime for yoga and exercises in the morning and maybe sometimes a little bit in the evening.
In Tihar, we were locked up practically the entire day.
We were isolated, but I had Afzal Guru with me. He was extremely helpful and cooperative because it was my first jail experience.
I spent most of my time studying and writing. I was not allowed, but I got an outlet to publish my work.
I made it a point not to break down and keep my sanity intact.
I ensured I was physically and mentally active all the time. I had a lot of health problems. I still managed.
I had to fight to get certain things and towards the end I was getting a bit frustrated.
In Jharkhand, my case was going on and on, not getting bail. That time I was getting a bit upset, but I made my mind strong.
Delhi was bad. We got the court dates only after four months.
So that really used to put me off. I would then divert my mind to studying and writing.
I got an opportunity to study a lot in Tihar. Even though the Tihar jail officials didn't allow me to access the library, there was a good person there who got me books.
Being a Naxalite prisoner the jail officials didn't allow me to read books.
Dreaded dons were allowed to read books, but they didn't allow me. It is as per the whims of every superintendent.
He was originally quite decent, but when he came back the second time, he was really nasty.
Maybe at someone's instigation or what, I don't know, but that's when he transferred me and got me nearly beaten up.
The dons were fine, decent people and respectful of me.
As I have stated in my book, they are more decent than our politicians. They had no problem with me.
They have other issues, they would carry or plant blade bars to attack us.
They didn't do anything to me or Afzal Guru, but they planted blade bars inside the HRW (the High Risk Ward where Kobad Gandhy and Afzal Guru were imprisoned).
As far as Gujarat was concerned, there were strict rules in the jail there.
If I had stayed there longer, it would have got quite problematic for me.
You have written about Afzal Guru in your book -- your interactions with him -- like he would make chai for you and your discussions with him. Can you tell us a bit more?
Everything served in jail is watery -- the food and chai.
From the very first day, when the gates would open, as the jail staff would come with chai, Afzal would call me to his cell.
He had a white thermos. I had asked for it (after he was hanged), but the authorities refused to give it to me.
I said give me that at least, if not his writings, but no.
So in that watery chai, he would add tea bags and milk powder. He would then make an excellent cup of tea.
He hated Pakistan and the ISI, but felt strongly for a free Kashmir and he believed in it.
He was well read and he was sympathetic to Communist ideas unlike all the other Islamists who were with us in the HRW. The others were all lumpen types. Their only purpose of talking to you was to convert you to Islam.
Afzal Guru was humane. He did tell me he was treated very badly in the first few years after his arrest.
He would talk about it with no grudge or bitterness. He did talk about the people who were dealing with him and he felt betrayed by them. That he shared.
The people whom he spoke of, the human rights people, who were dealing with all of our cases.
He was trying hard to get his case to Kashmir, which was his right. His wife was a teacher, she couldn't come all the way to see him because it was expensive.
He wanted to be closer to his family, which was his right.
That is a right for every prisoner in jail, which he could have got had the lawyers tried.
Probably the plan was to hang him, which they could not have done had his case been transferred to Kashmir.
Afzal was angry with them because he saw what they were doing to him.
He had an inkling the night before he was hanged.
The jail authorities were preparing the cell. The night before, we saw things being prepared. We were all scared for him, but nobody wanted to say it.
I felt I should have kept his diary at least. But how to ask?
It would have impacted him psychologically. We hoped for the best, but...(pauses)
You mention in your book why Communism has failed in India. That it does not take cognisance of the caste conflict, especially the atrocities on Dalits. Can you explain?
It is the Brahminical outlook that predominates.
The kind of behaviour I'm seeing among party people is Brahminical -- a kind of cunningness, manipulation.
In Western society, there is more democracy. The relationship between any couple is more democratic.
Here it is Brahminical in the Indian context. It is a feudal ideology.
Now, identity politics is dangerous. I'm opposed to identity politics.
Even when we worked among the Dalits, we never blamed a particular caste. We said the enemy is the ideology.
The ideology which dominates the upper castes is everywhere in society. It is even prevalent in the poorest castes.
India has very strong people traditions -- Lokayatas, the Buddhist tradition, the Bhakti movements.
We have had leaders like Periyar, Dr Ambedkar, Jyotiba Phule.
People's democratic traditions are deep-rooted in India, dating back 3,000 years and it has been continuous which is seen in non-Brahmin castes.
Till now, not one Marxist talks of this. We have replicated Marxism directly from Russia or China, that's all, but we haven't Indianised it. By which I mean building on this non-Brahmin tradition and peoples' democratic traditions.
There is also a lot of folklore. The CPI at one time had very good folk artistes like Annabhau Sathe and others, but they never theorised on these issues.
The CPI has even written a book on caste, but not one word have they written on the Brahminical ideology which dominates even subtly Left circles. Like one-upmanship and extremely bourgeoisie lifestyles (laughs).
To Indianise Marxism is to take it to the people and also to fight the Brahminical ideology within us.
When I see comrades, they are so patriarchal, and it is all subtle. They won't beat their wives, but they will expect their spouses (women) to do all the housework. There is politics in it.
The husbands will be doing the party work and the wives will accept domestic roles, even in a place like Mumbai.
It is extremely deep-rooted as I see it and I am developing on this concept.
This is seen in psychology where this thought is parked in the conscious mind. It is all scientific, while we are not paying attention to the subconscious which is ingrained in feudal and bourgeoisie thinking.
In the West, it is more individualism.
I found with my long association with the Left, we talk about the values, but we never define them -- proletariat values like simplicity and living with the masses.
I don't see any other values being talked about like the declassing and criticism of leaders.
It worked for some, but not across the board. That's why I talk of freedom and happiness as a concept. it is necessary to talk about them and particularly in relation to Communist leaders.
Feature Presentation: Rajesh Alva/Rediff.com