'This government did not have any plan for safety stocks of essential medicines.'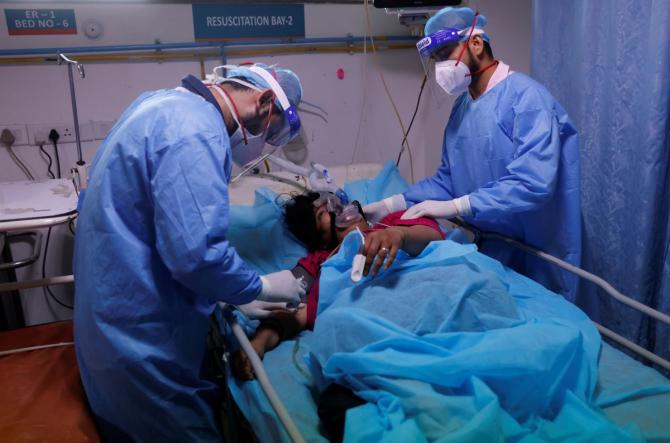 Biocon founder and Executive Chairperson Kiran Mazumdar-Shaw feels India needs to build a stockpile of essential medicines to combat the second wave of the pandemic.
"I have been saying 'Vaccinate the young', but has anybody been listening to me?," Shaw asks Sohini Das/Business Standard.
What do you think about our preparedness to handle the second wave?
There is no preparedness planning, no accountability, and no action plan.
This government did not have any plan for safety stocks of essential medicines. I want to know why.
We are in a state of hubris that we are over with the pandemic and we can continue with the slow rate of vaccination.
I have been saying 'Vaccinate the young', but has anybody been listening to me? Every country has to share the risk with the private sector.
If I were doing good preparedness planning I would tell the Serum Institute of India and Bharat Biotech way back in August 'just keep making vaccines, whether they are approved or not'.
There was a very low risk of failure. The government should have asked them to keep making vaccines and given them a support price.
Even if they had been given Rs 100 as support price, we would have got 300 million doses of vaccines more today.
There is no understanding of what it takes to have a safety stock.
They want the private sector to take the entire risk.
The government has to share the risk. We have under-invested in health care.
More hospitals, more ICUs, more doctors and nurses -- it will help us in the future.
By when do you think supplies of key drugs like Remdesivir would ease?
By the end of May, we will have enough Remdesivir supplies.
When you have surge demand that's when you need safety stocks because companies need time to ramp up.
These processes cannot happen in 24 hours. Antibodies take a little longer.
By the third week of June, the demand-supply will also be in line.
The health ministry says Remdesivir is to be given to serious hospitalised patients on oxygen support. Do you feel it can be given in a home setting when there is a shortage of hospital beds?
That's a most irresponsible statement.
Remdesivir is needed for people who are symptomatic and who have come to the hospital.
It needs to be given early. One needs to understand what each drug does.
It stops viral replication. If you give it to people on a ventilator, it does not work.
When the IL6 levels go up, then monoclonal antibodies should be given -- Tocilizumab and Itolizumab.
An antibody cocktail or plasma has to be given at the same time as Remdesivir.
The government is not calming the situation by coming up with rules and regulations in an emergency.
If one is given Remdesivir at home when one has a high temperature, the chances of recovery are greater.
What are the new products you are researching on? Would you look at mRNA technology?
India needs to develop an mRNA vaccine. We need to develop a lot of other products -- novel biologics, biosimilars, novel chemical entities, and personalised diagnostics.
Syngene has been developing a large number of diagnostic tests, vaccines, etc. Biocon being a biologics company, we have a lot of antibodies and biosimilars in our pipeline.
We have started working on mRNA technology to develop cancer therapies and Syngene is doing it as a vaccine platform.
It could be for COVID-19 or any other vaccine. These are early days.
We are trying to develop capabilities.
Did you get help from the government for your own COVID-19 product Itolizumab
My own product Itolizumab is in demand today.
It is a life-saving, unique medicine and doctors are appreciating it after they switched to it when Tocilizumab developed a shortage.
It is a novel drug and a new mechanism of action.
We developed it for psoriasis, but it has many other indications for which it can be used.
But the clinical research environment in India is pathetic, and I took it out and licensed it to a small biotech company.
The drug is now being developed for lupus, asthma, etc.
I had to spend all my research dollars in India, and did not get help from anyone.
I have no support from the government. My drug has emergency use authorisation from the Drugs Controller General of India, but it is not part of the national clinical protocol (to treat COVID-19).
In the past few weeks I sold huge volumes of Itolizumab and hospitals are crying for it.