'Kejriwal wants to evade the real problems of Delhi, so he is doing all this drama.'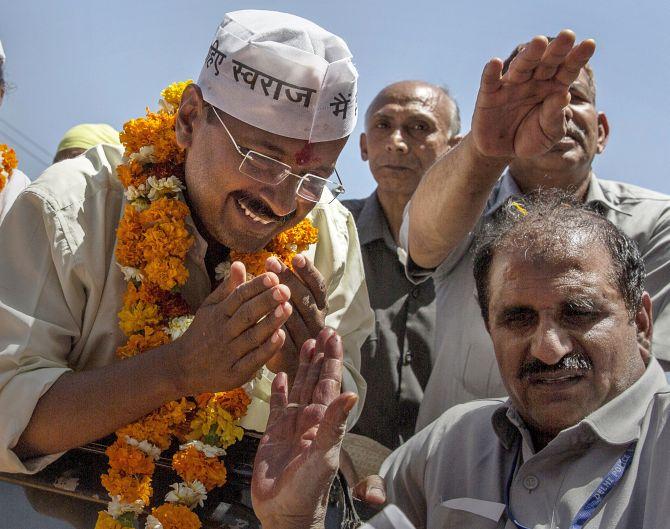 Kapil Mishra was one of Delhi Chief Minister Arvind Kejriwal's closest aides.
In May 2017, Mishra accused Kejriwal of corruption, a claim the AAP promptly denied.
Mishra has since become the most prominent AAP rebel.
In the face of the days-long sit-in by Kejriwal, Deputy Chier Minister Manish Sisodia and Ministers Satyendar Jain and Gopal Rai at Delhi Lieutenant Governor Anil Baijal's office, Mishra tells Rediff.com's Syed Firdaus Ashraf that this is the first time in history that "a sitting chief minister of a state in India has kidnapped himself."
What is the fundamental problem behind this latest crisis in Delhi?
I have been with Arvind Kejriwal since 2004. We worked together against the corruption that took place during the Commonwealth Games in 2010.
I always felt that we were fighting corruption, but now the principles have changed.
Earlier, we used to say that if any person is accused of being corrupt, he must resign and then be investigated -- that was our basic principle. Now that principle has changed.
Earlier, we use to talk of transparency and public participation, but all these things have changed. Public hearing has stopped.
Arvind Kejriwal now wants to become like Lalu Yadav or Mulayam Singh Yadav. He wants to copy that model.
Earlier, the public used to be with us and political parties were against us. Now it is reversed.
People are not with us, but political parties are with us.
Is it a case of 'power tends to corrupt, absolute power corrupts absolutely'?
Arvind Kejriwal's ambition, ego and greed have changed him.
There is no solution to greed.
Delhi was a stepping stone for him to be in national politics. He failed in Punjab and frustration has set in, as he wanted to control the police and the state. So he could use or misuse it.
After losing the Punjab elections, he stopped coming to the Delhi office and stopped doing work too.
I have a record of his attendance and found out that in the last 115 days he attended office only for 15 days.
He is on strike after the loss in Punjab, and so started the blame game.
For dirty water in Delhi, he blames Haryana and for dirty games he blames Modi. He only blames everyone.
Now he has come to such a low level that he states that the white-washing of Delhi schools is not being done because Modi does not want to do it.
If that was the case, why do we see his (Kejriwal's) photos on hoardings across Delhi? There should be Modi's photo in his place if that was the case.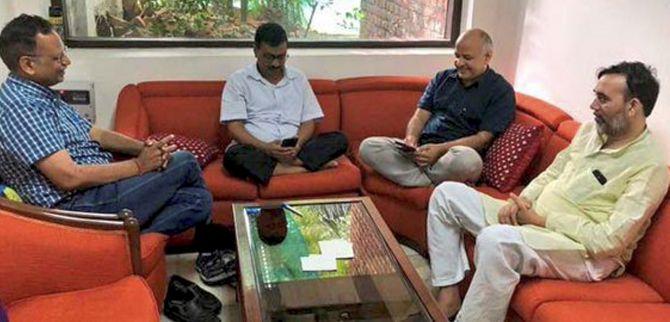 But if IAS officers do not come to work and don't co-operate with Kejriwal, how can he run a government?
IAS officers not attending meetings is a lie.
An IAS officer was called in for a meeting at 12 in the night and he was beaten up.
This has never happened in India's history.
The IAS officers still did not go on strike, but only protested for five minutes during lunch time by keeping silent.
On Sunday, IAS officers exposed Kejriwal by giving details of every file.
For example, the health minister never called a meeting for dengue, so how can an IAS officer go for the meeting?
Just see how Kejriwal has changed his tone after the IAS officers held a press conference.
He was saying IAS officers are not working because of Modi. Now he is saying let them come to work and he will provide security to them.
Kejriwal is acknowledging that the issue was of security. He should have acknowledged this matter four months ago.
How can Delhi be run by two governments -- the Centre as well as the state? Should the chief minister not be given full responsibility to run Delhi?
Delhi must not become a state. I am firm on that.
Dr Babasaheb Ambedkar was a visionary and he thought out this issue thoroughly.
I never understood earlier, but now I understand that if a man like Kejriwal comes to rule Delhi, then he can stop the Indian government from functioning.
Delhi does not need statehood, but needs water.
The chairman of the Delhi Jal Board is Arvind Kejriwal and he does not need anyone's permission to run this.
Right now, under his nose, Delhi is facing the worst water crisis.
Three people were murdered because of a water fight. Whom will you blame for this?
Aam Aadmi Party MP Sanjay Singh told us that water is being distributed freely in Delhi.
They are not giving water, so what will they distribute freely?
There is no water and people are dying.
Complaints of water contamination are pouring in from everywhere.
The water mafia has sprung up again.
As of March 8, 2017, the Delhi Jal Board had made a profit of Rs 178 crore (Rs 1.78 billion) and the same was stated in the Delhi assembly by Deputy Chief Minister Manish Sisodia.
Now they are saying the Delhi Jal Board is facing a loss of Rs 800 crore (Rs 8 billion).
This is one organisation run by Kejriwal for the last one year. So whom do you blame?
Former finance minister Yashwant Sinha wrote an article that in May 2015 the Modi government altered the Constitution to snatch away all the powers from the Kejriwal government.
So much so that the Kejriwal government can't even transfer officers. How far is that true?
Then go to court. But you cannot let the government not function if there is an order against you.
The moot point is: What is the reason for Kejriwal's dharna?
If the IAS officers are boycotting meetings, then fight on that issue.
If ration supply is an issue, then fight on that issue.
What Kejriwal is doing is creating confusion.
He is not speaking on one issue as he does not want things to be taken to a logical end.
People do not know what is happening in Delhi.
Arvind Kejriwal has kidnapped himself. This is the first time in history that a sitting chief minister of a state in India has kidnapped himself.
He is sitting there outside the LG's office and saying he cannot meet anyone.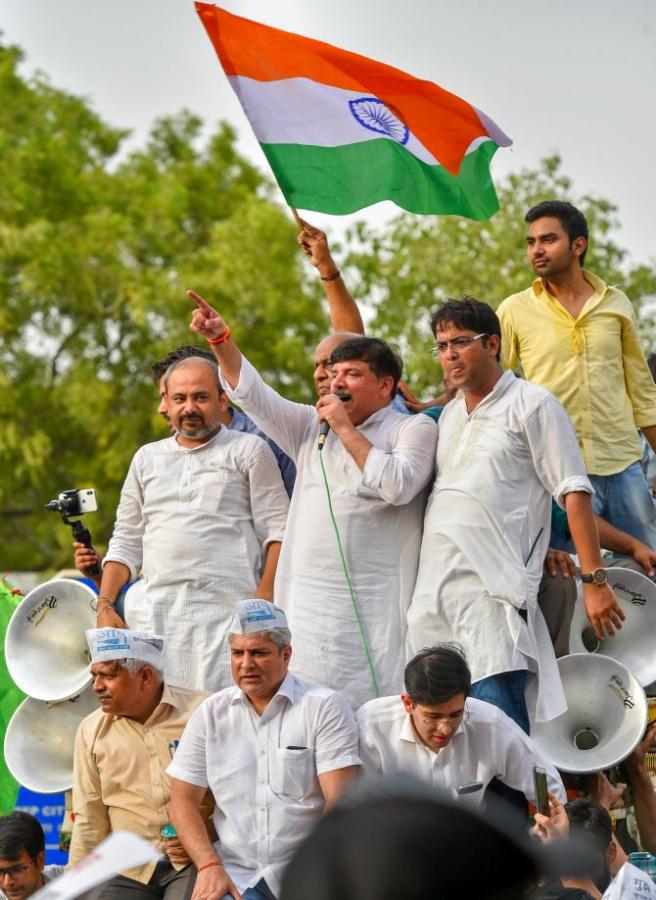 Mrs Kejriwal was not allowed to meet him. Chief ministers like Mamata Banerjee were not allowed to meet him.
Nobody has stopped Arvind Kejriwal from coming out. He is not in prison.
If I come to your house and stay there and then later say my wife will come too and my friends too will come, will you allow that?
The chief minister of Delhi wants to meet the LG, so what is the problem?
Kejriwal is not sitting outside the LG's office, but sitting inside his office.
And how he is sitting? He took an appointment with the LG and after meeting him he says he will not move out of the office.
Now his wife too wants to come and sit there. Next you know his mother-in-law too will want to sit at the LG's office.
Kejriwal's credibility is over. He has lied. He met the LG and refused to leave, which is an illegal activity.
Has the AAP become a dharna party?
They are only doing drama. Government never sits on dharna, Opposition parties do dharna.
Governments sign projects, sign files, do development work.
If the government sits on a dharna, what is going to happen?
Who will clean the city and ensure that people get food in ration shops?
Kejriwal says he is not going to do anything, let Modi do the work.
At least go to your office and meet people.
Another important thing is that the IAS officers are not going for meetings where they feel threatened. They aren't boycotting work.
What will the AAP gain by doing all this?
Alliance.
Kejriwal wants to marry the Congress in Delhi.
He is talking to Mamata Banerjee. Delhi-ites do not want Mamata, but Mongolpuri.
He is talking to Kumaraswamy. Delhi-ites do not want Kumarswamy, but Kashmiri Gate.
Delhi-ites never allowed these regional parties to enter Delhi politics. Kejriwal is trying to bring them into Delhi politics.
The Congress is not supporting Kejriwal.
Since the Congress is not supporting him, he is getting desperate.
He wants an alliance with them. Since morning, Kejriwal has changed stance and is not talking about ration problems as his lie has been caught.
Now he wants to finish off the strike, but does not know how to finish it.
He got Mamata Banerjee and Chandrababu Naidu to Delhi in his support and also did a public rally.
Delhi had come to a halt as the chief minister has been busy on Twitter and done nothing. He has been unavailable to the public.
Do you feel Kejriwal is unfit to rule?
He is a quitter. He quit the (civil) services. He then quit social service.
He then quit the Delhi chief minister's post. He went to Varanasi and then quit (UP politics).
And you never know. There are rumours in Delhi that he can go back and again contest the Varanasi Lok Sabha seat.
Do you think he wants a larger role in national politics?
It is not possible as there are only seven seats in Delhi.
In Punjab, no one is voting for the AAP.
There is no national role for Arvind Kejriwal in the 2019 elections.
But yes, he wants to evade the real problems of Delhi, so he is doing all this drama.
When did you start getting disillusioned with Kejriwal?
I was a strong supporter of Kejriwal since 2004. I played a key role in getting Prashant Bhushan and Yogendra Yadav thrown out of the AAP and I regret that. I strongly regret it.
I was one among the many who felt that the country is changing and a revolution is taking place.
I quit my job when I was working with Amnesty International to join him. There are many people like me.
Everyone is shocked and people feel cheated.
Kejriwal has made the people's movement impossible for the next 25 years. People will not believe anyone now.