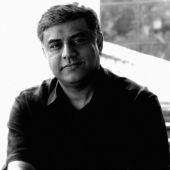 There is a move to make the upcoming Karnataka assembly elections a learning process. Rajeev Gowda, a professor of economics and social sciences with the Indian Institute of Management, Bangalore, says that an internship programme will be launched this week to engage interested students with the reality of the election campaign.
The 224-member Karnataka assembly will go to polls on May 5 and counting of votes will take place on May 8.
Gowda, who is well-versed with the politics in Karnataka, shares his thoughts on this internship programme. In an exclusive interview with Rediff.com's Vicky Nanjappa, Gowda says that the Congress will come to power while the ruling Bharatiya Janata Party will be routed this time.
What is this internship programme about?
It is something that we will launch this week and is aimed at getting a bunch of new people engaged with the reality of the election campaign. Here is a very important election that is coming up and I would want to train a bunch of people who will engage with the political system. There are a large number of people who are interested in learning about this process and I cannot imagine a better experience that the one we propose to set up.
Tell us more about the programme…
The students will find a way of communicating their thoughts on the political and election system. There would be both theory and practical classes. There will, however, be more focus on practical reality. They would engage more in field campaigns and also social media. I even propose on telling one of the students to file a nomination so that he or she could go through the real process.
Who do you think is going to win the elections this time?
It will be the Congress for sure. I say this due to two factors: a split in the BJP and the sheer disgust people have for the BJP's rule in Karnataka.
So, you do not have any hopes for the BJP.
The BJP will be demolished this time. Last time they won because they were given a chance and also had a sympathy factor. Now both these factors are not there.
Today there are factions in the BJP. An opportunity that was handed out to them on a platter was messed up. Take the mining incident. Who would have thought that some person would come from elsewhere, loot our resources and end up controlling the political system with the ill gotten wealth?
You say it would be a vote against the BJP. What about the predominant caste factor in Karnataka? Will it be in play?
Caste will continue to be a factor. I would not say that it would be a factor in all the constituencies, but at least in 100 constituencies it would play a major role.
However, there would be a change and that is the castes would not be that united. The Lingayats voted for B S Yeddyurappa (former chief minister and now Karnataka Janata Party supremo) the last time and today that is shattered. That vote bank will be split this time around.
However, more than the Vokkaligas and the Lingayats I would think that it is the minority votes which will be a major factor. As of now as per what I am able to analyse, I see that minority vote bank going entirely the way of the Janata Dal-Secular.
Complete Coverage: Battleground Karnataka
Have you voted yet in the Rediff Ballot: Who should be India's next PM?
Image: Rajeev Gowda