'Am I going to take my money with me when I die tomorrow?'
'It's better to spend your money for a good cause when you are alive!'
'It's better that your money brings smile and happiness on people's faces.'
Kadar Shaikh, 59, is like any other ordinary resident from Gujarat's textiles city Surat. No, he is not a healthcare worker, working at the frontline treating patients suffering from the dreaded disease and yet he is fighting the pandemic.
After overcoming his personal suffering -- his brother, mother and he himself were COVID-19 positive once -- the Surat businessman who deals in real estate spent his own money to convert his huge office space in the city into an 85-bed COVID-19 isolation centre that is equipped with oxygen equipment as well as ventilators for those needing it.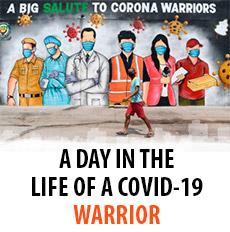 Though he has reportedly spent more than Rs one crore to convert his office into a COVID-19 facility and yet another 60-bed COVID-19 isolation centre at one of the unoccupied halls belonging to the Surat Municipal Corporation, he turns reticent when asked about the money he has spent till now, he asks, "Am I going to take my money with me when I die tomorrow?"
He says he is not doing it for fame or publicity. He even refused to share his pictures saying he would rather remain faceless and do his bit for the needy.
"I am happy with whatever I am doing; I would rather wish that all the patients who come here get well soon and go back happy to their families," he tells Prasanna D Zore/Rediff.com.
Why did you convert a part of your office into an isolation centre for COVID-19 patients?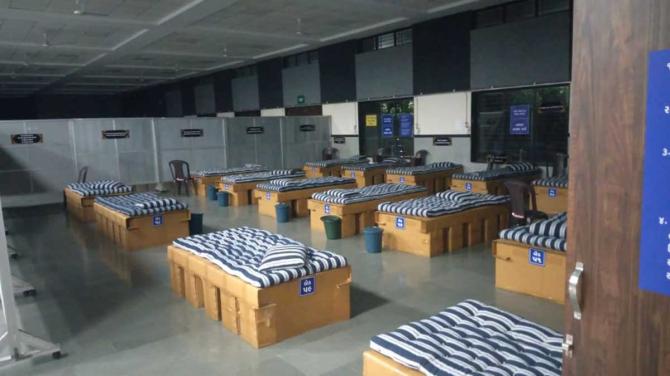 What happened was my brother, my mother, a cancer patient, who is 82, and I suffered from COVID-19 some time ago. My mother suffered a lot during her treatment and she recovered only after 45 days.
We spent Rs 12 lakh (Rs 1.2 million) at a private hospital for my brother's treatment and even then they could not cure him completely.
By God's grace, we have money to spend and we did that for my brother's treatment. But there are so many people in India, in Surat, who can't afford the exorbitant charges that private hospitals take for covid treatment.
They kept my brother in ICU for so many days and we were not even allowed to meet him, see him how he was doing.
That made me realise how difficult life could be for all those going through the trauma of suffering from COVID-19.
I had some extra space above my office which I thought could be converted into a COVID isolation centre. I am repaying some debt to the city and the society that gave me all that I have today.
To tell you the truth, many doctors in Surat fleece people. They fleece people so much that people are driven to begging to take care of their treatment.
Trust me when I say that relatives of patients collect Rs 2,000, Rs 5,000 from people they know and pay for their treatment.
Despite bearing such ignominy their tragedies are unbearable when they see their dear ones die.
I have seen brothers, mothers, sisters and fathers cry bitterly when they can't collect the money to buy expensive injections for their patients. These are really heart-rending scenes and make you wonder if you can help these people.
I couldn't bear this pain of the people and decided to do whatever I could for them.
When we tied up with the Surat Municipal Corporation we told them we don't need a single penny for our office space.
My only request was they too should do it for free for the people. The SMC should take care of the patients' food, water and treatment.
With the cooperation of the SMC, we have also helped start another 60-bed hospital at one of SMC's halls at Bhari Mata Road that was unoccupied.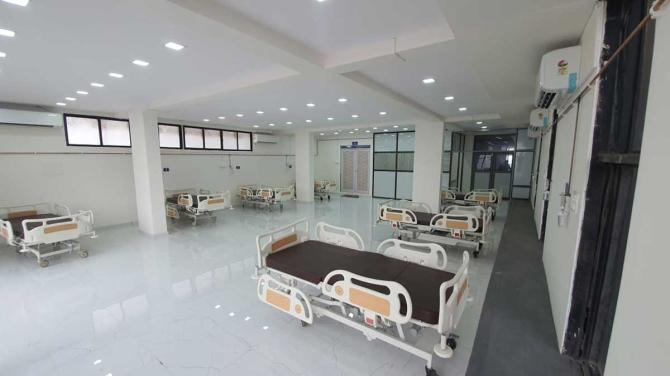 We have set up 30 beds there with oxygen equipment and 30 beds for those who do not need oxygen for treatment. That facility too has started serving people and it feels good to see at least some people relieved of their misery.
Getting quarantined is not possible for those who live in small accommodations. There is bit of effort and bit of patience required to set up these facilities.
I am happy with whatever I am doing; I would rather wish that all the patients who come here get well soon and go back happy to their families.
How much money did you spend to get these two COVID isolation facilities up and running?
Am I going to take my money with me when I die tomorrow?
I believe that if you teach your children to fish then you don't have to leave money for them when you die.
And you don't have to leave money for your children when you know they will not multiply it or squander it away on vices.
It's better to spend your money for good cause when you are alive!
It's better that your money brings smile and happiness on people's faces.
Everybody must work for the betterment of people around us. At such times you have to spend your money with both hands.
How did you make this happen?
In my life I have learnt that that the power of doing good to others is within us and when you have that you can do good for others even if you don't have the money.
Money is not the only essential thing that motivates you to help others. Money doesn't matter; your will and willingness to help others is more important.
This is just a small way to contribute towards society. It is the duty of every human to help fellow humans if one can.
I am happy with what God has given me and happier because whatever little I have I am able to use part of it for the betterment of my city's people in this pandemic.
I must thank Surat's Member of Parliament C R Patil (now also the Gujarat Bharatiya Janata Party president) who lent his support to us when we told him that we were planning to convert a part of our office space into an isolation centre. One of my journalist friends, Manojbhai Gandhi, took us to Patilsaheb's office.
When we told him about our intention and our inability to run it because we are not doctors, he worked hard to convince the SMC to run the centre by providing doctors and other medical staff while we took care of all the beds, the oxygen machines and ventilators.
We told him that within 15 days we will hand over to the SMC an 85-bed, fully-functional COVID isolation centre and that's how it became a reality.
We gave them the keys to the facility on July 31 and the SMC has started admitting and treating COVID-19 patients there.
You were also COVID positive. How did you come out of it?
Yes, I got cured a month ago.
How much money did you spend for your treatment?
When my brother was in a private hospital the experience made me realise that the hospital kept extending my brother's discharge under one pretext or the other to extract as much out of us as they could.
They kept him in the hospital for 23 days during which they did not even allow us to meet him.
I realised the futility of it all when I got hit by COVID; I decided I would rather quarantine myself at my home and get medicine from the Civil Hospital in Surat.
I got cured at home using the medicine I got from the Civil Hospital and some homeopathic medicines.
I was COVID-19 positive, but never ran high temperature.
Understand one thing that while medicines helped me overcome the disease it was also God's will that helped me survive.
I am 59 today; I am a heart patient and I also have diabetes. Despite these co-morbidities I survived thanks to the medicines and God's will.
My brother Ghulam Haider, who is 57, is also a heart patient.
While I had more co-morbidities than my brother and so had a higher risk, I was more scared of how hospitals treat some COVID patients. I had seen it myself when my brother was in the hospital.
He was in the ICU and nobody was allowed to meet him, which in a way is how it should be with COVID patients.
I did not want to be away from my family, confined to the ICU, so I quarantined myself at home with doctors regularly monitoring my vital health parameters and maintained strict quarantine.
Tell us about the COVID isolation facility that you helped set up at your office...
Out of the 85 beds that are available at my office, 74 beds are equipped with oxygen supply and the rest are ICU beds which have ventilator facility.
While I have made arrangements for oxygen supply, the SMC will get the ventilators at this facility.
Only the beds, the space for the facility, and oxygen equipment are provided by us, while the SMC has taken care of ventilators and the medical staff that is required to run such facilities.