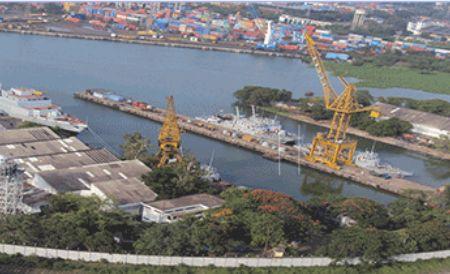 'It's scary to know that those arrested passed on sketches of warships etc to the ISI.'
"I have worked with intelligence officers who thought duty was their religion, and protecting the people their creed," says retired Indian Police Service officer Sandhi Mukherjee.
"But such commitment is somewhat lacking among the present generation," the former West Bengal Inspector General of Police (Intelligence) adds.
In an interaction with Indrani Roy/Rediff.com at the Calcutta Club, Mukherjee discusses India's latest spy scandal.
West Bengal has hit the headlines again for the wrong reasons...
It's a matter of grave concern. I am so worried for my native state.
Unscrambling the spy nexus has revealed how vulnerable the security structure of the country is.
As a former policeman, it is surprising to know that a major defence establishment in Bengal -- the Garden Reach Shipbuilders and Engineers -- had spies within and they had been operating confidently for years. It is a major security lapse that should not be taken lightly.
In this context, I must mention that organisations like Garden Reach should not let trade union leaders and musclemen gain mileage. One of the accused I hear was a prominent trade union leader by virtue of which he got access to the design section. This should not be allowed under any circumstances.
Do you think Bengal is becoming a hub for criminals?
Of late, Bengal has been linked to many serious incidents. It hurts me a lot. I think the root cause lies in too much politicisation of the state administration.
I feel shocked when I hear that people in power -- state ministers and former ministers -- ridicule the CBI (Central Bureau of Investigation).
Central agencies should be granted full freedom to function efficiently.
Investigation of any kind should be welcomed, not thwarted.
Unfortunately, in our state, central agencies -- be it the CBI or the NIA (National Investigation Agency) -- have always faced resistance from the state government.
It is scary to know that those arrested allegedly passed on sketches of warships etc to the ISI (Pakistan's Directorate of Inter Services Intelligence).
Do you think the state Intelligence Branch failed in its job?
It will be unfair to make such a harsh statement without knowing the full context.
But I do have the right to say that there has been some lapse. Such a widespread spy network in Bengal could not have evolved overnight. I would say that the state and the central intelligence units should have been more alert and vigilant.
In our times, we have seen intelligence officers, who were thoroughly committed to their jobs. For them, duty was their religion, serving the people their creed. Such dedication, I feel, is somewhat lacking these days.
I know that for police organisations, the priority is often set by the ruling political parties.
Apart from taking care of law and order, the police have to deal with numerous political pressures from the corridors of power. It is not a very easy task!
A police officer told me that the spy network that has been unearthed is only the tip of the iceberg.
I agree wholeheartedly.
I gathered from the Special Task Force that it has not been able to track the head of the spy network yet.
What is even more dangerous -- those under captivity are saying that they too never met their real bosses.
Now the questions that bother me -- who are these people behind the masks? Are they hiding in our various defence units? How much detail do they have?
To get to the heart of the matter, I feel the entire case should be handed over to central teams like the NIA. The whole issue is deep rooted and very, very, serious.
Some of the accused have confessed to have worked in collusion with their contacts in the Indian Army, Navy etc.
Spies always try to penetrate a security system through their target country's defence forces. It is scary, but that is how the whole system works.
The onus now rests on our governments to identify the moles and take necessary action at the earliest.
It has been alleged that those arrested from Bengal had used the Bengal-Bangladesh corridors for their activities.
The Bengal-Bangladesh borders have always been porous. There is rampant smuggling of cattle and consumer goods. Human trafficking too is a regular menace. No government has ever been able to nip the issue. Poor fencing and unbridled corruption have made matters worse.
The ISI has regularly made use of the Bengal-Bangladesh border towns to carry out subversive activities.
Preliminary investigation has revealed that the accused used social networking applications like WhatsApp and Viber and e-mail. Do you think the more technologically upgraded we are, the more vulnerable we get?
I don't think so. If the spies are getting the latest gadgets or computer applications to work with, our intelligence units are getting accesses to these things as well.
If the spies are spreading their tentacles with the help of the latest technology, why can't our sleuths intercept them using the same tools?
It has been revealed that some of the accused passed on sketches of warships to the ISI.
It is a grave issue. The defence forces should zero in on the exact information that has been leaked.
Based on a detailed analysis of the damage done, the forces might have to redo their strategies, redesign their roadmaps to the core.
They should also have a detailed discussion with the intelligence agencies to decide the necessary protective measures for the future. It is time for quick and flawless action.
Is money the only reason why people sell their country's secrets?
Oh yes. Money talks. Money also walks (smiles). Stacks of money often make some people forget everything. Spies are always on the prowl everywhere.
As soon as they mark their targets, they lure them and bring them into their fold.
An officer in the Kolkata police told me that counterfeit currency is the backbone of this spy network.
Issue of counterfeit notes has always been a vexing one for the police and the administration.
Huge amounts of fake currency enter Bengal mostly through Nepal and Malda (a town in north Bengal bordering Bangladesh).
As a former police officer I know the business of fake currency constitutes the economic backbone of any spy network that operates in India.
To counter this, the RBI (the Reserve Bank of India) along with the government need to come with some foolproof methods. Police forces, especially those posted at the border, need to be vigilant and cautious.
Many criminal activities can be unearthed if one follows the fake money trail.
The police have also busted a fake identity cards and passports racket in Bengal towns bordering Bangladesh.
For years, fake passport and identity card racketeers have been doing brisk business in Bengal, especially along the Bengal-Bangladesh borders. What I hear from my junior colleagues is that touts in several parts of India and Bangladesh mint money by selling fake passports, identity cards etc. Thus, they help illegal immigrants, mostly poor to very poor people, reside in this country.
The ISI use many of these people as their agents and the latter often leak security information in lieu of money.
What precautions should be taken to prevent such incidents from resurfacing?
Every recruit in the defence forces should be carefully examined. There should be strict surveillance. Any suspicious activity should be reported and dealt with immediately.
There should be efficient coordination between the defence forces and the intelligence units.
IMAGE: Garden Reach Shipbuilders, where two spies alleged worked.
EARLIER...