'My actual angst is not against the IPL. My angst is against not prioritising the usage of water.'
'The IPL is a luxury which Maharashtra cannot afford.'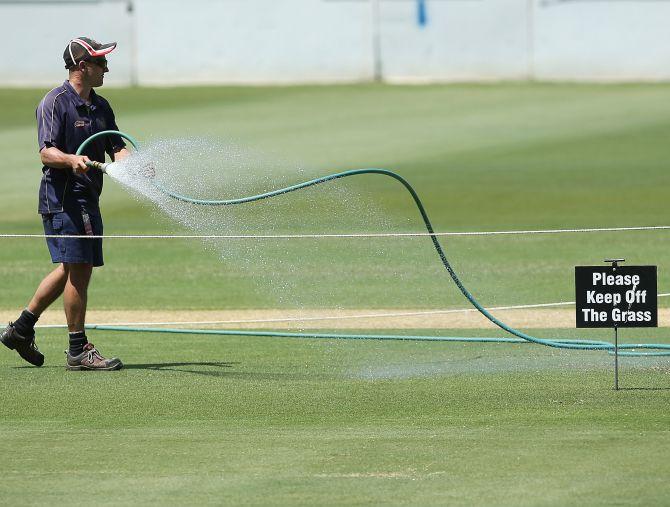 IMAGE: According to international pitch guidelines, three lakh (300,000) litres of water is required to maintain a pitch. 20 IPL games are being played in Maharashtra, making it a total of 60 lakh (6 million) litres. Photograph: Morne de Klerk/Getty Images
It appears that the Indian Premier League is tailor made for controversies. A couple of years after the IPL was rocked by allegations of match-fixing, another controversy has hit the event before it begins on April 9.
Against the backdrop of a drought-like situation in the state, a public interest litigation has been filed in the Bombay high court stating that IPL matches must be shifted out.
The Loksatta movement and the Foundation for Democratic Reforms organisation has made the Board of Control for Cricket in India a respondent in the case.
Advocate Ankita Verma, Partner, DM Legal Associates, advocates for the petitioners, tells Syed Firdaus Ashraf/Rediff.com how hosting the IPL in Maharashtra is tantamount to wasting huge amounts of water.
Why you have filed this PIL? What is the reason?
The reason is for conservation of water. Taking into account the scarcity of water that Maharashtra is facing as of now, we felt the utilisation of 60 lakh litres of water to maintain the grounds is not justified.
And how many matches are being held in Maharashtra?
Maharashtra will host 20 matches, which is one-third of the total matches being played. Eight matches will be hosted in Mumbai, nine in Pune and three matches in Nagpur. (Check out the IPL schedule)
Is there a study on how much water will be consumed per IPL match?
International maintenance for pitch guidelines state that for each match you need three lakh litres of water for one ground.
If you multiply that for the 20 matches that will be played here, you will come to the figure of 60 lakh litres of water.
How many people will benefit if this water is diverted to the people of Maharashtra rather than using it for IPL?
Currently, Maharashtra is facing water scarcity. The state is facing a water cut ranging from 10 per cent to 53 per cent in different parts. Places like Thane and Navi Mumbai face a cut thrice a week.
In regions like Latur, water is supplied once in 20 days. So every drop of water saved today is essential.
Don't you think your PIL has been filed very late because the IPL matches are about to begin?
The Loksatta movement and the Foundation for Democratic Reforms have filed the PIL. It was only last week when we did research that we found out. We were not facing this water shortage earlier.
The IPL schedule is decided six months in advance. From that time till March, there was absolutely nothing to say that we would face this acute shortage of water. It is only now the report came in and therefore we filed this PIL and we are not late as such.
IMAGE: Ankita Verma, advocate for the petitioners.
Why did you not approach the BCCI to shift the matches from Maharashtra?
We didn&'t go, but they can still agree and shift matches out of Maharashtra.
Why do you want the matches to be shifted out of Maharashtra only? The rest of India too is facing a water shortage.
Maharashtra has a severe water crisis. Now you tell me whether we should be prioritising water for drinking, sanitation and agriculture purpose.
We have to consider do we want IPL matches when people are losing their lives because of the scarcity of water? We are not targeting international matches.
IPL is a domestic league and it is a professional league which is mainly for entertainment purposes.
The India-West Indies World T20 semi-final was played in Mumbai last week. Why didn't you object to the misuse of water then?
When we became aware of this issue and when we went to research how water is being utilised, what is happening, we filed the PIL without any delay.
So your angst is against IPL because it is more of entertainment and has nothing to do with cricket?
No. My actual angst is not against IPL. My actual angst is against not prioritising the usage of water.
The state water policy clearly states that water has to be utilised first for drinking and domestic purposes; second for agriculture purposes, third for industrial and commercial purpose; fourth for recreational purposes and fifth for other purposes.
For the Kumbh Mela Shahi snan, which is a religious gathering, the judge passed an order wherein he had restrained the government for releasing water from dams. So, how can you place the IPL in the first, second or third category?
And therefore for these reasons you feel IPL matches must be shifted out of Maharashtra?
What we are saying is that the IPL is a luxury which Maharashtra cannot afford.
But other states are also facing water problems.
Are they facing a drought? If you just type drought on Google you will get only images of Maharashtra. Over 2,000 farmers have committed suicide till September 2015.
This year in just three months -- January, February and March -- 57 farmers have committed suicide.
Is the situation so bad elsewhere? I have not come across any such statistics.