Admiral S M Nanda, who led the Indian Navy during the 1971 war and vanquished the Pakistan navy, passed into the ages on Tuesday.
Two years ago, the admiral granted rediff.com an exclusive and extensive interview about the 1971 war. We reproduce it in his memory.
---
'And if war comes again, I assure you that we shall carry it right into the enemy's biggest ports, like Karachi. I know this harbour quite well for I started working there. And you have my word that given the opportunity, the Indian Navy will make the world's biggest bonfire of it.'
-- Admiral S M Nanda, then Chief of the Naval Staff, at a press conference in Jamnagar, November 1971.
The oldest of seven children, Sardarilal Matharadas Nanda was born in Punjab on October 10, 1915, but grew up at Manora, a small island off Karachi where his father was posted. Commissioned as an acting sublieutenant in the Royal Indian Naval Volunteer Reserve, he climbed up through the ranks to become the Chief of Naval Staff in March 1970. A year later, India and Pakistan went to war.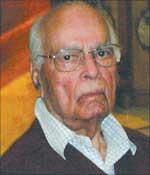 In a move that made naval history, Admiral Nanda towed three Russian missile boats, which did not have the necessary range to reach Karachi and return, halfway out to sea before unleashing them on Pakistan's primary port. Karachi burned for seven days. The admiral had kept his promise.
In an exclusive interview with Deputy Managing Editor Ramananda Sengupta in his plush home on New Delhi's Prithviraj Road, the admiral, whose memory at 91 is enviable, recollects how he braved government and military apathy and opposition to become The Man Who Bombed Karachi, which is also the title of his autobiography.
Let us start from the beginning. After being kept out of the earlier wars, why was the navy brought into play in 1971?
During the 1965 war and 1962 war with China, the Navy was kept in Bombay. We didn't do anything. With the result that nobody bothered about the navy, and everyone thought it was an ornamental service.
During my time as the chief, I found, to start with, that the emphasis was all the time on the requirements of the army and air force, and not of the navy.
In 1971, when the three service chiefs would meet the prime minister (Indira Gandhi), she would ask the army chief first, then the air force chief, about their views on the situation. And then she would look at her watch and say, 'Admiral, you have anything to say?'
And I'd say 'No ma'am, I have nothing to say.'
But inside I was thinking that you can write off the navy if does not take part. That was not acceptable to me. So I had made up my mind that if there was war, the navy would take part.
One day, when things hotted up in Bengal, after one such meeting, same questions, same last query, I said told her that I would like to see her in her office.
'Come over,' she said. We were both in South Block. I told her 'Madam, things are hotting up, and there is a possibility of war breaking out anytime. I have made up my mind that I am going to attack Karachi. I want political clearance from you. I don't want to be told at the last minute that I cannot do it. Militarily it is my responsibility.'
She thought a bit, and then said, 'Well Admiral, if there's a war, there's war.'
'Thank you very much madam, I have got my answer,' I replied.
So I called my directors of naval operations and naval intelligence, said I have spoken to the prime minister, and I think we have clearance to plan what to do if the war breaks out. I am planning to attack Karachi, and we've got to make preparations.
Everybody looked at me, and they said Karachi is a very heavily defended port. They've got six inch guns, while our guns are only four inch. So we will be well within their range before they come into our range. So I said we have these Russian-made Osa Class missile boats with Styx missiles, which are for harbour defence. What is their range? What are their capabilities? Do they have ship to surface missiles?
First they said the boats did not have the range to reach Karachi and return. Then they said if we hit Karachi with our missiles, then there will an uproar all over the world over the civilian casualties.
So I said look, 'What is a ship? It is steel. A missile locks on to steel.' I knew Karachi quite well. They have a one-mile long area on the coast which have oil tanks, made of steel. I said 'Why can't let our
missiles lock on the oil tanks?' They were not so sure.
Now a soldier must have faith in his weapons systems. I needed to test these missiles. But where was the target going to come from? So I asked the Russians how they tested their missiles. They said we have a special type of a ship with compartments in it, so that if a missile hits it, does not sink. Can we get a ship like that, I asked. It will take us two years to build it, they replied. I said forget it.
We had a British made practice target, which was made out of a hull on which is fitted a large frame, or target, on which we fire the guns. So I had some aluminum balls prepared to be fitted on the target. Then we towed this target some 30 miles out to sea, and came back.
Then I got into a helicopter, and gave the order to fire the missile. It went right through the target, 30 miles away. Then I called all the ships to close in and see the effect for themselves. That put their faith into the system. Having done that, we had further meetings.
The commander of the Western Naval Command still didn't believe in the system, and opposed it, saying it was too much of a risk.
On December 3, the Pakistan air force attacked us in the evening. By that time, we had our own forces, including the three missile boats, ready. But they did not have the range to go into Karachi and come back.
So on the evening of December 4, we towed these boats out half the way, they dropped their tow lines and raced towards Karachi. We hit Karachi, sank two warships and damaged a third.
We did this again on December 8, and sank two more ships. One or two missiles hit the oil tanks near the harbour, which set the entire complex ablaze.
Karachi burned for seven days.
What did we do with our aircraft carrier, Vikrant?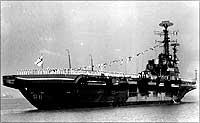 Vikrant is a funny story. During the 1965 war, it was in dry dock, and could not be used. During 1971, there was a crack in a boiler, because of which they could not fire the steam catapult needed to send out the aircraft.
Three months before the war, Naval Headquarters decided it was not operable at all. The aircraft were moved ashore. Then I went out to Bombay, and the captain explained that if the aircraft could not be catapulted out, it would fall into the sea, and kill everybody.
I said 'What's the bloody point of having an aircraft carrier if it cannot be used during a war?'
So I decided to take a risk. I ordered a steel band to be put around the boiler which had a crack. Then I said we need to get to a place where we have strong winds, and check out whether the aircraft falls into the sea or not.
I took the carrier out to sea myself and asked the engineer officer, the chief of the Western Naval Command, Admiral Krishnan, and M K Roy, Director of Naval Intelligence, to come with me.
My staff said I must get permission from Naval HQ. I said I am the Chief of Naval Staff, you don't need to ask anybody else. I am giving the orders and I am taking the responsibility for them.
We waited till the wind was strong enough. The aircraft was finally ordered to take off. And it was a success. We did that three or four times.
But there was still aversion. Somebody said 'Sir, there are people in the boiler room, and if it blows up it will kill all of them.'
So I said how does the boiler work? It works on oil. How does it come into the boiler? There is a pipe which brings it in. Who controls the valve of that pipe? The tanks are down below, but the valve is on the upper deck.
I said vacate the boiler room. Have someone man the valves. So if the boiler blows up or catches fire, it will damage the boiler room, but not the men. So that was done.
You took the Vikrant to the other coast, into the Bay of Bengal?
Yes, because people were still not sure how to use an aircraft carrier. They thought it was taking too much of a risk, particularly with a crack in the boiler. I discussed the issue with my engineer officer, and he said 'Sir, whatever you order, we will do.' This was about August or September, before the war began.
So I said we have to take the risk. We discussed all possible scenarios. They wanted to keep the Vikrant in Bombay, but I said no, and sent it to Cochin. Then when things started hotting up, I sent her to Madras. The aircraft, which were kept ashore, were flown to Madras. And we were operational.
Part II of the interview with Admiral Nanda: 'Does the US want war with India?'